NHL Trade Deadline: Why the San Jose Sharks Aren't Done Yet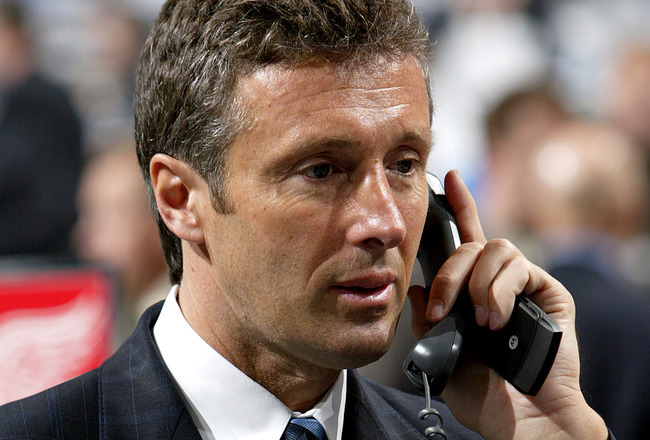 Dave Sandford/Getty Images
The NHL Trade Deadline is just five calendar days away. That hasn't stopped the trades or GM's phones from ringing. With many teams still looking to fill needs with limited assets, it figures to be a eventful week leading to the deadline.
While many experts may surmise that the San Jose Sharks are done with their trade process, the fact is they are not. Despite being snug up against the cap, there are a multitude of reasons for this line of reasoning.
The only real question is, will it be a salary shedding move? Or will the Sharks shock everyone and make a major move to solidify their defense?
.
Doug Wilson Says The Sharks Are Done... Right?
Bruce Bennett/Getty Images
Many people will point this out and say that there's no way the Sharks make another move. I say just because Doug Wilson offers a snippet denying any more movement prior to the deadline, doesn't mean it's true.
Fact of the matter is NHL GM's will do or say things to suit their need. They do it all the time leading up to the deadline. If Wilson has something in the works and it behooves the organization to stay tight lipped about it, he will.
Honestly though, you need not look far for evidence that the man has an excellent poker face. He rarely tips his hand. Here is a look back at the Sharks offseason of turnover, what Wilson said at each interval, and the resulting moves he's made.
A simple look back at the defenceman fiasco, the Hjalmarsson offer, and comments made before Niemi's signing are all incidents just this year.
Still No Defender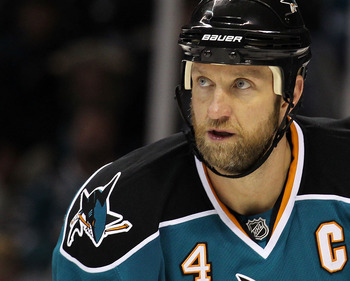 Jed Jacobsohn/Getty Images
Let's face it. The Sharks, even with Rob Blake, weren't exactly a defensive powerhouse. While Ian White has filled the void in minutes left behind by Blake, the Sharks may need more in the playoffs. With all due respect to Marc-Edouard Vlasic, who is currently injured, the Sharks don't have a true shutdown guy.
Vlasic leads the team in defensive zone starts and is trusted by the coaching staff to play the primary shutdown role. With all due respect to Marc-Edouard, who plays a great positional defense, how nice would a big nasty be on the blue line?
Someone to clear the crease, punish in the corners and stand up for guys who want to take liberties with our skill players?
This may be a big piece of the puzzle that goes unfilled for the Sharks heading into the postseason.
That Darn Salary Cap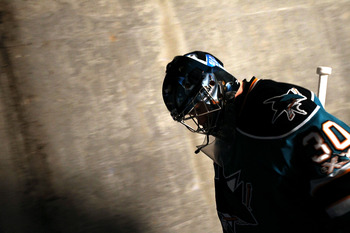 Ezra Shaw/Getty Images
It's been a while since we've seen Antero Niittymaki. Like many NHL clubs, the Sharks are not exactly forthcoming in their injury reports.
While his return and status remain cloudy, we do know his return will rock the boat for the Sharks from a salary cap perspective.
The Sharks current salary cap number is 59,515,469. With Antero on LTIR, the Sharks have just 95,662 in LTIR cap space. Although Antero does not seem to have much chance of hitting any incentives, keep in mind that number excludes any bonuses so it could be lower.
The Sharks also have zero space under the cap from which to maneuver according to Capgeek. While Doug Wilson has recently stated in an interview with La Greca from NHL Live that Capgeek is wrong, it can't be by much.
Return Of Antero
Paul Bereswill/Getty Images
In a nutshell, Niittymaki being injured has allowed the Sharks to make the move for Ian White, while keeping their roster intact. While Doug Wilson has stated that they are comfortable with backup Carter Hutton, there may be a need to bolster that position.
With Niemi's pace showing no signs of slowing, the Sharks must make the difficult choice of clearing salary or making another move. There are still 21 games left in the season, do the Sharks really want Niemi to start the rest of them?
With a huge win vs the Red Wings, the Sharks have received a little breathing room between. Their 74 points puts them ahead of a three team tie at 70 points. As much breathing room as four points will get you in the West this year anyways.
So with things tight, one has to honestly ask when could Carter spell Niemi?
If Antero returns this season, that is going to eliminate the space needed to dress Demers / Braun at the very least. The Sharks could possibly shed Wallin / Huskins / Mayers to get more wiggle room under the cap, or bring in a NHL proven backup or impact defenceman.
Any way you want to shake the stick, a move will have to be made to fit Antero onto the active roster. While it could be a simple salary dump move, it could also be a surprise trade. You just don't know with Doug Wilson.
We Can Still Dream...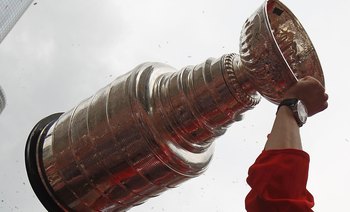 Jonathan Daniel/Getty Images
With so many teams looking for blue line help, the Sharks will have their work cut out for them. Many of our previous targets listed in our first and second trade articles are already in their new homes. There is not much left available.
The Sharks are arguably the hottest team in the NHL not named the New Jersey Devils. Does that mean they should sit pat? They did last year at the deadline, and fell short of their ultimate goal, being eliminated in just four games.
Who can we count out from our previous wish lists?
Robyn Regher - Calgary is back in the playoffs and not going to send us their shutdown man.
Ed Jovanovski - Currently is injured and a huge question mark with a serious orbital bone injury.
Kevin Bieksa - He's playing the best hockey of his career and sporting an +26.
Shea Weber - The Fisher trade makes it unlikely that Nashville will unload Weber or Suter. Unless they don't intend on re-signing Weber...
And while the shutdown guy may be out there for the Sharks, the better question is what will Doug Wilson give up to get that guy? Or does he feel that guy is even needed?
Calling Dave Tallon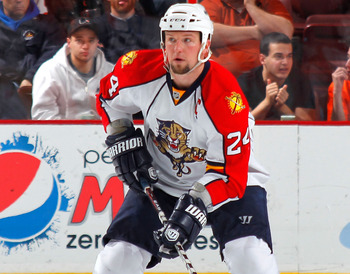 Paul Bereswill/Getty Images
It wasn't so long ago that the Panthers were a defensive zone trapping team, intent on stifling play until you fell asleep. Those days are long gone, and if not for the efforts of one Tomas Vokoun, this team would be even worse than they are now.
The Panthers are falling out of the playoff race in the East, despite the efforts of the Rangers to hand them the eight seed. At 34, Vokoun is still one of the best goaltenders in the league and coming into the last year of his contract in Florida.
A smart GM wouldn't squander the opportunity Tomas Vokoun gives them at the deadline. A halfway decent team could go places in the playoffs with Vokoun behind them. Given his age, Vokoun figures to want a contract that will put him on par with the Henrik Lundqvist's, Cam Ward's, and Ryan Miller's of the world.
Is Florida ready to make that kind of commitment? Is Dale Tallon ready to? If he remembers his last big splash goaltending signing, he wont. Cristobal Huet was and still is a huge mistake on Tallon's part, one that contributed to the mass exodus following their championship run.
Weiss and Booth are also commodities other teams may value who want some scoring punch up front.
Which brings us back to Bryan McCabe, the grizzled vet on the blue line for the Panthers. He was originally mentioned here in a deadline preview, and still figures to be available. If the Rangers almost had a deal for him, McCabe would most certainly waive his no-trade clause to come to San Jose.
While it's unknown what Wilson will do, it's clear that the Sharks are not done by any means.
Only time will tell.
Go Sharks.
Keep Reading

San Jose Sharks: Like this team?