NHL Trade : Analyzing the Ian "Great" White Trade for the Sharks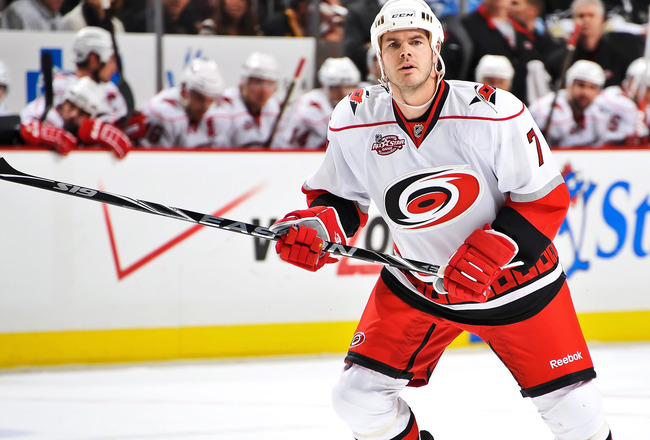 Jamie Sabau/Getty Images
The rumor mill had been churning at an epic rate for quite some time now, and the moment Shark fans were waiting for arrived Friday.
Ian White was traded to the Sharks in exchange for their 2012 second-round draft pick, instantly filling a need.
The Ian White trade has brought the Sharks a very good offensive defenceman at a very good price. With the severity of the injury sustained by Marc-Edouard Vlasic still unknown, this was a brilliant trade.
The acquisition of the 26-year-old defencemen helps fill the void in minutes left by Rob Blake, and provides a boost in offense. He has a very good first pass and is a decent skater with relatively good wheels. He will help move the puck consistently against the forecheck and is defensively sound.
Ian White had 10 points in 39 games with the Hurricanes this season after being traded from Calgary for Anton Babchuk and Tom Kostopoulos.
White is perfectly suited in the second pairing and could provide an interesting dynamic when coupled with Vlasic. While the extent of Vlasic's injury is not yet fully known, White can fill his shoes should Vlasic miss any significant time.
Here are the highlights, key points and projected impact of the first trade of the Sharks' season.
Overpay? What's That?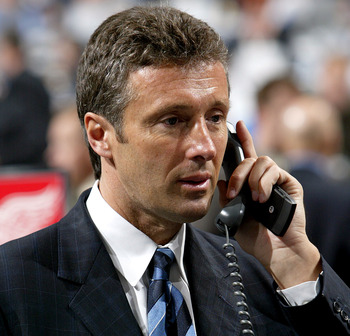 Dave Sandford/Getty Images
The deadline has been a fickle dancing partner for many NHL GMs this year.
And despite the talk that the deadline will be a quiet one, the speculation has been wrong thus far. The moves have been fast, furious and overpriced for many key acquisitions.
Compared to the Mike Fisher and Kris Versteeg trades garnering first-round draft picks plus conditionals for their clubs, Ian White for a second-rounder is a steal.
Fact is, NHL centres and defencemen are in high demand this year, with no less than six contending clubs looking for help on the blueline. In the NHL, getting what you want without overpaying is getting harder and harder to do.
In classic Doug Wilson form he played a patient game and paid the price he chose, a fact that should not be lost on fans.
With the Hurricanes still in the playoff hunt, this could have been the classic example of overpaying for an asset.
Under the Radar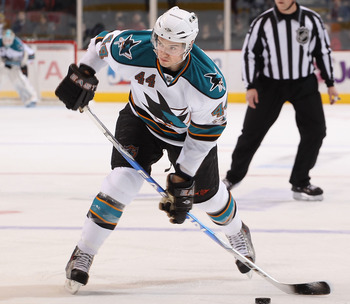 Looks like Pickles may have a new running mate
Christian Petersen/Getty Images
Ian was not on anyone's radar until he was scratched against the Devils, and had been projected to go to Boston. While Erik Cole and Joni Pitkanen were the names rumored to be traded elsewhere, White is a terrific addition.
While White is not the premier puck-moving defenceman, he is perfectly suited for the second pairing. He's been primarily a third pairing guy with some spot duty on the second pair for the Hurricanes and been relatively effective.
He's still had somewhat of a disappointing season since his breakout year of 2008 and career year of 2009-2010.
Whether paired with Jay Harrison or Tim Gleason, Ian White has provided the offensive upside for the defensive partner. A sixth defenceman with the Hurricanes, White would be the fourth as a Shark, a glaring indication of the differences between the two rosters.
With San Jose, White can be the perfect pair for Vlasic or perhaps Murray if another trade were to go down.
What He Brings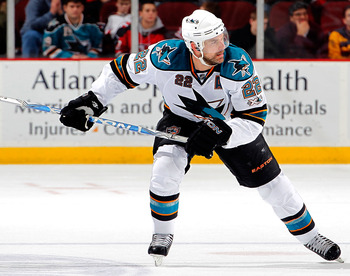 Dan Boyle finally might get a break
Paul Bereswill/Getty Images
Ian White is averaging 16 minutes a game and has topped 22 minutes seven times this year. His presence alone will ease the heavy lifting asked of Dan Boyle and help keep him fresh for the playoffs.
White can spell Boyle on the first-unit power play and may play a big role on the second unit.
Not only that, but depending on the pairings, this will also allow Murray to play the stay-at-home defensive role. This can mean a world of difference on a Sharks team that has long asked Huskins to play over his head.
While another move may be in the works, the Sharks are hoping White can return to his 2009-2010 form where he posted 13 goals, 25 assists and a plus eight.
He's still pretty young and is not the liability in his own zone that many other young offensive defenceman are. While losing Joslin in a completely separate trade may sting, if White is resigned this is a no-lose situation for the Sharks.
Most importantly, he's also right-handed, meaning Niclas Wallin is no longer the "switch" defenceman. This will pay big dividends in keeping the power play continuity and pitching the puck deep where the Sharks want it.
White will be able to play the puck at the point on his forehand, keeping the power play efficient and operating quickly. This may appear to be a small and minute fact for some people, but its effect on the power play can be profound.
Crunching the Numbers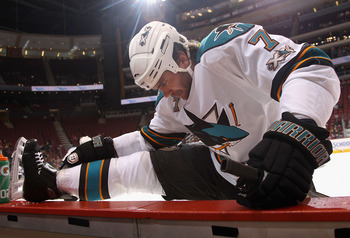 Will Wallin be moved?
Christian Petersen/Getty Images
With a cap hit of $822,579 at this stage of the season, White isn't exactly a cheap cap hit. He is a UFA at season's end after the completion of his $2,999,995-a-year contract which affords the Sharks flexibility.
Ian White has appeared in 39 games for the Canes and has 10 assists during that span as the sixth defender. He has two goals, 16 points and carries a minus six rating in 55 games this season.
He's not far removed from a very solid 2008-2009 campaign with the Maple Leafs in which he posted eight goals and 13 assists in just 42 games.
In that year White would average 23.12 minutes a night, with an average of 1.57 minutes on the penalty kill versus only 1.37 of power play.
There's a definite surplus of skaters from the three additions of White, Eager and Wellwood—meaning that someone is bound to be without a chair when the music stops.
For the sake of discussion, we wont revisit which forward will be left out of the mix when all the Sharks are healthy.
While Niclas Wallin is not a fan favorite, he's trusted by the coaching staff more than Huskins or Demers. Wallin is also the best point man on the right side of the ice, and now provides good depth for that role.
While Wallin may be moved, Huskins or moving someone to LTIR will provide further space should Wilson make another trade.
Will Doug Wilson Make Another Move?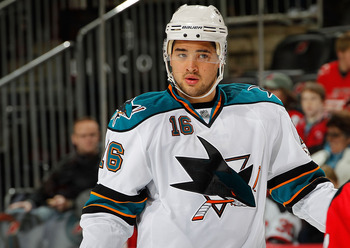 Paul Bereswill/Getty Images
Well, this is a tough call considering the team has been playing some pretty darn good hockey of late. Defensively-responsible play from the top to the bottom of the roster makes it hard to give up a top-six skater at this stage.
However, it does seem likely that Wilson could make the move for another defenceman, possibly even an elite one. With several names still available and assets to spare, Wilson can now be more selective given the Sharks improved depth.
Bottom line is that Doug Wilson has added a key component to a Sharks roster that is now much improved, for the right price.
These types of low key moves have long been his calling card and this latest move may lessen the need to trade a big part of the roster—especially if that big part is Devin Setoguchi.
Setoguchi is playing extremely hard lately and beginning to produce in many ways, not just on the score card.
His trade value is still low while his upside still remains high; not ideal conditions to be selling under.
In Conclusion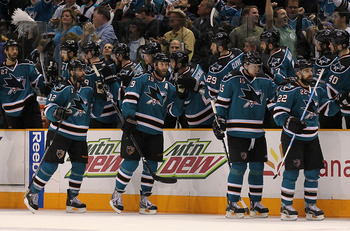 Jed Jacobsohn/Getty Images
Although the second-round pick may hold more value than in years past depending on how they finish, this was still a great deal for the Sharks.
This defensive core, with all of their faults, still managed to keep the Sharks in the top half of NHL, ranked 10th overall defensively.
Adding Ian White provides depth, a puck mover and a power play specialist with a good shot.
Despite contrary beliefs, Ian White is more than serviceable in his own zone and was a "need-a-change-of-scenery" type of scenario.
Problem is, projecting these "change of scenery" kinds of players and situations is almost always a crapshoot. But there's no reason to believe that White will not have a lot of success as a Shark.
The goaltending has improved, team defense has improved and the Sharks are skating with some momentum. The top line has to get it going sometime and when they do the Sharks will be all that more dangerous.
White will play a big role for the Sharks, and maybe an even larger one depending on what other moves are coming down the line. But what it does for the Sharks is effectively neutralizes the loss of Rob Blake and adds puck-moving ability on top of the steady minutes.
Now the only question is: who is the odd man out in the defensive rotation?
Go Sharks.
Keep Reading

San Jose Sharks: Like this team?