NHL 2010-11 Season All-Concussion All-Star Team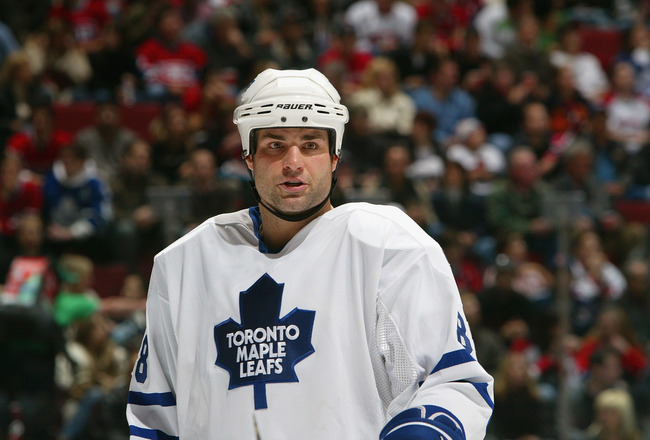 Charles Laberge/Getty Images
The concussion has been with hockey as long as it has been played. NHL players played this game on ice for money for three quarters of a century before they finally legislated helmets as mandatory for new players joining the league back in 1979. Craig MacTavish still played hockey without a helmet in his last season in 1996-97.
The struggle to get players to wear helmets to protect their brains from injury was almost as dragged out as was the struggle to get goalies to wear a mask after Jacques Plante introduced the mask in 1959. It took goalies 15 years to completely adopt the mask but at least the NHL never had to legislate it for their own protection.
This season the NHL has adopted a rather poorly conceived and impossible to administer hit to the head rule in an attempt to reduce concussions. A couple of exceptionally brutal attacks to the head last season, most notably the Mike Richards hit from the side on David Booth, lead the NHL to attempt to put in place a rule to try to protect it's players from concussions.
Instead of helping it seems to have hindered the players. More players then ever are reported with and missing games due to concussions. Part of this is due to the new awareness and improvement in diagnosis of concussions. Players too have been made more aware of the long term detrimental effects that repeated concussions can have not only to his playing career but even to his ability to participate in and enjoy life after hockey.
The NHL history books are littered with the names of stars who missed huge chunks of their careers or had their careers ended early because of concussion. Eric Lindros, pictured above, is one of the more famous of those.
The talent thin NHL currently has 20 players out with concussion. Many more have suffered this injury this season. The NHL needed to do something about this decades ago. They are starting in their slow methodical way to try to do something about it now. I don't know if NHL players can afford to wait the ten or fifteen years it normally takes them to institute obvious safety regulations. If the league doesn't take the lead the players association needs to for once in it's life get things rolling.
Here is a quick look at some of the talent out now with a concussion.
Sidney Crosby C: Pittsburgh Penguins
Sidney Crosby was having an MVP season the like of which we haven't seen in the NHL in a decade or more. He was on pace with 32 goals and 66 points in 41 games for ,well, a 64 goal, 132 point season. Not too shabby. That would have been had he maintained that rate the best offensive season in the NHL since Mario Lemieux had 161 points for the Pittsburgh Penguins back in 1995-96.
Instead Sidney Crosby was struck in the head by David Steckel of the Washington Capitals in the Winter Classic and then bumped against the boards by Tampa Bay's Victor Hedman on January fifth. Crosby hasn't played since. He has missed sixteen games and is likely to miss many more.
Crosby has stated he is feeling better and he has been skating. His pronouncement that he expects to be back this year can't have been the most encouraging thing Penguin fans have heard this season.
It was amusing to hear Bruce Boudreau coach of the Washington Capitals say in reference to Matt Cooke "'What did I do?' He knows damn well what he did. There's no doubt in my mind that he's good at it and he knows how to do it. He knows how to pick this stuff. We as a league, we still buy into this [idea] that, 'Oh it was an accidental thing.'"
I believe the same is true of the Steckel hit. He saw a chance to hit the best player on the team he was opposing and he took striking at Crosby's head. In the end I don't really care if it was intentional. I am not the mind reader Bruce Boudreau is but I'm more interested in what was done. Steckel struck an opponents head from behind and injured him severely. He should have been dealt with severely at the time.
Until the NHL decides it wants to try to protect it's players this will keep happening.
Mac Savard C: Boston Bruins
Marc Savard was concussed last year with this brutal hit from behind by Matt Cooke of the Pittsburgh Penguins.
Savard had only managed to play 25 games this year and he has been a shell of his former self. Two years ago he finished the season with 88 points in 82 games and then finished up with a 13 point in 11 game playoff run. His twenty five games this year saw him produce two goals and ten points before a routine hit by Colorado's Matt Hunwick put him out again with yet another concussion.
The fear has to be that Marc Savard one of the premier passers and offensive players in the league may never play again. His long term health may be forever impacted by Cooke's vicious hit from behind last March.
Dan Hamhuis D: Vancouver Canucks
Dan Hamhuis was brought into Vancouver in the off-season as a free agent to lend depth and mobility to Vancouver defense that didn't have enough of either to handle the Chicago Blackhawks in last year's playoffs.
He has had a good if not spectacular season with Vancouver this year as he adapted to the new surroundings. A series of injuries have left the Canucks thin on the blueline. This hit with an elbow to the back of the head from power forward Ryan Getzlaf of the Anaheim Ducks has put Hamhuis out indefinitely with a concussion.
Hamhuis shouldn't be the difference between winning a cup or not in Vancouver but the collection of injuries are not going to make easier for the Canucks to succeed.
David Perron RW: St Louis Blues
David Perron is a creditable power forward for the St Louis Blues. He's managed to score around five eights of a point a game so far in his career. He only managed to get in ten games this season before Joe Thornton stepped into him from the blindside and put him down with a concussion. He's still out. Thornton did receive a two game suspension.
Derek Boogaard RW: New York Rangers
Derek Boogaard of the New York Rangers is one of the biggest (6'7" 258 lbs), strongest, meanest, toughest players in hockey. He was battling concussion symptoms early in the season and apparently this fight with Matt Carkner of the Ottawa Senators has kept him out of hockey since December 9th.
It doesn't matter how big or strong you are, you can still get a concussion if your head gets rattled hard enough.
Probably one of the reasons the NHL is reluctant to ban all hits to the head or intentional hits to the head is because logically it'll mean an end to fighting. I could see the NHL running for a while with a rule banning hits to the head while allowing fighting just because that's the kind of schizophrenic league it is. In the end though hits to the head are going to be penalized. It's coming. It may take another 15 years but the NHL and its fans need to get ready for it.
Solution?
This problem is not brand new. Here is a video outlining the problem back in 1998. The NHL was busy studying the problem back then. It's time for action.
The elbow pads, the shoulder pads need to be softened or padded. Right now it's like hitting someone with kevlar or steel plate.
Players have to stop striking at each other's heads. There is a problem where incidental contact between two players of different sizes results in a shoulder pad striking a head. If the pads are softened the incidental hits shouldn't be the problem.
Make a hit to the head a minor penalty. An intentional strike with intent to injure should be five and a game and automatic two game suspension the first time, four the next, eight the next and so on. Eventually players will learn not to body check each other in the head.
The NHL needs to get a grip on this. The players can't wait another 12 years for them to study the problem. There are over twenty guys out right now with concussions. How many more will be hurt before the end of the year.
Keep Reading