NHL Trade Deadline 2011 Team Preview, Part Two: New York Islanders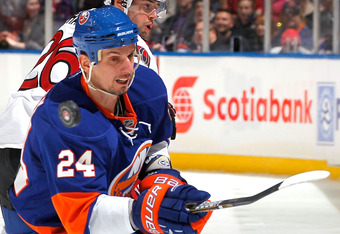 Despite being an Islander his entire career, Radek Martinek fits the perfect bill for trade bait this year.
Paul Bereswill/Getty Images
As part of a series, writer Benjamin Benya will be forecasting the plan of the five worst NHL teams as the trade deadline nears. Will they be big sellers or stick to their guns and stomp through the trenches?
For Part One, click here.

October 21, 2010. Likely a day the New York Islanders will remember as this NHL season continues to unravel, for it was on this day that the Islanders toppled the Tampa Bay Lightning in overtime, giving them a 4-1-2 record and the unfathomable first place in the Eastern Conference.
Since that fateful evening, the Islanders have plummeted back through mediocrity with a 13-27-6 record. Doubling up more losses than wins is a feat that the Islanders have become all too familiar with in the past few years as the franchise continues to build from the ground up with so much youth.
But with so much youth and exuberance coming down the pipe every night, the Islanders aren't exactly the model of a franchise selling properties at the trade deadline. New York has twice as many restricted free agents they'll likely want to sign this offseason as they do unrestricted players. A quick head count of the main roster shows seven starters, including five forwards, in this budding category.
But there are still several other unrestricted free agents that fall comfortably in the rent-a-player category and a low cap commitment coming into the Summer. In fact, the Islanders have just over $30 million on the books for the 2011-12 season, a number that is just over half the current cap ceiling. With plenty of money and plenty of options, the Islanders are a franchise to watch come the trade deadline.
Ezra Shaw/Getty Images
The three most likely candidates to be moved by the Isles this month all fit the rental mentality perfectly. But each comes with their own personal baggage that also makes them extreme risks to the team seeking their services.
At the top of the mountain, a 40-year-old center Doug Weight is once again a talked about rental who could bolster any contending team. Or, at least we think he could, save for the fact that Weight's battle with back spasms has left him shelved since November. The odds that Weight can become healthy in the next two weeks and all of the sudden be a shadow of his former self (a 1,000 point scorer) for the Islanders to shop him are very, very low.
Weight is not a bad player. He's just damaged goods and would be a very risky proposition to even the most jaded general manager. That said, Weight won his first Stanley Cup with the Carolina Hurricanes while being held together almost entirely on duct tape. Don't think GM Garth Snow will sweep Dougie completely under the rug.
Perhaps the most valuable bargaining chip the Islanders have coming into the deadline is long-time defender Radek Martinek, who hasn't known any other home in his NHL career. Martinek's play through 41 games remains consistent with his play throughout his career, and while the Czech-born 34-year-old may not be explosive, he's solid enough to bolster the blueline of nearly every franchise.
Jim McIsaac/Getty Images
Teams are always looking to improve their defensive standing and acquiring Martinek at the low-risk expiring contract of $1.5 million seems incredibly likely. The Islanders have a plethora of young defensive talent aching to take Martinek's minutes, so if youth is truly the movement here, then it may be time for Martinek to see life outside Long Island.
The third piece of the New York puzzle is one that, for one reason or another, teams are always searching for at the trade deadline. Zenon Konopka may well be the best enforcer on a budget that the NHL has to offer. That's on a good day. On a bad day, Konopka is every bit as aggressive and untamed as his 181 penalty minutes would indicate.
But for teams that need flat-out bone-crushers to protect the stars on their team, Konopka is a very inexpensive option that, again at best, would produce great results. Obviously, there are other players here to speculate over, but it would seem foolish for New York to shop any of them in the wake of this new direction.
With the decision to keep or drop Matt Moulson no longer up in the air (they kept him), the Islanders now have a similar decision to make with the talented forward PA Parenteau. Parenteau, a defector from the New York Rangers organization, has been a spark plug for New York's fledgling offense in what has thus far been a career year for the feisty forward.
Jonathan Daniel/Getty Images
Parenteau has 13 goals and 19 assists through the first 51 games of the year, numbers that put him on pace for just over 20 goals and 50 points by season's end. But can the Islanders really shop a youngster they took a chance on in the off-season after he's shown such incredible upside?
At 27, Parenteau is a late bloomer who will become one of many young forwards closing in on the prime of their careers that want more money from the New York organization after the season ends. There is most definitely a market for this player and are several teams that would be interested in acquiring his services, but I really have to believe that the Isles will stick to their guns and keep him around. And not just to stick it to the Rangers for letting him go.
And of course, there's Evgeni Nabokov, who remains under contract to the Islanders despite having a no-trade clause and yet also refusing to report to New York. What to do with this aging veteran who has never gotten over the hump in the playoffs is a headache all its own. After Garth Snow made the decision to suspend Nabokov for his blatant refusal to join the team, Nabokov became a fortress with which no teams have access.
But I'm sure that if Detroit, the team that wrangled him back to the NHL in the first place, came up with an enticing deal for their insurance policy, he'd still be on the move. And maybe that's the lesson to learn from the Islanders trade deadline game plan. If the right deal came along and fit the reconstruction perspective, anything can happen.
Fun Fact: Not that the Islanders are anywhere close to hitting the cap ceiling, but until the year 2015-16, the Isles will have to pay Alexei Yashin $2.2 million every year as part of his costly contract buyout.
On the Move:
1. D Radek Martinek
2. C Zenon Konopka
3. G Evgeni Nabokov
Staying Put:
1. RW PA Parenteau
2. LW Matt Moulson
3. G Rick DiPietro
This article is
What is the duplicate article?
Why is this article offensive?
Where is this article plagiarized from?
Why is this article poorly edited?

New York Islanders: Like this team?