Rick DiPietro: The Story Behind The Infamous Goalie Brawl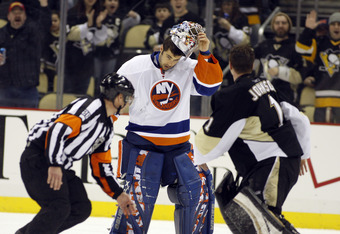 The pressure is just too much.
Justin K. Aller/Getty Images
The image is well known to any NHL fan by now. Rick DiPietro races up ice to answer a challenge from Penguin backup goaltender Brent Johnson. He is smiling and clearly eager to get physical. Moments later, he is down in a heap. The "fight" has lasted all of one punch. DiPietro leaves the ice with a shattered face much to the amusement of Penguins' number one goaltender Marc Andre Fleury.
The question on everyone's mind is: what was DiPietro thinking? He has had a history of concussions and knee, hip, and groin injuries that have allowed him to play in only 13 games the two previous seasons. Even this season has been checkered with lost man games due to injury and the games he has played have mostly been sub par at best in part because of his health.
To make matters worse, the Islanders have been all over the news recently because general manager Garth Snow tried to replace DiPietro's injured backup Nathan Lawson by claiming veteran Evgenyi Nabokov off the waiver wire. Nabokov stirred up controversy by refusing to report and was suspended.
The trade of Dwayne Roloson for superb defensive prospect Ty Wishart, Lawson's injury, and Nabokov's refusal had already forced Snow to keep prospect Kevin Poulin on the roster. Why in the world would DiPietro risk ending his season and maybe his career as well as putting the Islanders in an even bigger hole than they already were in by fighting Johnson, a much bigger man?
To find the answer, we need to go to "menu", click "scene selection", and then "2000 NHL Entry Draft". New Islander owner Charles Wang's partner Sanjay Kumar, now in prison after a fraud conviction, steps up to the podium at the Saddledome in Calgary and announces that the Islanders are about to make history.
After trading Roberto Luongo and Ollie Jokinnen to Florida and Kevin Weekes to Tampa, Mike Milbury has decided to pass on star forward prospects Dany Heatley and Marian Gaborik in favor of goaltender Rick DiPietro. It is the first time anyone has ever drafted a goaltender with the first overall pick. The Islanders' experience would ensure that it will almost certainly be the last time as well.
What Kumar failed to mention was that DiPietro's first overall selection was the earliest a goaltender had been selected since the Islanders had selected Luongo fourth overall in 1997, just three years previously. Anyone knowing anything about how long it typically takes to develop goaltenders and how late in the draft they are typically chosen would have considered Milbury's decision "crazy" as he himself admits in the clip. Certainly most, if not all, Islander fans would agree with that appellation.
How did DiPietro himself handle the honor? When the interviewer reminded him of the Luongo deal and told him of the Weekes deal, he announced, "You are their (the Islanders') future," and asked how that made him feel. DiPietro, who the interviewer noticed was shaking, responded by saying that "it was a lot of pressure" and that he would have to "jump in and handle it."
Next go to the clip marked "2006 Contract Signing". The press conference announces that the Islanders would again make history by signing DiPietro to the longest (15 years) contract in the history of the NHL. The decision had actually been made a year earlier, but NHL commissioner Gary Bettman had asked Wang to postpone it for a year in the vain hope that he would reconsider doing something so risky.
The conference is introduced by current Islander bete noire and then media relations flunkie Chris Botta. Botta introduced Snow who looked awkward and uncomfortable at the podium. He was obviously reading from a prepared statement in which he praised DiPietro's character, work ethic, and "world class skill" which Snow regarded as essential to bringing the Stanley Cup back to Long Island.
Snow explained the length of the deal as Wang's way of assuring Islander fans that the Milbury days of getting rid of players and prospects who were any good were over. Although he held DiPietro in high regard, this was Wang's deal and Snow was a long way from making this team his own.
Wang was next. The amount of the deal was chosen with the thought that it would give the Islanders the maximum flexibility under the then new cap rules to build a champion. DiPietro made the same point. Then came the questions.
DiPietro was asked several times about the pressure on him. He admitted that he had felt a great deal of pressure to perform and to win ever since the 2000 draft. He even acknowledged taking yoga courses to help deal with it.
The next clip is labelled "2009 NHL Entry Draft". DiPietro started to fulfill his promise in the 2006-07 season by leading his team to its first playoff appearance since the lockout. Unfortunately he suffered two concussions toward the end of that season and had hip surgery in the offseason. He made an All Star appearance the following season but re-injured his hip at the event. More offseason hip surgery, followed by knee surgery.
The knee problems returned during the 2008-09 season, DiPietro only played five games, and the team had a league worst 61 points, earning it the right to select goal-scoring phenom John Tavares. In his interview, Tavares pointedly dismissed all the fuss over his being selected first overall. This was just one day in his new NHL career and the goal was to bring the Cup back to the Island.
Both this year and last have been disasters for DiPietro. Injuries only allowed him to play in eight games last year and this was only his 21st game this season. Moreover this was no longer DiPietro's team. Tavares was the big guy now and the few remaining veterans from 2006-08 were fast disappearing from the roster.
The Islanders had gone into the 2010-11 season with playoff hopes, but injuries to many players including DiPietro had helped send the team into a tailspin that resulted in Islander coach Scott Gordon being fired and left the team looking like a lottery candidate for the third straight year.
Snow's rebuilding program, begun in the summer of 2008 as DiPietro was recovering from hip and knee surgery, is on the verge of paying off. Even the goaltending prospects Poulin, Mikko Koskinen, and Anders Nilsson are looking quite impressive. Increasingly DiPietro, with his injuries and contract, is looking less and less like the cornerstone of a Cup winner and more and more like the albatross that will hinder the team's return to glory.
So when Brent Johnson invited him to drop the mits and have a go, DiPietro was ready. All the pressure of the number one selection, the contract, and all those faded hopes boiled over at once. This might end his career, but somehow he did not care.
This article is
What is the duplicate article?
Why is this article offensive?
Where is this article plagiarized from?
Why is this article poorly edited?

New York Islanders: Like this team?