Tim Thomas & Tuukka Rask: Ranking The Goalie Depth Of All 30 NHL Teams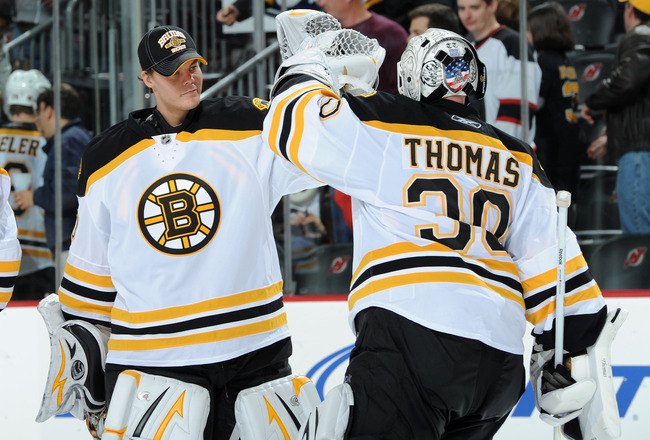 Christopher Pasatieri/Getty Images
Regardless of what happened in last year's playoffs, great goaltending wins Stanley Cup Championships. We've seen it countless times.
Every Cup-winning goalie from 1991 to 2003 is in the Hall of Fame, or will be when he finishes playing.
Since the lockout, the Cup-winning goalies have been Cam Ward, JS Giguere, Chris Osgood (third Cup), MA Fleury, and Antti Niemi. Niemi is the only one who isn't an elite or multiple Cup-winning goalie.
Expect the trend of great goalies winning the Cup to bounce back this year. So which teams are best set in net? Here are power rankings of each team's goaltending depth as we head toward the playoffs.
#30: New York Islanders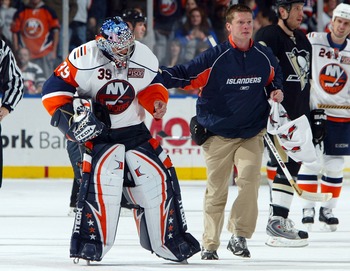 Jim McIsaac/Getty Images
When your No. 1 goalie is like a 1981 Ford Escort: 29 years old, constantly breaking down, more expensive than it should be, and you aren't sure if it was that good in the first place–you know you're in trouble.
Rick DiPietro unfortunately fits that bill with his shoddy knees and 15-year, $67.5 million contract. DiPietro has managed just 33 games over the last three seasons, and has never put up over 32 wins.
Backing up DiPietro are two virtual no-names: Kevin Poulin and Nathan Lawson.
Making matters even worse for the Isles is that there aren't really any can't-miss goalie prospects at the draft this summer.
#29: Ottawa Senators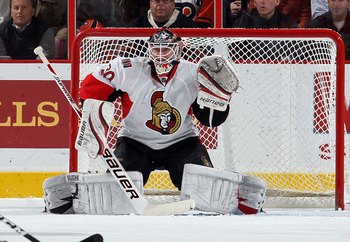 Jim McIsaac/Getty Images
Brian Elliot has shown flashes of brilliance with the Sens, but they've been largely overshadowed by the much longer periods of mediocrity and poor play.
Pascal Leclaire hasn't been able to stay healthy for the last couple of years, and doesn't have a shutout since posting nine for the Columbus Blue Jackets in 2007-08.
While the situation in Ottawa is terrible, there's a beacon of hope for the future in 19-year-old prospect Robin Lehner, who was very good in junior and is expected to make the jump to the NHL in the next two seasons.
#28: Edmonton Oilers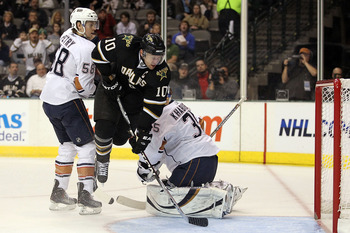 Ronald Martinez/Getty Images
Edmonton's goaltending situation is an odd one, with 35-year-old Nikolai Khabibulin making $3.75 million per for two more years, and 24-year-old Devan Dubnyk making $800,000 and substantially out-performing the Bulin Wall.
Khabibulin is 42nd and 45th in save percentage and goals against average, respectively, and looks like the game has passed him by. The only stat he's leading the league in right now is losses.
Dubnyk, on the other hand, is 20th in save percentage, and is starting to develop into a decent goalie. Edmonton needs to let him play.
#27: New Jersey Devils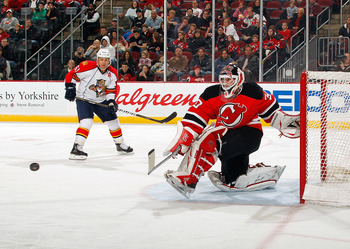 Lou Capozzola/Getty Images
It feels strange to have one of the best goalies in NHL history sitting 27th in the league in goaltending depth, but perhaps even crazier is the fact that Brodeur arguably hasn't even been the best goalie on his team.
Johan Hedberg has a better save percentage than Brodeur, although both are under .900, which is still really bad.
Brodeur is finally starting to look his age (38), and Hedberg's save percentage has only been above .900 once in the last eight seasons.
Time for the Devils to start looking at other options.
#26: Colorado Avalanche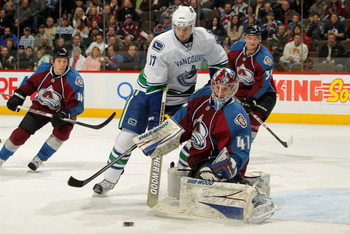 Doug Pensinger/Getty Images
The Avalanche need goaltending help badly if they're going to do anything in the playoffs, or even make them at all.
Craig Anderson was great for Colorado last season, but his save percentage has dropped to .903 and his goals against average has climbed to 3.12.
The defense in front of him isn't helping matters, but Anderson needs to be better than he's been.
His backup, Peter Budaj, has been even worse, with a save percentage of .894 and a goals against of 3.17.
#25: Tampa Bay Lightning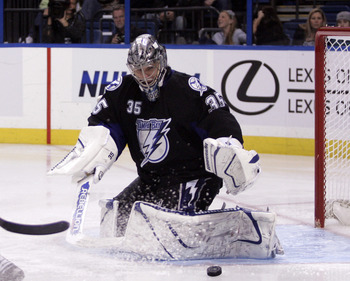 Justin K. Aller/Getty Images
If it weren't for acquiring Dwayne Roloson from the New York Islanders a few weeks ago, the Lightning would be competing for last in this category.
Unfortunately, Roloson hasn't solved all their problems. Since Roloson was acquired, he's posted three shutouts, but he's also been pulled twice.
Still, Roloson is top 20 in the league in both goals against average and save percentage, but behind him is absolutely brutal.
Dan Ellis and Mike Smith both have save percentages of .887 or lower, which is horrendous. The most memorable thing either of them has done this year is give up Linus Omark's neutral zone spin-o-rama shootout goal.
#24: Toronto Maple Leafs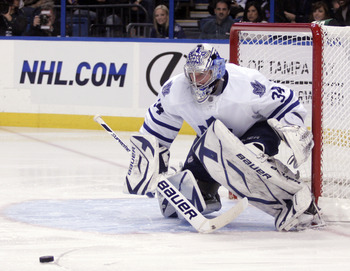 Justin K. Aller/Getty Images
JS Giguere and Jonas Gustavsson have both been bad this year, with goals against averages around three, and save percentages under .900.
Perhaps the worst part is that neither has reached 10 wins yet.
The future does look potentially bright, though, with James Reimer, who posted a .933 save percentage, 2.24 goals against average, and four wins in seven starts earlier this year.
#23: San Jose Sharks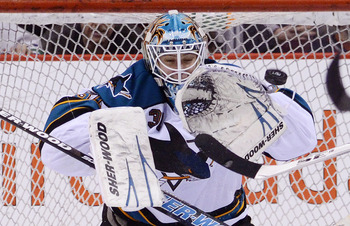 Rich Lam/Getty Images
Goaltending was supposed to be a strength of the Sharks coming into this season, after signing Cup winner Antti Niemi and fellow Finn Antero Niittymaki.
Both have fit the bill of the Sharks this year and been underwhelming. Niemi has started to play a bit better lately, but neither goalie has 15 wins yet, and both are outside the top 20 in save percentage.
#22: Columbus Blue Jackets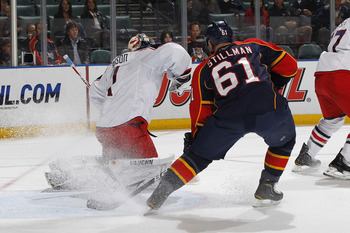 Joel Auerbach/Getty Images
Thought of two short years ago as a team that would be at the top of this category for years to come, Steve Mason's sophomore slump has continued into this season.
Mason has a goals against over three and a save percentage under .900, and just lets in far too many soft goals for an NHL goalie.
His backup, Mathieu Garon, has slightly better numbers, but not enough better to make much difference.
#21: Phoenix Coyotes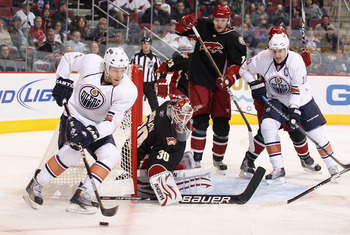 Christian Petersen/Getty Images
Ilya Bryzgalov hasn't had the same form that made him a Hart Trophy candidate last year. He didn't end up being nominated, but was arguably deserving.
This year, his goals against is up, his save percentage is down, and he's outside the top 20 in both.
Adding to that, his backup, Jason LaBarbera isn't very good, and it spells trouble.
#20: Philadelphia Flyers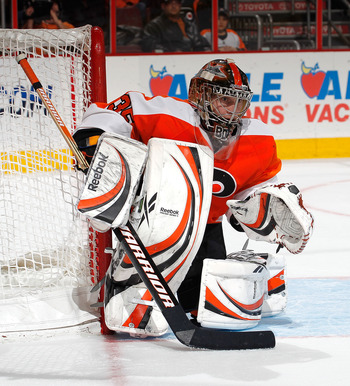 Paul Bereswill/Getty Images
Rookie Sergei Bobrovsky has been a pleasant surprise so far, but he's still very much unproven.
Backup Brian Boucher has been steady, but he isn't the kind of goalie that can carry a team to the Stanley Cup, or at least hasn't been in the past.
Philly might want to consider some insurance for the playoffs in case Bobrovsky falters under pressure.
#19: Minnesota Wild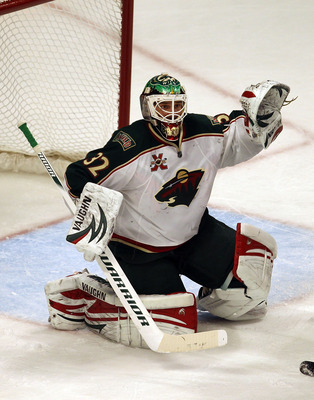 Jonathan Daniel/Getty Images
The Wild's star goalie Niklas Backstrom has had some problems staying healthy, and has only played 29 games. He's been decent in those games, but not as good as the Wild need him to be.
His backup, Jose Theodore, is playing decently as well, but once again, it's just not quite good enough on a Wild team that lacks scoring.
Rookie Anton Khudobin was sensational in a four-game call up earlier in the season, in which he posted a .942 save percentage and a 1.59 goals against, including a shutout of then-league leading Vancouver.
#18: Chicago Blackhawks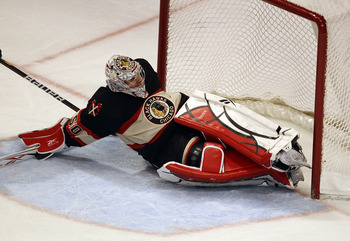 Jonathan Daniel/Getty Images
Rookie goalie Corey Crawford sits fifth in the league in goals-against average, and 17th in save percentage. He's been great for the Hawks for the last couple of months.
Now relegated to backup, Marty Turco has been pretty bad this year with a save percentage under .900 and a goals against above three, but he has playoff experience and is a good safety net in case Crawford falters.
#17: Dallas Stars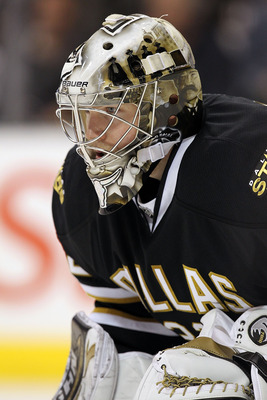 Ronald Martinez/Getty Images
The Dallas Stars' Kari Lehtonen has been very good this year, and is top 10 in the league in wins, shots against, saves, and minutes played.
He's having a resurgence, and finally turning into the goalie Atlanta thought he would be when they picked him second overall in 2002.
His backup, Andrew Raycroft, is also having a resurgent season with an 8-4 record and a .920 save percentage.
#16: Washington Capitals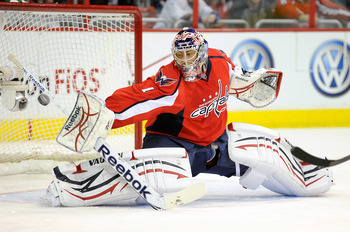 Greg Fiume/Getty Images
The Capitals have three goalies, all 21 or 22 years old, and all competing hard for playing time. Lately, Braden Holtby and Semyon Varlamov have been playing well.
Varlamov is third in the league in save percentage, and fourth in goals against average. He also has the only playoff experience of the three, having played 19 career playoff games.
The Capitals should be in good shape for a long time if these three continue to develop and they keep the right two.
#15: Florida Panthers
Elsa/Getty Images
The Panthers hold one of the potentially most interesting assets for the trade deadline in Tomas Vokoun.
Vokoun is having a good season this year, and is ninth in the league in save percentage, and 15th in goals against average, despite playing on a pretty weak Panthers team.
He's also an upcoming unrestricted free agent.
Backing him up is solid journeyman Scott Clemmensen, and prospect Jacob Markstrom is the goalie of the future for the Panthers.
#14: St. Louis Blues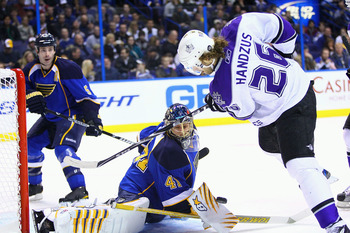 Dilip Vishwanat/Getty Images
The St. Louis Blues snared Jaroslav Halak from the Montreal Canadiens after his heroic playoff last season, and he started this year on fire.
He's since cooled off, but is still one of the few goalies in the league who can steal a game or even a whole series.
His backup, Ty Conklin, is another reliable, well-traveled player who can step in and play well when needed.
Both St. Louis goalies have struggled a bit this year, but should bounce back before the season ends.
#13: Buffalo Sabres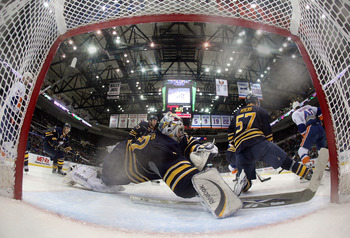 Bruce Bennett/Getty Images
Ryan Miller has the Sabres this high in the rankings all by himself. Backups Jhonas Enroth and Patrick Lalime have played poorly this season, leaving Miller to carry the Sabres.
While Miller hasn't been as good as he was last year when leading the Sabres to a Northeast Division title, winning the Vezina Trophy, and being named Olympic MVP, he's still having a respectable year and has stolen several games for the injury-riddled Sabres.
#12: Calgary Flames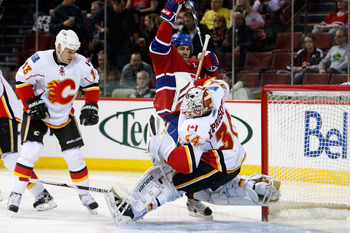 Richard Wolowicz/Getty Images
Miikka Kiprusoff has been one of the best goalies in the league for the last seven years. He isn't having his best season this year, but he's been decent on a very bad Flames team.
This year, he finally seems to have a reliable backup in 27 year old rookie Swede Henrik Karlsson. Karlsson has had a couple of bad games, but has been very steady in most outings.
#11: Detroit Red Wings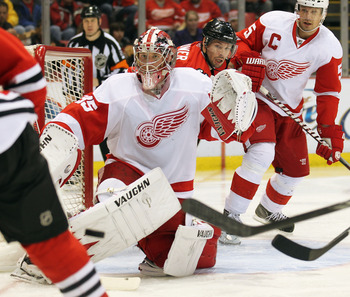 Claus Andersen/Getty Images
When you've got a three-time Stanley Cup winning goalie as your backup, it's a good sign for the hockey team.
Chris Osgood has never been among the league's elite, but he always seems to be clutch come playoffs. Now in a backup role, he's mentoring second-year starter Jimmy Howard.
Howard is second in the league in wins, and fits very well into Detroit's system. His save percentage and goals-against average aren't sparkling, but he gets the job done.
#10: Montreal Canadiens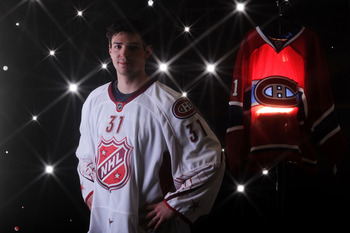 Harry How/Getty Images
Clearly, the Canadiens decided to keep the right goalie, despite Halak's playoff success last season.
Carey Price is among the Vezina Trophy front-runners as he's top 10 in almost every major statistical category. He's on pace for 41 wins, and has the Canadiens, who have been devastated by injury, in a playoff spot.
Backup Alex Auld has seen limited time, but he has been good when he's played.
#9: Carolina Hurricanes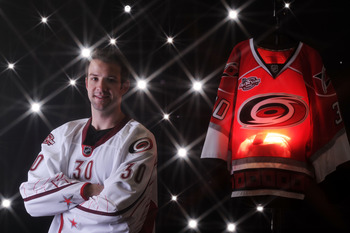 Harry How/Getty Images
The Carolina Hurricanes need a decent backup goalie, but they've got one of the best starters in the league in former Conn Smythe Trophy winner Cam Ward.
Ward just attended the NHL All-Star Game in hometown Carolina, and is on pace for his second-best season to date.
Ward just gets better in the playoffs too, so if the Canes can sneak in, they're a definite threat for an upset.
#8: Anaheim Ducks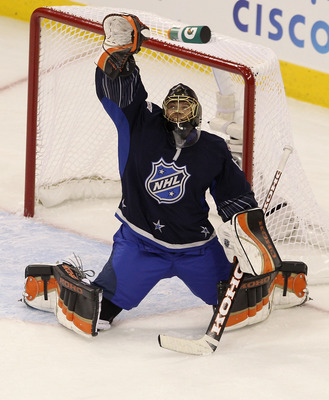 Bruce Bennett/Getty Images
Anaheim's Jonas Hiller is the league leader in games played, wins, shots against, and saves, and is top five in shutouts, save percentage, and minutes played.
He's a definite Vezina candidate, and just got back from the NHL All-Star Game. Hiller also boasts a career .943 playoff save percentage.
His backup, Curtis McElhinney, is pretty inexperienced, but has been steady this season.
#7: Atlanta Thrashers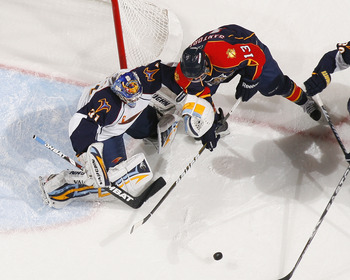 Joel Auerbach/Getty Images
Thrashers starter Ondrej Pavelec faces a lot of shots, the sixth-most in the NHL, and he stops a lot of them with the third-best save percentage in the league.
Pavelec is in his second full season in the NHL, and is a key factor in the surprisingly good play of Atlanta this year.
His backup, Chris Mason, has been a solid starter for the last three seasons, and is very reliable if Pavelec struggles.
#6: New York Rangers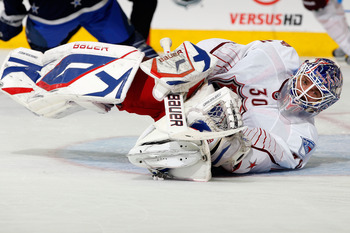 Kevin C. Cox/Getty Images
Rangers goalie Henrik Lundqvist is top 10 in the league in wins, save percentage, goals against average, shutouts, saves, shots against, games played, and minutes played. He was an All-Star last weekend too.
Lundqvist is also the only goalie in NHL history to win at least 30 games in each of his first four seasons, and is well on the way this year as well.
His backup, Martin Biron, has been a starter in the past and is one of the most reliable backups in the league.
#5: Vancouver Canucks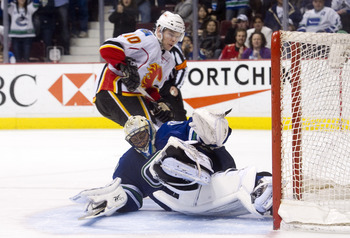 Rich Lam/Getty Images
Canucks starter Roberto Luongo is top 10 in the league in wins, save percentage, and goals against average, and has been a finalist for the Hart, Vezina, and Lester B. Pearson trophies.
His backup, rookie Cory Schneider, has an 8–2–2 record, .923 save percentage, and 2.35 goals against average. He seems to be a very reliable backup in case Luongo struggles in the playoffs again.
#4: Nashville Predators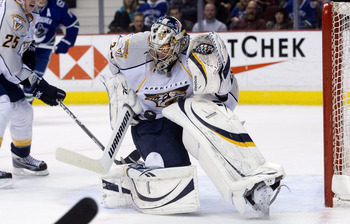 Rich Lam/Getty Images
Nashville Predators starter Pekka Rinne is second in the league in both save percentage and goals against average, and is the biggest reason why the Preds are currently fourth in the ultra-competitive Western Conference.
22-year-old rookie backup Anders Lindback is a 6'6" beast of a goalie, who boasts a 10–4–2 record. He seems to be a very good backup for Rinne.
#3: Pittsburgh Penguins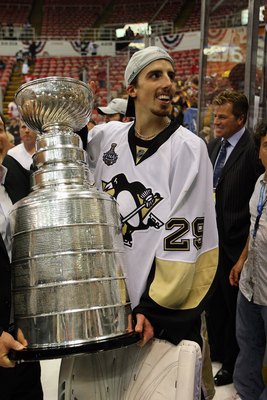 Jim McIsaac/Getty Images
Marc-Andre Fleury hasn't normally been the goalie with the best save percentage and goals-against average, but he's always been the goalie who wins when it matters.
This season, Fleury's been even better, and is fifth in the league in wins, save percentage, and goals-against average, even after an awful start to the season.
His backup, Brent Johnson, has posted a .926 save percentage and 2.04 goals-against average, which is pretty stellar.
#2: Los Angeles Kings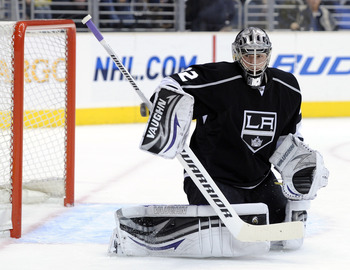 Harry How/Getty Images
At the start of the season, most people were expecting that Jonathan Quick wouldn't finish the year with the Los Angeles Kings, because phenomenal prospect Jonathan Bernier was going to usurp his starting position, and he'd be traded.
Quick has shot down every one of those predictions by being seventh in the league in wins, and third in goals-against average and shutouts.
Bernier hasn't been great so far this season, but is a great prospect who will just keep getting better.
#1: Boston Bruins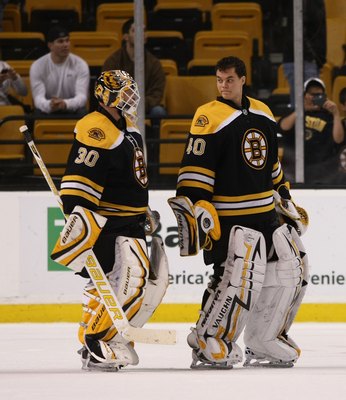 Bruce Bennett/Getty Images
Similarly to Los Angeles, everyone assumed Tim Thomas' career in Boston was over because Tuukka Rask had his coming-out party last year while leading the league in goals-against average and save percentage.
Thomas has stormed back to be the Vezina Trophy favorite, and leads the league with an astonishing .945 save percentage, and a sparkling 1.81 goals against average.
If Thomas can sustain his save percentage, he'll set a new record. Thomas is also second in the league in wins and first in shutouts.
Rask is no slouch either with a .923 save percentage, but for some reason the Bruins just don't seem to score when he's in net, so his record is only 4-10-1.
Largely because of these two superstar goaltenders, the Bruins are leading the Northeast Division and are prime candidates to win the Stanley Cup.
Keep Reading