WInter X Games 15: Kelly Clark and Winners Of Day 3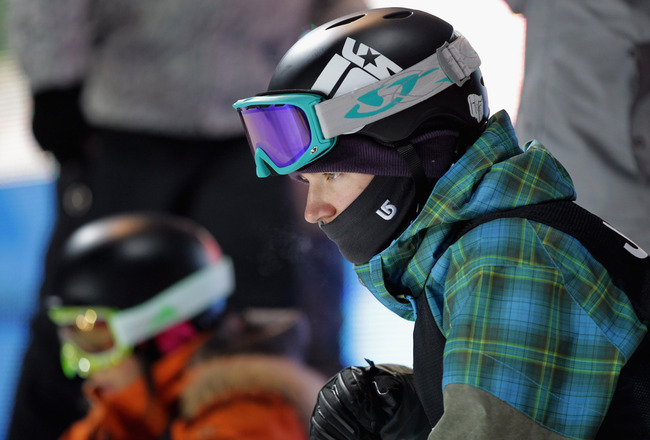 Doug Pensinger/Getty Images
Kelly Clark has been there before. She has a slew of Winter X Games medals. She's an Olympic champion (2002). She's won the World Snowboard Tour.

What Clark did on Saturday night had a little to with a win.

Having already locked up another Women's Snowboard Superpipe gold medal, Clark had a free pass for her final run. She decided to push women's snowboarding to the next level.

On her third air of the run, she landed the first 1080 in competition ever.

It was executed with strength and grace, like she had done it a thousand times before.

She was mauled by her fellow competitors after making the historic feat. Competitors who now know they need the 1080 to keep up with Clark.

Kaitlyn Farrington took the silver medal and Elena Hight earned the bronze.
The "Freight Train" Chugs to Victory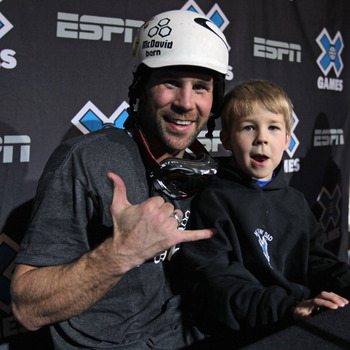 Doug Pensinger/Getty Images
Nick Baumgartner might the sturdiest, toughest and craziest dude in Aspen right now.

Two weeks ago, he broke his collarbone. Then it was repaired with 15 screws and a plate. Then he grabbed his snowboard and went to the mountain.

Baumgartner's first ever WX podium was a golden one, in the Men's Snowboarder X. The multi-sport athlete let out a guttural scream at the bottom of the hill and then headed over to hug his son.

The 210-pound American lead wire-to-wire, breaking the five-year run of wins by Nate Holland, who finished third.

Canadian Kevin Hill's silver medal was his best ever WX finish.
Four-Peat for Jacobellis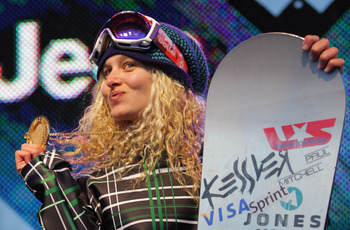 Doug Pensinger/Getty Images
The Women's Snowboarder X Final was a sloppy one. Early falls, emergency swerves and troubles through the rollers defined the race.

Lindsey Jacobellis managed to avoid the stumbles of her competition. She built a big lead and cruised to an easy victory, her fourth gold medal in a row at WX.

She tweeted about her simple and nice victory celebration, "About to go have a celebratory meal with amie and slice - sushi yeah."

The silver medal went to Callan Chythlook-Sifsof. The first for the Alaska native. The bronze was awarded to Frenchwoman and Olympic medallist Deborah Anthonioz.
Sammy Carlson Rails to Slopestyle Victory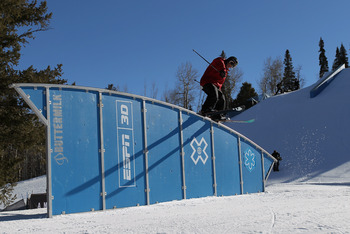 Doug Pensinger/Getty Images
Sammy Carlson's first run was the one to push him to the gold medal. He's been on the podium before, but this was his first WX win, scoring a 93.33.

He executed his airs supremely well, but it was his tricking on the rails that made the difference. He rode 450 to 630 on the rainbow rail and included a double-hand-tap to the joystick.

Russ Henshaw was the only Australian in the field. His 90.66 first run was good enough to get him a Men's Ski Slopestyle silver medal.

Norwegian Andreas Hatvelt wowed with his third run, scoring a 90.00. He sneaked in a bronze medal.
Inaugural Snowboard Street Comp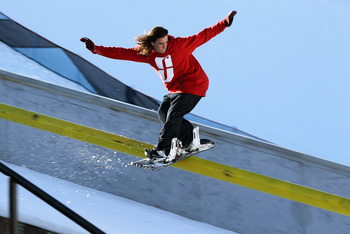 Doug Pensinger/Getty Images
A big crowd showed up to watch the first ever Men's Snowboard Street competition at WX.

They were treated to a Canadian sweep of the podium. Nic Sauve easily won gold with his combined score of 85. Louis-Felix Paradis grabbed silver with a 68. Simon Chamberlain scooped the bronze with a score of 64.

The field was filled with WX rookies, as the competition attempts to widen it's reach. Many of the athletes spend much of their time making videos. But they may spend more time focusing on competition now that the money and prestige of WX is affiliated.

It's an event that should improve over time. The site was poorly lit and wasn't TV-friendly at all. As WX feels this out, the event will grow.

The course featured different types of street-style grinds, including a stair-rail, a wide pipe and a wide concrete edge.
Rookie Schlopy Wins Big Air Gold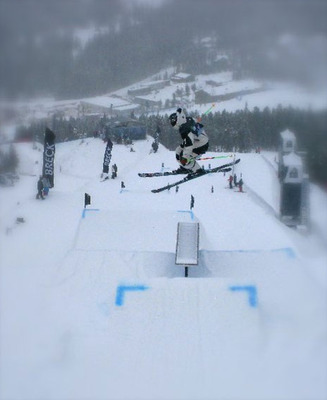 Alex Schlopy may be a rookie, but he sure isn't new to the mountain. His mother is Holly Flanders, an Olympian and World Cup downhiller.

The 18-year-old American showed the free mind of youth by attempting a trick he's never done. He pulled off a double-cork 16 after watching other competitors do it. He added a double-cork 14.

The stoked Schlopy won the Men's Ski Big Air with a score of 92.

Last year's gold medallist Bobby Brown battled through injury to capture the silver medal, scoring 89.

Sammy Carlson made it two medals on the day as he scored 87 and grabbed bronze.
Keep Reading