Battle of the Sexes Part 2: Grading the All-Star Teams: Team Lidstrom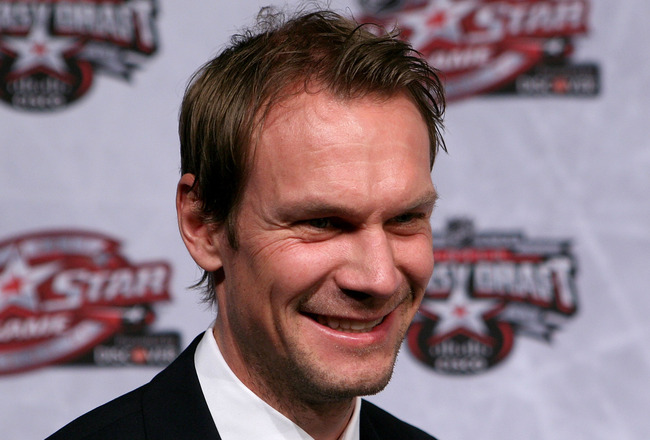 Bruce Bennett/Getty Images
Last night's inaugural All-Star draft answered so many questions about the strategies that each of the team captains would employ when choosing their teams.
Overall, it became clear after a few rounds that both teams were picking players who they had connections with, however when you look back, Lidstrom and his two alternate captains ended up picking with more strategies than Team Staal.
Nick Lidstrom had to feel a bit under-appreciated considering every time Eric Staal's name was announced, the entire audience would scream in a deafening roar.
So who would get the Sedin twins? How many "dynamic duos" would be broken up? Would Eric Staal pick his brother or would Lidstrom snatch up his rival captain's younger brother?
Here is my round-by-round grading of Team Lidstrom's choices through the 18 rounds of fantasy drafting in Raleigh, North Carolina. For an in-depth grading of Team Staal's picks, click here for Kyle Nicolas's analysis.
Round 1: Steven Stamkos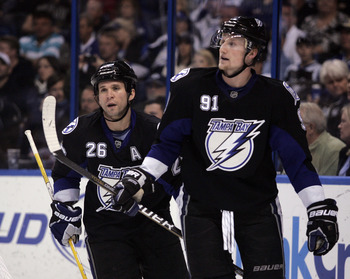 Justin K. Aller/Getty Images
Team Staal first-round pick: Cam Ward
Team Lidstrom first-round pick: Steven Stamkos
Grade for Team Lidstrom: A++
Steven Stamkos is leading the league in goals (38) and points (67), and I absolutely expected Stamkos to be the first overall, however considering Eric Staal decided to pick his goalie, Cam Ward as the first pick, Lidstrom was very smart to pick up Stamkos.
Not really much analysis here, however when Stamkos was asked about being picked so early, he said he expects St. Louis to have a lot of say in this choice. If he did or not is beside the point, putting St. Louis and Stamkos together has always been very productive for the Lightning, so expect some big numbers from this line or at least that pairing.
Round 2: Duncan Keith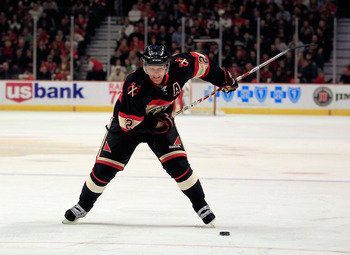 Jonathan Daniel/Getty Images
Team Staal second-round pick: Alexander Ovechkin
Team Lidstrom second-round pick: Duncan Keith
Grade for Team Lidstrom: B
Normally for an all-star game, the focus is point production, and even though Keith is a former Norris Trophy Winner and Gold Medalist, he is not even in the top 15 in point production (18th in defenders), but he was clearly chosen because he is Patrick Kane's teammate.
After Eric Staal chose his teammate in the first overall, it makes sense that Lidstrom's alternate captain would fight for his teammate to be put on the team even if he wasn't the most logical pick. Keith is a great defender, however he was not the best pick for fourth overall in the draft.
Round 3: Henrik Sedin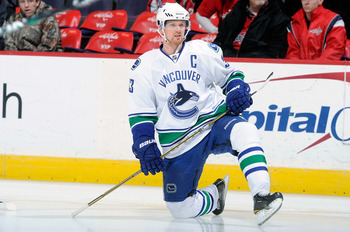 Greg Fiume/Getty Images
Team Staal third-round pick: Daniel Sedin
Team Lidstrom third-round pick: Henrik Sedin
Grade for Team Lidstrom: A-
There is a big piece of me that thinks this move was half intended to just add controversy to the draft, however in reality, both Sedin twins definitely deserved to be taken very early on as they were in this draft.
This All-Star game is the first time the Sedin twins will ever have to play against one another since they started playing hockey, and who knows how this will play out. Will we ever really know which is the better of the two brothers? Maybe not, but for now, we will see how they play against one another and see if either can form that unparalleled chemistry with other, unrelated, players.
Round 4: Shea Weber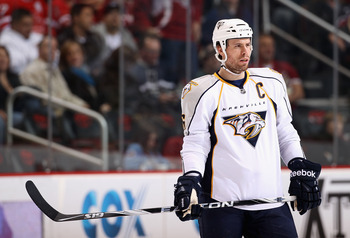 Christian Petersen/Getty Images
Team Staal fourth-round pick: Zdeno Chara
Team Lidstrom fourth-round pick: Shea Weber
Grade for Team Lidstrom: B+
If Team Staal had taken a player other than Chara, the grade for taking Weber would have been lower, however Lidstrom explained that the choice of Shea Weber was a reaction to their opponent's choice of taking Chara.
Staal explained no one really wants to try to stick handle around the beast known as Zdeno Chara, however who really wants to face Shea Weber on either half of the ice? Of the two, I'd take Weber over Chara for the All-Star game almost any day of the week.
Round 5: Tim Thomas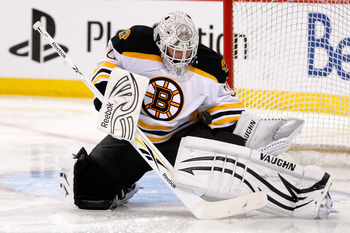 Richard Wolowicz/Getty Images
Team Staal fifth-round pick: Rick Nash
Team Lidstrom fifth-round pick: Tim Thomas
Grade for Team Lidstrom: A
Tim Thomas, in my opinion, is the best of the six available goalies, as supported by the numbers for his year thus far. With a .945 save percentage, if Thomas keeps up that number, it will be the highest save percentage to date.
Lidstrom was smart to take Thomas while he still had him available, after Staal took Cam Ward in the first round, Lidstrom needed a big name goalie to counteract, and Thomas gives team Lidstrom just that. Thomas will be facing off against teammate, Zdeno Chara, who he usually has on his side helping him keep pucks away from the net, however this time, Chara will be firing his slap shots on Thomas. Will Chara take it easy? When he was asked this, he didn't bother hesitating before explaining it wouldn't slow him down at all.
Round 6: Danny Briere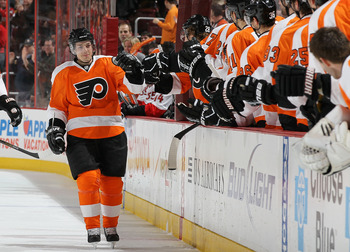 Jim McIsaac/Getty Images
Team Staal sixth-round pick: Henrik Lundqvist
Team Lidstrom sixth-round pick: Danny Briere
Grade for Team Lidstrom: C+
A risky pick for so early in the draft, Lidstrom chose Philly forward, Danny Briere, who was initially a substitute for all of the players who were unable to play due to injuries. When Team Lidstrom decided to announce Briere, the young alternate captain Patrick Kane, stepped up to the microphone and explained that he "grew up watching the next player in Buffalo."
When questioned about how competitive it was between him and teammate Claude Giroux, he explained that he has bragging rights now for at least another year, but when asked if there was any sort of bets, he chose not to answer. Just another example of the lighthearted joking that was prominent in the draft.
Round 7: Dustin Byfuglien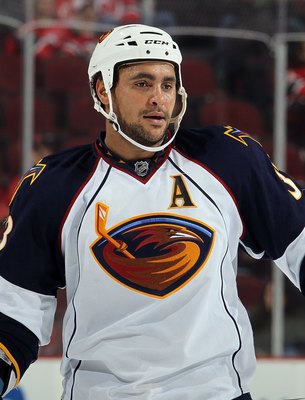 Jim McIsaac/Getty Images
Team Staal seventh-round pick: Marc Staal
Team Lidstrom seventh-round pick: Dustin Byfuglien
Grade for Team Lidstrom: B
For the All-Star Game, it surprises me that the offensive-minded defender, Dustin Byfuglien, was chosen so late. Yes, I understand it is only Round 8, but with other defenseman already chosen, in an All-Star game, it's a little surprising that the more offensive producing blue liner was left untouched this long.
Byfuglien has had a great season thus far, with 16 goals and three overtime-winning goals, however was this a really smart choice for Lidstrom? He kind of backed himself into a corner, meaning two of the next three choices need to be goaltenders.
Round 8: Jonathan Toews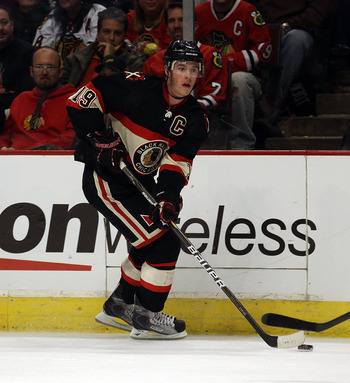 Jonathan Daniel/Getty Images
Team Staal eighth-round pick: Patrick Sharp
Team Lidstrom eighth-round pick: Jonathan Toews
Grade for Team Lidstrom: B+
After all of the jokes from Patrick Kane that he didn't want to be on the same team as his standard line mate, Jonathan Toews, Team Staal passed too many opportunities to pick up this young forward. All-in-all, Kane and Toews are going to be reunited.
In reality, by reuniting certain partnerships, like Toews and Kane, or St. Louis with STamkos, Team Lidstrom really has a strong lineup with many lines already having two set players, just needing to find a third to round off the chemistry. Kane and Toews is another one of those unique partnerships in the league that, even with both players being so young, they really understand each others' playing style and can compliment each other well. Overall, a good pick by Team Lidstrom.
Round 9: Marc-Andre Fleury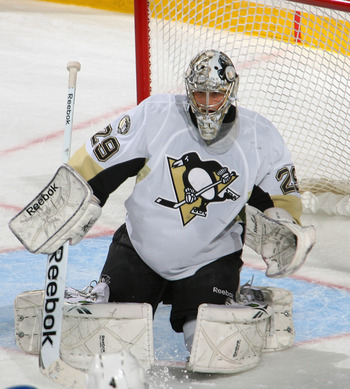 Rick Stewart/Getty Images
Team Staal ninth-round pick: Dan Boyle
Team Lidstrom ninth-round pick: Marc-Andre Fleury
Grade for Team Lidstrom: D+
Call me harsh, but from my perspective, Marc-Andre Fleury was clearly the worst of the six available goalies, so why would Lidstrom pick him above Price or Hiller is beyond me.
Fleury was the goalie that was voted into the All-Star game, and in my opinion, I don't think he would have been there any other way, except for the number of Penguins fans who voted. All-in-all, not Team Lidstrom's best choice, even with who was remaining, they could have taken either of the other goalies, and the rating would have been much higher.
Round 10: Jonas Hiller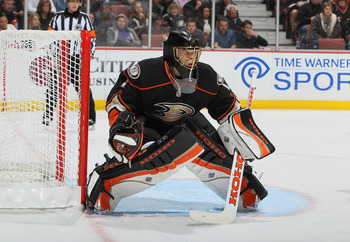 Jeff Gross/Getty Images
Team Staal 10th-round pick: Carey Price
Team Lidstrom 10th-round pick: Jonas Hiller
Grade for Team Lidstrom: B+
Disclaimer: this slide is from the point of an avid Ducks' fan, I do my best to put my biases aside for everything else, but it's time my opinion on this one player came through:
At this point in the draft, I felt like all of my claims about Anaheim being underrated were legitimized. Hiller has been one of the best two or three goalies lately, and the fact that he was the last goalie to be chosen sent chills down my spine and not in a good way.
Hiller has been overlooked consistently and people brush him off as "streaky" or "unreliable," but even if he is streaky, he has been riding one amazing hot streak lately, so why not see what he can do in the All-Star Game? Hiller is a first time All-Star, so with his enthusiasm, watch him prevail like a seasoned veteran and me sit back and laugh with nothing running through my mind except "I told you so."
Round 11: Brad Richards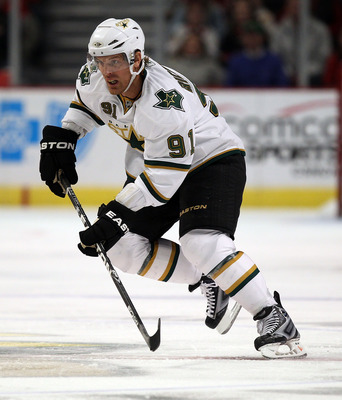 Jonathan Daniel/Getty Images
Team Staal 11th-round pick: Jeff Skinner
Team Lidstrom 11th-round pick: Brad Richards
Grade for Team Lidstrom: A
Brad Richards has been one of those players who falls in the abnormally large shadows of Crosby and Ovechkin and is often overlooked in cities outside of Dallas. Aside from the questions of if he will be wearing a Stars jersey much longer or if he will be sporting a new sweater before the trade deadline passes.
Richards is in the top 10 in points, his 57 points ranking him sixth among all skaters in the league and still he wasn't chosen until the 11th round. Richards still being available, he was undoubtedly the best choice available for Team Lidstrom, so this pick earns them an A.
Round 12: Keith Yandle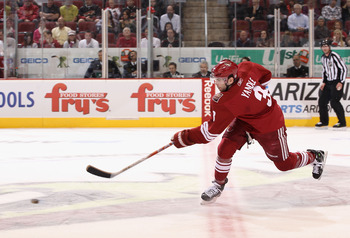 Christian Petersen/Getty Images
Team Staal 12th-round pick: Kris Letang
Team Lidstrom 12th-round pick: Keith Yandle
Grade for Team Lidstrom: A-
Keith Yandle is a name that isn't the most well-known in the National Hockey League, but it really ought to be, considering Yandle is leading all of the league's defenders in points.
Yandle is only 24 years of age and an amazing offensively-focused defender, an asset to any All-Star roster, so all-in-all a really great pickup for Team Lidstrom and not much more to say about it other than that.
Round 13: Brent Burns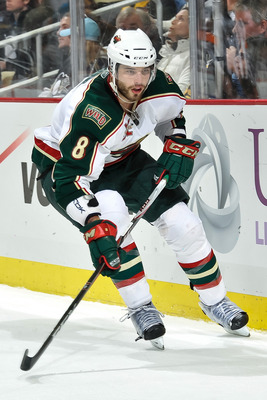 Jamie Sabau/Getty Images
Team Staal 13th-round pick: Claude Giroux
Team Lidstrom 13th-round pick: Brent Burns
Grade for Team Lidstrom: B+
Lidstrom made a great move by filling up his sixth and final defender spot in the 13th round by choosing the clean-shaven Brent Burns. With that vacancy filled, while Team Staal needs to pick up one more blue liner in the next two rounds, Lidstrom and his alternates could focus on picking up two forwards.
Brent Burns is ranked second in goals among defenders, trailing only Dustin Byfuglien, a player who he will be playing alongside on Team Lidstrom for Sunday's All-Star game.
Round 14: Martin Havlat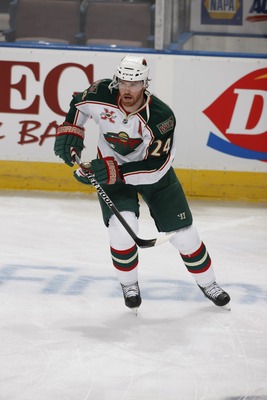 Dale MacMillan/Getty Images
Team Staal 14th-round pick: Eric Karlsson
Team Lidstrom 14th-round pick: Martin Havlat
Grade for Team Lidstrom: C+
Nothing all too shocking with this pick except that it came so early in the draft. Havlat is ranked 24th among all skaters with 44 points, meaning from the pool of remaining players, he was not the most logical choice.
Team Lidstrom could have very easily chosen someone like Matt Duchene, Corey Perry, Anze Kopitar or Loui Erikson who all have significantly more points and production numbers than Havlat does, however it isn't a bad choice. How can it be a bad choice when you are picking out of this group of All-Stars.
Round 15: Anze Kopitar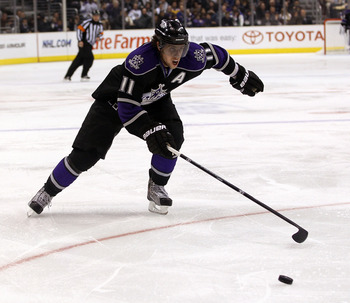 Bruce Bennett/Getty Images
Team Staal 15th-round pick: Corey Perry
Team Lidstrom 15th-round pick: Anze Kopitar
Grade for Team Lidstrom: B+
When Lidstrom announced Anze Kopitar, and mispronounced the name, it was explained that Kopitar is currently leading the Los Angeles Kings in points by a wide margin. When you're getting down to the wire with these All-Stars, it's not much of a surprise that there are six of the last eight players remaining (including these two picks) are from the West.
Kopitar is a good pickup for Team Lidstrom, who clearly was going for more of the point-getters than the players who are related to the captains or alternate captains in one way or another.
Round 16: Matt Duchene
Doug Pensinger/Getty Images
Team Staal 16th-round pick: Patrick Elias
Team Lidstrom 16th-round pick: Matt Duchene
Grade for Team Lidstrom: A+
What a lucky break! Team Lidstrom really lucked out by having Duchene still available in the 16th round, in my opinion this is an excellent pickup.
In my opinion, Duchene is a little bit of a dark horse considering this is only his second year in the big leagues. After an impressive rookie year, Duchene has not disappointed in his sophomore season, and to be honest, if Lidstrom had picked one of the other four players over Duchene, I might have thrown something at the television screen.
Round 17: Loui Eriksson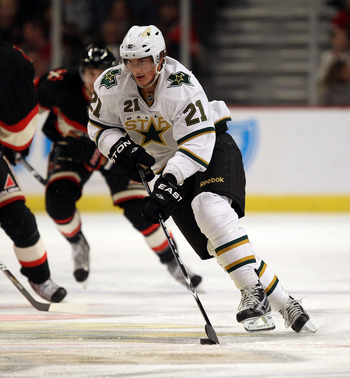 Jonathan Daniel/Getty Images
Team Staal 17th-round pick: David Backes
Team Lidstrom 17th-round pick: Loui Eriksson
Grade for Team Lidstrom: A-
The last three players remaining to be drafted were Eriksson, Paul Stastny and Phil Kessel, and when you step back and look at these three, you can make a case for any of the three, however when you look at who Team Lidstrom already has drafted, choosing Eriksson shows they have a clear strategy.
Team Lidstrom had already drafted Eriksson's teammate and line mate, Brad Richards, and clearly the captains and alternates thought this through until the end. By reuniting Eriksson and Richards, they already have that chemistry together from playing together in Dallas, so having both of them is a really smart move.
Round 18: Phil Kessel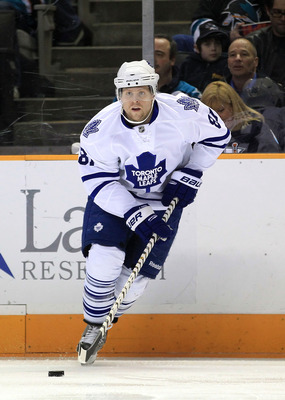 Ezra Shaw/Getty Images
Team Staal 18th-round pick: Paul Stastny
Team Lidstrom 18th-round pick: Phil Kessel
Grade for Team Lidstrom: B+
I'm not sure how to grade the very last pick of the draft, so let me just paint you a quick picture. In the Raleigh convention center, before the 16th round, chairs and players were rearranged so the remaining six players would be in a single row together in the center. By the second half of Round 18 when only Phil Kessel sat there, other players, specifically Alex Ovechkin, thought it was a funny sight and was taking pictures on his phone of the lone Kessel.
Team Lidstrom stalled for a bit until they let Kessel join everyone else and call him up to put on the blue jersey. However, little did Kessel know that being the last one sitting on the "undrafted" side would be a blessing. After a short interview, he was presented with a large sum of money for his favorite charity, as well as a brand new, 2011 Honda hybrid sports car. Not a shabby payment for having to sit in the audience for a bit longer than everyone else!
Grading Breakdown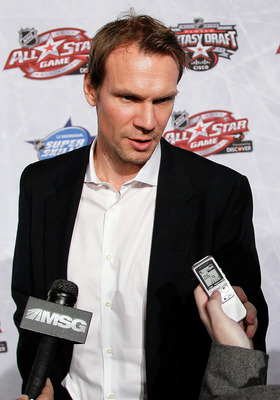 Kevin C. Cox/Getty Images
With the 18th round over, and the rookies divided, the confetti cannons went off, and most of the players, minus the goalies who have desensitized reactions, jumped with the loud and unexpected noise.
Here is the grading breakdown for Team Lidstrom organized by positions.
Overall Goalies Grade: B
Overall Defensemen Grade: B+
Overall Forwards Grade: A-
Lidstrom really did a great job picking a team that, in my opinion, is the clear favorite going into tomorrow's All-Star Game. By reuniting some strong partnerships, like Stamkos with St. Louis, Richards with Eriksson, Kane with Toews, and finally Weber with Keith, the last partnership which is unexpected yet proved to be a strong central duo for Canada's defense in the Olympics last year.
Overall Grade for the entire team is undoubtedly a solid A, and Team Lidstrom, at least on paper, has this game in the bag. Team Staal doesn't have a chance. Click here to see Kyle Nicolas's grading of Team Staal's choices.
Keep Reading