NHL Trade Rumors: Evgeni Nabokov, Miikka Kiprusoff and the Latest NHL Trade Buzz
Jed Jacobsohn/Getty Images
NHL trade rumors continue to swirl as the trade deadline inches nearer and the playoff race starts to take shape.
Isn't it interesting that for all we've heard about the lack of demand for goaltending this trade deadline (which is true), there are more and more goalies who are rumored to be available for a possible deal.
Of course the latest news involving a goalie circles around former NHL and now former KHL goalie Evgeni Nabokov, who is returning to North America and the NHL. But there is more news involving a couple of Canadian goaltenders and teams perhaps looking for forward help.
Here's the latest trade buzz.
Evgeni Nabokov, G, Detroit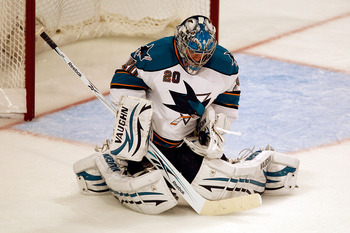 Jonathan Daniel/Getty Images
So Nabokov has officially signed a contract with the Detroit Red Wings and he'll be back in the NHL in some form. Where that might be however, is still unknown.
Despite signing with the Wings, Nabokov must first clear waivers and any team can claim him. There were reports that the Devils could put a claim in on him on top of speculation that the Senators and Islanders could also put in a claim as well. USA Today's Kevin Allen also wondered aloud about the Capitals and Flyers putting in a claim, since both had interest in Nabokov at some point.
Miikka Kiprusoff, G, Calgary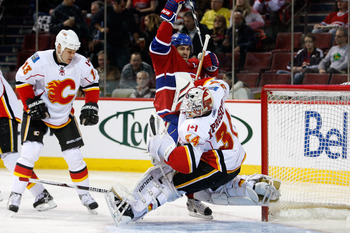 Richard Wolowicz/Getty Images
Then there's the curious case of Miikka Kiprusoff, who's on the block, but not on the block, and is a franchise goalie who's been pseudo-benched.
Such is life in Flames Country right now.
The "Kipper" rumors are starting to spread and sentiment that he should be traded is growing. Eric Francis of the Calgary Sun wrote Kiprusoff should be traded, but believed that even if he doesn't move this season, he could be in play next year. I doubt he'll be moved, but if you watch the Flames this year, you really never know.
3. Jean-Sebastian Giguere, G, Toronto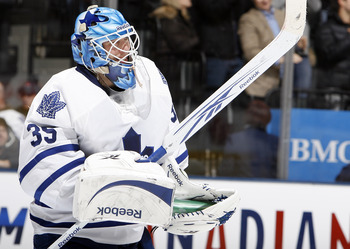 Abelimages/Getty Images
We wrote earlier in the week that the Toronto Star reported Giguere would be willing to waive his no-trade clause. The latest is that now the Star and TSN.ca are reporting Giguere hasn't been asked by Brian Burke to waive his no-trade clause. The market for Giguere is dwindling and it seems like he won't be back in Toronto next season regardless.
4. Brandon Yip, RW, Colorado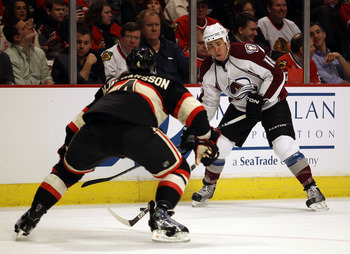 Jonathan Daniel/Getty Images
Brandon Yip is a young forward for the Avalanche who was rumored to be dealt earlier this week. But with the unfortunate news that Tomas Fleischmann is now done for the year with a pulmonary embolism, the chances of Yip staying around could rise. Either way, he's a young forward who could bring a nice player back to Colorado in return.
5. Shea Weber, D, Nashville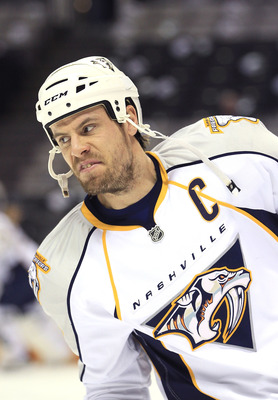 Ezra Shaw/Getty Images
Weber is one of the best young defensemen in the game. That's why it was so surprising to see the Web site puckmeplease.com put up a story about Shea Weber being moved. The post sourced Bill Watters, a Toronto radio personality stating on his radio show that Weber doesn't want to stay in Nashville and considering he's a restricted free agent next year, Nashville has to trade him. I'm not completely sure of the accuracy of the rumor, but it's something to keep your eyes on.
6. Keith Ballard, D, Vancouver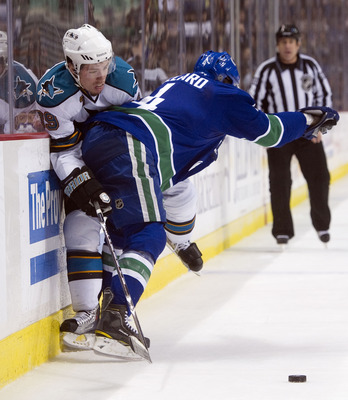 Rich Lam/Getty Images
Iain MacIntyre of the Vancouver Sun reported GM Mike Gillis did a radio interview stating defenseman Sami Salo might not play this year. It's not news to many, but it's good news for a player like Ballard. He's been one of the names who was rumored to be on the move if or when Salo came back, so at least for the time being Ballard is safe.
7. Dustin Penner, LW, Edmonton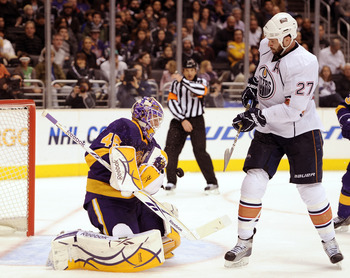 Harry How/Getty Images
Penner would be a tough sell because of his contract, and the latest news we have on him is the Jim Matheson response from the Edmonton Journal, recited by Lyle Richardson on his Hockey News column. Penner probably isn't going anywhere, but perhaps a team to look out for is Montreal. They have a glaring need up front for a physical power forward, and Penner would fit the bill.
Chris Phillips, D, Ottawa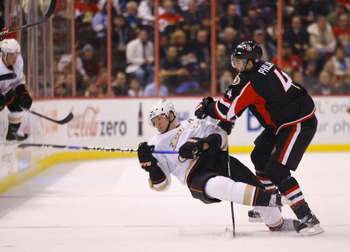 Phillip MacCallum/Getty Images
It seems like we talk about Phillips every day, and every day it's pretty much the same deal. Phillips would like to stay in Ottawa but the Senators could very well move him. Bruce Garrioch of the Ottawa Sun wrote he believes Phillips will be traded, but it could go either way. The Senators are a mess, and dealing Phillips won't be the only solution.
Mike Smith, G, Tampa Bay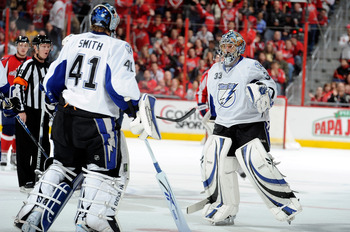 Greg Fiume/Getty Images
I wrote yesterday that the Lightning were sending down Smith to the AHL for a conditioning stint. Now news came today that Steve Yzerman will bring Smith back up to the Lightning next Tuesday, according to the St. Petersberg Times.
ESPN notes that after Tuesday, the Lightning have a week off because of the All-Star break, which gives them time. But the market on Smith has to be very low, even in a weak market. But the Lightning will try to move him if they can.
Robyn Regehr, D, Calgary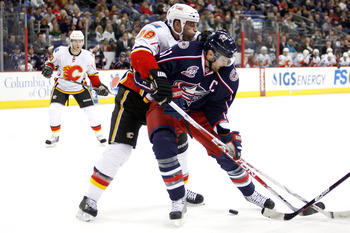 John Grieshop/Getty Images
Regehr has been rumored in at least one trade, going to Boston for Marc Savard, that was refuted. But there's a new deal, from Eklund of hockeybuzz.com, that Montreal would want backline help and could be in on Regehr.
I can see the need for a defenseman, but I would think the need for forward help might be more pressing for the Canadiens than a defenseman. But I could be wrong.
Keep Reading