Washington Capitals Struck Down by Tampa Bay Lightning in Another Shutout Loss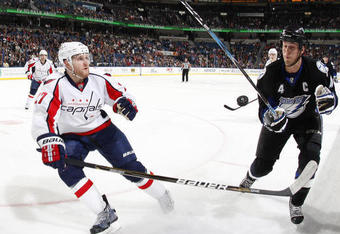 The Washington Capitals completed their trip to the Sunshine state winless for the first time since the 2007 season.
The Tampa Bay Lightning once again served notice that they, not the Capitals, are the team to beat in the NHL's Southeast division.
For the second time in eight days Dwayne Roloson and the Tampa Bay Lightning shut out the Capitals to take over sole possession of first place in the division. Roloson's shutout was his fourth career shutout against the Capitals.
Last night's 3-0 loss was the sixth time in the last 25 games the Capitals have been held scoreless. If you're looking for further evidence that Washington's offense is in more than just a slump, I offer these numbers as proof.
This current stretch of shutouts began on November 19 when Atlanta beat the Capitals 5-0. Since then, the Capitals have been shut out five additional times with four of the six shutouts coming at the hands of divisional opponents.
Prior to November 19, you would have to go back 213 regular season games to February 2, 2008 to find six shutouts posted against Washington. The Caps were also shutout in game two against the Rangers in the 2008-09 playoffs.
The last time Washington played in Florida and returned to D.C without a win was November 15 to 18 of the 2007 season, the week before Bruce Boudreau took over as head coach.
The Capitals were once again outshot last night, 38-23, and for the fifth consecutive game surrendered the first goal.
Caps coach Bruce Boudreau doesn't seem to have any answers. "We haven't scored the first goal of the game in a long while," Boudreau said. "It's hard fighting from behind every night. When they scored that first one, we knew we were in for a tough night."
Boudreau seems to be as confused as the Caps fan base.
A few minutes later Boudreau said, "I thought we came out with a lot of emotion and were ready to play. Even after their second goal, I thought there was a lot of life on the bench. Then we started taking penalties."
Indecision is not exactly what you want to hear from your teams head coach. I get the feeling Boudreau doesn't really know what the pulse of his team is.
The one bright spot on the brief two-game road trip was the play of the Capitals' young goaltenders, Michael Neuvirth and Semyon Varlamov. Varlamov made 35 saves last night and several of them were spectacular.
The Capitals were once again outplayed in the first period, getting outshot 14-9 and by the end of the second period Tampa nearly had the Caps doubled up leading 32-18 in the shot category.
The Lightning had six scoring chances compared to just one for the Caps.
would you, for the right price, trade Mike Green and Alex Semin in a package deal
Washington again struggled on the power play and for the third time in two games surrendered another two man advantage to the opposition, only Varlamov kept Tampa from converting on any of their six power plays last night.
The scoreboard wasn't the only place Washington was shutout. Their power play was 0-7 in the Sunshine state as the Capitals are now 8-75 (10.6 percent) in their last 20 games.
In allowing 79 shots on goal in two nights, the Capitals are beginning to play defense as they did last year and earlier this season. Only the play of goaltenders Michael Neuvirth and Semyon Varlamov kept Washington close during the past two games against the Panthers and Lightning.
Any coach at any level in hockey will tell you the biggest sin is to give up a goal in the first or last five minutes of any period.
The Lighting's first goal came less than four minutes into the game, their second with less than five minutes to go in the first and their last with less than two minutes remaining in the second.
Mike Green and Jeff Schultz are struggling defensively. On the Lightning's third goal both were caught standing still as Simone Gagne beat them both badly down the ice to score over Varlamov's blocker to essentially ice the game.
Jeff Schultz led the NHL last season with a plus-50; this season Schultz is just a plus-one, but in the last two games Schultz was on the ice for every goal both Florida teams scored.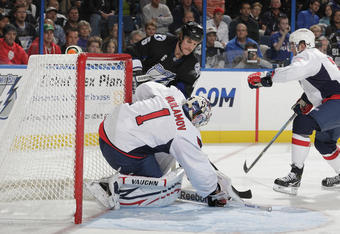 Before you start jumping up and down telling me Green is an All-Star, remember the All-Star game is a goal-scoring fest and there was a reason Green was left off of the Canadian Olympic team one year ago.
Green's game is a microcosm of the entire Washington team this season. They play well some nights, bad on others but it's always a coin flip as to which Green and which team shows up to play.
Somebody better remind Ovechkin and Green what happens when you show up just sometimes to play in April and May.
Then again, April and May might not happen if Boudreau doesn't get this figured out. The Caps while just two points out of first are also just five points from the No. 8 seed and seven points from being out of the playoff picture all together.
Right now, Washington seems to be playing a whole lot closer the No. 8 and 9 seeds than they do the first place Lightning.
Offensively, the Caps have no identity and there doesn't seem to be a quick fix on the horizon. Ovechkin has just 15 goals through 44 games, compared to 33 last year at this time and 29 the year before.
Last night the Caps had more shots get blocked (15) and miss the net (9) than they had on goal.
Collectively, the Capitals' top tandem of Ovechkin and Backstrom has 26 goals combined; the NHL's leading goal scorer, Sidney Crosby, has 32. The Capitals have seven centers on the roster, which have 57 combined assists. The NHL's assist leader, Henrik Sedin, has 46.
Justin K. Aller/Getty Images
Boudreau was again at a loss for answers when asked about his offense, but offered this assessment after last night's game.

"It's tough when you've got a team that is used to scoring. There's a lot of guys that are used to scoring a lot of goals, being up at the top in a lot of categories and then they're not scoring and they get frustrated."
Boudreau said, "They want to score so bad. They want to get things. Things start not going their way."
Things need to start happening for Washington on a more consistent basis. They have no balance and no identity and I'm not sure that a situation like that falls on anyone else's shoulders but Boudreau's.
I stand behind my statement that "Boudreau must go" and a change is needed. The All-Star break is coming and I can't think of a better time to make one.
This article is
What is the duplicate article?
Why is this article offensive?
Where is this article plagiarized from?
Why is this article poorly edited?

Washington Capitals: Like this team?