Shining Stars: The NHL Players Most Worthy of Your All-Star Votes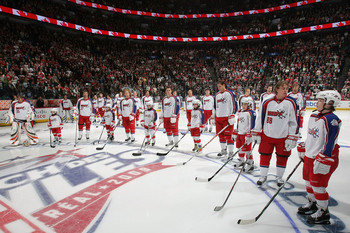 It's hard to believe that this NHL season is nearing the mid-way point. The 58th NHL All-Star Game is taking place a month from now in Raleigh, N.C. on Jan. 30. The voting polls have been open for a month and a half, but there's only five days left before voting closes! The NHL implemented a new "fantasy-draft" style of voting, where fans can select three forwards, two defensemen and one goalie from either conference to appear in the All-Star Game. Here's a list of the players that are most deserving of your all-star votes. If you still haven't voted, or want to vote again, make sure you go to http://vote.nhl.com/ and vote now!
Honorable Mentions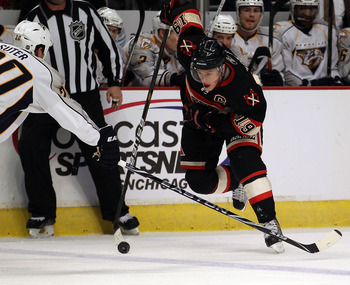 Jonathan Daniel/Getty Images
Forward: Jonathan Toews (C)—Chicago Blackhawks
Season Stats: GP: 38 G: 15 A: 18 P: 33
+/-: +7
Defenseman: Niklas Lidstrom (D)—Detroit Red Wings
Season Stats: GP: 36 G: 10 A: 23 P: 33
+/-: -1
Goalie: Carey Price (G)—Montreal Canadiens
Season Stats: GP: W: 34 L: 19 OT: 13 GAA: 2.27 SV%: .923 SO: 4
All three of these players will likely make the All-Star game, and would be worthy picks for your ballots.
Forward #1: Sidney Crosby (C)—Pittsburgh Penguins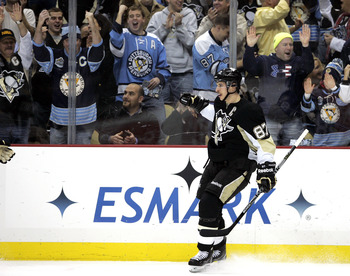 Justin K. Aller/Getty Images
Season Stats: GP: 38 G: 32 A: 33 P: 65
+/-: +21
Honestly, who else? Sid has been the cover-boy for the NHL, along with Alexander Ovechkin, ever since he entered the league. He's the league-leader in three different categories: goals, points and plus/minus. Also, Crosby is in the middle of an incredible point-streak, after just increasing it to 25 games last night. In his 25-game point streak, Crosby has totaled 50 points. Also, thanks to Sid, the Penguins have the most points in the NHL. Like him or not, Sidney Crosby deserves to be on every NHL All-Star ballot.
Forward #2: Steven Stamkos (C)—Tampa Bay Lightning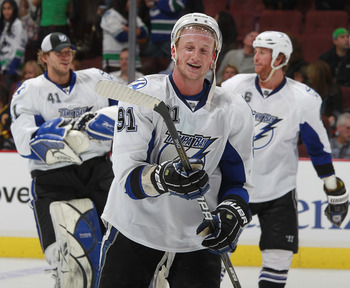 Rich Lam/Getty Images
Season Stats: GP: 37 G: 29 A: 23 P: 52
+/-: +10
Just two years ago, Stamkos was the first overall draft pick in the 2008 NHL Entry Draft. Coming into this season, all kinds of hockey analysts were anticipating monstrous numbers for Stamkos; he hasn't disappointed. Stamkos is just three points off of Crosby's league-leading goal total, and deserves your vote this year.
Forward #3: Corey Perry (RW)—Anaheim Ducks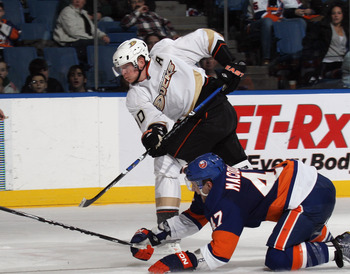 Bruce Bennett/Getty Images
Season Stats: GP: 40 G: 20 A: 22 P: 42
+/-: 7
Another young gun, Corey Perry is only 25-years-old. Perry is near the top of the NHL in goals, assists, and points, but that's not all. Perry has already notched 74 PIM this year, which some may argue is a bad thing, but makes him a gem for fantasy owners. With Perry doing so well in so many categories, he would be a snub if he didn't get your vote.
Defenseman #1: Kris Letang (D)—Pittsburgh Penguins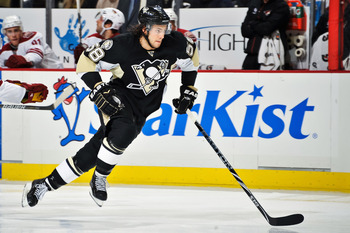 Jamie Sabau/Getty Images
Season Stats: GP: 38 G: 6 A: 26 P: 32
+/-: 19
Kris Letang becomes the second 23-year-old Pittsburgh Penguin on this list. Letang is leading all defensemen in assists and is second in the most important defensive category: plus/minus. Letang is a key component to the success of the Penguins this year, and needs to be voted into the all-star game.
Defenseman #2: Dustin Byfuglien (RW/D)—Atlanta Thrashers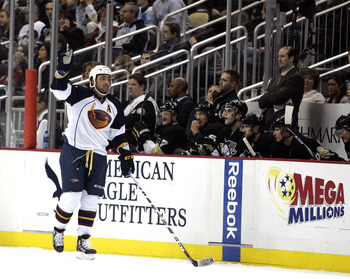 Justin K. Aller/Getty Images
Season Stats: GP: 39 G: 14 A: 24 P: 38
+/-: 8
After getting shipped out of Chicago right after their Stanley Cup victory, Byfuglien has sure managed to show the Hawks what they're missing out on this year. Returning to his former position of defense, Byfuglien is now the league-leading defensemen in goals and points. Also a fan favorite, Byfuglien should have no problem making the All-Star game this year, but he still deserves a vote from you.
Goalie: Tim Thomas (G)—Boston Bruins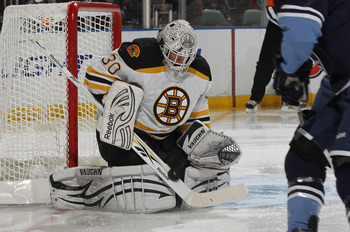 Joel Auerbach/Getty Images
Season Stats: GP: 26 W: 18 L: 4 OTL: 3 GAA: 1.73 SV%: .947 SO: 5
Tim Thomas has been a great goalie in the NHL for a while. He had a bit of an off-year last year, and the Bruins were looking to develop Tuukka Rask as their goalie of the future. This season, Thomas made the most of his first several starts and his been putting up absolutely insane numbers ever since. Although he doesn't have as many starts as a lot of goalies in the league, Thomas still has a league-leading five shutouts. If I could have any goalie in the net for my team right now, it would be Tim Thomas.
Keep Reading

Pittsburgh Penguins: Like this team?