The Wizard Of Oz: Why Detroit Red Wings' Chris Osgood Deserves Hall of Fame Bid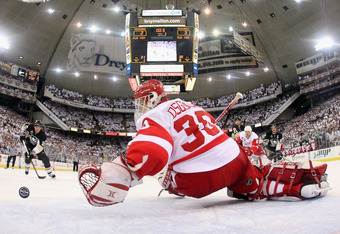 Osgood shuts the door in the dying seconds of the '08 Cup Finals.
Dave Sandford/Getty Images
It was October 27th, 1993 at the Joe Louis Arena. An anxious 21-year-old rookie netminder out of Peace River, Alberta tended goal for the Detroit Red Wings en route to his first career win in an 8-3 victory over Wayne Gretzky and the powerhouse Los Angeles Kings.
That 21-year-old never looked back since.
When the name Chris Osgood comes to mind, you automatically associate him with Hockeytown and one of the few remaining Red Wings from their early '90s dynasty teams.
For nearly 18 years now, Osgood has stood firmly between the pipes of the Red Wings net. He may not have the largest collection of individual trophies, but his résumé surely does not lack in team accolades—something that cannot be overlooked.
Awarded to the goaltender on the team that allows the fewest goals against throughout the entire season, Osgood captured the William M. Jennings Trophy in both 1996 and 2008.
"Ozzie" and the rest of the Red Wings only allowed an astonishing 181 goals in 1996. To put that in perspective, the New Jersey Devils, with now the most winning goalie of all time in Martin Brodeur, finished second in goals against with 202; it was not even a close finish for the award.
In 2008, Osgood backstopped the Red Wings to his second Jennings Trophy after the team allowed a mere 184 goals, which is amazing compared to the 181 in 1996 when the NHL was a much more high-scoring league.
Robert Laberge/Getty Images
He wasn't done there, however. Following a terrific regular-season run that earned the Red Wings the President Trophy (finishing the regular season with the best record overall), Osgood put on a stellar performance night after night, earning a lights-out 1.55 goals-against average and .930 save percentage that backstopped Detroit to its 11th Stanley Cup in franchise history—the third of his career in Detroit.
Oh yeah, and he's only one of four goalies in NHL history to ever score a goal by shooting the puck into the opposing net—five others have been credited with goals due to opponents scoring on themselves. Not worth a bid on its' own obviously, but still a neat noteworthy achievement that clearly doesn't happen too often.
It's very easy to point out that Osgood has been a part of simply remarkable Red Wings teams year after year and many would next question his credibility as a worthy choice to be considered for the Hall of Fame.
The fact of the matter is that yes, the Red Wings had dominant squads since the early '90s. However, that is the fundamental reason why teams are just that successful: They have solid goaltending.
To name a few, look at Grant Fuhr of the phenomenal Oilers clubs in the '80s—five Stanley Cups.
Ken Dryden of the legendary Montreal Canadiens teams in the '70s—six Stanley Cups.
The aforementioned Brodeur of the Devils since the '90s—three Stanley Cups—the most winning goaltender of all time and the career shutout leader.
Recent Hall of Fame inductee Patrick Roy of the Colorado Avalanche—four Stanley Cups.
Yes, all of these netminders had amazing, All-Star-caliber teams playing in front of them. Regardless, in the midst of it all, there still needs to be a goaltender in net, standing on his head to preserve leads and make that one crucial save to keep the chance of winning alive.
Chris Osgood has done exactly as other Hall of Fame goalies have done before him: Make saves, collect wins and earn Stanley Cups.
As he approaches win No. 400 of his career to make him the ninth all-time most winning goaltender in National Hockey League history, it's hard to rule out the fact that only eight goaltenders in the history of the game have ever won more games than Ozzie has.
And at the age of 38, let's not eliminate the notion he could play a couple more seasons to gather even more wins, and, who knows, another Stanley Cup, too.
May the road to the Hall of Fame be paved with yellow bricks for you, oh Wizard of Oz. There will be a place ready for you when you arrive.
This article is
What is the duplicate article?
Why is this article offensive?
Where is this article plagiarized from?
Why is this article poorly edited?

Detroit Red Wings: Like this team?