Chicago Blackhawks: How They Beat Detroit and Can Keep On Winnin'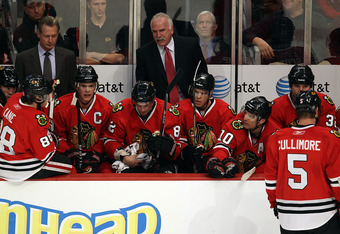 Jonathan Daniel/Getty Images
The Chicago Blackhawks of 2010-2011 have looked nothing like the Blackhawks of 2009-2010, and I'm not talking about the rosters.
This year, the excuses and reasons given for why the Blackhawks were falling flat ranged from defense to offense, goaltending to injuries, etc. In the words of Gene Hackman in The Replacements, "They need heart."
The biggest problem this year has been the Hawks belief that they can show up for 35-40 minutes a night, build a one- or two-goal lead and coast through the third period and win.
That cannot be blamed on any of the above excuses, but rather a lack of leadership, especially with a team with as many young players as the Hawks do. The Hawks have lacked hustle, drive and a will to finish off an opponent as mercilessly as they did last year. Last year, a team heading into the third, down a goal or two against Chicago, almost knew that they weren't going to come back, especially not in the United Center (where the Hawks only lost eight times the entire year).
However, this year, teams know that they can come back, and that it won't be terribly difficult and they won't have to change their game, which is huge. Any player will tell you that hockey is as much a mental game as it is physical, and so far our mental game hasn't been there.
If you look at the game last night, the biggest differences lay in forechecking and the Keith-Seabrook line. So far this season, Seabrook has been very prone to bad turnovers, sometimes leading to goals at the worst possible opportunity. But that line was great last night, and Keith made some beautiful pokes on fast breaks.
Jonathan Daniel/Getty Images
More importantly, however, was the forecheck and overall hustle of the offense. The Wings defense was getting pestered and hassled in their zone the entire game, leading to mistakes in their own end and their defense backing off early while in the offensive to prevent an odd-man break.
This made things easier for the Hawks to move the puck out of the zone. Especially in the second period, the Wings looked lost at times and weren't prepared for the level of pressure the Blackhawks brought. Great move by Quenneville, and keep it up!
Now, how does this relate to the rest of the season, you ask? Simple: The Blackhawks went up against arguably the best team in the NHL and won, but more importantly, they learned what it takes to win a game, and win it solidly. They looked great in the process, and if they can bring this level of pressure, hustle and heart to every game, a repeat is not out of reach.
So, Coach Q, Toews and the other locker-room leaders: This is on you, now. You have to keep this team and the young, unexperienced players moving, working and hustling to every puck like their lives depend on it, like last night, and this Blackhawks team could be a very scary team to play against come spring, especially with Hossa, Stalberg and Kaner coming back in a couple of weeks.
Until next time, go Blackhawks!!!
This article is
What is the duplicate article?
Why is this article offensive?
Where is this article plagiarized from?
Why is this article poorly edited?

Chicago Blackhawks: Like this team?