NHL Power Rankings: The Top 20 Forward Lines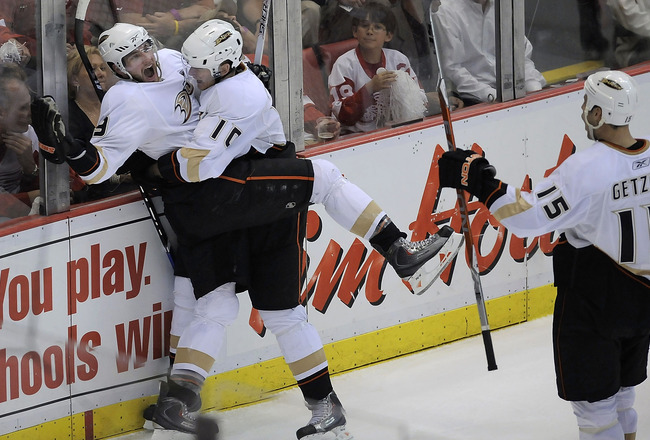 Getzlaf, Perry, Ryan - are they #1?
Gregory Shamus/Getty Images
I was having a conversation with a friend of mine a couple of nights ago, and we were discussing the best forward lines in the NHL today. He, being a Bruins fan, was trying to sell me on Milan Lucic, David Krejci, and Nathan Horton being among the best lines in the league, and I have to say I agree.
The whole conversation gave me an idea to do a slideshow of the top 20 lines in the NHL, so here it is! Please let me know what you think in the comments.
Honorable Mentions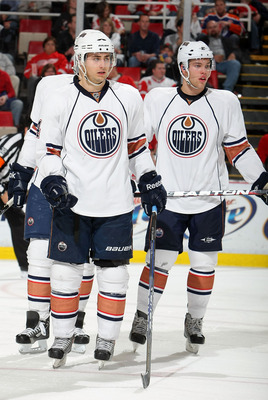 Hall & Eberle
Dave Sandford/Getty Images
Horcoff, Hall, Eberle
Edmonton's veteran captain Shawn Horcoff lines up with rookies Taylor Hall (first overall pick in the 2010 NHL Entry Draft) and Jordan Eberle (2010 CHL Player of the Year), to make up one of the most entertaining units in the NHL. Hall's speed, Eberle's smarts, and Horcoff's experience compliment one another extremely well, and with Hall and Eberle just beginning their careers, this line will be one to watch for many years to come!
Kovalchuk, Zajac, Parise
Yes, this trio has struggled mightily so far this season, be it from injury (Parise) or just poor play (Kovalchuk, Zajac), but they should still be mentioned among the league's elite. Last season they combined for 234 points, including 104 goals, and I expect them to return to form shortly after Parise begins playing again.
Havlat, Koivu, Miettinen
The Wild's main offensive threat comes from the line of Martin Havlat, Mikko Koivu, and Antti Miettinen. Despite a slow start by Havlat, he has bounced back to nearly point-per-game format, and Koivu has become one of the premiere two-way centremen in the NHL. Miettinen has great chemistry with Koivu, and rounds out the group with more solid two-way hockey.
Marleau, Thornton, Heatley
Only an Honourable Mention due to the fact they have hardly played together this season, Marleau, Thornton, and Heatley would have been near, if not at, the top of this list this time last season. They combined for an incredible 254 points, while playing a physical style that most opposing teams found nearly impossible to defend.
Kesler, Raymond, Samuelsson
The Vancouver Canucks have one of the best second lines in the league, and their two-way ability makes them arguably the best checking line in the league. While being nominated for the Selke Trophy, as best defensive forward, Ryan Kesler also managed to put up 25 goals and 75 points last season, and Raymond and Samuelsson both had career years as well.

20: Dubinsky, Callahan, Anisimov; NYR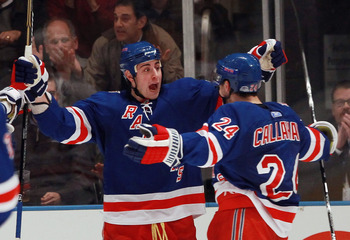 Bruce Bennett/Getty Images
These three big-bodied, young forwards have been the best line night in and night out for the New York Rangers this season. They've managed to keep the Rangers tied for 5th place in the Eastern Conference, despite superstar Marian Gaborik missing 13 games.
If you're like most people, myself included, who picked the Rangers to miss the playoffs by a wide margin, then you've been pleasantly surprised by the play of this trio.
19: Clowe, Pavelski, Setoguchi; SJ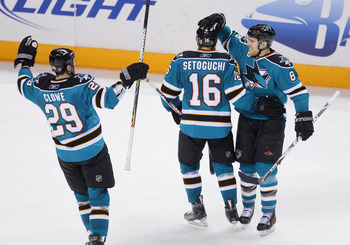 Brian Bahr/Getty Images
The "second" line of the San Jose Sharks has been absolutely fantastic, ever since the first round of the playoffs last season. Joe Pavelski is one of the league's best faceoff men, and he, Clowe, and Setoguchi use their size to cycle the puck better than most. Clowe especially is off to a great start with 29 points in 30 games to lead the Sharks.
18: Tanguay, Iginla, Stajan; CGY
Alex Tanguay's return to Calgary was met with some questions as to the sanity of Flames' GM Darryl Sutter (although the general feeling was that the Olli Jokinen return was the real problem). Tanguay has quickly silenced anyone who questioned him, and has once again found great chemistry with captain Jarome Iginla.
Iginla started so slowly that members of the Calgary media left wondering if his career was almost over, but he has rebounded with his traditionally strong November, and has 12 goals since November 13. If the Flames could offer these two a quality centre (Stajan has been a healthy scratch the past two games) this line would surely move up the rankings.
17: Nash, Brassard, Voracek; CBJ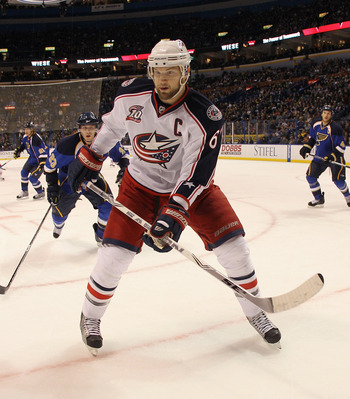 Bruce Bennett/Getty Images
Rick Nash is already amongst the best forwards in hockey, and Derrick Brassard and Jakub Voracek are on the brink of breaking through to stardom. Voracek's speed and Brassard's play-making compliment Nash's pure power and scoring ability to form a deadly trio. Watch for these three to keep getting better as the season wears on.
16: Kopecky, Sharp, Hossa; CHI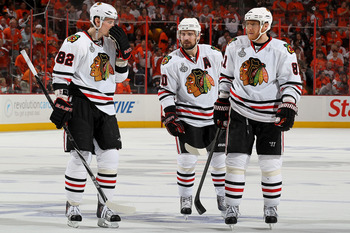 Jim McIsaac/Getty Images
This was the hottest line in the league at the start of the season as Sharp raced out to the league goal-scoring lead. Since then, Hossa has been hampered by injuries, but this is still one of the best lines in the NHL. All three are terrific defensively, and Sharp and Hossa are fantastic offensively as well.
15: Plekanec, Cammalleri, Kostitsyn; MTL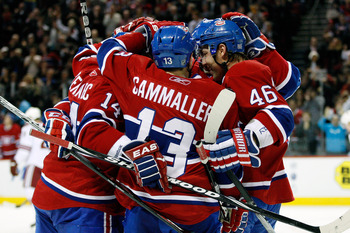 Richard Wolowicz/Getty Images
Outside of Carey Price, this line is the biggest reason why the Montreal Canadiens currently lead the Northeast division. They've accounted for nearly 40 percent of Montreal's goals, and while none are currently at a point-per-game average, all three are defensively responsible plus players, which is more important in the Canadiens' game plan.
14: Jones, Stastny, Stewart; COL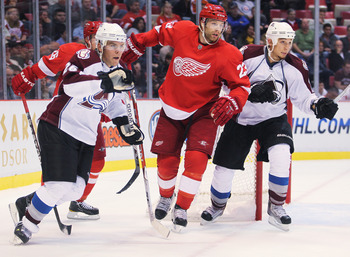 Claus Andersen/Getty Images
This line wasn't united until about the start of November, but they dominated before Chris Stewart broke his hand in a fight. Stewart and Jones are both emerging as premiere power forwards in the league, and Stastny has followed in his father Peter's footsteps and become a great set-up man. These three have combined for 0.93 PPG so far this season, and already have 35 goals.
13: Fleischmann, Duchene, Hejduk; COL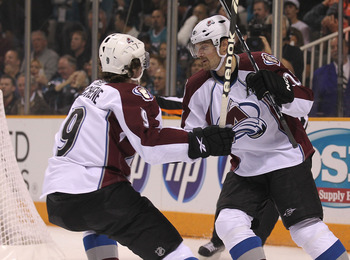 Jed Jacobsohn/Getty Images
Another newly formed line in Colorado has rewarded coach Joe Sacco with instant chemistry. Matt Duchene, a Calder Trophy finalist last season, is one of the best young players in the game today, and has completely avoided the dreaded sophomore slump.
Milan Hejduk is a former 50 goal scorer, but was thought to be on the downswing of his career after seeing his production fall over the last several seasons. He's now off to the best start he's had in many years, and is on pace for 89 points this year.
Finally, Fleischmann was cast out of Washington, and had been a healthy scratch earlier this season, but seems to have the fresh start he needed playing with Duchene and Hejduk. In the 6 games these three have played together, they've already put up 22 points.
12: Brown, Kopitar, WIlliams; LA
The Kings' top line is off to a great start this season, with 33 goals and a 0.92 PPG between them already. All three are plus players, and play a strong, physical, cycling game that is very difficult to defend. Dustin Brown is consistently among the league leaders in hits, Kopitar is great defensively, and Justin Williams seems to finally be healthy again. If the Kings add another scorer for their second line, they should be legitimate Cup contenders.
11: Brouwer, Toews, Kane; CHI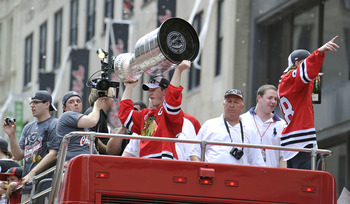 Jim Prisching/Getty Images
It's hard to go too far wrong when you have the reigning Conn Smythe winner and Stanley Cup winning goal scorer on the same line, especially when they are as great of players as Jonathan Toews and Patrick Kane.
Toews brings superb faceoff ability, a great two-way game, and a scorer's touch, while Kane brings speed, skill, and slickness. Brouwer compliments the two superstars well with a very physical, hard fore-checking game, and a willingness to go to the dirty areas, like the front of the net, to get goals.
10: Heatley, Marleau, Couture; SJ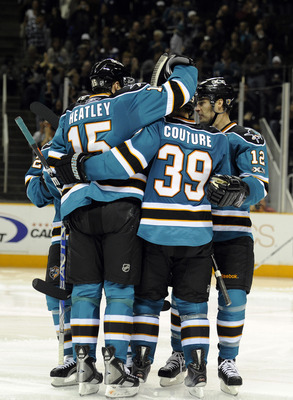 Thearon W. Henderson/Getty Images
Any line that pairs two veteran stars with a would be front-runner for Rookie of the Year should be pretty successful. (Couture played 25 games for the Sharks last season, one more than is allowed, which puts him out of Calder eligibility).
Marleau and Heatley made up two-thirds of one of the best lines in the league last year, and don't seem to have missed a beat with Couture taking over Joe Thornton's spot at centre. All three are big and fast, and give defenders fits game in and game out.
9: Neal, Richards, Eriksson; DAL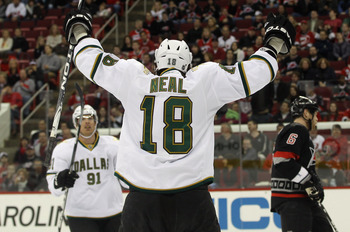 Bruce Bennett/Getty Images
This is a line that I didn't expect to keep pace with the numbers they put up last year. Was I ever wrong on that one. So far, they're playing even better than last season, and have the Stars leading the powerhouse Pacific Division. These three are combining for a point-per-game average, led by Brad Richards, who Stars' fans must be praying gets re-signed as soon as possible.
Richards is an excellent passer, who also has a powerful one-timer, and plays the point on the power play. Loui Eriksson is a pure sniper, who's on pace for another 30 goal season, and James Neal is an emerging power forward who plays hard and has a good set of hands. Don't expect the Stars to fall out of playoff contention if this line keeps producing.
8: Crosby, Kunitz, Dupuis; PIT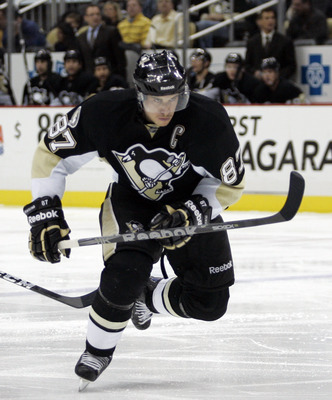 Justin K. Aller/Getty Images
What needs to be said for this line, other than it's Crosby, the best player in the world right now. Kunitz's physical play and decent scoring touch, and Dupuis' solid defensive player compliment Crosby reasonably well, but if he had a sniper on one of his wings, it would probably be the best line in the league. Crosby's currently on a 19 game point streak, even without premiere players on his line, and is looking virtually unstoppable.
7: Giroux, Briere, Hartnell; PHI
Philadelphia has an incredibly deep and talented group of forwards, and I had a hard time figuring out what the "regular" lines are. The Briere, Giroux, Hartnell line seemed to be most consistently together in the games I've seen lately, and I can understand why.
Giroux and Briere are relatively small, but sublimely skilled, and ultra-slick with the puck. Hartnell brings a big body and a physical mean streak that creates space for the smaller guys. With 39 goals and 81 points already, this is one of three very scary lines the Flyers can send over the boards.
6: H. Sedin, D. Sedin, Burrows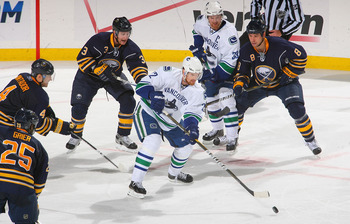 Rick Stewart/Getty Images
They say twins have an unspoken mental connection. I think they were talking about the Sedins. Last season's Art Ross and Hart Trophy winner Henrik Sedin, and his identical twin brother Daniel make some of the most ridiculous blind passes, and they seem to always be on the tape.
Add in super-pest Alex Burrows, who has a pretty decent amount of skill too, and you have the stuff Flames fans' nightmares are made of. When they're on their game, this line is almost unstoppable.
5: Lucic, Krejci, Horton; BOS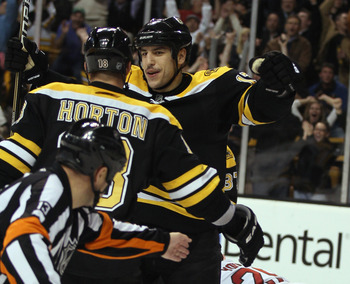 Elsa/Getty Images
Milan Lucic is only in his fourth NHL season, and has already been part of two great lines. He played with Phil Kessel and Marc Savard two years ago, and now teams up with David Krejci and recently acquired Nathan Horton. Lucic brings the proto-typical power forward style of game, and he creates space wonderfully for super skilled David Krejci and sniper Nathan Horton, who also plays a physical game.
While these three are not near the highest scoring line in the league, they are an incredible plus 42 already this season, which is a testament to their ability to take the puck away and control it on the cycle. This line is built for playoff hockey, and should give the Bruins a great chance to get past the second round this year.
4: St. Louis, Stamkos, Downie; TB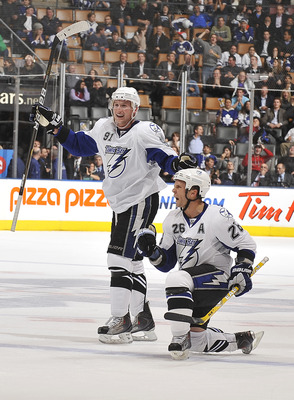 Abelimages/Getty Images
With perhaps the best passer in the league, setting up perhaps the best sniper, this line is a scoring machine. Steve Downie is a physical pest, who creates space and draws penalties, which sets Martin St. Louis and Steven Stamkos up for success.
These three have combined for 96 points in only 83 games, and Stamkos and St. Louis sit second and third, respectively, in the scoring race. If they could just get some reliable goaltending behind them, this line could take Tampa Bay deep in the playoffs.
3: Datsyuk, Zetterberg, Holmstrom; DET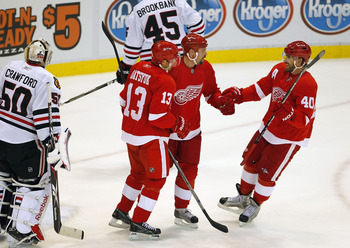 Gregory Shamus/Getty Images
A three time Selke trophy winner, who also won four straight Lady Byng Trophies is scary enough on his own; Pavel Datsyuk can completely shut you down, without taking any penalties, and can also put up around 100 points per season; it's more than a little ridiculous.
Then, when Datsyuk gets Conn Smythe winner and Olympic gold medalist Henrik Zetterberg on his wing, opposing teams might as well just give up before puck drop. Add pest Tomas Holmstrom, possibly the best net-front presence of this decade, and you have the makings of a nearly unbeatable line. By the way, they play almost every shift against the opponent's top line.
2: Ovechkin, Backstrom, Semin; WASH
Whether to put this line No. 1 or No. 2 was the hardest decision of the top 20. It's hard not to put the highest scoring line in the league at the top of the rankings, especially when they've proven themselves with 294 points and a plus 118 rating last season.
Ovechkin is one of the best players in the league, and Backstrom is making a case for himself to be included in that discussion. Alexander Semin has some of the best moves and one of the best shots in the NHL, and when all three are combined, they're scary good.
Ultimately, my decision came down to two factors: 1) They don't play together all the time, as Mike Knuble is regularly in Semin's spot on right wing, and 2) They've had a severe lack of playoff success so far.
1: Getzlaf, Perry, Ryan; ANA
Christian Petersen/Getty Images
6'2", 209.
6'3", 212.
6'4", 221.
Try taking the puck away from this line; it just won't happen. Ryan Getzlaf is one of the best all-around players in the league, and has won a Stanley Cup, Olympic gold, and arguably should have a Conn Smythe Trophy. Corey Perry also has a Cup and Olympic gold, and is on pace to smash his career bests for goals and points. Bobby Ryan has Olympic silver, and is settling in as one of the best snipers in the NHL.
This line is huge, physical, skilled, and dominant, and that's what makes them the best line in the NHL right now.
Keep Reading