Dion Phaneuf's Return to Calgary: Why the Maple Leafs Made the Right Move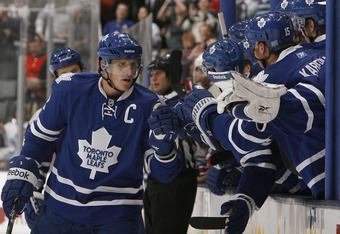 Abelimages/Getty Images
Thursday night in Calgary will be more than just a game for Dion Phaneuf.
It is his first return to the place where he started his career; drafted ninth overall by the Flames in 2003, Phaneuf went on to play five seasons with the club before his trade to the Toronto Maple Leafs last season.
He will say it's just another game, an important two points for the Leafs, and that he won't be looking at the game as anything more than just another night on the schedule. But deep down, this is more than another game for Phaneuf.
It's his return to where it all began. It's his return to the place where he developed from a determined kid looking to make his name in the NHL to a mature, respected man. And a solid hockey player.
He scored the most goals of any defenseman in the league during his time with the Flames, and though he was struggling for most of last season and the year before, he was still considered a force on the blue line.
He was much maligned during the end with the team, eventually included in a trade that sent him, along with Keith Aulie and Fredrik Sjostrom, to the Leafs in return for Matt Stajan, Niklas Hagman, Ian White and Jamal Mayers.
It will be the first time since the trade that the teams have met. And you can bet the crowd will be raucous throughout the game, as a large contingent of Leaf fans is always present during the Western Canadian road trip.
Phaneuf comes back to Calgary as the captain of the Maple Leafs, and though many are uncertain of whether he will be booed or cheered by the home faithful, he certainly deserves the latter.
Phaneuf didn't give up on Calgary—it was the other way around. Calgary gave up on Phaneuf, and shipped him out of town at the first opportunity they got. Most teams weren't even aware he was on the block when they heard of the trade to Toronto.
Phaneuf was supposed to be the Flames cornerstone on the blue line for years to come, but then they went out and got Jay Bouwmeester, and Phaneuf began to struggle, and that was that.
Gone with simply a "thanks for what you did here."
And all he did there was score 65 goals and 228 points in 378 games with the club, while becoming a fan-favourite around the league and getting recognition as one of the most feared hitters in the game.
Which begs the question why the Flames gave up on him so soon? Why, after 2008-2009 where he scored 11 goals and 47 points (better numbers than most) was he suddenly on the block the next year?
And why did they do such a poor job in getting fair value back for him and the two others?
Oh, you don't agree with me? You think the winner of this trade is still up for grabs?
Ronald Martinez/Getty Images
Let's take a look, shall we?
Though Phaneuf has been a fraction of what he was in the early days of his career, he came to a team in the middle of a rebuild, was named the captain and now is expected to lead the team back to respectability in the NHL.
Tough to do on his own, but with help around him it is foreseeable that the Leafs have a future with the addition of more pieces. Though he's battled injury this season, only playing in 14 games, it's the fact that he's only 25 years old, and has the potential to once again be what he was in his first few seasons.
Fredrik Sjostrom played 46 games with the Flames after coming over from the New York Rangers. He scored one goal and six points in Calgary, while never really getting much of a chance to play. He had two goals and five points in 19 games with Toronto after the trade. And has proven to be a helpful special teams player, while getting more of a chance than he did in Calgary.
Keith Aulie was a steal in the deal. The 21-year-old has played 11 games for the Leafs thus far this season, and has proved he has the potential to be a force. He's already shown he can keep up with the speed of the NHL, and has little issue with the size, as he stands 6'5", 217 pounds.
He will be good for the Leafs for a long time to come.
All three players are a factor on the club this season, and each is being given a shot to gel with their teammates and hopefully turn the season around. Meanwhile in Calgary, the same cannot be said for the four players who were traded there last season.
Jamal Mayers is in San Jose. Ian White is in Carolina.
Nik Hagman had 42 goals and 75 points in the 120 games he played as a Leaf. He has 12 goals and 24 points in 57 games with the Flames.
Matt Stajan, after signing a four-year, $14 million contract in the offseason has been a dud—to put it lightly. He's scored four goals in 55 games as a Flame. He has one goal in his last 43 games and was a healthy scratch on Saturday and Monday night. He was supposed to be the team's No. 1 center, but now can't even find a spot in the lineup.
But he will enjoy making $3.5 million for the next three seasons.
Leaf fans may boo Phaneuf for his turnovers, his lack of scoring or his less-than-stellar play some nights, but facts are facts. And the fact is, the Leafs won this trade. It's not even close.
They received two big, young, talented defensemen that can stabilize the blue line for years to come, and a hard-working third-liner, all who are contributing to the team right now. The Flames have just two players left from the deal: one a healthy scratch, the other struggling to find his scoring touch.
So as Leaf fans watch the team on their Western Canadian swing, and Thursday night comes around, stop and think about who you really have—and what you got rid of.
The team may not be winning—or scoring—on a regular basis, but it isn't the fault of the captain, or the other two players involved in the deal. It's a team game, you win as one, you lose as one.
Justin K. Aller/Getty Images
The team is struggling, but learning as well.
Usually it takes years before one can look back on a trade and say who won and lost, but this time around, there is no doubt who came out on top.
So yes, you still may boo Phaneuf, or curse the defense, or scoff at the special teams, but just remember that this trade is the first great one for the Leafs in a long time—and we'll get a first-hand look at that on Thursday night.
With Phaneuf and the others heading back to Calgary for the first time, you may say whatever you want about the situation, but just remember; it could be worse.
You could be Calgary.
This article is
What is the duplicate article?
Why is this article offensive?
Where is this article plagiarized from?
Why is this article poorly edited?

Toronto Maple Leafs: Like this team?