NHL Trade Rumors: Blockbuster Deals That Could Happen Before Deadline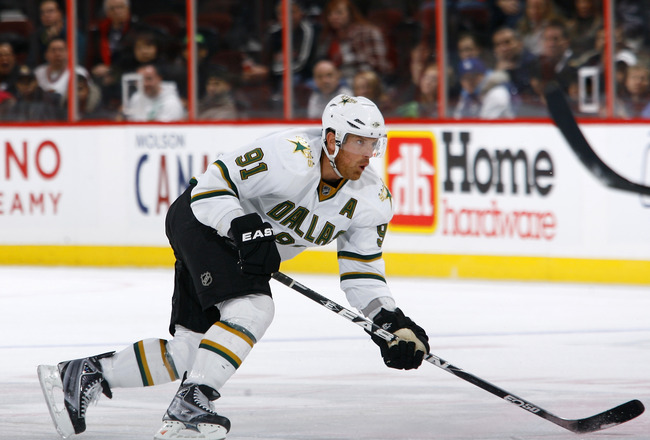 Phillip MacCallum/Getty Images
NHL trade rumors are heating up as the trade deadline moves closer.
Trade deadlines in any sport are always rife with rumors and speculation. But, perhaps, in no league does the rule apply more than the NHL, which is usually one of the more exciting and active trade deadlines.
This year's deadline is still down the road, but it's that time right now when teams have a good idea of where they are and whether they could be contenders, or whether to start taking calls about some of their personnel.
With that in mind, here are some of the bigger names around the NHL that could be moved by the trade deadline.
Brad Richards, C, Dallas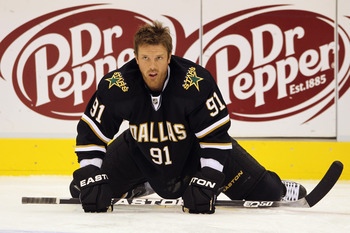 Bruce Bennett/Getty Images
Richards might be the most talked -player in trade rumors because of his contract and the situation surrounding it. He's in the last year of his deal, and with the sale of the Stars, it doesn't look like the club will be able to re-sign him, considering the money he could be due in free agency. He's also an attractive option as a No. 1 center and a definite top-six forward who has quarterbacked a power play and can provide a boost offensively.
The problem is, as of this posting, Dallas leads the Pacific Division and is second in the West. So Dallas has a situation similar to what Florida had with Jay Bouwmeester. Will they trade him or hold on and try to make a run?
If Dallas does decide to move him, expect Los Angeles and Toronto to push hard for him, with the edge going to the Kings because of the prospects Dallas can get in return. The Rangers have been rumored to have interest as well, but it's hard to say if they will have the prospects or be willing to part with one of their young players to give Marian Gaborik a center.
Jarome Iginla, RW, Calgary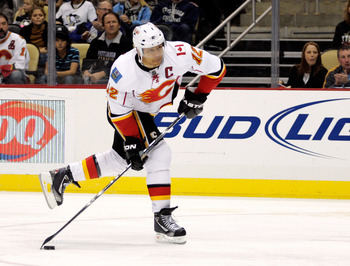 Justin K. Aller/Getty Images
Another tough season in Cowtown has gotten to the point at which the media in Canada and across the league is wondering aloud if Iginla, arguably the best player in Flames history, could be moved. There was a report that was discussed during the "Hot Stove" segment on Hockey Night in Canada last Saturday that Iginla was assured he would not be dealt this season.
But as he struggles out of the gate and doesn't have a lot of help around him yet again, it's hard not to wonder if the Flames will make a move with Iginla to receive the cap relief and prospects the franchise desperately needs.
If he is dangled out there for a trade , expect Los Angeles to be a major player (as they will with almost every forward). L.A.'s cap room and surplus of attractive prospects makes it a strong player.
Kevin Bieksa, D, Vancouver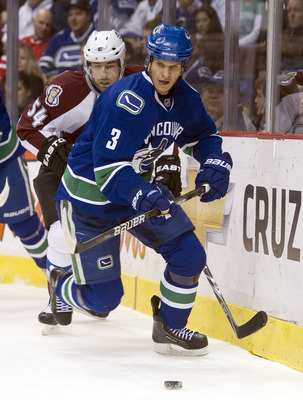 Rich Lam/Getty Images
Bieksa had been the target of rumors all summer after the Canucks splurged on defensemen Keith Ballard and Dan Hamhuis in the offseason, until Sami Salo suffered a ruptured Achilles tendon. But with Salo on the way back and Bieksa being outplayed by Andrew Alberts and Aaron Rome, the trade rumors have heated up again.
Ben Kuzma of the Vancouver Province reported Monday a rumored deal between Vancouver and Washington that would send center Tomas Fleischmann to Vancouver for Bieksa. Both have underachieved and perhaps the change of scenery would do them well. The Canucks wouldn't turn down a chance to improve the offense on their lower-two lines either.
As an impending unrestricted free agent, it's seeming more and more likely Bieksa will be gone one way or another. He was involved in a rumored deal with Columbus in the offseason, but it's unlikely Vancouver would ship him to another playoff team in the West. The Washington deal seems like a good fit if it comes to fruition, considering Kuzma reported another rumor tying Fleischmann to, you guessed it, the Kings.
Michael Ryder, RW, Boston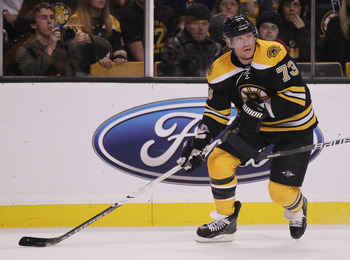 Elsa/Getty Images
With Marc Savard on his way back, the salary cap-pressed Bruins will be forced to make a move to clear cap space and Ryder's name has constantly come up. The winger's numbers have gone down since his first year in Boston and his $4 million cap hit is a tough sell, leading to more attractive names like Savard and Blake Wheeler involved in rumors.
But there was a report on Nov. 24 from the St. Louis Post-Dispatch saying that Ryder could be dealt and that the Blues might be intent to keep an eye out and listen. When he's playing well, Ryder can be a pretty good player, and with T.J. Oshie and David Perron out, one of the Bruins' forwards might be a good fit. It also wouldn't hurt that any team dealing with Boston would have immediate leverage knowing Boston's situation.
Ryder is a name to keep an eye out for as the deadline gets closer. Any team looking for offensive punch and looking to give up little might take a flyer on Ryder. St. Louis could be a possibility according to that report.
Patrik Elias, LW, New Jersey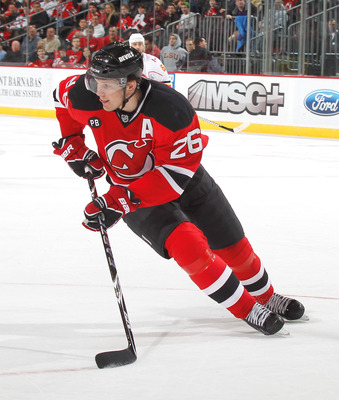 Paul Bereswill/Getty Images
Elias has been a consistent performer in New Jersey, scoring no fewer than 16 goals or 48 points since 1996-97. He's still performing this season, with 14 points in 23 games for an offensively struggling Devils team. But with the possibility of the Devils being sellers for the first time in ages, Elias' name has been floated around.
He has three years and $18 million left on his deal, plus a no-movement clause which makes him tough to move. But moving him might be the only way for the Devils to get cap relief and free up money to sign Zach Parise long term.
Teams with holes at forward will look at Elias, as he has been known to play wing and center. His name has been tied to Los Angeles.
Jamie Langenbrunner, RW, New Jersey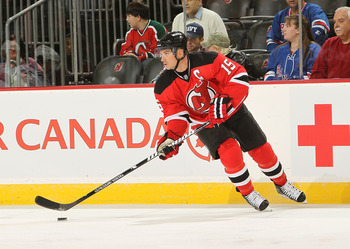 Nick Laham/Getty Images
Langenbrunner has a no-trade clause but a more manageable contract that expires after this season. The Devils' captain has been out with an injury recently, but he has nine points in 16 games and has been successful in both New Jersey and Dallas. He could be one of those valuable guys who provides offense and veteran leadership.
He was one of the players floated out in September as someone the Devils might have moved to get under the cap, and the Denver Post's Adrian Dater said he could've been a good fit with the Avalanche. Colorado now has an opening with Chris Stewart out with a broken hand, so it might be interesting to see if the Avalanche do something.
New Jersey probably won't sell (if they do at all) until the very end. As it seems like with every forward who's been floated out there, his name has been connected with Los Angeles. Young teams that need an extra punch and leadership (Tampa Bay, Colorado) might come forward as the deadline looms.
Andrew Cogliano, C, Edmonton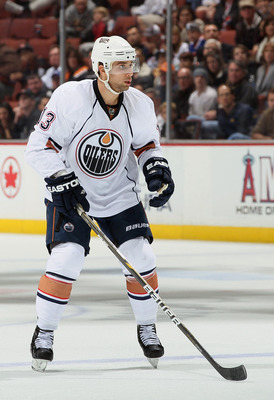 Jeff Gross/Getty Images
Edmonton has a crop of young stars that the Oilers are not willing to move. Apparently Andrew Cogliano is not one of them, as Bruce Garrioch of the Ottawa Sun reported the Oilers might be willing to move Cogliano. The young winger's stats have declined since his rookie year in the league (2007-08), he's been tied to trade rumors in the past (most notably in 2009 when the Oilers were in on Dany Heatley) and he's struggling again this season. Between the big contracts and the young stars, Cogliano might be the easiest to move.
There hasn't been a rumored deal yet, however Edmonton radio host Dustin Nielson threw out a hypothetical trade of Cogliano to Ottawa for a third rounder and Nick Foligno (who's drawn interest from other teams himself). It was just an idea, but an interesting one nonetheless.
There's been nothing about a deal more than just that he's available. But a team looking for a young player that they feel could still be good might be asking about him.
Ladislav Smid, D, Edmonton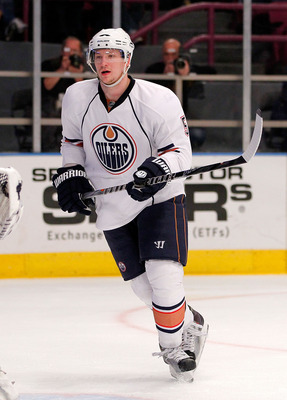 Paul Bereswill/Getty Images
Smid might be better known in the hockey world for two things: being one of the pieces Edmonton got back in the infamous Chris Pronger to Anaheim trade and the guy Sean Avery sucker-punched a couple of weeks ago. But he's still a young, physical player who has the tools to be a good stay-at-home defenseman. He's just somewhat hidden in Oil Country. Smid was also the other player Garrioch reported the Oilers could be willing to part with.
Like Cogliano, there haven't been any specific trade rumors yet other than that he could be available. But two teams that could come calling are Columbus and San Jose.
ESPN's Pierre LeBrun said he believes the Sharks will be looking for a top-four defenseman at the deadline. That might be more so now after two of the Sharks' top six, Nicholas Wallin and Douglas Murray, were injured in the win at Edmonton Saturday night. Columbus was one of the teams rumored to be in on Bieksa in the summer and reportedly was willing to part with uber-talented, but uber-tempramental, Nikita Filatov. And Columbus may be in again for a defenseman.
Tomas Kaberle, D, Toronto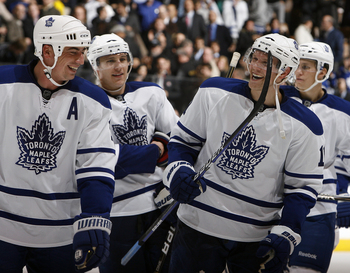 Abelimages/Getty Images
For the last couple of years, the hot name in trade rumors has been Tomas Kaberle, the offensive-minded defenseman for the Maple Leafs. The rumors died down after Kaberle's no-trade clause kicked in back in August. But back in November, LeBrun reported that the rumors had picked up. But Kaberle's agent responded, saying any rumors of a trade did not come from his camp. Kaberle is not expected to move with Dion Phaneuf on the shelf and the Leafs hanging around in the playoff race.
But should the Maple Leafs fall out of contention, expect the rumors to fire up again about Kaberle being traded. The Rangers were a team linked to Kaberle in the past, but the trend seems to be that they're more interested in Brad Richards, though that could change if Kaberle is out there. Montreal could use a power-play quarterback with the injury to Andrei Markov, but a trade between those two fierce rivals would be unexpected to say the least.
Martin Brodeur, G, New Jersey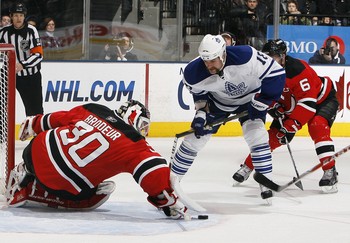 Abelimages/Getty Images
This couldn't happen, could it?
Not Martin Brodeur, arguably the best player in franchise history and one of the best, if not the best, goaltender in NHL history? Not a three-time Stanley Cup champion who has won multiple awards? Nothing's been put out there yet, but in his weekly Sunday column, the New York Post's Larry Brooks discussed that the Devils might be wise to think about moving Brodeur, who could fetch the organization a bunch of blue-chip prospects.
Obviously this is all opinion and speculation from Brooks, who even states that if this were to even come close to being reality, Brodeur would have to initiate it. But if by some wild chance Brodeur was to become available, there would be a bunch of teams interested. Washington and San Jose would immediately come to mind as two teams that would take an upgrade in net, as would Tampa Bay.
Again, this is all speculation and there's nothing to suggest it could happen. But it's still interesting.
Keep Reading