Columbus' Battle With Consistency: 5 Things to Watch Tonight Against Anaheim
Harry How/Getty Images
On Wednesday night, the Columbus Blue Jackets started their three game road trip out west in Los Angeles against a Kings team that was unbeaten at home. LA had racked up six straight wins inside of the Staples Center and not many people thought Columbus would be the team to stop them.
However, the Blue Jackets came in focused and were able to pull off the victory and hand one of the Western Conference's best teams their first home defeat.
The game was back and forth, with the Blue Jackets watching two one goal leads disappear in the first two periods. L.A. would finally take their first lead in the third period, but it didn't last long as Jared Boll tallied his second goal of the year to tie the game at three. Rick Nash would record his 7th goal to give the Jackets the lead and would later bury a empty net goal to seal the deal for Columbus. This is the seventh straight season where the young captain has led the team in scoring.
The Blue Jackets win comes after another blowout loss to the Colorado Avalanche on Friday, who have outscored Columbus 10-2 in their two games against each other.
Throughout the year, the Columbus Blue Jackets have struggled with consistency. They have yet to establish a winning streak more than three games and have had back and forth play from goaltender Steve Mason. Backup goaltender Mathieu Garon has played exceptionally well winning four of the five games he has played in, posting a .951 save percentage.
In able for the Blue Jackets to have any hopes of making it to the postseason, they are going to have to start playing consistent hockey, game in and game out. In a division where every team has a shot at making it to the postseason, there is little room for error.
So after a huge victory to start off the road trip, here are some things to watch for in tonight's match-up with the Anaheim Ducks.
1) Steve Mason in Net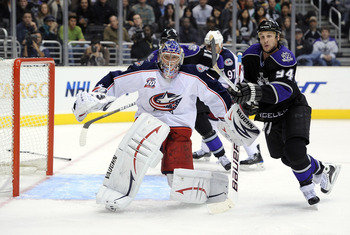 Harry How/Getty Images
Even after playing poorly against Colorado last Friday, coach Scott Arniel decided to stick with Mason against a Kings team that is full of elite scorers. Mason played well and faced a lot of shots, stopping 33 of 36 in only his second win in November.
Mason now has six wins and five losses this season. In his wins, Mason plays well, keeps his eye on the puck, and makes some spectacular saves. However, in his five losses, Mason has at times looked slow, being a second or two behind the puck.
The big question is if Mason can stay on track tonight and register his first back-to-back wins since late October. Mason needs to find his groove and continue to give the Jackets a chance to win, or we could be seeing a lot more of Mathieu Garon.
2) Will Rick Nash Stay Hot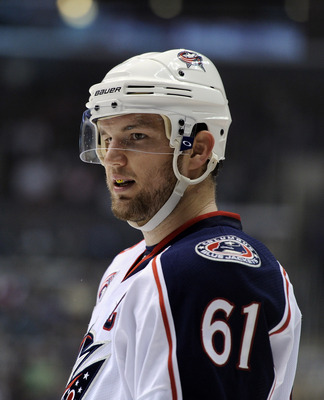 Harry How/Getty Images
Captain Rick Nash has registered points in his last six games. In those six games, the Canadian winger has scored at least one goal, with two coming Wednesday against the Kings.
For the seventh straight season, Nash leads the Blue Jackets in scoring and it doesn't look like that will change this year. Whether it is scoring goals or tallying assists, Rick Nash always seems to find the puck. At 6'4" and 215 pounds, Nash has been a force to be reckoned with since coming into the league seven years ago.
Since entering the league, it is clear that when Nash does well, the Blue Jackets do well.
In the Blue Jackets last meeting with the Ducks in Columbus, Nash scored two goals in the Jackets 3-1 victory.
3) Continued Goals From Unexpected Blue Jackets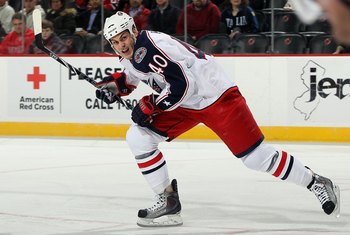 Jim McIsaac/Getty Images
In their game Wednesday night against the Kings, the Blue Jackets found scoring in unexpected places.
The first two Blue Jacket goals were from guys who had yet to score this year. Andrew Murray tallied his first goal off a juicy rebound left by Kings goalie Jonathan Quick. At first the goal was given to Derek Dorsett, but Murray was later credited with the goal.
28 year old Rostislav Klesla recorded his first goal of the year when he took advantage of a Kings line change and banged one off the post to give the Jackets an early 2-1 lead.
After the Kings took their first lead of the night, Jared Boll was able to get a rebound and got his second goal of the year to tie the game up early on in the third period.
Three goals from three guys who haven't scored much this year is always nice to see, and one wonders if it will continue. Look for Mike Commodore to get more in the mix tonight, as tonight will only be his second game since returning from an injury suffered in early October.
4) Will The Blue Jackets Strong Road Play Continue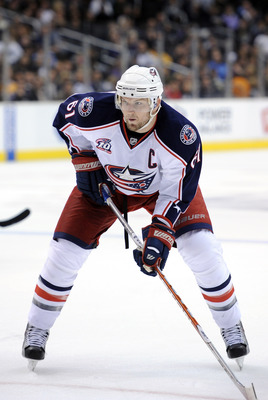 Harry How/Getty Images
After the win against Los Angeles on Wednesday, Rick Nash talked about how the Jackets play differently on the road then in Columbus.
"We keep it simple on the road. At home, sometimes we play too loose, try to do too much. On the road, we play uptight and we do things the right way."
Not counting the games in played in Sweden, the Blue Jackets are 4-1 on the road this year. They have tallied wins against tough teams such as the Minnesota Wild, Chicago Blackhawks, and the recently added LA Kings.
Will the Jackets' hot road streak continue tonight in Anaheim? The Ducks have only lost two games in the Pond this year.
5) Will The Ducks Losing Ways Continue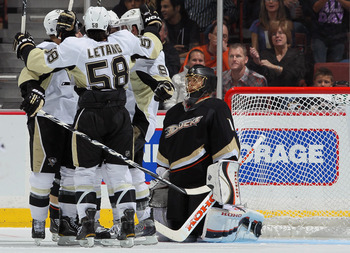 Jeff Gross/Getty Images
The Anaheim Ducks started off November with a bang, winning six straight games. Since then, they have not done as well and are currently on a three game losing streak. The last being a heartbreaking loss suffered to the always dangerous Minnesota Wild.
All three of those losses were suffered on the road and the Ducks couldn't be happier to return to the Pond tonight against the Jackets. The Ducks are 7-2 at home, but have been anything but dominate, outscoring their opponents 24-17.
Regardless of how many goals are allowed each game, the Ducks have found a way to win at home and look to reconnect with their winning ways tonight against Columbus.
Keep Reading

Columbus Blue Jackets: Like this team?