Vancouver Canucks' Balanced Scoring from Three Lines Demolishes Ottawa Senators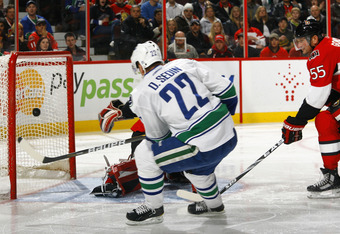 Phillip MacCallum/Getty Images
The Canucks handily defeated the Ottawa Senators by a score of six to two, with three lines each chipping in a pair of goals, as coach Alain Vigneault collected his 300th win as an NHL head coach.
However, the change of pace for the Canucks was that the red hot third line of Manny Malhotra, Jannik Hansen and Raffi Torres didn't have a goal.
Instead, Alex Burrows, in his fifth game back after shoulder surgery, found his chemistry with the Sedin twins. The first line scored a pair of quick goals off the opening shifts of the first and third periods. The importance of those quick goals can't be understated, as it sets the tone for the rest of the period if your defence gets sliced apart by precision passing and you give up a goal on the opening shift.
Ryan Kesler ended up with a pair of goals, which puts him at seven for the year. More importantly, he scored those goals on the road. Through his career, Kesler has always been a better player at home than on the road, and this year was no exception.

Going into tonight's game, he had five goals, but only one of those was scored on the road. Kesler himself had admitted it was a deficiency in his game that he had to address. Aside from scoring the goals, Kesler was also a monster in the face off circle, winning 17 of 20 draws.
The third line didn't score, at least not technically, but Torres and Hansen were on the ice with Kesler for his second goal, with Hansen picking up the sole assist. Malhotra had a pedestrian night in the face-off circle, at least by his lofty standards, going a mere 58.8 percent in the circle.
Phillip MacCallum/Getty Images
The best line for the Canucks tonight, at least in terms of exceeding expectations, had to be the fourth line. The top two lines produced two goals apiece. But the fourth line contributed a pair of goals as well. And anytime your fourth line scores, you are usually is going to win, and tonight was no exception.
Tanner Glass scored his first of the season, and then set up Mario Bliznak for his first career NHL goal.
Bliznak, a Memorial Cup winner with the Vancouver Giants, had been called up to center the fourth line, and aside from his goal he went a modest 45.4 percent in the face-off circle. Still, he looked more comfortable in the fourth line center role than anyone else we have seen play there so far this season (except maybe Alex Bolduc, but he only played a handful of shifts before being injured in the season opener).
Rick Rypien, the other player on the fourth line, had an assist on the goal by Glass, and also had a fight filled second period with a pair of bouts. He lost the first fight to Matt Carkner, which is usually what happens when a good fighter takes on another good fighter who outweighs him by 40 pounds and has an extra five inches in height as well.
I give credit to Rypien for stepping up and taking up the challenge from Carkner, and doing as well as he did to land some punches, but he isn't going to win that fight very often. After all, Carkner isn't Hal Gill, he knows what to do when the gloves come off.
The second fight for Rypien is one that Alain Vigneault should be happy with though. The fight itself was a draw, but Rypien didn't back down from Chris Neil, who still had a couple inches and 25 pounds over him.

More importantly, anytime one of your fourth liners can take a top six forward off the ice with coincidental penalties, it is to your advantage. And at the time Neil went off the ice, the game was still in doubt with the Canucks only up two to one. When Neil returned to the ice, the game was essentially over with the Canucks up four to one.
All in all, a good game by the team, especially by the forwards who hit the Senators in waves. Five different forwards collected two points each (Daniel Sedin, Henrik Sedin, Burrows, Kesler and Glass) and another five collected a single point (Mason Raymond, Mikael Samuelsson, Hansen, Bliznak and Rypien).
The only two forwards to not record a point were Malhotra and Torres , but seeing as how they were the two best Canucks last week (Torres was actually named the NHL player of the week), an off night isn't a big deal when the rest of the team is going. Expect to see both of them at their best when they get to play in front of family and friends against the Maple Leafs on Saturday afternoon.
This article is
What is the duplicate article?
Why is this article offensive?
Where is this article plagiarized from?
Why is this article poorly edited?

Vancouver Canucks: Like this team?