NHL Heavyweights: Top 50 Hockey Fights of All Time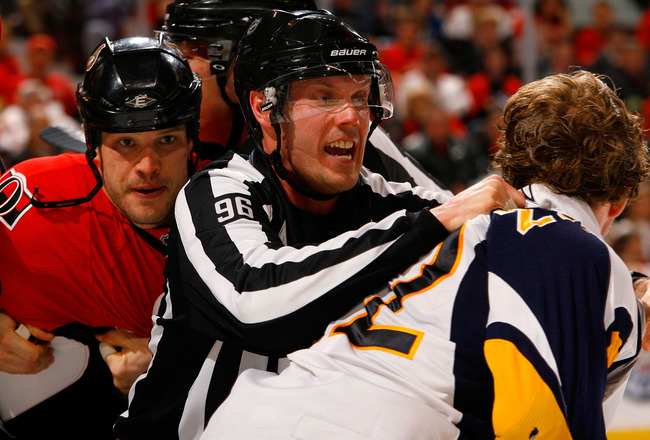 Phillip MacCallum/Getty Images
Hockey has been called "figure skating in a war zone" and all fans have their favorite battles and soldiers.
In this collection, you will come across some of the classic bench-clearing brawls with knock-out, knock-down punishing punches as tempers flair and fierce fists fly.
Yet also included in this collection are oddities and funny fight moments where the opponents are not necessarily the goons and enforcers you expect to see going at it.

The order of the Top 50 Fights were decided by me alone, so if you disagree in any way, let me know in the comments section.

Now, let's take a look at the "Top 50 Hockey Fights of All Time".
50. Wayne Gretzky Vs Neal Broten

Wayne Gretzky vs Neal Broten

(December 22, 1982)
What would any NHL all-time list be without the inclusion of Wayne Gretzky? The Great One drops the gloves in the first period versus the Minnesota North Star's Neal Broten. Gretzky is fed three right hand punches before falling to the ice.
One of only three fights Gretzky has ever fought in his entire career.
49. Krys Barch Vs Brad May

Krys Barch vs Brad May

(January 15, 2008)
This was the third fight of the season between May and Barch and it was a memorable one.
Even though a pile of punishing hits are thrown throughout this feet, take notice of Barch warning May not to trip over the glove on the ice near the start of the fight.
Classic moment.
48. Erik Goddard Vs Brian McGrattan

Erik Goddard vs Brian McGrattan

(January 13, 2010)
Two classic heavy weight brawlers squaring off in an old-time hockey fight.
The big difference though between this fight and some of the older classic fights we are about to see, is that you can really notice the difference in fighting over the years.
Here we have a pile of punches thrown yet very few of them actually connect as the fighters today are more likely to protect themselves and fight defensively.
47. Georges Laraque Vs Donald Brashear

Georges Laraque vs Donald Brashear

(October 20, 2007)
Two huge enforcers squaring off in a classic battle with hit after punishing hit making it through to connect.
Not the longest fight in NHL history, but the power of the punches landed puts this one in the Top 50.
46. Zdeno Chara Vs David Koci

Zdeno Chara vs David Koci

(October 25, 2007)

David Koci gets respect for this fight.
Already with a broken nose, Koci calls on the mountain that is called Chara and even though he leaves the fight a bloody mess, he stood his own and threw a few pounding wallops himself.
45. Riley Cote Vs Shawn Thornton

Riley Cote vs Shawn Thornton

(October 27, 2007)
You don't see many fights like this very often. Blow after blow is thrown, many of them connecting and both players just taking the punches and throwing more back.

Thornton came out the winner of this battle but Cote put up a hell of a fight.
44. Rick Rypien Vs Chris Neil

Rick Rypien vs Chris Neil

(February 4, 2010)

Obviously some hatred or heated words let up this pounding match with fists flying right from the get-go. Neil gets the decision but not by much.
43. David Koci Vs Brian McGrattan

David Koci vs Brian McGrattan

(January 11, 2010)

One of the best fights of 2010 with neither fighter holding anything back. Popular opinion has this one going to McGrattan but Koci fought an incredible fight as well.
42. Daniel Carcillo Vs Derek Dorsett

Daniel Carcillo vs Derek Dorsett

(November 26, 2008)
This fight starts out with some dancing around that makes you wonder how serious of a fight this is actually going to be. But once the jerseys are grabbed the fists fly with a fury.
Hard to pick a clear winner in this pounding match up.
41. Bobby Orr Vs Keith Magnuson

Bobby Orr vs Keith Magnuson

(November 21, 1969)
If Gretzky made this list, you just had to know that Orr would be coming up.
This fight starts with Magnuson hitting Derek Sanderson from behind and Bobby Orr taking exception to the hit. The camera angle is not the best but at some points you can clearly see those Orr roundhouse punches flying.
40. Darcy Tucker Vs Mick McGeough

Darcy Tucker vs Mick McGeough

(April 4, 1998)
A classic moment in hockey fighting history that has nothing to two with two goons fighting. The star of this fight is Mick McGeough, the referee attempting to break up the brawl.
In a moment of frustration, McGeough grabs Tucker by the back of his jersey, hauls him out of the fight and delivers him with a push to the Lightning bench that sends Tucker sprawling.
The best part of the story: no reprimand, suspension or fine for McGeough!
39. Jim Vandermeer Vs Aaron Downey

Jim Vandermeer vs Aaron Downey

(November 2, 2005)
These two heavy weights go toe-to-toe exchanging blows and even the linesman gets pushed away when he comes to break up the fight the first time.
It could have easily been a draw except for Downey slipping and losing his balance at the end.
38. Cam Janssen Vs Pierre-Luc Letourneau-Leblond

Cam Janssen vs Pierre-Luc Letourneau-Leblond

(March 20, 2010)
One of the best fights of the year with a lot of dancing and throwing of fists that goes on and on and on.
What really makes this fight though is the "Please Give Blood" in the background!
37. Brian McGrattan Vs Eric Goddard

Brian McGrattan vs Eric Goddard

(December 23, 2005)
Solid scrap with big punches thrown by both fighters. How they even stand after being hit by some of those punches is a mystery to me.
36. Rob Ray Vs Nordiques' Fan

Rob Ray vs Nordiques Fan

(April 14, 1992)
Enforcer Rob Ray expanded his fight card with this one, taking on a Quebec Nordiques' fan that had climbed the glass and charged Roy's bench.
Even with two police officers trying to haul the fan away, Ray must have landed at least 20 hard and quick punches to the man's head.
35. Jim Schoenfeld Vs Wayne Cashman

Jim Schoenfeld vs Wayne Cashman

(December 13, 1972)
No one would argue that Jim Schoenfeld was tough. He racked up a career total of 1,132 PIM in the NHL but it is this fight against Cashman in Schoenfeld's rookie year that I love the best.
After a hard rocking hit on Cashman against the boards, the Zamboni doors open and the two players spill out in the hallway where all hell breaks loose.
Check out the guy in the hallway in a suit taking pictures of the fight!
34. Dan Clouthier Vs Tommy Salo

Dan Clouthier vs Tommy Salo

(April 4, 1998)
Everyone loves a good old fashioned goalie fight.
This one started with Czerkawski banging it out with Stock against the boards until Salo jumped into the action to help his teammate.
Clouthier quickly skated down to express his displeasure and Salo never had a chance. Clouthier just goes absolutely crazy and the best Salo can do is curl up and absorb the punches.
33. Dave Schultz Vs. Tiger Williams

Dave Schultz vs. Tiger Williams

(April 22, 1976)
A line brawl between Toronto and Philadelphia that saw a few fights start and end yet Schultz and Williams kept fighting and dancing the whole time against the boards.
Even when the linesman is getting in between the two, Schultz can't resist going in for one last hit.
32. John Wensink Vs J. Bob

John Wensink vs Bob Kell

(November 20, 1977)
These days, a fighter will grab a hold of another fighter's jersey to keep him close and to jerk them around. Back in the bad-ass 70's however it was the huge hair that was grabbed while the punches were flying.
A fight from a different era indeed.
31. Jarkko Ruutu Vs Darcy Tucker

Jarkko Ruutu vs Darcy Tucker

(January 3 2008)
Before this fight I had always thought of Ruutu has a pesky agitator that would back down at the hint of a real fight. But after seeing him pound away on Tucker and take the return hits, I have changed my mind about this guy.
He knows how to fight.
30. Ray Emery Vs Marty Biron

Ray Emery vs Marty Biron

(February 21, 2007)
Goalie fights are rare to see. Even more rare is to see one goalie punch the crap out of another only to then turn around and take on another fighter.
This happened during a brawl fight between Ottawa and Buffalo and Emery just laid the punches to Biron until Peters decided to come to Biron's rescue and challenge Emery himself.
From the crazy grin on Emery's face, Peters was lucky that Emery was in full goalie gear.
29. Craig Rivet Vs Bryan Marchment

Craig Rivet vs Bryan Marchment

(February 21, 2004)
This one made the list just for the crazy amount of non-stop hits that were thrown and taken in this fight.
I would need a week (at least) to rest up from this kind of battle!
28. John Wensink Vs the Minnesota North Stars

John Wensink vs the Minnesota North Stars

(November 26, 1980)
After pounding a North Star player like a madman, Wensink made an instant classic moment by skating over and challenged the entire Minnesota bench to a fight. Not surprisingly, he had no takers.
Don Cherry said if he had been the Minnesota coach, he would have fined every player that refused to go over the boards after Wensink.
27. Rick Rypien Vs Cam Janssen

Rick Rypien vs Cam Janssen

(December 31, 2009)
Nothing says 'Happy New Years" like an all out hockey fight with both lefts and rights being thrown around faster than the announcers could speak.
One of the best fights of 2009.
26. Claude Lemieux Vs Darren McCarty

Claude Lemieux vs Darren McCarty

(November 11, 1997)
A crazy fight right from the faceoff. And there must be some hatred in this one as the punches kept being thrown even while they were down on the ice.
McCarty would actually be suspended for unhooking the tie-down for his jersey before the fight began.
25. Georges Laraque Vs Riley Cote

Georges Laraque vs Riley Cote

(April 2, 2008)
Not much of a fight really with Laraque landing some big punches and Cote barely getting anything in at all.
But this one makes the list for the force with which Cote's helmet goes flying off when hit with one of Laraque's punches. Cote was lucky that wasn't his head.
24. David Clarkson Vs Steve Downie

David Clarkson vs Steve Downie

(January 22, 2008)
This one made the list just because so many people like to see Downie get pounded.
Downie actually initiated this fight, left his visor on and then continued to laugh and taunt Clarkson throughout the entire fight.
I just wish Clarkson had landed more punches.
23. Dennis Vial Vs Rob Ray

Dennis Vial vs Rob Ray

(April 10, 1996)
The final fight at the old Buffalo arena The Aud, saw two heavy weights square off toe-to-toe and it did not disappoint the fans.
Not the longest fight by any means but the intensity and frequency of the punches is down right scary.
22. Zdeno Chara Vs Bryan Mccabe

Zdeno Chara vs Bryan Mccabe

(January 31, 2004)
The now infamous "rag doll" incident that saw McCabe bite off more than he could chew.
The mountain known as Chara tossed McCabe around as though he it was a game and laid a few devastating punches on McCabe.
21. Boston Bruins Vs New York Rangers

Bruins vs Rangers

(December 23, 1979)
You just won't see this anymore. Ever.
After the game ended, the Bruins and the Rangers gathered for some last minutes words and jabs with one another when the brawl spills over the glass and several Boston skaters climb into the stands to fight with the fans.
20. Tie Domi Vs Philadelphia Fan

Tie Domi vs Philly Fan

(March 29, 2001)
What happens when a Philly fans gets mouthy with Domi and leans too far over into the penalty box?
Punches get thrown of course. Domi ultimately received a costly fine for his actions but I am sure it was worth every penny.
19. Hal Gill Vs Zdeno Chara

Hal Gill vs Zdeno Chara

(December 30, 2003)
Two extreme heavy weights go at it and the lesson we learn is that no one should mess with Chara. Ever.
Add Gill to the list of players that Chara has messed up.
18. Ryan Vandenbussche Vs Nick Kypreos

Ryan Vandenbussche vs Nick Kypreos

(Preseason, 1997)
A preseason KO that sees Kypreos hit with a hard punch that has him unconscious even before he hits the ice.
A concussion suffered from hitting the ice would result in post-concussion syndrome and his retirement as a player.
17. Quebec Nordiques Vs Montreal Canadiens

Nordiques vs Canadiens

(April 20 1984)
Often referred to as the "Good Friday Massacre," this Battle of Quebec resulted in a large brawl in the second period of the playoff game. The period was ended early with the extra time tacked onto the third period only to see another brawl break out before the game would end.
A total of 252 penalty minutes were incurred and 10 players were ejected.
16. Mark Tinordi Vs Jason Smith

Mark Tinordi vs Jason Smith

(January 6, 1998)
This started out as a simple scuffle between Tinordi and Domi until Smith skated over and all hell broke loose with rapid-fire torpedo punches.
Two thing to note: Tinordi entered this fight with a broken nose, and check out the referee in the background who just crosses his arms, gets comfortable and watches the fight.
15. George McPhee Vs Rick Tocchet

George McPhee vs Rick Tocchet

(April 12, 1986)
What inspired a 180 pound McPhee to get messed up with 220 pound Tocchet? We may never know but the result is pure hockey fight history.
Roundhouses and uppercuts were exchanged furiously until both players collapsed into the boards.
14. Wendal Clark Vs Marty McSorley

Wendal Clark vs Marty McSorley

(May 17, 1993)
A head hit that left Doug Gilmour sprawled on the ice led to Clark challenging McSorley to this classic fight.
Though Clark started off strong most fans agree that this fight is a clear draw between heavy weights.
13. Jamie Macoun Vs Ron Delorme

Jamie Macoun vs Ron Delorme

(February 19, 1984)
Macoun and Delorme square off and both just let the punches fly with neither one doing a thing to defend himself.
This is the kind of fight that baffles the mind.
12. Felix Potvin Vs Ron Hextall

Felix Potvin vs Ron Hextall

(November 10, 1996)
Potvin and Hextall join in on a large brawl between the Leafs and Flyers, with both goaltenders trading punches after the final whistle.
One of the best goalie fights ever.
11. Detroit Red Wings Vs Colorado Avalanche

Detroit vs Colorado

(March 26, 1997)
This brawl fight resulted in 228 minutes in penalties including a clash between goaltenders Patrick Roy and Chris Osgoode in the third period.
10. Calgary Flames Vs Anaheim Mighty Ducks

Flames vs Ducks

(December 8, 2001)
The brawl began with goaltender Giguere on the receiving end of a punch from Berube. Sawyer retaliates with a fight with Flames goaltender, Vernon and before long both benches have cleared and 19 fighting majors are handed out.
9. Bob Nystrom Vs Mel Bridgman

Bob Nystrom vs Mel Bridgman

(February 19, 1978)
An amazing fight that made it this high on the list due to its fiery intensity.
From the way that these fists flew, there was obviously some score being settled.
8. Tie Domi Vs Bob Probert

Tie Domi vs Bob Probert

(February 9, 1992)
Not only is this fight famous for the unbelievable pounding that Probert and Domi laid on one another, but also for Domi's post fight motions that he had won the championship belt from Probert.
7. Stan Jonathan Vs Pierre Bouchard

Stan Jonathan vs Pierre Bouchard

(May 21, 1978)
This fight started out even with both Bouchard and Jonathan exchanging vicious right hand jabs yet the fight ended with Bouchard bleeding all over the ice with a broken nose.
6. Montreal Canadiens Vs Boston Bruins

Canadiens vs Bruins

(November 20 1986)
Also known as the "Brawl in the Hallway", this is a classic bench-clearing brawl that eventually leaves the ice and heads into the crowded hallway.
5. PJ Stock Vs Stephen Peat

PJ Stock vs Stephen Peat

(January 5, 2002)
The 30 seconds this fight lasts is as crazy and intense as you are likely to see in the NHL. How Stock and Peat were still standing is a mystery to me.
4. Aaron Downey Vs Jesse Boulrice

Aaron Downey vs Jesse Boulrice

(March 18, 2006)
This may very well be one of the shortest NHL fights of all time that resulted in a KO. One punch is all it took to make this fight one of the most memorable.
3. Bob Probert Vs Craig Coxe

Bob Probert vs Craig Coxe

(November 11, 1985)
A fight between two the leagues best heavy weights that is more of an endurance competition as both fighters last 40 seconds of hard hitting thumping.
2. Marty McSorley Vs Bob Probert

Marty McSorley vs Bob Probert

(February 4, 1994)
In one of the longest fights in the modern era of the NHL, these two heavy weights squared off and battled for more than 90 seconds before the officials built up nerve enough to get involved.
1. Ottawa Senators Vs Philadephia Flyers

Senators vs Flyers

(March 5, 2004)
With less than two minutes left to play, Donald Brashear and Rob Ray squared up and dropped the gloves. Both benches immediately cleared and by the end of the brawl, 20 players had been ejected and a record 419 combined penalty minutes were handed out.
Christopher Smith runs senspedia.com, an Ottawa Senators wiki site.
Keep Reading

Anaheim Ducks: Like this team?