San Jose Sharks 2010: Early Season Report Card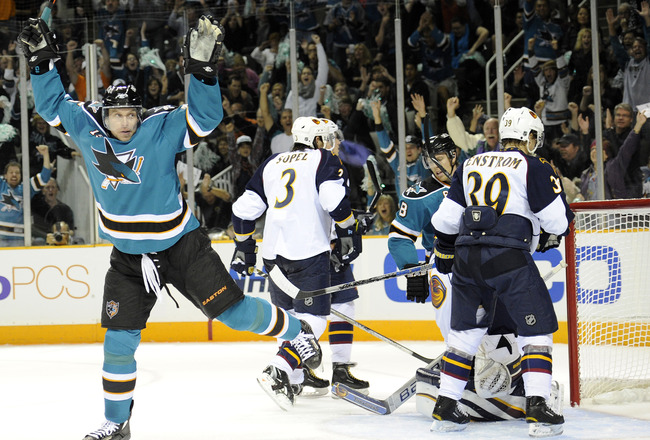 Thearon W, Henderson/Getty Images
The 2010 season is underway, and the Sharks are still looking to find their form. After a good trip to Sweden, the Sharks came home to the Shark tank and lost two straight games. Thursday's 4-2 win in Colorado is a good sign, but problems still linger.
I will break down the team and see how each component looks early in this season.
Offense: B+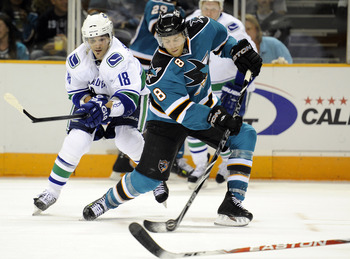 Thearon W, Henderson/Getty Images
Goals per game: 2.3 (18th in league)
The offense has shown good production in the early parts of this season.
The Sharks have not been held to less then two goals in a single game, and the big four—Thornton, Marleau, Heatley and Pavelski—have all scored. The play of Ryane Clowe has also been a good spark for the Sharks (one goal, three assists).
The Sharks have also out shot their opponent in four of their five games.
Defense: C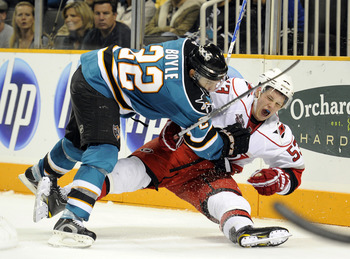 Thearon W, Henderson/Getty Images
Goals Against: 3.2 (24th in the league)
Defense has been one of the biggest problems for the Sharks. The loss of Robert Blake is obvious.
Dan Boyle and Marc Vlasic are both solid blue liners, but mistakes and turnovers have exposed the Sharks' deficiency in the defense.
The Sharks need to tighten up their game. Cutting their mental mistakes will go along way in shoring up the defense. They also need to decrease the second chance opportunities, especially ones in the crease.
Power Play: A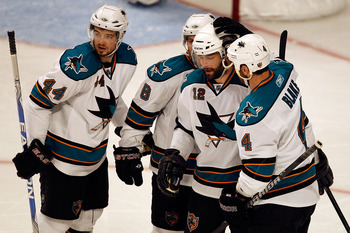 Jonathan Daniel/Getty Images
Power Play Pct: 28.6 (second in league)
Power play kill : 85.7 (14th in league)
The power play has been great for the Sharks. Joe Pavelski had two goals on the power play last night and it continues to fuel the Sharks.
Keeping this up will help the Sharks weather their early woes.
However, they have had some problems during their power plays. The Sharks gave up a short-handed goal in two straight games, and again this goes back to the Sharks looking a little lost and full of mental lapses.
Goaltender: C+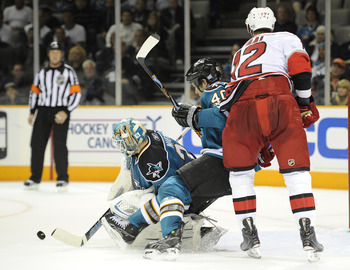 Thearon W, Henderson/Getty Images
Nine goals in two games. That is just not going to cut it from Niemi.
The Sharks put Niittymaki in, and he performed fairly well.
It will be interesting to see what Coach McClellan does in the future, but it most likely will involve more ice time for Niittymaki.
Overall: B-
Thearon W, Henderson/Getty Images
For most teams, this start would not be bad.
For the Sharks and their fans, it has brought about a little concern.
However, there is no need to panic. It's early in the season, and the Sharks have one of the most talented teams in the west. The Big Three (plus The Big Pavelski) are in good shape.
With some time and maybe a few changes, the Sharks will be back to their normal, winning ways.
Keep Reading

San Jose Sharks: Like this team?