Chicago Blackhawks: Player Grades Through 7 Games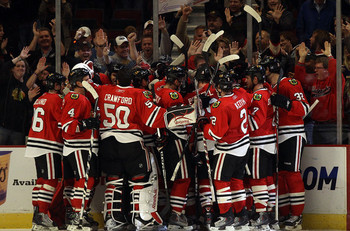 The defending Stanley Cup Champion Chicago Blackhawks have played an NHL-high seven games already, and despite a rough start are riding a three-game winning streak.
There have been some intriguing roster moves, line changes and both exciting and disappointing play so far this year. With that in mind, let's grade the contributions from each of the players on the team so far.
2. Duncan Keith: B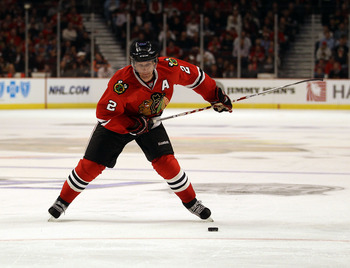 Jonathan Daniel/Getty Images
Keith has been pretty good through seven games, but has been playing entirely too many minutes. Because Brian Campbell has been absent, Keith has been asked to play heavy minutes; he's leading the league averaging over 30 minutes per night.
As the season progresses, and Campbell comes back, Keith's minutes have to drop for him to not only stay effective, but have something left for a playoff run.
4. Niklas Hjalmarsson: D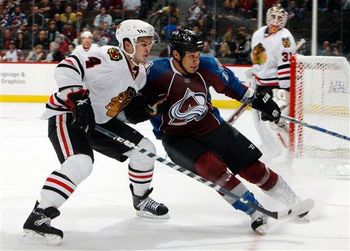 Hjalmarsson received a four-year contract extension worth $3.5M from the Blackhawks after San Jose gave the young defenseman an offer sheet this summer. So far, he hasn't earned the raise.
The Blackhawks have allowed 20 goals so far this year, and Hjalmarsson has been on the ice for eight of them. When that number is placed into the context of him missing two games because of a suspension, Hjalmarsson hasn't played to the elite level the Blackhawks were hoping to see while Campbell was out.
5. Jassen Cullimore: B+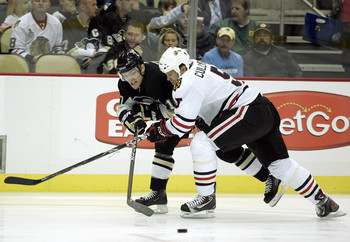 Cullimore, 37, was surprisingly one of the final cuts at the end of the preseason and got the call four games into the regular season to join the NHL club.
The Blackhawks haven't lost a game since he joined them.
His skating might not be at the level of Keith or even Brent Seabrook, but he's been effective when called upon. He's blocked shots and delivered hits without being whistled for a penalty through three games of action. In Monday night's win over St. Louis, he was plus-two.
6. Jordan Hendry: F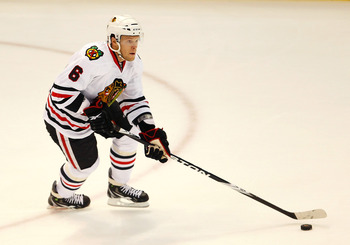 Gregory Shamus/Getty Images
He lost his spot on the ice to Nick Boyton during the Stanley Cup Finals and apparently hasn't left the doghouse yet. He's only played in two games so far this year, and hasn't been a factor in either.
When Campbell comes back, Hendry might have a hard time staying in Chicago.
7. Brent Seabrook: B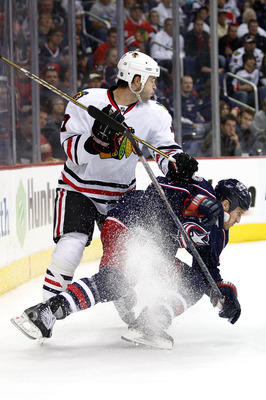 John Grieshop/Getty Images
Seabrook is second on the roster and ninth in the NHL averaging over 26 minutes of ice time per night, and has been his usually effective self. He's been physical and moved the puck well while taking on a heavy workload, especially while Campbell and Hjalmarsson were both out.
Because of the physical play he brings to the ice, he will need someone to take some minutes away during the year for him to stay fresh heading into the playoffs. This is the final year of his contract in Chicago, so Seabrook is pushing for a strong season.
8. Nick Leddy: B-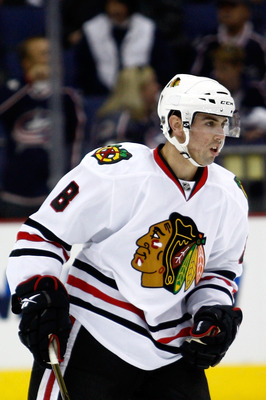 John Grieshop/Getty Images
This will become an N/A because Leddy was demoted to Rockford of the AHL on Sunday, but the 19-year-old was becoming more effective in an evolving role through six games. He's the top prospect in the Blackhawks organization, and has a very bright future in Chicago.
10. Patrick Sharp: A+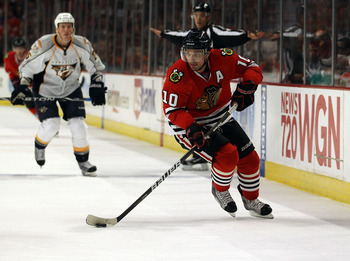 Jonathan Daniel/Getty Images
Second in the NHL in goals with six in six games, Sharp has become one of the hottest players in the league to begin the season. While Joel Quenneville mixes his lines around, Sharp has consistently scored and has the game-winner in all three of the consecutive wins for the Hawks since Friday.
He has been exceptional in every aspect of the game.
15. Fernando Pisano: C+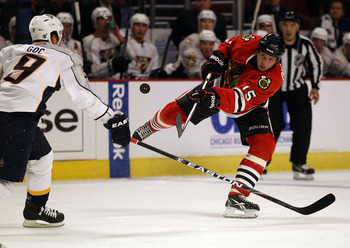 Jonathan Daniel/Getty Images
He wasn't seen as a savior, but Pisani had a strong preseason and many hoped he could play an important part on the third or fourth line.
To begin the year, Pisani has done a nice job of filling space on special teams but has only put seven shots on net through seven games. He doesn't have a point yet and is minus-three on the campaign. He started the year on the second line with Patrick Sharp and Patrick Kane, but has slid to the third line. He may slide further as the season continues.
19. Jonathan Toews: B+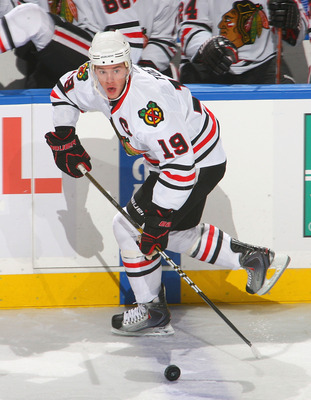 Rick Stewart/Getty Images
He hasn't factored onto the scores heet as much as many would like him to be, but he's also been centering a line with the NHL's leading scorer for most of the early going.
What makes Toews special is he understands how the team needs him and when. He has continued to be great in faceoffs and has been strong on both special teams units. Depending on how coach Joel Quenneville changes the lines, he may begin to see more time with a struggling Patrick Kane and Troy Brouwer, a line that was great for Chicago last year.
The points will come. So far, Toews has done what the team has needed him to do.
20. Jack Skille: B-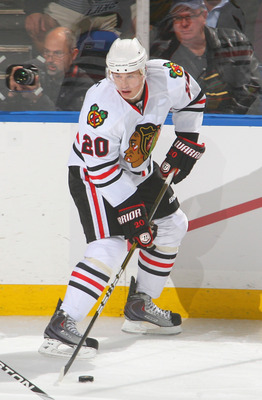 Rick Stewart/Getty Images
Skille has been in the Hawks organization for years, and is finally getting his first real crack at the lineup for more than 24 hours at a time, and he has responded.
Despite being a healthy scratch for one game, Skille has been appropriately physical and his energy has been great every time he's been on the ice. He's still making rookie mistakes from time-to-time,but his role is still evolving on the team. You can coach pass vs. shoot, but you can't teach effort.
So far, Skille has been a very pleasant surprise.
22. Troy Brouwer: B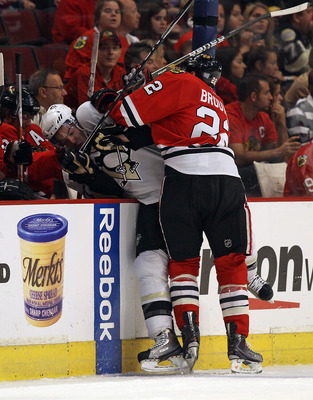 Jonathan Daniel/Getty Images
Brouwer hasn't contributed to the score sheets as much as the fans might want, but he currently ranks fourth in the NHL with 20 credited hits. He's been strong, physical and smart on the ice, and could see his scoring increase if he gets back on a line with Patrick Kane.
In the wake of the moves made this summer to get under the cap, the Blackhawks needed Brouwer to be a physical force on the roster. He's done that.
24. Nick Boyton: A-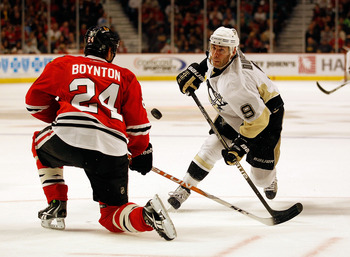 Jonathan Daniel/Getty Images
Boynton was suspended for the first game of the season because of a stupid throat-slashing gesture that was caught on camera. He also as a bad penalty very late in a game that led to a game-winning goal.
Other than those two issues, Boynton has been everything the Blackhawks have needed so far this year.
He's currently tied for the NHL lead with 20 blocked shots, and has been eating minutes on the Hawks' second pair while Campbell's been out. Boynton has been solid in most aspects of the game, and has earned increased playing time. When he slides to the third pair upon Campbell's return, Quenneville should have the confidence to continue giving him consistent ice time.
25. Viktor Stalberg: C+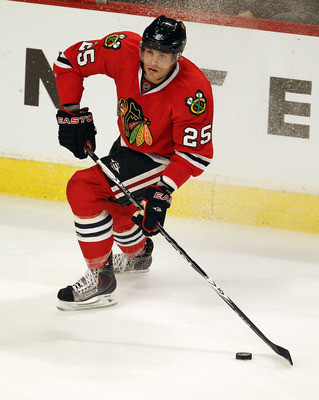 Jonathan Daniel/Getty Images
His ice time has been inconsistent, and he's looked to pass probably too much in the early going. His effort, though, has been good whenever he's been on the ice and he could earn a more prominent role with continued strong play.
28. Jake Dowell: C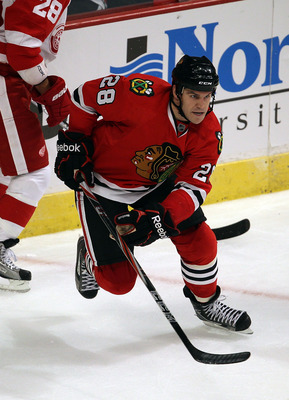 Jonathan Daniel/Getty Images
He's a fourth line center.
What that means is he's asked to be a ghost on the ice. The less he's noticed, the better. The team asks him to win faceoffs and stay out of the box. Dowell has done that.
So far he has one assist and has been physical when needed. His ice time has been up-and-down, but that's true of everyone on the roster's bottom two lines. He hasn't been special, but nobody's asking him to be Toews.
29. Bryan Bickell: B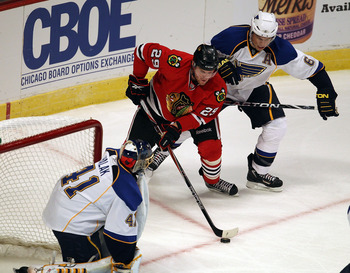 Jonathan Daniel/Getty Images
Bickell's 17 hits are good for second on the team and ninth in the NHL, and he won a good fight against David Backes of the St. Louis Blues on Monday night. He's being asked to replace the size brought to the ice lost when Dustin Byfuglien and Ben Eager were dealt to Atlanta this summer, and he's effectively accomplished that goal.
30. Marty Turco: A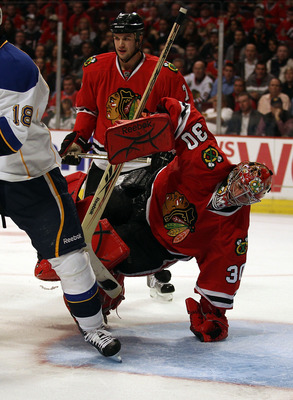 Jonathan Daniel/Getty Images
During the Hawks current three-game winning streak, Turco has allowed only seven goals on 107 shots. His .919 save percentage on the young season is a good number, but his play has kept the Blackhawks in games they have played poorly enough to lose.
Despite some early chatter about a goalie controversy after Corey Crawford received back-to-back starts, Turco has been outstanding. He already has an assist on the season, and his puck control has already sparked the Blackhawks breakout on a handful of occasions.
Antti Niemi should be little more than a fond memory in Chicago thanks to the early play of Turco.
32. John Scott: F-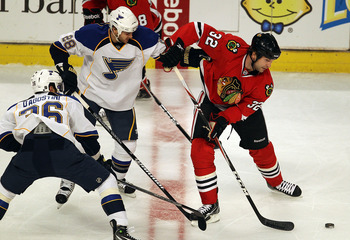 Jonathan Daniel/Getty Images
The Big Backflop has skated 16 shifts and barely 11 minutes during the three-game winning streak, and it continues to puzzle fans how he's taking a roster spot away from players like Skille and Stalberg.
His ability to handle the puck leaves a lot to be desired, and his skating leaves even more. He was brought in to provide muscle to the roster, but he's only been credited with eight hits in seven games. He's averaging the lowest ice time on the roster, and that number might disappear if he continues to do little/nothing to help the team.
36. Dave Bolland: D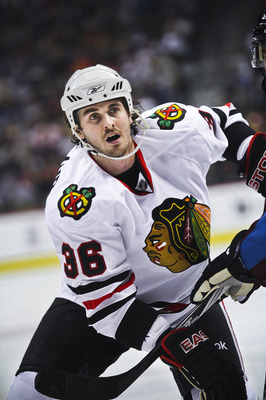 Marc Piscotty/Getty Images
Has Bolland been miserable? No. But Bolland certainly hasn't carried any momentum from last year's outstanding playoff run into the new season.
He's winning only 41 percent of his faceoffs early this year, a terrible number even if he is taking draws against the top centers from other teams. There have been good parts to his game, and the wings outside him have been all over the place so far this year. But the only part of the game he can really control is winning faceoffs, and he hasn't done that.
50. Corey Crawford: B+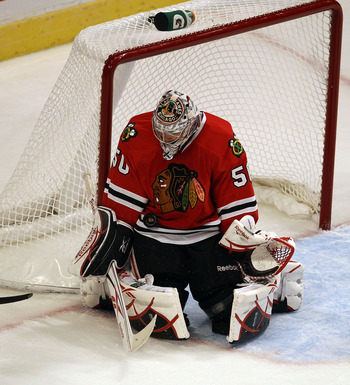 Jonathan Daniel/Getty Images
What does a team hope for from their backup goalie? Keep the team in the game. Crawford is 1-1-0 with a 3.03 goals against average and .909 save percentage in his two starts. He's done precisely what the team has asked him to do, and could see increased action as the season progresses.
51. Brian Campbell: N/A
Gregory Shamus/Getty Images
Campbell hasn't played yet this season, but his impact on the roster has been overwhelmingly noticeable. He's on pace to be back around the beginning of November.
81. Marian Hossa: A+++++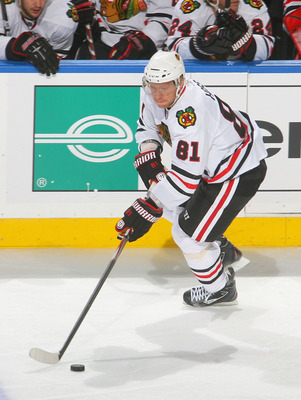 Rick Stewart/Getty Images
He leads the NHL in scoring and is simply imposing his will on opponents. He's a special player that's at the top of his game, and he's playing next to a couple very talented centers in Sharp and Toews. His backwards, between-the-legs goal to tie Monday's game against St. Louis was just the latest in a long line of jedi-level moves he's pulled off this year.
If Hossa continues playing this well and stays healthy, the Hart Trophy might come to Chicago in June 2011.
82. Tomas Kopecky: A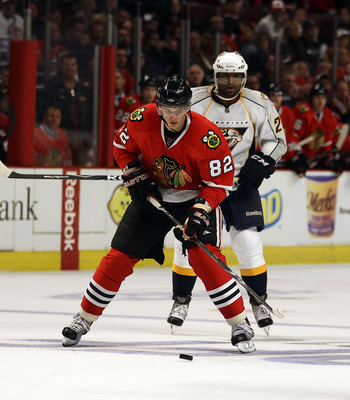 Jonathan Daniel/Getty Images
Kopecky established a career-best with 21 points last year.
He has eight already in seven games this season.
The beneficiary of playing on a line with Hossa and Toews, Kopecky has taken advantage of the opportunity by getting the puck and his body to the net.
88. Patrick Kane: C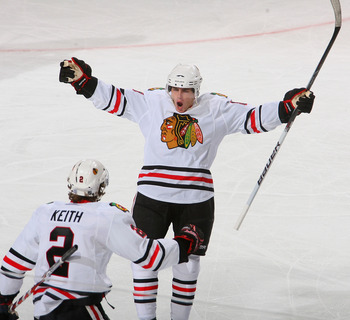 Rick Stewart/Getty Images
By most standards, scoring a point per game is pretty good in the National Hockey League. Kane is doing just that so far this year, but his play has been far from perfect. He's been on the ice for eight opponents' goals already this year, leading to a rough minus-five rating on the young campaign. He's only shot the puck 14 times in his six games, a number that should be higher as well.
Thanks to Hossa and Sharp getting off to incredible starts, Kane's been able to work in the shadows and quietly be effective.
Coach Joel Quenneville: B-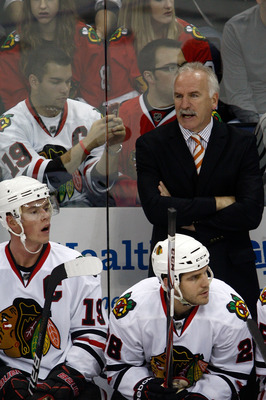 John Grieshop/Getty Images
He's missed Sharp for a game, Kane was a late scratch on the road, 19-year-old Leddy was on the Opening Night roster, Campbell's been out hurt and Hjalmarsson was suspended for two games. That's enough for an entire season, and Quenneville's dealt with it in seven games.
The only reason his grade isn't an A is because John Scott continues to dress.
Overall: B+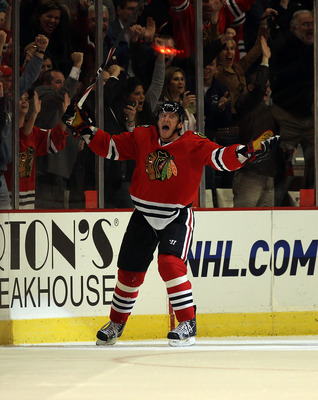 Jonathan Daniel/Getty Images
The Blackhawks power play is ranked third in the NHL at 28.0 percent, while their penalty kill percentage (88.5) is up from last year despite a low early-season rank.
They have the top two goal scorers in the game right now, and are in first place in the Western Conference.
However, there have been some patches of ugly play and the Hawks have trailed to start three of the seven games. If they can put together 60 strong minutes, they might get a win by more than one goal.
Keep Reading

Chicago Blackhawks: Like this team?