2010-2011 NHL Power Rankings: Rating the Teams After Week 1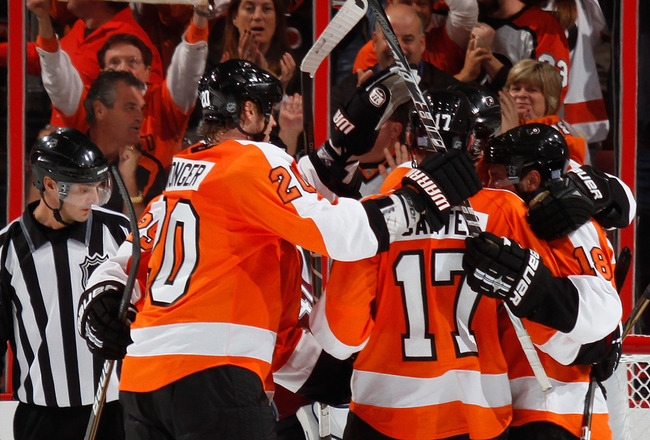 Paul Bereswill/Getty Images
Never too early to rank the teams, right? Right. Not even just one week into the season. Come on, real hockey fans always want to know where their team stands, whether it's the first week of October or the last week of the regular season in mid-April.
Rather than a slide on each individual team (it IS a little too early for that, however), we're going to have slides with a letter grade, the list of teams that fit that letter grade, and then a blurb about each team and what they've done (or not done, in many cases) to deserve that grade.
Here are the grades for all 30 teams for the first week of the 2010-11 NHL season.
Grade A: Philadelphia, Toronto, St. Louis, Edmonton, Dallas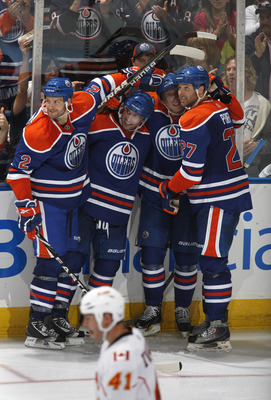 Dale MacMillan/Getty Images
Dallas Stars: While they've allowed 3.5 goals a game (seven in two games), they've started the season on fire offensively. They scored four times in an overtime win against New Jersey on Friday, and another four against the New York Islanders. Loui Erikkson scored two times for the Stars in New Jersey, while Brendan Morrow scored twice on Long Island.
Edmonton Oilers: The worst team in the NHL last season needed to get off to a good start this season, and they've done that. They're 2-0-0 going into Wednesday off a couple impressive games from Nikolai Khabibulin. Edmonton is loaded with young talented forwards like Jordan Eberle and Taylor Hall which makes this Edmonton team an exciting team to watch develop, no matter what their record may wind up being later in the season.
Philadelphia Flyers: Philadelphia has picked up a point in each of their first three games, and have won the first two games that rookie netminder Sergei Bobrovsky has started. He held both Colorado and Pittsburgh to two goals a piece, quite impressive considering both teams have a decent amount of offensive talent.
St. Louis Blues: Watch out for the Blues with Jaroslav Halak in net. They don't have an overly talented roster, but Halak will steal games just like he did for Montreal last postseason.
Toronto Maple Leafs: J.S. Giguere has looked like the goaltender that won the Stanley Cup for Anaheim in 2007. Of course we're only two games in, but stable goaltending in Toronto hasn't been seen in ages, it seems.
Grade B: NY Islanders, Carolina, Washington, Detroit, Colorado, Los Angeles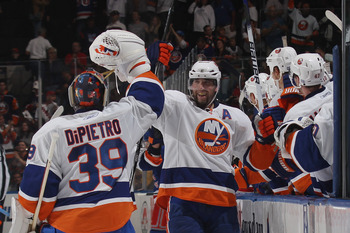 Bruce Bennett/Getty Images
Carolina Hurricanes: Swept the Minnesota Wild their two game set in Finland (isn't it about time these NHL Premiere Games are over?). A terrible start last season is the only thing that kept the Hurricanes from reaching the postseason.
Colorado Avalanche: A young team with a year of playoff experience under their belt, now. They improved to 2-1 with a tough win in Detroit. They'll be among the top five teams in the West all year if everything goes right.
Detroit Red Wings: Picked up at least a point in all of their first three games. Lost a tough game at Joe Louis to Colorado on Versus Tuesday night.
Los Angeles Kings: They're in the same boat as Colorado- a young team that has been through the rigors of a full NHL season now. Quick has allowed just one goal in each of the first two games he's started, and the Kings have won both.
New York Islanders: If DiPietro is healthy, the Islanders could make the playoffs this season. They're a young team that plays hard night in and night out. They completed a late comeback on Monday against the Rangers that was 100 percent due to hustle (and penalty calls).
Washington Capitals: Alex the Great's overtime goal Monday night propelled the Capitals to their second win in three games to start off the season. Rookie netminder Michal Neuvirth only allowed two goals in each of the past two games against Ottawa and New Jersey.
Grade C: NY Rangers, Boston, Montreal, Tampa Bay, Nashville, Columbus, Vancouver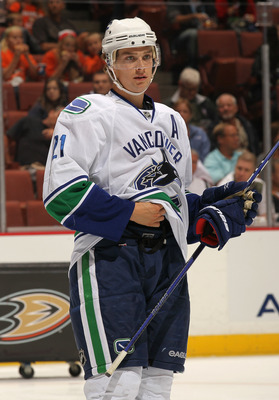 Stephen Dunn/Getty Images
Boston Bruins: New Bruin Nathan Horton has three goals in his first two games as a Bruin. Many experts are expecting Horton to have a breakout year now that he is out of the doldrums of Sunrise, Florida.
Columbus Blue Jackets: Ethan Moreau scored in overtime for Columbus to give it its first win of the season against the San Jose Sharks.
Montreal Canadiens: Talk about two different worlds. The Canadiens have not allowed a power-play goal yet, but have yet to score one. Which drought ends first?
Nashville Predators: The Predators won their first and only game of the season thus far against the Ducks, 4-1.
New York Rangers: Derek Stepan became the fourth player in NHL history to score a hat trick in his first NHL game. After a fantastic opening game for the Rangers, they blew a lead late and surrendered three goals in the last four and a half minutes against the Islanders. Lundqvist's goals against is currently sitting above four and the Rangers goals per game average is at five, but don't expect either of those to last long.
Tampa Bay Lightning: The Bolts power play went 2-for-5 in their win against the Thrashers on Saturday night.
Vancouver Canucks: Daniel Sedin scored both goals for the 'Nucks, including the overtime tally, in a 2-1 decision over the Panthers. Luongo has allowed one goal in each of the two games for Vancouver.
Grade C (continued): Calgary, San Jose, Phoenix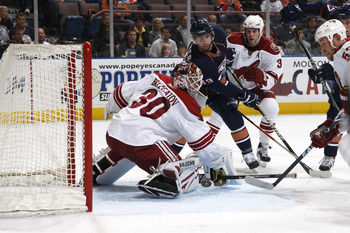 Dale MacMillan/Getty Images
Calgary Flames: The Flames earned their first victory of the season on Sunday against the Los Angeles Kings. Both the Flames power play and penalty kill has been disappointing, though.
Phoenix Coyotes: The 'Yotes split the first two games with the Bruins during the Premiere weekend in Prague. Seriously... this overseas stuff really needs to stop.
San Jose Sharks: Antti Niemi had an impressive debut for the Sharks Friday, stopping 30 shots and allowing just two goals.
Grade D: Pittsburgh, Buffalo, Atlanta, Chicago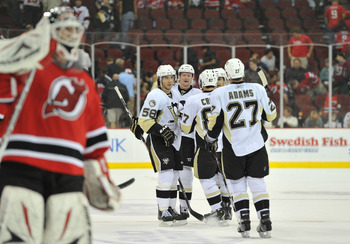 Christopher Pasatieri/Getty Images
Atlanta Thrashers: The Thrashers may be a little distracted by the scary scene where goalie Ondrej Pavelec was carted off the ice Friday night, and rightfully so. It brought back memories of when Jiri Fischer collapsed on the Red Wings' bench.
Buffalo Sabres: Although the Sabres are 1-2, Derek Roy, who led the preseason in scoring, has scored four goals in the first three games for Buffalo. Is Roy about to embark on a breakout season?
Chicago Blackhawks: The defending Stanley Cup champions avoided an 0-3 start with a 4-3 win over Buffalo on Monday.
Pittsburgh Penguins: The Penguins also avoided an 0-3 start with a 2-1 victory over the Devils on Monday. As you can tell from the picture, dozens were in attendance to witness.
Grade F: New Jersey, Ottawa, Florida, Minnesota, Ottawa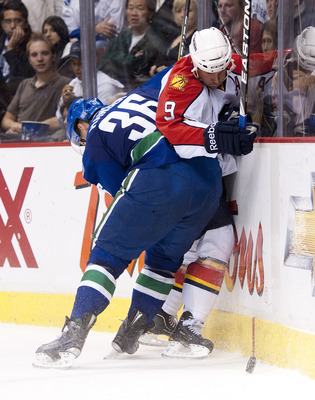 Rich Lam/Getty Images
Anaheim Ducks: Their offense has sputtered out of the gate, scoring one goal in two of their three games and being shutout in the other.
Florida Panthers: The Panthers have struggled offensively and on the power play these first couple games. With no real offensive threats on this Florida squad, this might last all year.
Minnesota Wild: Blame Finland if the Wild miss the playoffs.
New Jersey Devils: Martin Brodeur has looked old. And that has looked scary. The Devils are too talented offensively to stay as bad as they've looked, though.
Ottawa Senators: Much like New Jersey, Ottawa is too good to stay near the bottom of the standings for too long. But right now, they're allowing two more goals a game than they're scoring, which isn't much (1.3).
Keep Reading