Will Carlos Gonzalez, Troy Tulowitzki, and Colorado Rockies Win NL West in 2011?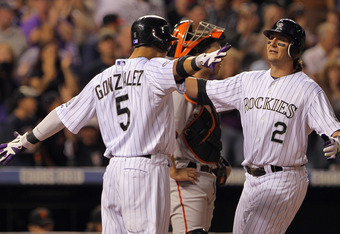 Carlos Gonzalez greet Troy Tulowitzki after one of Tulo's 15 September homers.
Doug Pensinger/Getty Images
After dropping two of three from the Giants in Colorado, the Rockies are likely out of playoff contention.
Frankly, after the season the Rockies had, they are lucky to still be in playoff conversation. At the All-Star Break, they were 49-39. Just 15 days later, on July 28, they were 51-50.
From then until late August and early September, they were simply a mediocre team. They then went on a conveniently placed 10-game winning streak which put them right back into playoff contention.
Then they went right back to their mediocre ways. They got swept in Arizona by the D-Backs and then dropped two of three at home to the Giants AT HOME.
That shows the average baseball fan that the Rockies are not a 2010 playoff team. A team that is one of the most dominant home teams in baseball with a record of 51-24 going into the Giants series must win basically every home game in late September.
Apparently CarGo and Tulo and the entire Rockies offense (save for Game 2 when they scored 10 runs in 10 innings) didn't read the memo:
Every game is a must win situation for the rest of the season.
Weird. It seemed like the fans got it though. 125,067 of them really took it to heart and came out to support the Rockies.
What did they get to see?
Game 1: Tim Lincecum dominates the Rockies while giving up two hits and one run.
Game 2: The Rockies come from behind to win 10-9 in 10 innings in a game they probably shouldn't have won.
Game 3: Matt Cain nearly no-hits the Rockies faltering offense until they break through in the eighth with an infield single and a pinch-hit homer from Melvin Mora.
The Rockies are not a playoff team. Yet.
That begs the question of "WHEN?"
Many fans are thinking next year may be the year the Rockies break through and take their rightful place atop the NL West.
Those who are not acquainted with the Rockies (which is basically everyone in the media to include ESPN, MLB.com, and basically every other sports news station on the East Coast) are probably asking "Who the hell do these fans think they are?"
These are the fans of a fairly new team compared to the 100-year-old franchises that are stationed east of the Mississippi River.
These are also the fans who happen to know a thing or two about a very young and talented team.
The Rockies are an extremely young team.
Only Todd Helton and Melvin Mora are present starters over 35. The average age of the rest of the starters (not including pitchers) is 26.3.
Yes, age is just a number, but the Rockies are more than just a young team. They are a young, TALENTED team.
Troy Tulowitzki has been in the news lately because he has had the most productive September of any Rockie.
He is 3 RBI's short of Babe Ruth's 1927 record of 43 RBI's in one month. He also has 15 home runs his month, giving him 27 on the year.
It seems as though he has finally found an effective way to produce for the Rockies.
Carlos Gonzalez, a.k.a CarGo, was the key to the Rockies' push back into the playoff picture.
During the Rockies' 10-game winning streak, he hit over .500 and seemed to keep creating offense. He was always up when the Rockies badly needed a run or two and he'd produce.
At the beginning of the year, he was one of baseball's biggest free swingers. In 2009, he had 70 K's in 89 games. This year he has 131 in 141 games. That makes it seem like he became even more of a free swinger.
The truth is that total would likely be around 200 without his incredible maturation over this season.
If he had this same type of plate discipline at the beginning of the season, his batting average would likely be in the neighborhood of a nearly impossibly .380 instead of a very impressive .341.
He has finally realized that a walk is usually just as effective as a hit, especially when you have Troy Tulowitzki hitting behind you.
Rockies fans are looking for an even better season from CarGo in 2011.
Ubaldo who?
Ubaldo Jimenez seemed like a lock for the NL Cy Young Award in the first half of the season. Now he's looking like an average ace with a record of 19-7 and a 3.00 ERA.
Going into the All-Star Break he was 15-1 with a 2.20 ERA.
There are two possible explanations for his lack of success: Hitters started to figure him out and started to hit him hard, and he simply lost effectiveness. He began to hang pitches and failed to execute pitches the way he had in the first half.
He was the primary reason the Rockies were still in contention after the All-Star Break. If he didn't get the win, he'd put the Rockies in a position to get a win, which they often did when he was on the hill in the first half.
If the Rockies want to go deep into the playoffs next year, they need Jimenez to retain his first-half form from this year for all of next year. They need him to win between 25 and 30 games and lose less than five.
Yes, it sounds like a nearly impossible task, but Jimenez has the stuff to do it.
Consistency is key. For the past three years, the Rockies have been one of baseball's most hot-and-cold teams. They went on winning streaks as long as 11 games and losing streaks as long as eight games.
It is easy to tell the Rockies what they need to do. The question is whether they will be able to execute what is needed.
The Rockies went through an amazing maturing process this year.
Next year will be the year that the Rockies win the NL West for the first time ever, and the pennant for the second time in five years.
Next year will be the beginning of something great for Colorado.
This article is
What is the duplicate article?
Why is this article offensive?
Where is this article plagiarized from?
Why is this article poorly edited?

Colorado Rockies: Like this team?