Last Form of Defence: Who Should Start in Goal for the Ottawa Senators?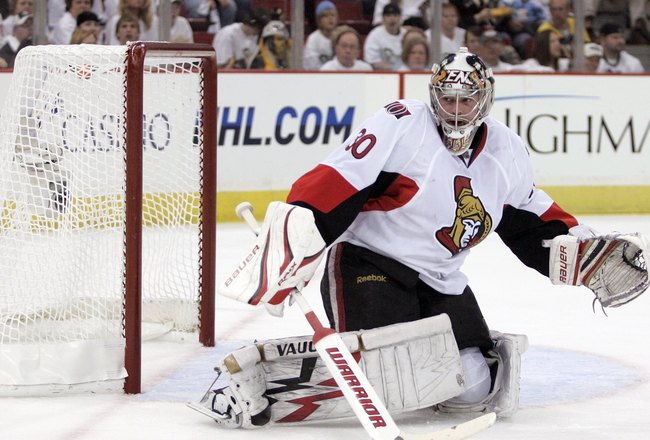 Justin K. Aller/Getty Images
In contrast to teams like Buffalo, the Ottawa Senators' goaltending situation is not set in stone.
Though Ottawa acquired Pascal Lecalire last year viewing him as their No. 1 goalie, his play was inconsistent, and he ended up being replaced by Brian Elliott mid-way through the season.
Despite this, Leclaire put up better numbers during the playoffs which has led to many of the Sens' army wondering who will be the Senators' opening night goalie.
Here I put forward three reasons why each goaltender should be No. 1.
Like my work? Follow me on Twitter: http://twitter.com/#!/lah_8
Brian Elliott Reason No. 1: Better Sv%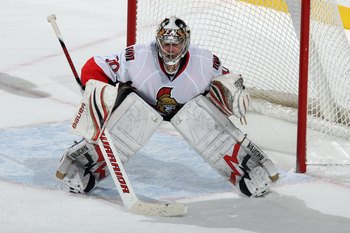 Rick Stewart/Getty Images
Though Elliott's .909 SV% wasn't amazing, it was respectable at least for a goaltender with a slightly above average defense in front of him.
However ,compared to Leclaire's pathetic .887 SV%, it becomes pretty clear who is going to be saving the majority of shots when the Sens' defense doesn't show up.
Pascal Leclaire Reason No. 1: Injury Riddled Seasons.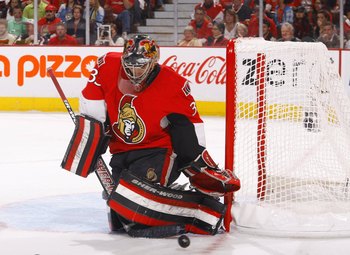 Phillip MacCallum/Getty Images
Pascal Leclaire has yet to play a full season in the NHL.
Although this may sound more negative than positive, his low SV% has often come when he has been battling injuries.
And as any athlete can tell you, you don't play your best when you are injured.
The only season when Lecalaire has played more than 50 games (back in 2007-08), he put up rather good numbers with a 2.25 GAA and a .919 SV%.
If Leclaire can stay fit throughout the season, he could finally put up the stats of a No. 1 goalie.
Brian Elliott Reason No. 2: Shutouts
For the life of him, last season in 34 games Pascal Leclaire could not register a shut-out.
On the other end of the spectrum however, Brian Elliott managed to achieve five of them, good enough for eighth in the league.
With Elliott proving he can win games almost single-handedly, this gives him a big advantage over Leclaire.
Pascal Leclaire Reason No. 2: Contract Year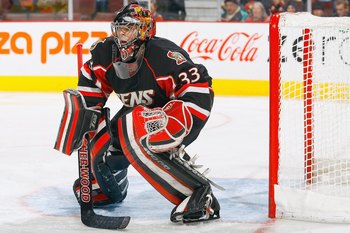 Phillip MacCallum/Getty Images
When the Senators traded for Leclaire at the deadline, they also took on his three-year, $11 million contract.
Leclaire is a free agent at the end of this year, and you know he'll be motivated to earn another contract and subsequently more money.
Being in a contract year can really help a player bump up his stats, and you can even ask Leclaire that, as he was in a contract year when he put up his best career stats.
Though Leclaire will probably look for more money, he'll be trying to show he is worth every penny.
Brian Elliott Reason No. 3: Contracts (Again)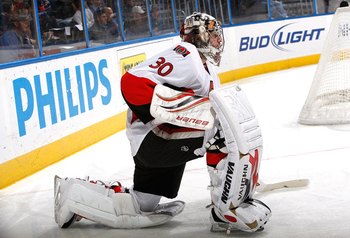 Kevin C. Cox/Getty Images
Elliott is also in a contract year although he is only a restricted free agent.
Like mentioned before, contract years usually mean extra motivation and bumped up stats, and the same should apply to Elliott.
However, while Leclaire will look for $10 million plus, Elliott is the much cheaper of the two and would be able to be secured on a cheaper contract, giving the Senators more cap flexibility.
If Elliott can put up equal or better numbers than Leclaire, the Sens will probably only re-sign Elliott which would clear the way for him to be the No. 1 goalie for years to come.
Pascal Leclaire Reason No. 3: Playoffs
With their top group of forwards and decent defensive unit, the Sens should make it back to the playoffs barring any freak injuries.
This is where things get interesting.
In Leclaire's three playoff games, he put up a .920 SV% and a 2.85 GAA. However, Brian Elliot put up terrible numbers with a .853 SV% and a 4.14 GAA.
If playoff numbers are any indication, Leclaire has a very clear advantage and may be the one who is relied upon in the pressure situation.
What Do You Think?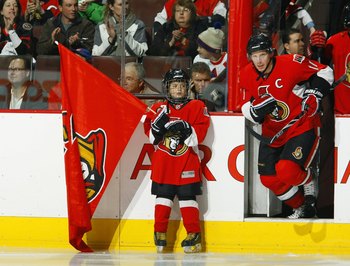 Phillip MacCallum/Getty Images
So you've seen my pros and cons for both goaltenders.
But who do you think should be in net for Ottawa when the Sens come out onto the ice on October 8?
Drop me a line in the comment section below as I'm interested in your opinions as well.
If you liked what you read you can follow me on Twitter: http://twitter.com/lahhockey31 (I need the followers!)
Keep Reading

Ottawa Senators: Like this team?