Toronto Maple Leafs: Rookie Tournament To Be Streamed Live, See the Future Now!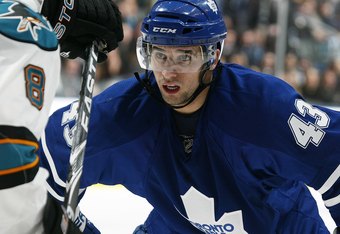 Watch Nazem Kadri and Jerry D'Amigo this weekend!
Claus Andersen/Getty Images
BREAKING NEWS
The Toronto Maple Leafs announced Thursday that all three Leafs' rookie tournament games will be shown on mapleleafs.com at 8 p.m. For those planning on tuning in, the games are starting at 8 p.m. opposed to 7 p.m. due to tape delay.
This is an early opportunity to see Nazem Kadri, newcomer Jerry D'Amigo, Jesse Blacker, Keith Aulie, and more starting this Saturday at 8 p.m. when they face the Chicago Blackhawks rookie team.
Former Leafs' draft picks Chris Didomenico and Philipe Paradis will get their first chances to show the Leafs what they are missing.
The following game will be broadcast live on mapleleafs.com on Sunday at 8 p.m. against the Pittsburgh Penguins' rookies and the mini-battle of Ontario will take place Tuesday at 8 p.m.
**The games will also be available on Rogers Toronto and Rogers London at 7 p.m.
2010 Toronto Maple Leafs Rookie Tournament Roster (Courtesy of mapleleafs.com)

Name Position Ht. Wt. Birthdate Shoots Last Club
FORWARD

Sam Carrick Forward 6-0 188 02/04/1992 Right Brampton (OHL)
Andrew Crescenzi Forward 6-4 195 07/29/1992 Left Kitchener (OHL)
Jerry D'Amigo Forward 5-11 208 02/19/1991 Left R.P. I. NCAA)
Jamie Devane Forward 6-5 217 02/20/1991 Left Toronto (AHL)
Plymouth(OHL)

Brayden Irwin Forward 6-5 215 03/24/1987 Right Toronto (NHL)
Vermont (NCAA)

Nazem Kadri Forward 6-0 188 10/06/1990 Left Toronto (NHL)
London(OHL)

Mike Liambas Forward 5'9 204 02/16/1989 Left Erie (OHL)
Bloomington (IHL)

Greg McKegg Forward 6-0 191 06/17/1992 Left Erie (OHL)
London(OHL)
Dale Mitchell Forward 5'9 200 04/09/1989 Right Toronto (AHL)
Windsor (OHL)
Marcel Mueller Forward 6-3 220 07/10/1988 Left Cologne (GER)
Germany (OLY)
Germany (WC)
Josh Nicholls Forward 6'2 174 04/27/1992 Right Saskatoon (WHL)
Sondre Olden Forward 6-3 172 07/10/1988 Left Modo Jr. (Swe. Jr.)
Bradley Ross Forward 6-0 175 05/28/1992 Right Portland (WHL)
Kenny Ryan Forward 6-0 204 07/10/1991 Right WIndsor (OHL)
Mikhail Stefanovich Forward 6'2 202 11/27/1989 Right Quebec (QMJHL)
Belarus (WC)
DEFENSE
Keith Aulie Defence 6-5 217 06/11/1989 Left Abbotsford (AHL)
Toronto (AHL)
Jesse Blacker Defence 6'1 190 04/19/1991 Right Toronto (AHL)
Windsor (OHL)
Owen Sound (OHL)
Erik Burgdoerfer Defence 6-2 210 12/11/1988 Right R.P. I. (NCAA)
Bakersfield (ECHL)
Dave Cowan Defence 6'4 205 12/20/1985 Right Norfolk (AHL)
Robert Morris (NCAA)
Marc-Andre Durion Defence 5-11 172 03/30/1987 Right McGill (CIS)
Simon Gysbers Defence 6'4 200 05/07/1987 Right Toronto (AHL)
Lake Superior State (NCAA)
Korbinian Holzer Defence 6-3 205 02/16/1988 Right Dusseldorf (DEL)
Germany (OLY)
Germany (WC)
Dallas Jackson Defence 6'2 188 03/31/1989 Left Prince George (WHL)
Kelowna (WHL)
Drew Paris Defence 6-4 200 05/12/1988 Right Toronto (AHL)
Gwinnett(ECHL)
Barron Smith Defence 6'5 205 04/32/1991 Right Peterborough (OHL)
GOALTENDERS
Andrew Engelage Goalie 6-5 206 10/28/1988 Left Toronto (AHL)
Reading (ECHL)
Jussi Rynnas Goalie 6'5 205 05/22/1987 Leftt Assat (SM-
liiga)
Ben Scrivens Goalie 6-2 192 09/11/1986 Left Cornell (ECAC)
This article is
What is the duplicate article?
Why is this article offensive?
Where is this article plagiarized from?
Why is this article poorly edited?

Toronto Maple Leafs: Like this team?