NHL News & Notes: Bill Guerin Still Waits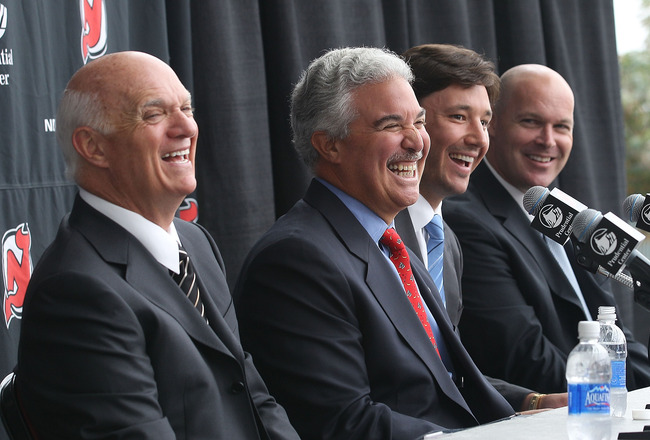 Bruce Bennett/Getty Images
The biggest news story of the week last week was of course, Ilya Kovalchuk.
No whispers of trouble between Toronto Maple Leafs head coach Ron Wilson and embattled defenseman Tomas Kaberle.
No, pretty well the only thing that Leafs fans had to read about was the Ilya Kovalchuk contract which was finally ratified during the wee hours of Saturday morning. According to NHL.com:
The Kovalchuk contract reportedly calls for him to make $100 million across 15 years, including $90 million in the first 10 years and $10 million over the last five -- with an annual salary cap hit of $6.67 million. Kovalchuk, who turned 27 in April, will be 42 upon completion of the contract.
The question on everyone's mind is, will these new regulations effectively eliminate these ridiculously long-term deals that had started to crop up? The new agreement should do just that.
1. While players and clubs can continue to negotiate long-term contracts (five years or longer) that include contract years in a player's 40s, for purposes of salary-cap calculation the contract will effectively be cut off in the year of the contract in which the player turns 41.

This basically means that if a 33-year-old player signs an eight-year contract, the amount owed to him in the first seven years of the contract will be averaged for the purposes of salary-cap computation. Then, in Year 8 of the contract, the salary he will make for that particular season will determine his salary-cap hit for that season.

So, if Kovalchuk's contract applied to this rule, the average of what he's owed in the first 13 years would be applied to the Devils salary cap from 2010-2023 and the cap hit would be $7.15 million because he is reportedly due to make $93 million across that span. Then, per the reported terms, the cap hit would change to $3 million in 2023-24 (as Kovalchuk turns 41 in April of that season) and $4 million in 2024-25.

2. In any long-term contract that averages more than $5.75 million for the three highest-compensation seasons, the cap charge will be a minimum of $1 million for every season in which the player is 36-39 years of age. That $1 million value will then be used to determine the salary cap hit for the entire contract. If the contract takes the player into his 40s, the previous rule goes into effect.
Expect the new regulations to be refined and introduced during negotiations for the new Collective Bargaining Agreement that will start to be hammered out relatively soon after the NHLPA announces a new head.
Most of the hockey world expects that Donald Fehr is a formality away from taking over the position. However, the idea of Fehr moving from Major League Baseball to the National Hockey League has gotten more than it's fair share of criticism. Though for the most part has been met with cautious indifference.
********************
With NHL training camps starting to open up and informal skates reach higher numbers, NHL fans are really starting to get the bug.
This is the time of year that cable companies see a sharp rise in subscriptions to team specialty channels, and regional sports stores across North America begin to salivate at the thought of throngs of people spending ridiculous amounts of money on Jersey's, hats and the newest NHL team coffee mug!
I wonder though, what is happening to Fans of the Toronto Maple Leafs. In the last week, I have been fairly low key and watching, reading, and learning. I've noticed something.
Leafs fans' euphoric bubble of expectation has suddenly burst. I am reading comments such as " Oh, I hope the Leaf's make the playoffs this year," or the ever popular, "If the Leafs don't make the playoffs this year I'm switching teams!"
What happened? It is a funny as it is unfair to say that the bubble bursting almost exactly coincided with the re-signing of Christian Hanson.
It is true however, though obviously coincidental, that both events happened at almost the exact same time.
The fact of the matter is, there is no reason to expect that Hanson will affect the team one way or the other. At 24 years of age he won't suddenly burst onto the NHL's top 10 scoring list, but he give the Toronto Maple Leafs some flexibility down the middle. That's it.
So What happened? Has Leaf's Nation come down from a collective high?
I hope not, I believe that a team is somewhat a reflection of it's fans and for a team to do well it's fans must believe they will.
********************
One of the apparent byproducts the salary cap era has produced, is that a lot of players who used to be certain of having a job each year, suddenly find themselves on the outside looking in.
Players like Bill Guerin and Owen Nolan are both still without contracts as of the writing of this story.
Guerin, now 39 years of age still has the ability to contribute both on and off the ice. On a young team like the Toronto Maple Leafs he could provide some veteran presence while still chipping in 20 goals and 40-45 points.
Owen Nolan, a spry 38 years of age, could also be a good acquisition for a GM with a young team. Providing some veteran presence and a lot more of an abrasive edge than Guerin, Nolan's out put offensively won't match come close to Guerin's, but may prove valuable to a team on the bubble.
What happened to cause the likes of once sought after role players like Guerin, Nolan and Ruslan Fedotenko to be relegated to the side lines?
Follow me on Twitter!
This article is
What is the duplicate article?
Why is this article offensive?
Where is this article plagiarized from?
Why is this article poorly edited?

Toronto Maple Leafs: Like this team?