Name the Six NHL Teams Due for the Greatest Improvement In 2010-11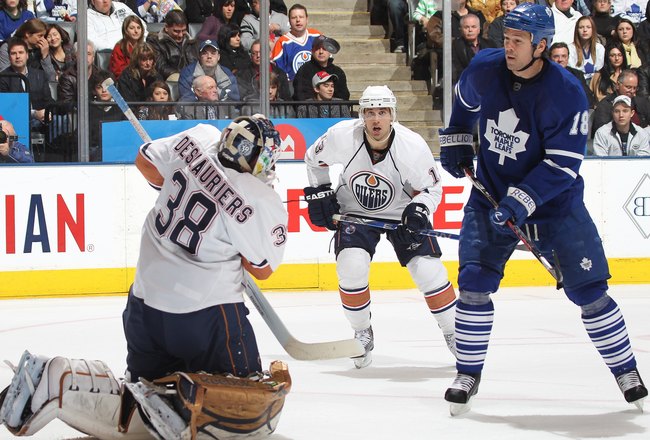 Oilers vs Leafs
Claus Andersen/Getty Images
Every season teams fail. They suffer through ignominy and embarrassment with a year full of the type of play that is best forgotten. Yet all those teams come back from the off-season with the chance to put that behind them and achieve greatness. Or at least competence.
The teams that finish last in a season obviously have the most room for improvement. Throw in the fact that they normally "win" an early entry level draft pick and it doubles the chance for those struggling teams in improve greatly.
Last years' last place teams however look like the may struggle for another year.
The Edmonton Oilers managed a league worst 62 points last year. They were rewarded with the first over-all pick in the NHL entry draft and picked up can't miss scoring winger Taylor Hall. He joins a line-up burdened with unrealized potential and has to help what was an anemic offense. A healthy Ales Hemsky has to improve the scoring in Edmonton.
Yet the Oilers still need a number 1 center, are prepared to let Tom Gilbert and the motionless Ryan Whitney quarterback the power-play while a surly Sheldon Souray languishes in the minors, and have their other big free agent acquisition from 2009 convicted of drunk driving in Arizona.
None of these elements are likely to produce a huge upward surge in the standings for the Oilers.
The Leafs didn't have the virtue of still owning their high draft pick. They still don't have many established NHL forwards to rely on. They need their defense and a goal-tending tandem with issues to carry them. As Tampa Bay found out a few years back when they tried to run with almost no proven defence-men, Toronto will learn you need some established players to succeed. They'll struggle to surpass last years win total.
So what teams are likely to improve the most this hockey season? Here is a list of the six teams I think are going to improve the most in the standings from last season to this.
6. Vancouver Canucks 2009-10 W-49 L-28 T-5 PTS 103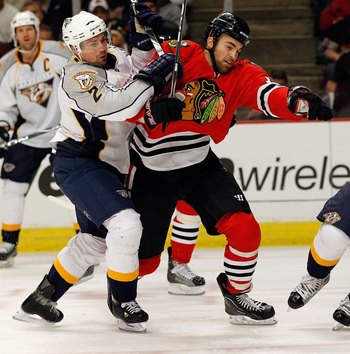 Dan Hamhuis
Jonathan Daniel/Getty Images
How much better are the Canucks likely to get you might ask? They had the fourth best record in the West last year. They were the third seed in the playoffs because they won the Northwest Division. There is not a lot of room for improvement here.
This off-season saw them lose hard rock defence-man Willie Mitchell to the LA Kings. They allowed Pavol Demitra to run off to sign with Lokomotiv Yaroslavl of the Kontinental Hockey League (KHL). Cap issues look to make the Canucks let Kyle Wellwood and Ryan Johnson sign where ever they can manage to. Andrew Raycroft and Brad Lukowich have ended up in Dallas. Steve Bernier, a first round pick and Michael Grabner were moved for defence-man Keith Ballard.
The Canuck team last year scored the second most goals in the league, one more than Chicago. The defense gave up an 11th best 29.5 shots per game putting them in a pack with the Red Wings, Minnesota and Phoenix. Their 222 goals against was tenth best in the league. Goalie Roberto Luongo missed time due to injury but his 2.57 GAA, .913 save percentage, 40 wins, 4 shut-outs and 29.6 saves per game still left him among the top dozen goalies in the game.
General Manager Mike Gillis has added defense-man Dan Hamhuis and checker Manny Malhotra through free agency. He traded for a strong skating, puck moving defence-man in Keith Ballard. Hamhuis is often derided for being only a third defenceman, but that was in Nashville behind Shea Weber and Ryan Suter, a couple of young superstars. Hamhuis is solid, a good skater and passer. His only virtue may be that he doesn't make mistakes.
The addition of Hamhuis and Ballard to a defense featuring Kevin Bieksa, Christian Ehrhoff, and Alex Elder should make this a much harder defense for fast teams like the Blackhawks to skate around. The depth he's added by resigning Aaron Rome and retaining Andrew Alberts and Shane Obrien should help the Canucks weather the long term achilles tendon injury that Sami Salo suffered in the off-season.
That injury keeps Salo's 3.5 million dollar salary off the books until January and if he's replaced with say Nolan Baumgartner and his 550,000 dollar salary he solves all of Vancouvers cap problems until he gets back. The offense coming from the defense lead the league last year and is unlikely to decline this year
The offense didn't get much help from the injured Pavol Demitra last year. If Daniel and Henrik Sedin both stay healthy this year and both score the Canucks could be better. Ryan Kesler should be freed up to be a second line scoring center by the addition of checker and face-off savant Manny Malhotra. Samuelsson is coming off career high 30 goals and 53 points and looks like he might have more in the tank. The annoying Alex Burrows may not be ready to start the season because of shoulder surgery. Throw in the speedy, streaky Mason Raymond and the Canucks may exceed what they did last year on offense.
San Jose is trying out a new goalie. Chicago is trying out a new line-up. Look for the Canucks to win their division again and perhaps pass everyone to become the best regular season team in the West next year. I expect Vancouver to improve by at least 10 points over last years great finish.
5. Columbus Blue Jackets 2009-10 W-32 L-35 T-15 PTS-79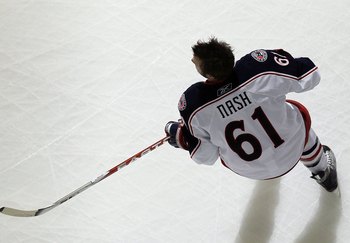 Rick Nash
Jim McIsaac/Getty Images
The Columbus Blue Jackets made the playoffs for the first time in their history during the 2008-09 season with 92 points. Last year they slid backwards to 79 points as the team seemed to tire of Coach Ken Hitchcocks' defense first philosophy. Rookie of the year goalie Steve Mason had a horrible sophomore season and only seemed to recover after Hitchcock was dismissed. Youngster Nikita Filatov left for Russia after expressing dismay with the role he felt he was being asked to play in Columbus.
The Blue Jackets weren't busy in the off-season, happy to stay with the line-up they've put together. Improvement in Columbus is going to come from inside the existing roster.
Rick Nash at 25 is the veteran winger on the team. He's the definitive NHL power forward. A good skater with a great shot he deserves a top-quality offensive center to help him be at his best. Columbus chose Portland Winterhawk play-making center Ryan Johansen, some said early, in the 2010 amateur draft to fill that role. Until Johansen is ready for the NHL youngster Derek Brassard or speedy career checker Antoine Vermette will be called on to be first line center. Nash with his talent and for his 7.8 million dollars a year should be providing more offense than the 33 goals and 67 points he lead the team with last year.
The Jackets as a team managed to outscore only Calgary, Boston, Florida, Toronto and Edmonton last season. Their line-up is replete with former checking forwards including Vermette, RJ Umberger, Samuel Pahlsson, Chris Clark and now the recently acquired Ethan Moreau and Ben Guite. Better offense is going to have to come from the youngsters. Filatov, Brassard and Voracek need to and should step forward for the Blue Jackets. Just having the defensive blinders off should improve scoring from these thoroughbreds.
Hopefully Nash manages to be closer to 90 points than 70. Kristian Huselius is the only other veteran offensive talent they have in the line-up.
Despite the emphasis on defensive play and a plethora of checkers Columbus still managed to give up 30.9 shots against per game.That was 17th in a 30 team league. Their 249 goals given up had them 24th in the league.
Steve Mason seemed to lose his confidence after being swept by the Red Wings in the 2008-09 play-offs. Towards the end of last season he recovered some of his rookie form, posting a .923 save percentage over his last 17 games. If he can keep that going this season look for Columbus to be much, much better.
Columbus was 5-15 last year in overtime and shoot-out. They'll be hard pressed to duplicate that miserable record. Random chance alone should help them here.
The team has about five million in cap room available to help them make a move. A move for an offensive center or a top two defence-man would definitely aid this team. Even without that help I see Columbus getting more offense from their young players and better play in nets from Mason which should be worth around 11 points in the standings. That will have the Blue Jackets fighting for a playoff spot in 2010-11 much as they did two years ago.
4. Philadelphia Flyers 2009-10 W-41 L-35 T-6 PTS-88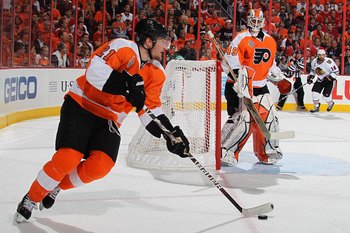 Bruce Bennett/Getty Images
The Flyers barely made it into the playoffs last year. They snuck in via shoot-out on their last night of the season. Yet once there their talented line-up managed to get to the Stanley Cup finals where they competed ably with the eventual champion Blackhawks.
Perennial cap problems have forced the Flyers to dump more salary. Veteran talent Simon Gagne was sent to Tampa Bay for a fourth round pick and defence-man Matt Walker.
The Flyers still have more offensive depth at center than any other team in the league. Mike Richards, Jeff Carter and Daniel Briere represent offensive skill difficult to find outside of an Olympic team. The defense gave up the fifth fewest shots against in the league last year which helped insulate the goal-tending. The two key players on that defense Chris Pronger and Kimmo Timmonen are aging but should still be capable of shielding their goalies from the harsh realities of life in the NHL. Career third stringer Michael Leighton and back-up Brian Boucher will called upon to handle the goal-tending.They should be just good enough behind this supercharged line-up.
The Flyers have spent all their money so don't look for any free agents to come running to the rescue. They have to hope for better seasons out of Van Riemsdyk, Leino and Giroux. Leino after a miserable regular season was a scoring streak in the play-offs. The Flyers need that from him all season long.
Look for the Flyers to finish at least 12 points ahead of where they did last year and enter the playoffs through the front door this time.
3. St Louis Blues 2009-10 W-40 L-32 T-10 PTS-90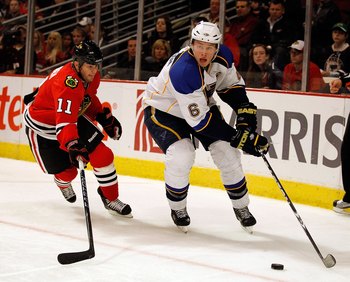 Erik Johnson
Jonathan Daniel/Getty Images
St Louis managed to make the playoffs last year and were rapidly dispatched. They've since shed a few veterans. Keith Tkachuk has retired. Paul Kariya has been diagnosed again with post-concussion syndrome and is likely to retire because of it.
This line-up is suddenly very young. The Blues are lead by speedy 32 year old veteran Andy MacDonald. Brad Boyes, David Backes, Patrick Berglund and David Perron all took major steps backwards last year. Improved ice time and power-play minutes for this group should cause an across the board increase in offense. Look for that group to regain their offensive form and combine with Alex Steen and TJ Oshie to form one of the best young scoring teams in the league.
The defense will be spearheaded by Olympic star Erik Johnson. Johnson is big and mobile with great hands. Expect youngster Alex Pieterangelo to be ready to play a major role on the team. The defense features some high draft picks who through injury and inability have never quite lived up to their draft position.Still if healthy Eric Brewer and Carlo Colaiacovo are big talented defence-man. Jackman is a thumper and even Polak is steady. It's a good defense ready to get better.
The Blues gave up no starting players to pick-up Hab playoff phenom Jaroslav Halak. His .923 save percentage should look better than the steady Chris Mason's .913. Halak should fair better in front of St Louis' steadier defense.
Nashville almost has to take a step backwards this year. I expect the Blues to add 14 points to their total from last year and finish in the middle of the playoff teams. The youthful line-up leaves St Louis with over 12 million dollars in cap room. A top four defence-man, especially one with a big shot could really help this line-up. A top quality veteran offensive forward wouldn't hurt.
2. Boston Bruins 2009-10 W-39 L-20 T-13 PTS-91
Elsa/Getty Images
The Bruins suffered a hugely demoralizing loss last year as the Philadelphia Flyers came from three games down to be only the third team in NHL history to come back from a 3-0 deficit in the Stanley Cup playoffs.
The Bruins had a season where they simply couldn't make up for the loss of sniper Phil Kessel. No one in the Bruin line-up could put the puck in the net. They finished only ahead of Calgary in offense. Goalie Tuukka Rask was forced to be almost perfect for the Bruins to win games. Tim Thomas who was merely very, very good, lost the starting job because his team could not win behind a goalie whose save percentage was a mere .915.
The Bruins like Philadelphia have a collection of some of the best play-making centers in the league. Marc Savard, David Krejci, Patrice Bergeron are featured in a line-up that will also have Greg Campbell from Florida and second overall pick Tyler Seguin competing for ice time at center. The wingers are more of a mixed bag with Milan Lucic, Mark Recchi, Michael Ryder, Blake Wheeler and Marco Sturm all taking turns on the first line. Newly acquired Nathan Horton is likely to hold a first line job all season in Boston. A full season beside Marc Savard will help the big winger to a career year. Tyler Seguin will probably also get a try-out on the wing. He's likely to be better offensively than just about anyone Boston put there last year.
The Bruins gave up offensive defence-man Dennis Wideman to acquire Horton and Campbell. The defense was in the middle of the pack last year. It still has Zdeno Chara, Mark Stuart and Matt Hunwick. Solid veteran Dennis Seidenberg should be back from last seasons deep forearm cut. Andrew Ference is an under-rated puck mover. He has virtually no offensive upside but he very rarely makes mistakes and is always there to get the puck out of his zone. Youngster Johnny Boychuk will be asked to do more in Boston this year.
The Bruins still have cap problems and they'd probably like to be able to deal Tim Thomas or veteran checking center Patrice Bergeron for someone cheaper. Another quality defence-man or scoring winger would be useful.
The Bruins almost have to score more than they did last year. The defense doesn't look much worse from the loss of Wideman. The goal-tending is solid and if Rask falters a former Vezina trophy winner is not a bad back-up to have. This line-up should finish first in the weak Northwest division. I expect Boston to manage another fifteen points during next years' regular season. The biggest problem in Boston is going to be the cap again.
1. Tampa Bay Lightning 2009-10 W-34 L-36 T-12 PTS-80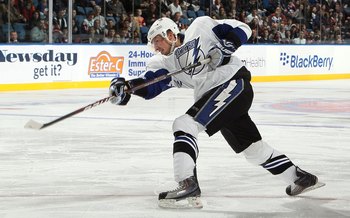 Steve Stamkos
Jim McIsaac/Getty Images
If Columbus can be said to have made no changes in the off-season and if St Louis can be said to have only let people leave, Tampa Bay sits at the other end of the spectrum as the team that has brought in the most new key personnel.
They've added veteran scoring winger Simon Gagne, veteran power-play quarterback Pavel Kubina, and another of the very good ex-Predator goalies, Dan Ellis.
Mike Smith lost the starting job to quality back-up Antero Niittymaki. Antero is off to make his fortune, and try to win a cup in San Jose. Tampa Bay deserves to have more than a quality back-up goalie. Ellis managed a .924 save percentage in his first season in Nashville. Last year as back-up his .909 matches what Niittymaki managed in Tampa Bay. Look for the 30 year old Ellis to win the starting job and win games for the Lightning.
The defense in Tampa Bay has been a work in progress since Steve Stamkos' rookie season when they tried to run with Andrej Meszaros, Paul Ranger and no one else you've ever heard of. That was a disaster and they've been looking to improve the defense ever since. Victor Hedman had a good year in Tampa Bay. He'll be a year savvier this season. Pavel Kubina at 33 still has a good point shot and is a heck of a power-play quarterback. Ohlund is a year older and seems to be slowing. He's still a good veteran mentor for Hedman, but the offensive component to his game seems to have dried up.
Paul Ranger hasn't surfaced yet but he would be a good young depth defence-man in this line-up. Ty Wishart a prospect picked up from San Jose spent a full season in Norfolk last year. He may be ready to help out the big club. This defense with veteran Brett Clark on it should be better again this year.
Steve Stamkos broke out last year with 51 goals and 95 points. It's a lot to expect him to duplicate that. The Lightning have added another sniper, albeit an often injured 30 year old one, in Simon Gagne. If he can stay healthy look for him to add 30-40 goals on his own. Lecavilier, St Louis, and Malone round out as good a top five forwards as can be found in the league. Dominic Moore was added to be the speedy checking center.
The Tampa Bay Lightning seem to have improved on every aspect of their game. If they manage to get their shots on goal against down to closer to 30 per game look for Dan Ellis to shine in nets. Despite Stamkos they only managed to score 213 goals in Tampa Bay last year. Look for the power play to improve and that goals for number to improve a lot.
I like Tampa Bay to improve the most in the regular season this year. I'm looking for a bump in the neighborhood of 20 points. Look for the Lightning to compete with Washington to be the best team in an improved Southeast division. A 100 point regular season will put the Lightning in the playoffs and once there they will be dangerous.
Keep Reading