NHL 2010-11: Five Western Conference Teams That Could Land the Top Pick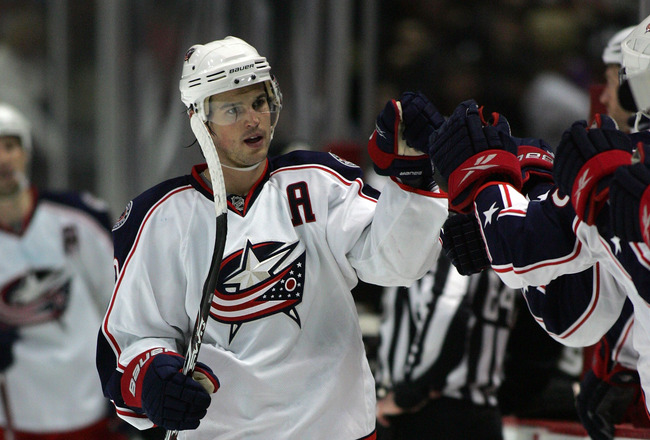 Victor Decolongon/Getty Images
The Western Conference always provides plenty of entertainment as it is usually more competitive then the East. This year should be no different. The races will be as tight as always and no one knows who will eventually come out on top.
However, a handful of teams may not be able to compete with the rest of the pack as they just don't quite have the same talent just yet that the Red Wings, Sharks, Blackhawks have.
Some teams near the bottom are on the slide while others are slowly climbing their way back toward the top.
Either way, they will still have a tough go this season, and will have the opportunity to make their pick on the 2011 draft class, which will be stronger then once thought.
Who should be near the bottom? and who should they pick? lets find out.
Columbus Blue Jackets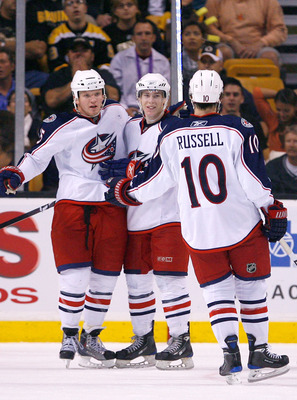 Jim Rogash/Getty Images
The past season for the Columbus Blue Jackets was not the best, and in the offseason they really did little to improve the club. A new coach likely isn't enough and it could be another rough go until they make some bigger changes to the club.
While they have some up and comers for this team to really contend several things need to happen. The offense was one of the worst in the league, and everyone needs to chip in more, Filatov will likely be a boost, but not enough to really improve the team.
The defense, aside from defenseman Kris Russell is poor at best. One of the worst defenses in the league made no improvements over the summer, and will likely be just as bad this season.
Steve Mason took a big step backward last season, after his tremendous rookie campaign. While he will likely rebound it may not be enough to make a huge difference.
Overall the team needs a lot of improvements and aside from a small miracle will in all likelihood be a lottery contender.
Minnesota Wild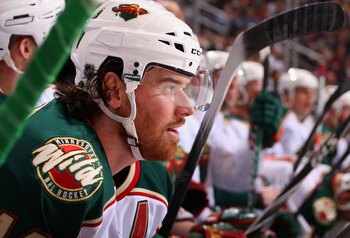 Christian Petersen/Getty Images
The hotbed of hockey in the United States isn't so hot right now. They have made some moves that should help the team. By bringing in Matt Cullen and John Madden the team should be much stronger defensively, and a bit stronger offensively.
Koivu, Brunette, and Havlat will carry the load up front, as the secondary scoring depth is lacking. However if the resurgent Latendresse can continue on his successes last year, and Cullen can chip in on offense the Wild could be better then expected, but a lot of things have to go right.
The defense wasn't spectacular last year, and with the only real change being Cam Barker for a full year, and a couple strong forwards it shouldn't be all that improved.
Backstrom and Harding are a solid tandem in net. They will once again carry the burden of trying to carry the team to the playoffs once again, but if the offense and defense doesn't improve this is not going to happen, and they are likely going to fall to the bottom of the conference.
Dallas Stars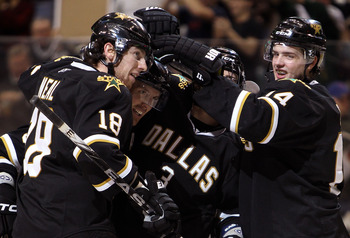 Ronald Martinez/Getty Images
The Dallas Stars are another team that needed to do something to improve, but mostly sat around while the teams around them improved. The offense was average, the defense was poor, and in goal Turco could not pull his weight.
Up front, the Stars made only one change when they brought in Adam Burish from the Chicago Blackhawks. Burish is not going to bring you any real scoring, but he is fairly good on defense and will likely only be used sparingly depending on his development. Other then that Richards and Loui Eriksson will be called on once again to shoulder the load offensively.
On the back end their were no significant improvements. Brad Lukowich was brought in, but other then that the defense is the same and will likely struggle like they did last year.
Goaltending is the only position that has changed. Marty Turco is out, and the Lehtonen/ Raycroft era is upon us. Lehtonen was always solid for the Thrash, but he will not be able to steal many games if the team in front of him plays like they did last year
The Stars have some talent but at this point should remain in the basement of the West.
Edmonton Oilers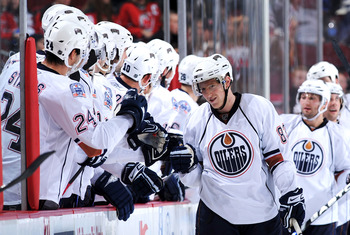 Al Bello/Getty Images
The Oilers should be a better team next year, they should have a healthy Khabi, and a healthy Hemsky. The Oil of last year were riddled with major injuries to their star players, and likely cost them the entire season. However with the squad they had, it still wouldn't have been spectacular.
The Oilers have not gone and made any major acquisitions but they will have a much improved offense next season. If Hemsky can stay around all season that alone will be huge, but bringing in Hall, Eberle, and Svensson will be the big difference. While they are still unproven it seems highly likely they will have a major impact for the Oilers and will be the backbone of the offence.
The defense however is a little troubling. The league's worst crew has made some improvements, but it might not be enough. Foster could be one of the league's most underrated players as he is steady in his own end and can also produce some solid numbers. The only move that Edmonton made was to try and move disgruntled defenseman Sheldon Souray so they may have one of the worst defenses yet again.
In goal Khabibulin and Deslauriers should carry the burden, and it is still a question as to how well they can come together. It doesn't seem likely they will be able to carry the load, and with a poor defense Edmonton will likely find themselves in trouble yet again.
St. Louis Blues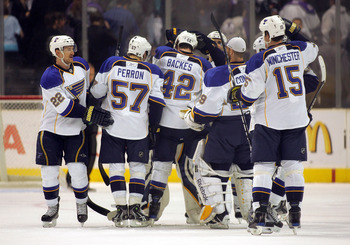 Victor Decolongon/Getty Images
The Blues have a solid core, but they can't seem to pool their talents. Every year it seems one player steps up his game only to have the rest fall off, and no one can seem to play well consistently. This trend is likely to continue this next season.
On the offense you have the likes of: McDonald, Boyes, Backes, Oshie, Steen, and Perron who all put up similar numbers, and all of whom could have a solid season, but none seem to be able to o it on a consistent basis. McDonald is fairly solid and Boyes could rebound after a very disappointing season, but after Blues fans will likely be upset with the outcome.
On the back end look for Johnson and Pietrangelo to stand out from the crowd, and really provide solid support on the back end. Coliacovo and Brewer should round out a solid top four. The defense should be solid but not spectacular and will be boosted by the goaltending which should be much improved.
In net, Halak should be a step up from Mason and could be what the club needs to compete better within a tough division. However, Halak has never had the full reigns of a team and it should be interesting to see if he can handle the load.
The Future Stars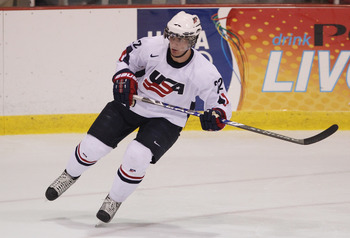 Brandon Saad of the USNDP
Bruce Bennett/Getty Images
Brandon Saad (LW)
Current Team: USDP
Ht/Wt: 6'1"/185
Stats: 63GP, 29G, 29A, 58P
Brandon Saad could be one of the most well-rounded players in the 2011 draft class. With 29 goals and 29 assists in only 63 games it shows he can both dish the puck and score if need be.Brandon also has tremendous speed, vision and puck control. Brandon isn't afraid to play physical as well. If Brandon has a good season he could be a very high pick.
Ryan Murphy (D)
Current Team: Kitchener Rangers
Ht/Wt:5'10"/175
Stats: 62GP, 6G, 33A, 39P
Ryan Murphy had a stellar rookie campaign with the Kitchener Rangers of the OHL. Murphy has already asserted himself as one of the top defensemen on a strong Rangers team. Murphy is an excellent puck mover, and he has also proven that he is a strong offensive player. In his own end he is steady, and most importantly of all attributes he elevates his game in key situations. Murphy is a diamond in the making.
David Musil (D)
Current Team: Vancouver Giants
Ht/Wt: 6'3"/190
Stats: 71GP, 7G, 25A, 32P
David Musil is a special player, with other strong defensemen in this draft class he may get looked over, but he will be a star at some point. Musil is a big, strong, physical defender who can throw them down with the best of them, but can also set up and finish plays as well. The Giants blueliner has a good head on his shoulders and gives everything he's got, and for that he should be a high pick.
Victor Rask (C)
Current Team: Leksand
Ht/Wt: 6'2"/187
Stats: 39GP, 22G, 19A, 41P
Rask was a key part in a J20 elite league championship team, and has really had a great run thus far in the junior elites and in International play. Rask is as most Swedish players are these days very gifted puck movers. Rask however brings an edge to his game as well. He has decent size and great ability, but it was all accomplished in the junior elites. With a contract in the Elite league with Leksand we should really see what Rask can bring.
Scott Harrington (D)
Current Team: London Knights
Ht/Wt: 6'1"/190
Stats: 55GP, 1G, 13A, 14P
His stats may be a little underwhelming but Harrington is actually a very steady defensemen. The Knights managed to nab the defender late in the first round of the 2009 OHL Priority Selection and he didn't disappoint. Scott ended up playing a very important role for the Knights and was a huge reason why they were as successful as they were. With a larger role on a slightly weaker Knights squad it should soon be known whether he is the real deal or not.
Keep Reading

Edmonton Oilers: Like this team?