Tomas Kaberle: Looks Like A Deal Will Come Down to the Wire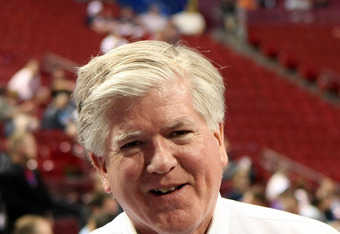 Is Burke Sitting At Home Laughing At The Media As We Patiently Await Word On A Kaberle Deal?????
Bruce Bennett/Getty Images
With about 26 hours to go before Tomas Kaberle's no-trade clause goes back into effect the entire hockey world is at the mercy of Toronto Maple Leafs general manager to close the deal.

Burke, who has been sifting through offers for Kaberle for weeks now, has a penchant fro the dramatic. I would not put it past Burke to wait until the final seconds before he makes his decision to keep Kaberle or accept a trade offer for the coveted veteran defenseman.

ESPN's Scott Burnside recently Tweeted that Burke is telling reporters that it is looking more and more like Kaberle will remain with the Leafs—but I am not buying that.

Somewhere, you just know that Burke has his feet up, laughing at the media, who, with little in the way of hockey news to report on, are chomping at the bit for the Kaberle rumors to become a reality.

While many Leaf fans will be sad to see Kaberle go, the talented Czech represents the player with the potential to bring a solid top-six forward to the Maple Leafs.

The bottom line is this: in order for the Maple Leafs to be a true playoff contender this season, Burke will need to add another top-six forward who can bulge the twine on a regular basis.

Anything short of landing that coveted top-six forward and the Leafs' odds of making the playoffs in 2011 become all the more unlikely, and perhaps even impossible.

When you look at the Eastern Conference the top five playoff spots will probably belong to the Pittsburgh Penguins, Washington Capitals, Boston Bruins, Philadelphia Flyers, and the New Jersey Devils (with or without Ilya Kovalchuk) with the Buffalo Sabres, Montreal Canadiens, New York Rangers, Toronto Maple Leafs, Tampa Bay Lightning, and Ottawa Senators likely representing the Leafs' competition for one of the final three playoff spots.

Simply put, given the fact the Leafs ranked near the bottom in both the penalty kill and power play last season and struggled five-on-five offensively, the Leafs need to score more goals if they are to be successful in 2010-11.

The addition of Dion Phaneuf late last season combined with the additions of Kris Versteeg and Colby Armstrong this summer, should help the Leafs overall offensive output, while the additions of Brett Lebda, a healthy Mike Komisarek and an ever-improving Jonas "The Monster" Gustavsson, should help the Leafs on the backend.

Kaberle, who has spent his entire 11-year NHL career in Toronto, has quietly gone about putting together an all-star caliber career, highlighted by all-star appearances in 2002, 2007, 2008 and 2009, along with numerous World Championship medals (2005: gold, 2006: silver and an Olympic bronze medal in 2006).

There is no question that the loss of Kaberle will hurt the Leafs in the short term, but the Leafs should be able to off-set that loss by asking the likes of Phaneuf, Luke Schenn, Carl "Uzi" Gunnarsson and Francois Beauchemin to step up their games and expand their roles.

If Burke fails to deal Kaberle then Burke's attention may switch to dealing one of Beauchemin or Schenn (insert Leaf fans venom here) to try to land that coveted top-six forward he so desires, and so badly needs.

While not ideal, trading one of Beauchemin or Schenn would not be the end of the world and, in the end, if Burke was able to flip one of them for a scoring forward, all would be good in Leaf Nation.

In the end, Kaberle represents Burke's least destructive option. For that reason, Leaf fans are hoping Burke will spend a little less time watching golf and tennis this weekend and a little more time finalizing a deal for Kaberle.

Until next time,

Peace!





This article is
What is the duplicate article?
Why is this article offensive?
Where is this article plagiarized from?
Why is this article poorly edited?

Toronto Maple Leafs: Like this team?