Brett Favre and Mike Modano: Five Reasons Why They Should Return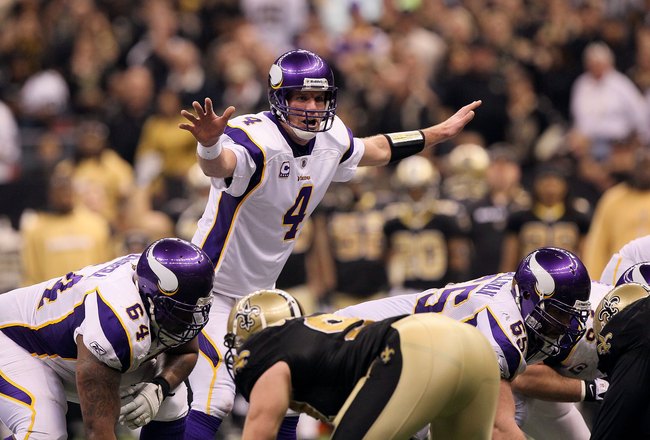 Mike Modano is an NHL player who has played 20 NHL seasons with one team; soon to be two.
Brett Favre is an NFL quarterback who has played 19 NFL seasons with three different teams, though he stayed with one through the majority of his career.
What could these two athletes possibly have in common?
Aside from their veteran experience in their respective sports, they are both either 40 or almost-40 years old. This is the time when many athletes are considering retirement or have already done so.
But Favre and Modano both seem intent on playing another year in their professional leagues.
Here are five reasons why Brett Favre and Mike Modano should come back for one more season.
No. 1: Championship Glory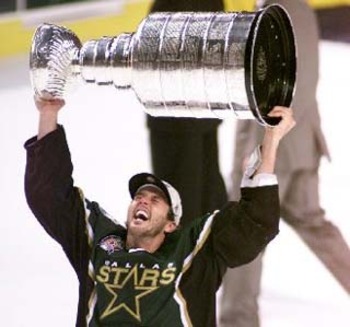 For as many records as Modano and Favre have set, and for as many All-Star games or Pro Bowls they have been in, they probably feel they are missing one more thing: another Super Bowl or Stanley Cup.
Modano has only won the Stanley Cup once in his career. The Dallas Stars were victorious in 1999 over the Buffalo Sabres in three overtimes. He has gone to the Finals two other times, in 2000 and in 1991 (with the Minnesota North Stars), but his teams have lost both times.
The last time the Stars went far in the playoffs was in 2008, when they lost in six games in the Western Conference Quarterfinals to the Detroit Red Wings.
Favre has won one Vince Lombardi Trophy in his 19-year NHL career. That came in 1997 when the Green Bay Packers defeated the New England Patriots. The Packers returned to the Super Bowl the following year, but lost to the Denver Broncos.
Modano now goes to a Red Wings team that has won two Cups in the last 10 years (2002 and 2008).
If Favre comes back to the Vikings, he will rejoin a team that lost in the NFC Championship game this past season and will be looking to go the extra mile in 2010.
If one last shot at championship glory can't keep these guys going for one more year, nothing will.
No. 2: Becoming a Franchise Player (Again)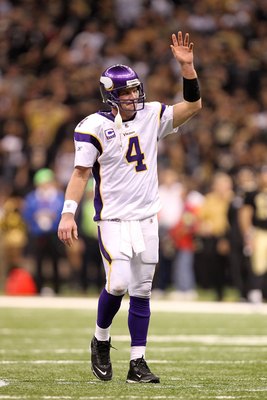 The players that are typically known as franchise players have spent several seasons or their entire careers with one team.
When sports fans and writers talk about the greatest players on their respective teams, franchise players often come to mind for their dedication and valuable contributions to the team.
Modano's 20 years with the Stars organization and Favre's 19 years with Green Bay make them franchise players in those rights.
Now that these two legends are on new teams, they have another chance to cement their legacies and become players who will be forever remembered by their new teams.
Should Favre return, he will be on the second year of a two-year deal worth $25 million with the Vikings. He accomplished a lot in his first season with the team in 2009, being elected to his 11th Pro Bowl and becoming the first quarterback to win a playoff game at the age of 40.
Modano has a one year deal with the Red Wings worth $1.25 million. He will have a chance to play with several players who are NHL legends in the making. Although it will be harder for him to stand out as a franchise player, any key contributions he makes could give him a spot in Detroit's illustrious hockey history.
Both are also key signings for the NFL and NHL, so the buzz created by them should be enough to make them well known before the new seasons begin.
No. 3: The Best of the Best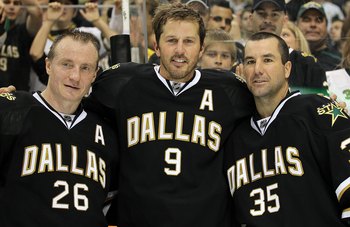 Favre and Modano are already two of the most respected professional athletes in any sport.
But that doesn't mean there aren't great players coming up behind them.
Favre and Modano should return for 2010 because this could be their last chance to play alongside some of the other elite players in the NFL and NHL.
One of Favre's teammates is running back Adrian Peterson, who has played all three of his NFL seasons with the Vikings. In the 2009 season, his 18 touchdowns led the NFL in scoring by non-kickers. He is also second in team history with 19, 100 or more yards rushed games and a three time Pro Bowl starter.
Hockeytown has had many great players wear the red and white such as Gordie Howe and Steve Yzerman. But Modano will come into a team that boasts Henrik Zetterberg, a member of the Triple Gold Club with a Stanley Cup, an Olympic gold medal, and a World Championship gold medal.
Modano will also get to be teammates with Nicklas Lidstrom, the current Detroit captain who has spent his entire career there. Lidstrom has won four Stanley Cups and six Norris Trophies. He has also been named to 10 NHL All-Star Games.
One elite player on a team is exciting enough for media and fans. But to have two or three?
Fans have that much more to be excited about. The expectations for the Vikings and Wings seasons will be high, but both players should be excited about the caliber of teammates they have.
No. 4: Clean Bill of Health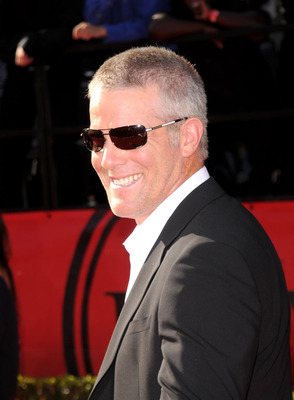 Since it is virtually impossible for an athlete to go his entire career without any injuries or other ailments, I write this slide with caution.
However, Favre and Modano have each played in enough games to show they can stay healthy and not be sitting out every other game.
Favre has only been unable to finish a game due to injury six times in his 19-year career. He has never missed a game and has started over 100 consecutive games between his time with Green Bay, the New York Jets, and Minnesota. He holds the NFL's all time consecutive starts record with 309 (285 regular season starts and 24 playoff starts).
Modano has played in 1,459 NHL games, the most by an American born forward. He has also played in at least 70 games in 16 of his 20 NHL seasons.
With that many games played, teams can be assured they aren't taking a high risk player.
As an athlete gets older, he tends to experience more health problems, but this is not the case for these two guys. Let's hope it stays that way and gives them a reason to keep playing.
No. 5: Leadership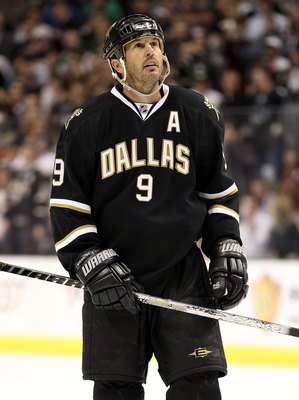 In the 2009 season, Favre was named one of five permanent captains for the Vikings.
Modano was captain of the Stars from 2003-2005 and an alternate captain on two separate occasions, from 1995-2003 and 2005 up until this season.
If Favre comes back, he will most likely be named a captain again.
Modano may not get to wear a letter on his jersey. Nicklas Lidstrom is still the Red Wings captain, while other long term players such as Pavel Datsyuk, Kris Draper, and Henrik Zetterberg are alternate captains.
But as Modano and Favre should both know, it takes more than a special patch on your jersey to be a leader.
Even if they are not officially given leadership positions, they can be good examples for their teammates in other ways. They can give 100 percent every game. They can always hold themselves accountable and never make excuses if they have a bad day. They can conduct themselves in an off-ice or an off-field manner that team officials can be proud of.
Although there has been controversy around these two at times (Favre moreso than Modano), the sports world seems to be willing to give second chances. Another season of play for their resumes will give them another chance to be good examples for younger teammates and display characteristics of a good leader.
Keep Reading