The Greatest Player in the History of Each NHL Franchise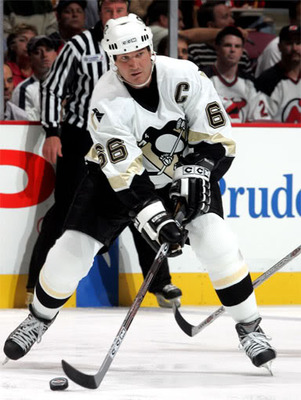 Seeing as these have been popping up in the other sections, I figured I'd give it a shot for my first article. As with any list, there are bound to be ones we unanimously agree on, and ones that will cause a minor controversy. Don't be afraid to express your opinions.
Anaheim Ducks: Teemu Selanne (1996-2001, 2005-present)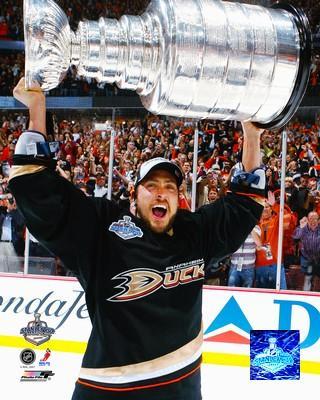 The obvious choice here. He's one of the greatest players of his generation, in addition to holding nearly every one of the Ducks' offensive records.
After being traded to Anaheim from Winnipeg, he teamed up with Paul Kariya in the '90s to form one of the most lethal scoring duos of all time. He was traded to the San Jose Sharks in 2001. After a couple of average seasons with the Sharks, and a dismal season with the Avalanche, he returned to Anaheim in 2005 following knee surgery.
He scored 40 goals and 90 points that season, capturing the Bill Masterton Memorial Trophy. The following season, he helped lead the Ducks to their first Stanley Cup in franchise history.
Atlanta Thrashers: Ilya Kovalchuk (2001-2010)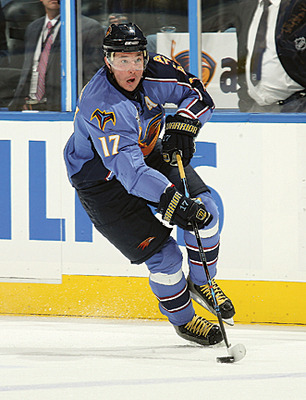 Though he was traded to the New Jersey Devils in 2010 and is now a free agent, Ilya Kovalchuk was the Thrashers during his tenure in Atlanta.
He was drafted with the first overall pick in the 2001 NHL Entry Draft and never looked back. He is the Thrashers' all time leader in goals and points, and was the NHL's leading goal scorer for the decade.
Boston Bruins: Bobby Orr (1966-1976)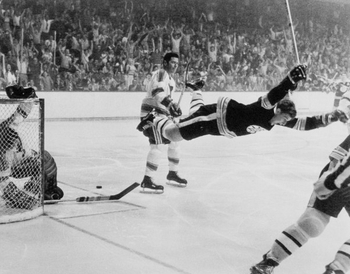 It should come as no surprise that the greatest defenseman of all time is the greatest Bruin of all time. Orr put up ridiculous numbers for a blueliner, scoring 100 points six times, including the NHL record for points in a season for a defenseman with 139.
He is the only defenseman in NHL history to win the Art Ross Trophy, doing so twice, in addition to being a three time Hart Trophy winner. He has the most Norris Trophy wins in the trophy's history with eight.
He led the Bruins to two Stanley Cup championships in 1970 and 1972, capturing the Conn Smythe Trophy both times. Pictured is the most famous goal in NHL history, the Stanley Cup winning overtime goal against the St. Louis Blues in the 1970 Stanley Cup Finals.
Buffalo Sabres: Gilbert Perreault (1970-1986)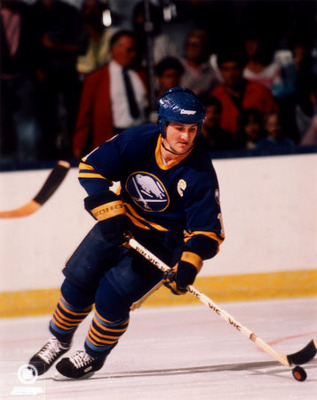 The first overall pick in the 1970 NHL Entry Draft, Gilbert Perreault played his entire 16-year career with the Buffalo Sabres, serving as their captain from 1981-1986. He is the Sabres' all time leading scorer in goals, assists, and points.
In the '70s, he teamed up with Rene Robert and Rick Martin to form the French Connection line, one of the most famous and potent scoring combinations of all time. Though the Sabres have never won the Stanley Cup, Perreault led them to the Finals in 1975, eventually falling to the Philadelphia Flyers. A serious case could also be made for Dominik Hasek in this spot.
Calgary Flames: Al MacInnis (1981-1994)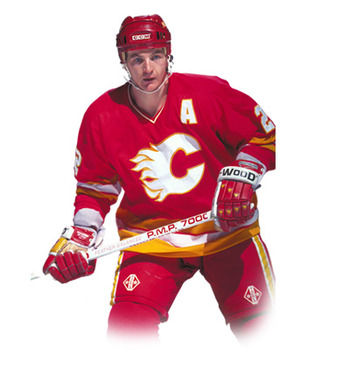 Al MacInnis was drafted 15th overall by the Flames in 1981, and went on to have a legendary NHL career. He is currently third on the Flames' all time scoring list with 822 points in only 803 games, astounding numbers for a defenseman.
He led the Flames to their first Stanley Cup championship in 1989, easily capturing the Conn Smythe Trophy with a staggering seven goals and 31 points in 22 games in the 1989 playoffs.
During the 1990-91 season, he became one of only four defensemen (at the time) to score 100 points in a season, finishing with 28 goals and 103 points. An upcoming free agent, he was traded to the St. Louis Blues in 1994 for Phil Housley, where he continued to excel.
Hartford Whalers/Carolina Hurricanes: Ron Francis (1981-1991, 1998-2004)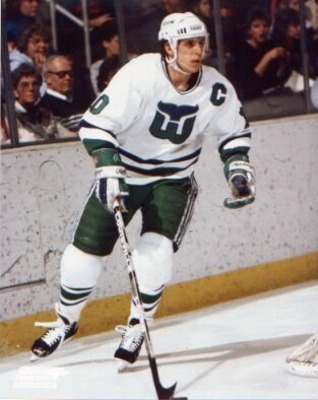 Ron Francis first played for the Hartford Whalers from 1981-1991. He broke into the league with a bang as the fourth overall pick in the 1981 draft, scoring 25 goals and 68 points in only 59 games in his rookie season. He was named the captain of the Whalers in 1985, and served in that capacity until 1990.
At the time of his trade to the Penguins in 1991, he held almost every offensive record for the young franchise. Following an extremely successful eight season stint with the Pittsburgh Penguins, he signed with the Carolina Hurricanes in 1998, returning to the franchise that he started his career with. Age proved to be just a number for Ron Francis, who produced respectable numbers even at age 35.
In 2002, he scored 77 points and led the Cinderella Hurricanes to the Stanley Cup Finals where they eventually lost to the Detroit Red Wings. He retired as the fourth all-time leading scorer in NHL history. Francis' career can be summed up in one word: consistency.
Chicago Blackhawks: Stan Mikita (1959-1980)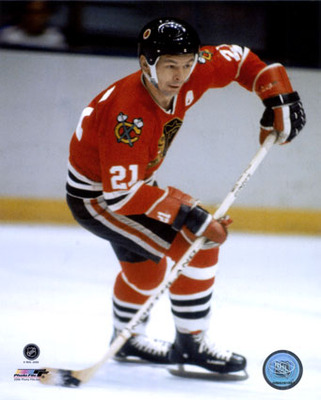 Part of me wanted to put Bobby Hull and his 604 goals, but I went with Mikita based on the fact that he played his entire 21 year career in Chicago, whereas Hull left for the WHA in the '70s.
Mikita is the leading scorer in Blackhawks' history with a whopping 1467 points, and he is second in goals to Hull with 541. Prior to the 2009-10 season, the last time the Blackhawks won the Stanley Cup was in 1961. Mikita was on that team in the early days of his playing career. Mikita was a four-time scoring champion in the 1960s, in addition to winning the Hart Trophy and Lady Byng Trophy twice. He currently serves as a good will ambassador for the Blackhawks organization.
Quebec Nordiques/Colorado Avalanche: Joe Sakic (1988-2009)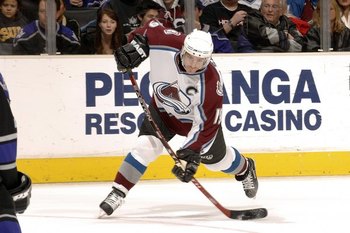 Could it be any other? Joe Sakic played his entire 21-year career with the Quebec/Colorado franchise. He retired before the 2009-10 season, ending his legendary career as the eighth leading scorer in NHL history. He holds nearly every record in the Colorado/Quebec franchise's history.
He made the move to Colorado with the rest of the team in 1995, and scored 51 goals and 120 points. In the playoffs, he scored and unprecedented 18 goals, winning the Conn Smythe Trophy en route to leading the team to the first Stanley Cup championship in franchise history.
He was renowned for his incredible leadership ability, mentored by Peter Stastny at the start of his career. He later returned the favor, taking Peter's son Paul Stastny under his wing when Paul broke into the league in 2006. Sakic's number 19 was retired on opening night of the 2009-10 season.
Columbus Blue Jackets: Rick Nash (2002-present)
Another fairly obvious choice. Rick Nash was drafted first overall in the 2002 NHL Entry Draft. Though he has not attained true superstar status as of yet, he is one of the best power forwards in the NHL today.
In the 2003-04 season, his second in the league, he tied with Ilya Kovalchuk and Jarome Iginla for the NHL lead in goals with 41, becoming a co-winner of the Rocket Richard Trophy, the Blue Jackets' first major NHL award. He also set a record for the highest goals to assists ratio in the NHL's modern era, finishing with only 16 assists that season.
Minnesota North Stars/Dallas Stars: Mike Modano (1989-2010)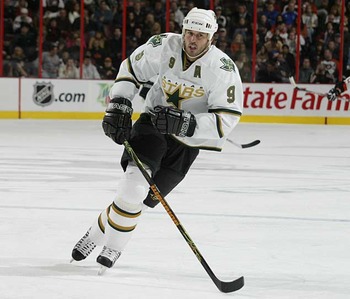 When the Dallas Stars recently announced that Mike Modano would not be offered a contract, they chose to cut ties with the greatest player in franchise history.
Modano was drafted first overall in 1988. He broke into the league the following season, scoring 29 goals and 75 points in a very successful rookie season. In his second season, he helped the team to the Stanley Cup finals where they lost to the Pittsburgh Penguins.
The team's final year in Minnesota came in 1992-93, and Modano scored 33 goals and career high 93 points. Following the move to Dallas, Modano had his first and only 50 goal campaign, finishing with exactly 50 goals and matching his career high with 93 points. Modano was as consistent as they come, netting 35+ goals and 80+ points in nearly every season. He led the Stars to the first Stanley Cup championship in their history in 1999, and returned to the Finals in a losing effort in 2000. He leaves the Stars as the all-time leader in goals and points, with 557 and 1359 respectively.
Detroit Red Wings: Gordie Howe (1946-1971)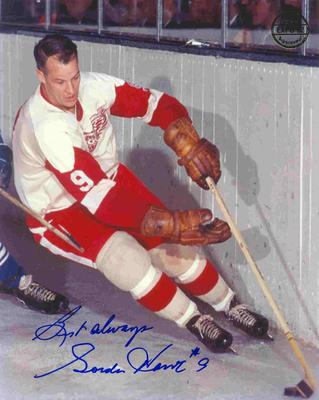 Probably the hardest decision I had to make on this slideshow. I really wrestled with putting Stevie Y, but when I look at it again, Gordie Howe is quite possibly in the top three players of all time.
One of the greatest power forwards of all time, it took a while for Howe to get it going in the NHL, but once he did, there was no stopping him. He led the league in goals five times, won the Art Ross Trophy six times, and also won the Hart Trophy six times.
Oh yeah, and he led the Red Wings to four Stanley Cup championships. When he was 40 years old, he became the third player in NHL history to score 100 points in a season in 1968-69, finishing with 44 goals and 103 points.
He retired as the NHL's leader in goals, assists, and points. It was thought that those records would stand forever, until the next guy on this list broke into the league.
Edmonton Oilers: Wayne Gretzky (1979-1988)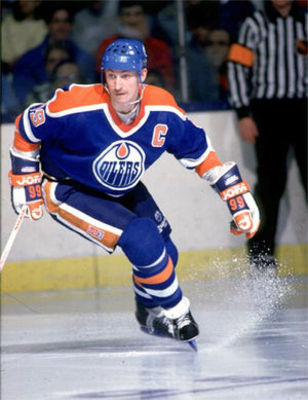 The Great One is arguably the greatest hockey player to lace up a pair of skates. The NHL's all time leader in goals, assists, and points, both for career and in a single season, Gretzky's numbers are the most dominant in any sport.
When considering Gretzky's nine year career in Edmonton, it would still be one of the greatest full careers of all time. In 696 games in an Oilers uniform, Gretzky scored 583 goals and 1086 assists for 1669 points. That comes out to a staggering 2.40 points per game average. In his second season, Gretzky set records for assists and points in a season, finishing with 109 and 164 respectively, besting Bobby Orr's record of 102 assists and Phil Esposito's record of 152 points.
The following season, Gretzky demolished his own records. He scored 92 goals and 120 assists for an unbelievable 212 points. He was the first player in NHL history to score 200 points in a season, doing so four times, and he remains the only player to ever do so.
In the 1985-86 season, Gretzky scored "only" 52 goals, but destroyed his own assist record, putting up 163 helpers for a record 215 points. Did I mention that he also captained the Oilers to four Stanley Cup championships? Well he did, and on the way, captured Conn Smythe honors twice, setting the record for points in a playoff season in the 1985 playoffs, scoring 17 goals and 47 points in only 18 games.
Florida Panthers: Pavel Bure (1999-2002)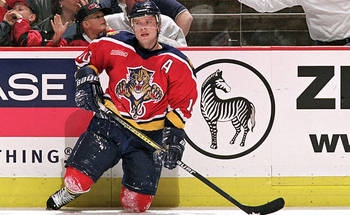 Pavel Bure played with this young franchise for only four seasons, two of them full seasons, but in that short time, he put up incredible numbers.
In 223 games in a Panthers uniform, he scored an unbelievable 152 goals and 251 points. His first season in Florida was looking to be one to remember, scoring eight goals and 11 points in his first six games, until he was forced out of the lineup by a knee strain.
He returned for five more games and scored five more goals, but his season was ended by numerous injuries and surgeries. His second season was truly astounding. He won the Rocket Richard Trophy with 58 goals and led the Panthers to the playoffs. He finished second to Jaromir Jagr in Hart Trophy voting. Just when it was thought that he couldn't do it again, he did just that.
In his third season with the team, he won his second straight Rocket Richard Trophy, scoring 59 goals and 92 points. At the trade deadline during the 2001-02 season, he was traded to the New York Rangers, where he scored 12 goals and 20 points in 12 games to end the season. He only lasted half a season more in the NHL before his career was ended by chronic knee injuries. His time in Florida was brief, but productive.
Los Angeles Kings: Marcel Dionne (1975-1987)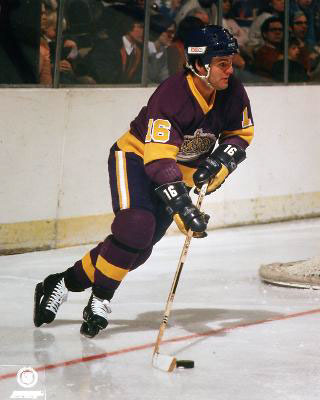 To be blunt, Marcel Dionne is one of the greatest players in NHL history. He is widely considered to be the greatest player to never win the Stanley Cup, due to the fact that throughout his entire career, he played on some dismal teams. The fifth all-time leading scorer in NHL history, he amassed 1307 of his 1771 career points with the Kings, in addition to 550 of his 731 career goals.
He teamed up with Charlie Simmer and Dave Taylor to create the lethal Triple Crown Line. He was able to lead the Kings to the playoffs eight times, but only advanced past the first round three times. Despite the lack of playoff success, his career is legendary.
Minnesota Wild: Marian Gaborik (2000-2009)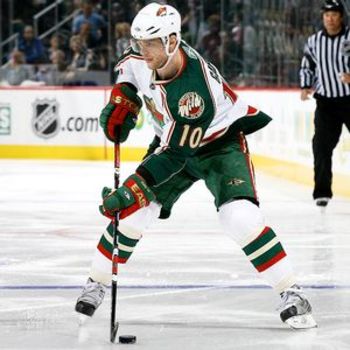 Drafted third overall in 2000, Marian Gaborik is one of the elite talents in the NHL. However, his career has been a rocky one, as Gaborik is one of the more injury prone players in the league. In his nine years in Minnesota though, he did not disappoint.
He had a solid rookie season, netting 18 goals and 36 points, and followed that up with two consecutive 30 goal seasons. He and the fledgling Minnesota Wild were the story of the 2003 playoffs, advancing to the Western Conference Finals before being set down by J.S. Giguere and the Mighty Ducks.
In each of his four seasons with the team after the lockout, he scored at over a point per game rate, but only one was a full season, during which he set Wild records for goals and points with 42 and 83 respectively. He left the Wild as their all-time leading scorer.
Montreal Canadiens: Jean Beliveau (1950-1971)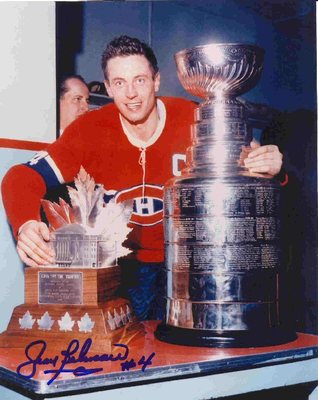 The Montreal Canadiens are the most storied franchise in the NHL. They have had a multitude of players that could be in this spot such as Maurice Richard and Guy Lafleur, but I decided to go with Beliveau.
Jean Beliveau spent his entire 21 year career with the Habs, scoring 507 goals and 1219 points. He is the third leading goal scorer in Canadiens history, and the second leading point getter. He won the Art Ross Trophy in 1956 and 1964, and the Hart Trophy in 1956.
He has as many Stanley Cup rings as a player as he has fingers. He served as the Canadiens captain for five of those championships, serving as the captain from 1961-1971. He was also the inaugural winner of the Conn Smythe Trophy in 1965, and is considered one of the greatest two-way players of all time.
Nashville Predators: Kimmo Timonen (1998-2007)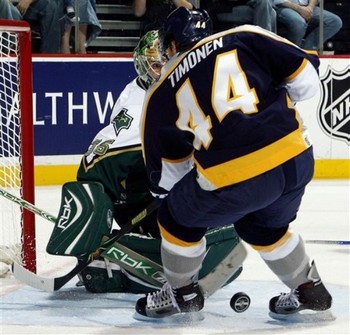 This was a tough one. The Predators have not had any standout players in their history, so I decided to go with Kimmo Timonen.
The defenseman played the first eight seasons of his career with the Predators. Despite being a defenseman, he is the third all time leading scorer in Predators history. He had five consecutive 40 point seasons, two of which being 50+, before leaving Nashville for Philadelphia. He served as the Predators' captain for the 2006-07 season.
New Jersey Devils: Martin Brodeur (1991-present)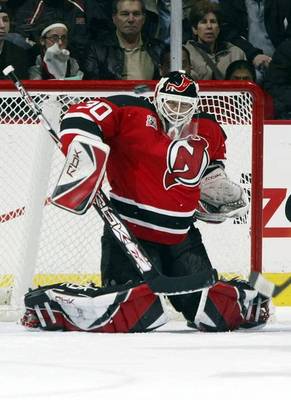 The first goaltender on the list, Martin Brodeur is one of the greatest netminders in NHL history. He is the NHL's all time leader in games played, wins, and shutouts, and has played his entire career with the New Jersey Devils.
He broke in for a four game stint in 1991-92, before returning to the AHL for the next season. In the 1993-94 season, he won the Calder Trophy and led the Devils to the Eastern Conference Finals, where they fell to the Rangers in seven games after a dynamic goaltending battle between Brodeur and Mike Richter.
He won his first of four Vezina Trophies in 2003. In the 2006-07 season, he set a record for wins in a season with 48. He became the winningest goaltender in NHL history during the 2008-09 season, and the following season, became the first member of the 600 win club, and broke Terry Sawchuk's 40-year-old record for career shutouts.
New York Islanders: Mike Bossy (1977-1987)
Mike Bossy is one of the most dominant snipers in NHL history. The Islanders nearly passed on drafting him due to his lack of defensive ability, but they decided that it would be easier to teach him to check than it would for a defensive player to score. I'd say they were right on that one.
Bossy demolished the record for goals by a rookie, scoring 53 goals and 91 points en route to a Calder Trophy win. The following season, he had his first of five 60 goal seasons, finishing with 69 goals and 126 points.
In 1980, he and the Islanders won their first of four consecutive Stanley Cup championships, with Bossy winning the Conn Smythe Trophy in 1982. Unfortunately, Bossy was forced out of the game by back injuries in 1987, but in only 752 games, he scored 573 goals and 1126 points, for a point per game average of 1.51, the third highest of all time.
New York Rangers: Brian Leetch (1987-2004)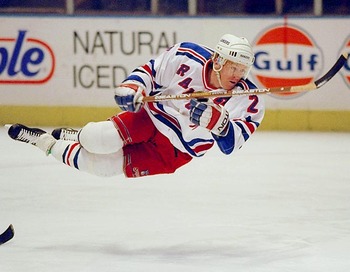 Brian Leetch is one of the greatest offensive defensemen in the history of the NHL. Drafted by the Rangers ninth overall in 1986, Leetch broke into the NHL in 1987-88 for a 17 game stint, and showed immediate promise, netting two goals and 14 points.
His rookie season was one to remember in 1988-89. He played in 68 games, set a rookie defenseman record with 23 goals, and scored 71 points, unprecedented numbers for a rookie defenseman. Leetch became the leader of the Rangers, netting 56 and then 88 points in the two seasons following that one.
1991-92 was a turning point for Leetch and the Rangers. They acquired Adam Graves and Mark Messier, who would win the Hart Trophy that season. That season, Leetch became the fifth, and as of 2010, final defenseman to record 100 points in a season, scoring 22 goals and 102 points. He ran away with the Norris Trophy, though his President's Trophy winning Rangers were upset by the Pittsburgh Penguins in the playoffs.
Thanks largely in part to Leetch, the 1993-94 season was one to remember for Rangers fans. They again won the President's Trophy, and Leetch was an unstoppable force in the playoffs. He scored 11 goals and 34 points in 23 games, leading the Rangers to their first Stanley Cup win in 54 years, and winning the Conn Smythe Trophy. He would win the Norris Trophy again in 1997, and remained with the Rangers until he was shockingly traded at the deadline in 2004. His number two was retired by the Rangers during the 2007-08 season.
Ottawa Senators: Daniel Alfredsson (1995-present)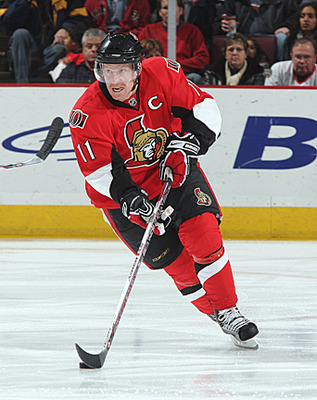 A fairly obvious choice. Alfredsson has played his entire 15-year career with the Senators. He came into the league as a slightly older rookie at age 22 in 1995. He scored 26 goals and 61 points, capturing the Calder Trophy. From the 1998-99 season until the 2005-06 season, his point totals went up every season.
He teamed with Jason Spezza and Dany Heatley at the start of 2005-06 to form the CASH line, which remained the NHL's hottest scoring line until Dany Heatley was traded in 2009. During that season, Alfredsson scored a career high 43 goals and 103 points. He led his Senators to the Stanley Cup Finals in 2007, where they were defeated by the Anaheim Ducks, but Alfredsson led playoff scoring with 14 goals and 22 points, in addition to becoming the first European captain to make it to the Stanley Cup Finals. He is the all-time leading point and goal scorer in Senators' history.
Philadelphia Flyers: Bobby Clarke (1969-1984)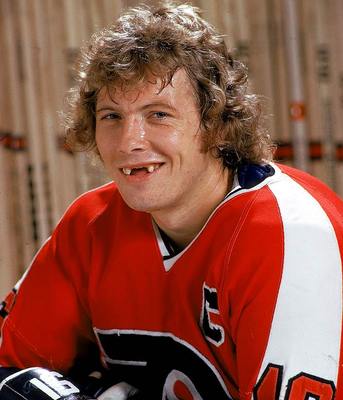 Bobby Clarke was one of the nastiest players in NHL history. He brought extreme tenacity in addition to skill to every game. His career was nearly over before it began due to his diabetes. Named the Flyers' captain in 1973, he was the leader of the fearsome Broad Street Bullies, among the toughest teams in league history.
He won his first of three Hart Trophies in 1973, the other wins coming in 1975 and 1976. In 1974, he and the Flyers won the Stanley Cup, becoming the first expansion team to do so. They repeated as champions in 1975. Clarke also won the Frank J. Selke Trophy in 1983, a testament to his consistency and defensive ability. He is the Flyers' all time leading scorer, with 1210 points over his career, all with Philadelphia.
Winnipeg Jets/Phoenix Coyotes: Dale Hawerchuk (1981-1990)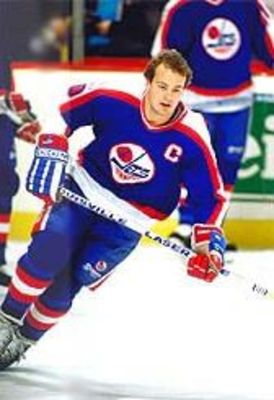 In the mid 1980s, NHL general managers were asked to pick a player to start a franchise with. Dale Hawerchuk finished third behind only Wayne Gretzky and Paul Coffey. He was drafted first overall by the Winnipeg Jets in 1981 and became the youngest player in league history to score 100 points(a record since broken by Sidney Crosby), finishing with 45 goals and 103 points and running away with the Calder Trophy.
Despite his lack of playoff success, Hawerchuk quietly became one of the best scorers of the 1980s, his highs coming in the 1984-85 season when he scored 53 goals and 130 points. He played for Winnipeg until he was traded to the Buffalo Sabres in 1990.
Pittsburgh Penguins: Mario Lemieux (1984-1997, 2000-2006)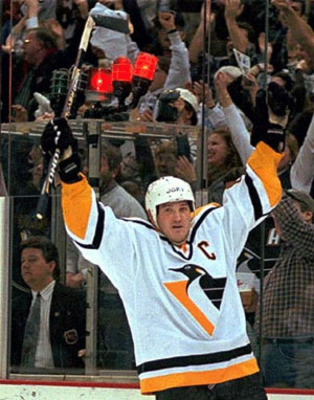 Let me preface this by saying that though I am a Rangers fan, I am a big Sidney Crosby fan. That said, if Sidney Crosby scored 2500 points, Mario Lemieux would still be the greatest Penguin of all time. Lemieux, in my opinion, the greatest player of all time, was drafted first overall by the financially struggling Pittsburgh Penguins in 1984. He set the league on fire, scoring 43 goals and 100 points in his rookie season, winning the Calder Trophy.
The following season, he netted 48 goals and 141 points, a glimpse into his true talent. In the 1987-88 season, he scored 70 goals and 168 points for his first of six Art Ross Trophy wins. This was brushed off by most because Wayne Gretzky had been injured. The following season, he showed just what he could do with a healthy Gretzky in the league. Lemieux scored an unbelievable 85 goals and 199 points. He led the Penguins to back-to-back championships in 1990 and 1991, winning the Conn Smythe Trophy both times.
Perhaps his finest moment was the 1992-93 season. Lemieux was dominating the league as usual, but he made the shocking announcement that he had been diagnosed with Hodgkin's lymphoma. He began treatments and missed two months of play. On the day of his last treatment, he flew to Philadelphia to play the Flyers and scored a goal and an assist. The Penguins struggled without him and he was 12 points behind Pat LaFontaine in the scoring race. Upon his return, the Penguins won a record 17 straight games and finished first overall in the league.
As for Super Mario, he finished the season with only 60 games played, but an incredible 69 goals and 160 points. He retired for the first time in 1997. Three years later, he came out of retirement to help a struggling Jaromir Jagr return to form. He scored 34 goals and 76 points in only 43 games in the 2000-01 season, and Jagr captured the Art Ross Trophy.
He played for the Penguins until he was forced into retirement by an irregular heartbeat in 2006. He played only 915 games out of a possible 1400+ due to numerous injuries, and still retired with a 1.88 points per game average. Had he played a full career, his numbers would rival or surpass Wayne Gretzky's.
San Jose Sharks: Evgeni Nabokov (1999-2010)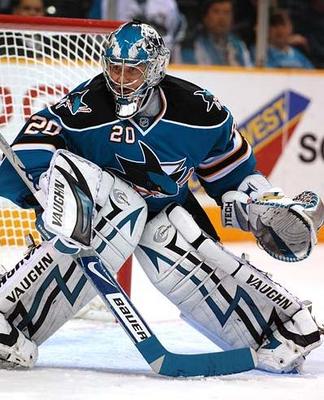 Evgeni Nabokov was afraid that his name would be mispronounced, so he arrived in North America as John Nabokov. That didn't stick very long. "John" was drafted 219th overall in 1994. He came to the NHL as an older rookie at age 24. He won the Calder Trophy in 2000, posting a 32-21-7 record, in addition to a 2.19 GAA and a .915 SV percentage.
He struggled after the lockout, briefly losing his starting job to Vesa Toskala, but rebounded. His finest season was 2007-08. The workhorse Nabokov played in 77 games, posting a 46-21-8 record to go with a 2.14 GAA and a .910 SV percentage. He finished second in Vezina Trophy voting to Martin Brodeur, but made the first all star team. He was let go by the Sharks in 2010, and sits only seven wins away from the 300-win benchmark.
St. Louis Blues: Brett Hull (1988-1998)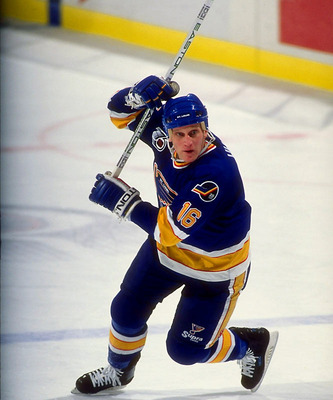 The Golden Brett, son of NHL legend Bobby Hull, had one of the most lethal shots in the NHL. He was drafted 117th overall by the Calgary Flames in 1984, and traded to the Blues in 1988 after the Flames gave up on him. That's a decision that they probably regret. Brett Hull's first full season in St. Louis was his second NHL season, and he showed immediate promise, netting 41 goals and 84 points.
The next season though, was hard to believe. He teamed with Adam Oates to score 72 goals and 113 points, making use of Oates' perfect passes, also winning the Lady Byng Trophy in 1990. The following season was his finest. He finished the 1990-91 season with 86 goals and 131 points, winning the Hart Trophy and Pearson Award.
He served as the Blues' captain from 1992 to 1995. He left the Blues for the Dallas Stars in 1998, and would win the Stanley Cup that season. He retired with 741 goals, third most in NHL history. 527 of those goals and 936 of his 1391 career points were scored in a Blues uniform.
Tampa Bay Lightning: Martin St. Louis (2000-present)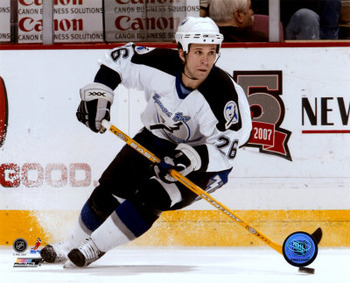 Go, find me a player in the NHL with more heart and work ethic than Marty. Can't find any? Not surprising. Martin St. Louis is one of the toughest players in the NHL pound for pound. Most would tell me to go with Vinny Lecavalier, but Vinny has been on a steep decline, while Marty has maintained his high level of play.
The diminutive superstar was given up on by the Calgary Flames, and signed with the Lightning in 2000. He scored a modest 18 goals and 40 points in his first season with the Lightning. His second season was slowed by a broken leg, but it was in his third that he broke out. He scored 33 goals and 70 points in the 2002-03 season, helping the Lightning into the playoffs. He led the NHL in scoring with 94 points in 2003-04, as well as scoring 38 goals(second in the league), and won the Hart Trophy, Pearson Award, and the plus minus award that season.
But the biggest piece of hardware that he collected was the Stanley Cup. He was narrowly edged out in Conn Smythe by teammate Brad Richards. He had a stumble in his first season after the lockout with only 31 goals and 61 points, but rebounded the following year with a career high 43 goals and 102 points. Since then, he has not dipped below 80 points, combining with Steve Stamkos this past season to score 29 goals and 94 points, winning the Lady Byng Trophy.
Toronto Maple Leafs: Darryl Sittler( 1970-1982)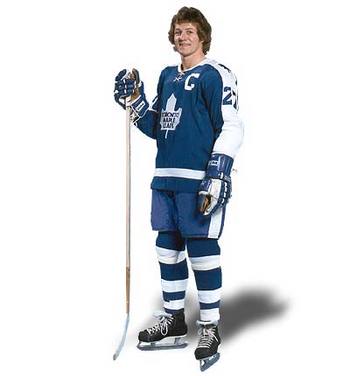 Who holds the NHL record for points in a single game? Gretzky? Lemieux? Orr? Nope. It's Darryl Sittler. On February 7, 1976 in a game against the Boston Bruins, Sittler scored 6 goals and 10 points, a record that still stands to this day.
That season, he scored 41 goals and exactly 100 points. It was also his first season as the Leafs' captain, a position he held until his trade to the Flyers in 1982. His relationship with Toronto's management was strained to say the least. He was so upset when new general manager Punch Imlach traded his best friend Lanny MacDonald, that he walked into owner Harold Ballard's office and ripped the captain's C off his jersey, claiming that a captain had to be the go between with the team and management.
Ballard said his actions were like burning the Canadian flag. He eventually calmed down and played in Toronto for three more years until he was traded to the Flyers. His finest season in Toronto was 1977-78 when he scored 45 goals and 117 points. He is the second all-time leading scorer for Toronto in goals and points, with 389 and 916 respectively.
Vancouver Canucks: Trevor Linden (1988-1998, 2001-2008)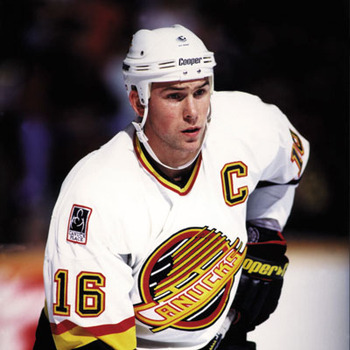 While Markus Naslund and Pavel Bure were the big time scorers, Trevor Linden was the heart and soul of the Canucks. He was drafted second overall in 1988 and made an immediate impact, scoring 30 goals and 59 points in his rookie season. Two years into his career, in 1990, he was named co-captain of the Canucks, and responded with his first 70 point campaign, scoring exactly 70. He inherited the sole captaincy the following season and netted 31 goals and 75 points.
His crowning moment came in the 1993-94 season, when he led the Cinderella Canucks to the Stanley Cup finals where they lost a hard fought seven game series to the New York Rangers. The Rangers won game seven by a score of 3-2. Playing with cracked ribs, Linden scored both Vancouver goals in that game. He was eventually forced out of town in 1998 by the failed Mark Messier experiment. He returned to Vancouver in 2001 in a new role as a defensive forward. Though Markus Naslund wore the C now, most regarded Linden as the true captain.
He played for the Canucks until his retirement in 2008. He is the second all time leading scorer in Canucks history, and his number was retired by Vancouver on December 17, 2008.
Washington Capitals: Rod Langway (1982-1993)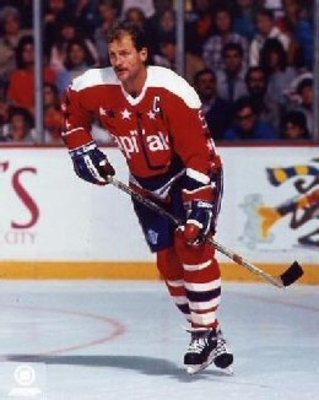 Expecting Alexander Ovechkin? Not here. The greatest Capital of all time is Rod Langway. Nicknamed "The Secretary of Defense," he certainly lived up to that. Acquired from the Montreal Canadiens in 1982, Langway was named captain upon his arrival in Washington, a position he would hold for 11 seasons. Scoring was not Langway's game.
During his highest scoring season, he scored 11 goals and 45 points, and would never hit the 40 point mark again. He was the premier shutdown defenseman of the 1980s. He won the Norris Trophy in 1983 and 1984 and was selected to the first all star team both seasons, and the second all star team in 1985. Just as a testament to his defensive abilities, when he won the Norris Trophy in 1984, Paul Coffey led defensemen with 40 goals and 126 points. Those numbers were ignored for pure defense.
Keep Reading