Sergei Kostitsyn is Moved, So What Went Wrong?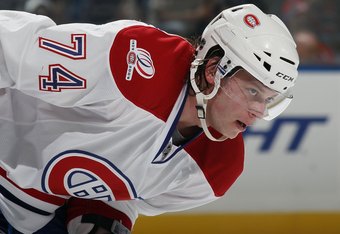 Bruce Bennett/Getty Images
This past December, New England Patriots receiver (and part-time bad boy) Randy Moss, defensive end Derrick Burgess, and linebackers Adalius Thomas and Gary Guyton were sent home for the day for being late for a team meeting.

When asked about disciplinary measures coach Bill Belichick said, "Anything that happens with discipline on the team will stay between me and the players."

All four players participated in the Patriots next game.

The Dallas Cowboys prefer to fine a player for being late for a practise or team meeting. Dollar amounts have varied from $5,000 per occurrence under coach Bill Parcells to a mere $100 in the Wade Phillips regime.

Minnesota running back Adrian Peterson was penalized for his tardiness by being benched for the first two series of a game between his Vikings and the Jacksonville Jaguars.

Parcells is nicknamed "the great dictator." Belichick could never be described as a softie. Yet when it comes to disciplining players who can't get to work on time, we see small fines, a day away from the practise field or reduced playing time for a single game.

All of which brings us to the case of former Montreal Canadiens forward Sergei Kostitsyn.

General Manager Pierre Gauthier dealt the younger Kostitsyn to the Nashville Predators for the rights of two players who become unrestricted free agents on July 1: goaltender Dan Ellis and forward Dustin Boyd.

Today's news crowns Jacques Martin as the clear winner of the season-long feud between a young, talented player and old-fashioned, dogmatic coach. Martin played a similar role in the early days of Jason Spezza's career in Ottawa.

The Kostitsyn-Martin saga began during training camp last fall. Martin was determined to break his feisty stallion by often making an example of him during practises.

In their very first practise together, Martin looked to No. 74 and bellowed, "What the **** are you doing over there?"

Later, when making a point while drawing up a drill on the white board, Martin said, "You got that, Sergei?"

But the matter came to a head in the early hours of a Sunday morning bus trip in late September.

The Canadiens had played the night before in Ottawa. When the charter coach left Montreal at 8:00 a.m. to transport the players to an exhibition game in Quebec City against Boston, Kostitsyn wasn't on it. He had become entangled in the Highway 10 construction zone detours and got lost in Brossard.

Sergei called Martin to say that he was delayed by road work but the coach wasn't in a mood to wait. Somehow Kostitsyn made it to Le Colisée Pepsi just a few minutes before the morning skate and, in record time, managed to be in uniform in time for practise.

But in coach Martin's mind, Kostitsyn's failure to make the team bus was inexcusable. A few days later, Sergei was shipped to the Bulldogs when it came time for the Canadiens to make final cuts to the roster.

Kostitsyn remained exiled in Hamilton from the start of the season until November 23, having missed a total of 23 NHL games. Compare that to the punishment received by NFL players for similar "crimes" as outlined above.

Truth be told, Kostitsyn didn't react very well to being demoted. Initially, he didn't report and demanded a trade. However, that was not unique to Sergei this season. Remember Jaroslav Halak?

In a conversation with reporter Dmitry Chesnokov, Kostitsyn said, "I know how I can play. I don't know why I was sent there in the first place. I played alright during the preseason. I don't know why I was sent there, that's why I didn't go."

Soon after, it was Bob Gainey to the rescue. Gainey talked Kostitsyn off the ledge and left him in the capable hands of Bulldogs coach Guy Boucher.

Boucher and his staff spent considerable one-on-one time with Kostitsyn. The Bulldogs also helped with Kostitsyn's conditioning as he rehabbed from shoulder surgery.

Boucher down-played Sergei's attitude being an issue. "When you prove to a player that you care about them, they are going to care what you have to say," said Boucher.

Unfortunate, isn't it, that you can't teach an old dog (or coach) new tricks? Boucher's methodology if adopted by Martin and his staff could have been the key to motivating a very talented young player.

Better still, what if Boucher and his philosophy of finding individually-tailored ways of dealing with players was behind the Canadiens' bench for the 2010-11 season? But, I digress.

The Gainey-Boucher approach had a positive effect on Kostitsyn. When he re-joined the Canadiens he became one of the team's most effective penalty-killers. Inexplicable was Martin's refusal to use an offensive talent like Sergei on a sputtering power-play.

Kostitsyn played some of his best hockey in March, playing with Dominic Moore and earning five Molson Cup star mentions. While many in the mainstream media described his season as lackluster, Kostitsyn earned 19 Molson Cup points. He was tied with Scott Gomez, two ahead of Andrei Markov, and only four points back of Mike Cammalleri.

That's not bad company.

But the good times came to a crashing halt on April 8 in a game vs. the Carolina Hurricanes. Kostitsyn played only eight shifts and 5:35 in ice-time. Most agree that he wasn't benched for his play. It appeared that words were briefly exchanged on the bench although what was said we cannot be sure.

Kostitsyn spent the final game of the season and most of the playoffs in the press box.

During this time, Kostitsyn's behaviour was akin to the problem employee who steals office supplies because he feels mistreated by the bullying boss. His words and actions were unprofessional.

The relationship between Kostitsyn and Coach Martin was beyond repair and some of that spilled over to involve teammates.

The situation forced the hand of Gauthier who traded one of the team's best playmakers for two players he could have signed for free on July 1. You've heard of a salary dump? This was an attitude dump.

Kostitsyn's fiery personality and immaturity were definitely factors in his own demise with the Canadiens.

It is interesting though that Kostitsyn was very coachable for Dale Hunter, not exactly a wilting violet, when Sergei was starring with the London Knights on a line with Patrick Kane and Sam Gagner.

The coach of the Belarus team, Mikhail Zakharov, was full of praise for Kostitsyn's work ethic and effort at the 2010 Olympics. He had a strong performance with two goals and three assists in four games.

Even Guy Boucher didn't have a problem turning Kostitsyn around after he had demanded a trade.

Yet coach Martin was unable or unwilling to find a way to get the best from a player with such potential. Martin became the catalyst for Kostitsyn's eventual meltdown in Montreal.

Let's not forget the contributions of the mainstream media to this sad series of events. They were quite fond of slapping a problem child label on Kostitsyn. They have ridiculed Sergei (and Andrei) for their language. To this day, veteran reporters continue to link the Kostitsyns to organized crime figures despite being fully cleared of any wrongdoing by Montreal police.

In Kostitsyn, the Habs got a steal in the sixth round of the 2005 NHL amateur draft. Gainey and Trevor Timmins did their job. Unfortunately some in the Canadiens' organization did not do enough to develop their talented asset.



follow All Habs on Twitter and add us on Facebook
This article is
What is the duplicate article?
Why is this article offensive?
Where is this article plagiarized from?
Why is this article poorly edited?

Montreal Canadiens: Like this team?