The Top 25 Hockey Commercials of All-Time (With Video)
With the 2010 Stanley Cup Finals underway, the NHL could surely use a PR boost, especially when going up against a Celtics vs. Lakers NBA Finals, and the hype surrounding the upcoming World Cup.
The soccer tournament begins on June 11, which happens to be the scheduled date for a potential Game 7 match-up between the Flyers and the Blackhawks.
That being said, the league has garnered a respectable degree of popularity through the NHL's "History Will Be Made" (and its subsequent parodies).
But just in case you need more reasons to tune in to the Stanley Cup finals, or just a reminder of hockey's awesomeness (albeit with the enhancement of commercial effects and an intelligent PR staff), here's my list of the top 25 hockey-related commercials of all-time.
25. Mastercard: A Day in the Life of the Stanley Cup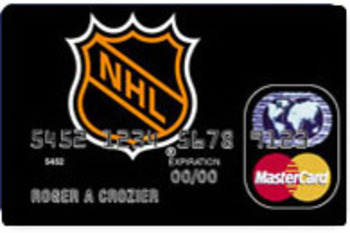 How can you make a list about top commercials and not include one of those "priceless" Mastercard ads?
This 2002-03 ad features a look into the daily excursions of Phil Pritchard, who holds the dubious responsibility of safeguarding hockey's Holy Grail.
While Mastercard made other similar ads, including one about Bobby Orr, this ad takes the cake as it offers a unique outlook about someone arguably just as important as Gary Bettman in the hockey world.
24. NHL on Fox: The Odd Couple Gretzky and Messier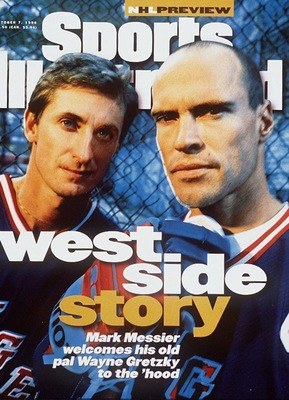 Both hall-of-famers and all-time greats (they're also #1 and #2 all-time in scoring), Wayne Gretzky and Mark Messier are two of the most recognizable faces in hockey.
So when Gretzky signed a deal with the Rangers in 1996, thereby joining his friend and former teammate Messier, it seemed inevitable that the two poster-boys would also share the spotlight on camera.
Fox's "The Odd Couple" ad was definitely odd (since they could obviously work together, as evidenced by their dominance in the 80's), but was nonetheless creative and funny.
23. Nike Goalie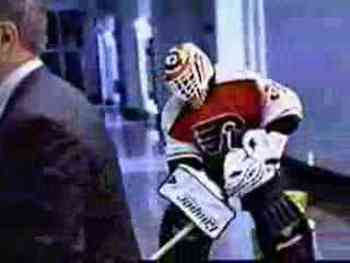 Nike made about ten of these ads during the 1997-98 season, which highlight the downfall of various NHL goaltenders who've seen their careers evaporate due to snipers such as Sergei Federov and Theo Fluery.
None really stood out from the lot, except for one with a cab-driving Habs goalie complaining about Mats Sundin.
But I'm biased, so I've instead posted two of the ads, which should surely humor both Blackhawks and Flyers fans.
22. NHL on NBC: Alex Ovechkin, Ted Leonsis and a Vending machine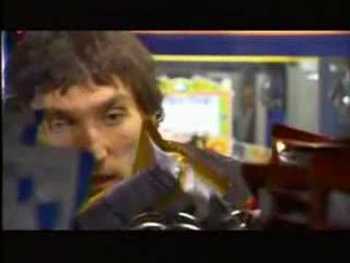 Some of these ads, which run under the tagline of "NHL players are just like me and you," were just unbearable to watch (See Brad Ritchards and Vincent Lecavalier playing video games or Joe Thornton struggling to make breakfast).
But watching Alex Ovechkin and his boss Ted Leonsis try to get a bag of chips out of malfunctioned vending machine is just plain amusing ("I said left! Left!).
21. Verizon: Hockey Fans Are Like No other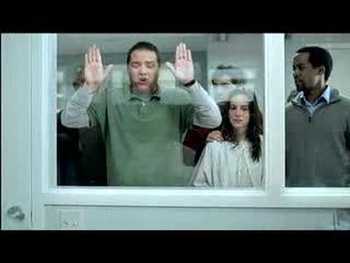 I wonder if people actually do this when seeing their newborn in the nursery window.
And, speaking of Verizon ads, if NHL players are like you and me, how does Verizon get off claiming that "you wouldn't make it in the NHL" as suggested in the second ad below?
20. OneGoal.com: Spitball Save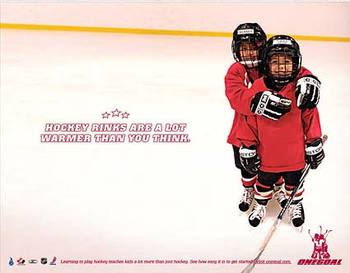 This ad is entitled "USA Hockey Commercial" on You Tube, which may explain why I never saw it until now.
It's a clever commercial, and it reaches out to the potential Gretzkys or Crobsys of the future (or should I say future Ryan Millers and Patrick Kanes).
19. NHL: It Weighs 35 pounds, Except When You're Lifting It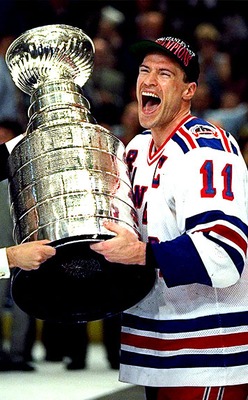 Unlike the NFL or the NBA, the NHL isn't all that great in making creative, but serious advertisements that capture the essence of the game (where the scene is slowed down, piano in the background, the player's intensity in full view, like in a Gatorade commercial).
But this ad, which aired alongside a bunch of similar, although not as eye-catching ads during the 2008 playoffs, is quite superb.
18. Lays: Mark Messier "Bethcha Can't Eat Just One"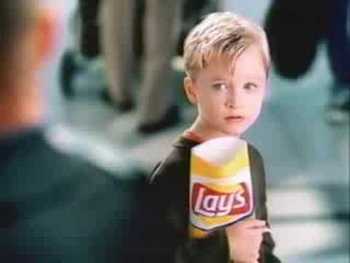 We already knew Mark Messier was a character, and this series of ads for Lays potato chips confirmed it. Bethcha can't watch just one ad (that's why I posted two).
17. NHL: Adam Oates' "Loose rebounds"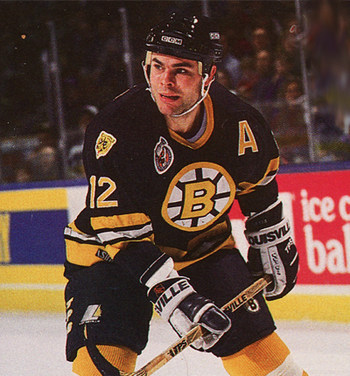 When the NHL went through its "Coolest Game on Earth" phase during the 90's, everyone expected Gretzky and Messier to be the centerfolds for its ads.
But we didn't expect Adam Oates (then a Boston Bruin) going "offsides" for a different kind of centerfold in this 1996 NHL ad.
16. Invesco & Trimark: Imagine Two Of the Best together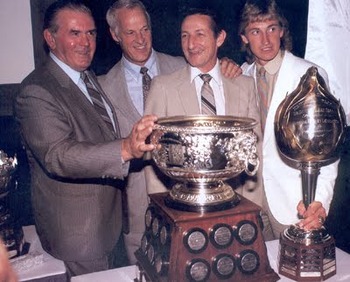 With the magic of technology, you can watch Gretzky feed the puck out in front to Rocket Richard for the one-timer in this time-altering ad.
15. Nike: Naslund and Iginla Target Practice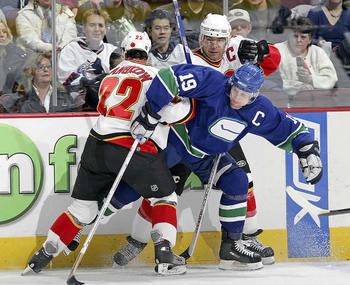 Leave it to Nike to pit two of the game's top superstars against one another in an obscure and unlikely matter, then tell you that it's all because of the product their wearing.
Regardless, it's a pretty funky commercial. The same goes to its counterpart, which pits Naslund against Ilya Kovalchuk in a battle for the puck across town.
14. McDonalds: NHL Mini-Goalie Sensationale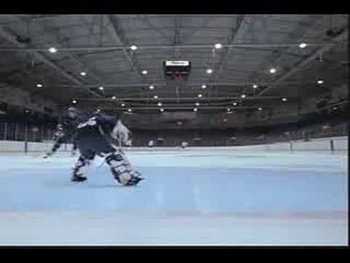 Regardless of whether or not you like the food, you gotta hand it to McDonald's for consistently making brilliant hockey-related commercials.
We know this very well in Canada, with their trading card collections, which were a fixture in the 90's.
But in this 2007 ad for mini-sticks, we meet the" sensationale" mini-goalie with obvious French accent. There was also a follow-up ad, featuring a mini-player.
13. Fox Sports: The More Hockey You Watch, The Tougher You Get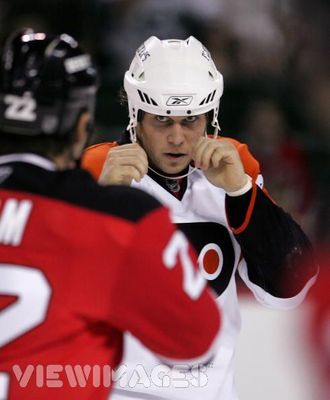 I don't know if watching hockey will make you this tough, but it's definitely worth a try (if you want to lose a finger or two).
12. Bud Light: Hockey Rules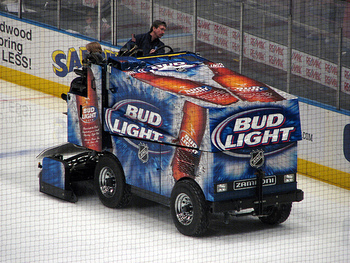 If only this practice existed in real life.
11. Pro-line: Because anything can happen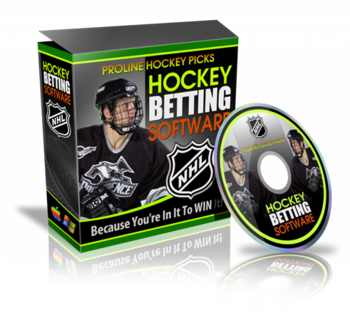 This has to be one of the funniest ads I have ever seen. It's for Pro-line, an Ontario (Canada) sports lottery group.
They made a few other ones, but this one, especially because of the fan's reaction, is hysterical.
10. NHL: Peter Forsberg in bed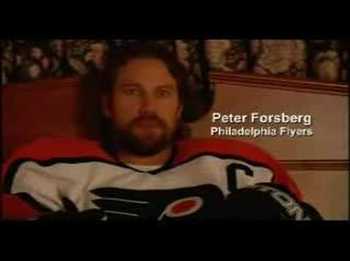 As we've already seen at number 22, the NHL decided to take an off-colored approach at advertising the game in the post-lockout era.
No more was that evidenced than in the series of ads launched around the start of the 2006-07 season.
Players could be found in awkward locations, reminding you that the season had started.
While Sidney Crosby was in a shower and Marty Turco was doing car-pool, none were better (an funnier) than finding Peter Forsberg in bed.
9. Tim Hortons: Sidney Crosby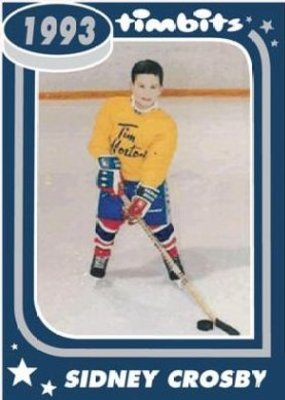 For many Canadians, Tim Hortons is more than just a convenient place to get coffee and donuts.
It's a national landmark.
And while its founder and namesake happens to be one of the greatest Toronto Maple Leafs of all-time, the coffee chain and hockey have nonetheless always been intertwined with one another.
This connection is highlighted by these two ads (I couldn't decide between them), which both feature Canada's Golden Boy Sidney Crosby.
The first ad shows Crosby speaking about the passion of the game, while leading into verbatim of an interview he did when he was fourteen. The other creates a fantasy scene where Crosby plays a pickup game with some kids on the pond while waiting for the team bus to be repaired.
8. myNHL: "Swedish Twins"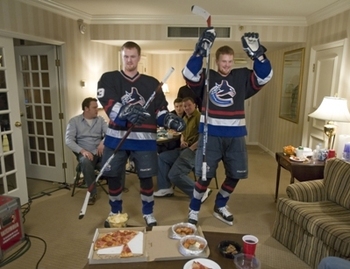 This one's a classic. Props to the NHL for going there.
7. ESPN: Rob Ray, Security guard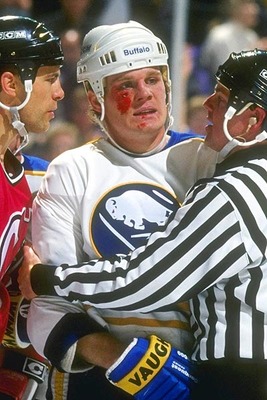 Speaking of classics, (and it's a classic alright) when was the last time ESPN had a hockey game on?
Here we find Rob Ray in a familiar role of security guard. I wonder how much he was paid to shoot this ad? Let alone what was he protecting?
6. Fox Sports: Bowling Would Be Better, If It Were Hockey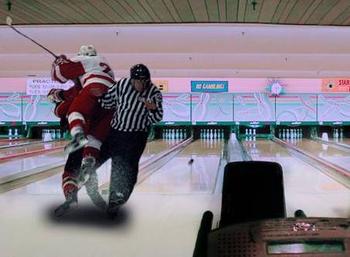 The You Tube title for this video says it was banned. But I'm pretty sure I've seen this one before, even in Canada, where we don't have to watch our games on Fox Sports.
Fantastic concept it is to body-check someone, isn't it?
5. Gatorade: Crosby Street Hockey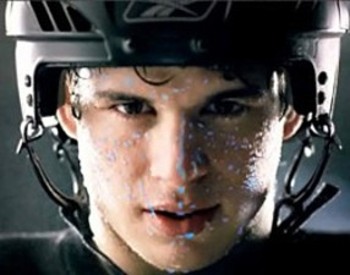 If anyone has seen the Nike commercial where Kevin Garnett takes on the neighborhood in street-ball, then you'll have a pretty good idea where this commercial is going.
Even the Hanson Brothers make an appearance.
4. NHL: Road Trip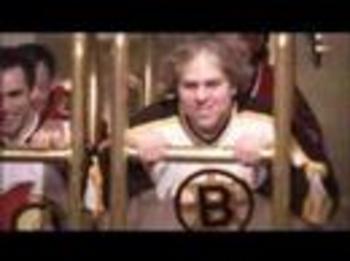 The video below contains by far the best advertisement the NHL has made since the start of the post-lockout era.
Made during the 2007 All-Star Game festivities, it manages to include every all star player as well as some the Youngstar Game participants, who race down the hallway on trollies (where we hear Phil Kessel's wimpy cheer of GO GO GO!!)
3. Molson Canadian: It's a Canadian Game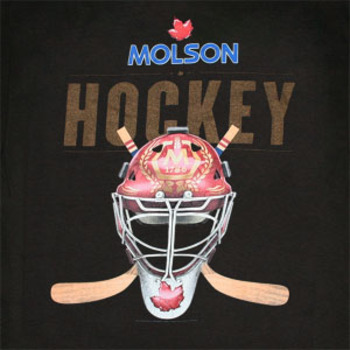 Watch and learn America, because no one does hockey commercials better than Molson Canadian.
Canadians expect a high standard of hockey-related hilarity when it comes to their advertisements and Molson Canadian consistently finds a way to deliver the goods (while managing to plug their not-so-tasty home brewed beer).
While there are several great ads (which can be found online), I'm torn between two classics, which came around during Molson's "It's a Canadian Game" campaign in the early 2000's.
The first one highlights the consequences of an open hockey bag, while the second one teaches us that nobody shaves during the playoffs.
2. McDonald's: Gretzky vs. Sundin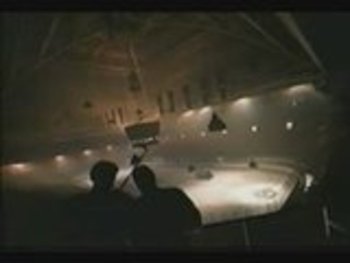 I know what you're thinking. Isn't this ad a take on the classic Jordan vs. Bird commercial?
Yes it is. But since their both McDonald's ads, who's complaining?
You gotta love the swagger by "Mr. Fancy Stick" Wayne Gretzky.
1. Coca Cola: Let's Make Sure Everyone Knows Whose Game They're Playing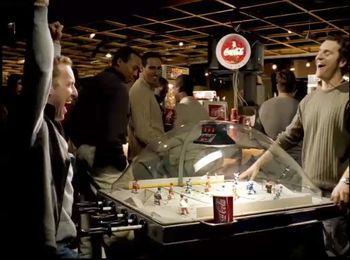 Say what you want about Canada's infatuation with hockey, no one does the sport like Canada – no matter how it's delivered.
The following ad was first launched in 2002 during the Winter Olympics.
In lieu of the 2010 Games in Vancouver, rival Pepsi embarked on a disastrous ad campaign, where they proposed a new cheer for the Canadian hockey team.
Coca Cola pounced on the Pepsi's errors and re-launched the ad again in 2010, much to the delight of delirious hockey fans across the nation.
Keep Reading