Evgeni Nabokov: Why the San Jose Sharks Should Let Him Walk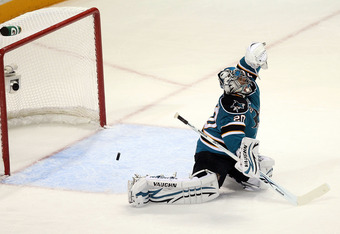 Ezra Shaw/Getty Images
The San Jose Sharks are currently in the beginning stages of an offseason that is already the most talked about offseason in franchise history.
Considering that their captain Rob Blake, leading goal scorer Patrick Marleau, and starting net-minder Evgeni Nabokov are all unrestricted free agents, there is potential for major changes.
But those are just the headline players that may or may not return. The actual story of who may or may not return runs much deeper.
Several under the radar but key players are also unrestricted free agents in Scott Nichol, Manny Malhotra, and Jed Ortmeyer.
Furthermore, second line scoring forwards Joe Pavelski and Devin Setoguchi are restricted free agents.
Now, conceivably, all of these players could return next season under the salary cap depending on whether or not the unrestricted free agents take home town discounts and how much of a pay increase the two marquee restricted free agents will earn.
However, even if Evgeni Nabokov would be willing to take a discount to remain in San Jose, the best move for the Sharks is to let the soon-to-be 35 year old find work elsewhere.
Despite his sensational regular season marks this year and his relatively solid overall play year after year, Nabokov and the Sharks need to move on.
For all the statistics about how Nabokov won every single playoff game in which his team gave him three goals of support this season, and for all of his "clutch" saves in the past, the Russian netminder simply does not have "it."
Those of you overly analytical types are probably asking yourselves what this "it" is and you have every right to ask that question.
What is this "it" that people so often refer to?
When fans say a player does or doesn't have "it," what the bleep are they talking about?
Well, "it" is open to varying points of view but in basic terms, "it" means whether or not the player has the ability to make every routine play as well as consistently being able to come up with the clutch play.
Therefore, when sports fans think of specific players that have clearly have "it" more than other players, the names that always come up are as follows:
Kobe Bryant, Michael Jordan, Joe Montana, Patrick Roy, Martin Brodeur, Derek Jeter, Curt Schilling, Tom Brady, etc.
But it isn't just the superstar players who have "it."
Current role players and out of the spotlight players like Freddy Sanchez of the San Francisco Giants, David Eckstein of the San Diego Padres, Derek Fisher of the Los Angeles Lakers, Dave Bolland of the Chicago Blackhawks, and Jeff Saturday of the Indianapolis Colts are players who have "it."
And unfortunately for the Sharks' Nabokov, he simply does not have it.
However, if you were to look at the statistical marks, it would be easy to put Nabokov amongst the greatest goaltenders of the past decade.
He holds almost every single goal-tending record in Sharks franchise history, he's been to all-star games and he's been in the hunt for Vezina Trophies.
But when it comes down to consistency, night in and night out, Nabokov isn't a competitor that can be relied upon without that little thought creeping into the back of your mind that he is going to make a crucial error at that most inopportune time.
Sure, he has made some of the most unfathomable saves throughout his career including one in OT of a series with the Dallas Stars two years ago that had absolutely no business being made.
A shot by Dallas forward Brad Richards deserved to go in and 9,999 times of 10,000, that puck would go in.
But Nabokov made what is arguably the greatest clutch glove save of the last quarter century if not the entirety of NHL history.
And in order to make that play, he has to have talent. And he does, that is not the issue.
Nabokov has the pure natural athleticism to make all the saves in the book.
The real issue with Nabokov is his knack for not having proper awareness and questionable fundamentals.
In order to illustrate this point, you need to look no further than at three goals in particular that he allowed this season.
Goal No. 1: At home against the St. Louis Blues back in January, Nabokov makes a save and gets run into by one of the Blues. With the puck still loose and the Shark netminder out of position, the Blues would put home a rebound into a wide open net. Nabokov was way out of the crease instead of diving back into the net as fast as he could. Where was his compete factor? Where was that "stop the puck at all costs" mentality?
Here, you look for yourselves: http://www.youtube.com/watch?v=0P0h3CVD154
(about the 1:30 mark on the video to watch the sequence)
Goal No. 2: On the road against the Wild in late March the Sharks came away with a 4-1 win. Unfortunately the one goal that got past Nabokov made the San Jose netminder look like a fish out of water. He was flopping around all over the place when he there was absolutely no reason to be stacking the pads in that situation.
http://www.youtube.com/watch?v=DQatwBzavVw
(around the 3:25 mark).
And finally, goal No. 3: In Game Four of the Western Conference Finals, the Sharks held their first two-goal lead of the series after Patrick Marleau gave them a 2-0 lead at 12:25 of the second period. However, just under six minutes later, Nabokov made a critical mistake to let Chicago back in the game.
After stopping the original shot off of Brent Seabrook, Nabokov failed to drop to the butterfly and spread the pads post to post in order to keep the puck from going in along the ice.
There was a scramble to find the puck in the crease, and despite the fact there was essentially no possible way for a Blackhawk skater to chip the puck over a would be spread out goaltender, Nabokov stayed standing up on his skates for what seemed like eternity.
Subsequently, the puck managed to sneak through his five hole before he could close the pads.
Where is the common sense? With a scramble in the crease, the most likely place for the puck to squeak across the line is along the ice. So naturally, most of us who play the game would have instinctively fell to the ice right away to cover everything down low.
But Nabokov stayed on his feet and the question all Sharks fans wonder is why?
To watch the clip, go to the 2:32 mark of this video: http://www.youtube.com/watch?v=QIrTteKXL3I
Three goals may not be a large sample size, but these three sequences are the rule as opposed to the exception when it comes to Evgeni Nabokov.
While these goals are the examples that standout, there are several similar types of plays that make fans want to pull their hair out with Nabokov in net.
Clearly, Nabokov doesn't have the right set of intangibles to put the Sharks over the hump.
Now after looking through those goals, if I still haven't yet convinced you that Nabokov doesn't have "it" and shouldn't be brought back regardless of price, just take a gander at the two netminders in the Stanley Cup finals.
Antti Niemi and Michael Leighton?
A career backup and a rookie with only 37 regular season starts under his belt?
These days, you don't have to have a big-name goaltender to win the Stanley Cup.
That being the case, it would much wiser for San Jose's to use their money elsewhere and not on an aging goaltender with a history of inconsistencies.
This article is
What is the duplicate article?
Why is this article offensive?
Where is this article plagiarized from?
Why is this article poorly edited?

San Jose Sharks: Like this team?