How To Solve a Problem Like L.T? Send Him To the Minnesota Vikings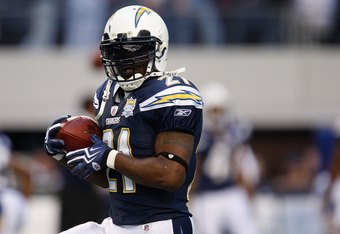 Ronald Martinez/Getty Images
Now that I have that catchy tune firmly placed in your head, let me turn your focus now to the Minnesota Vikings, or more importantly, LaDainian Tomlinson.
Fresh off a mediocre 2009 season, Tomlinson finds himself in a world of doubt at the moment, as the interest has been huge, but not so much so that we can pinpoint exactly where his new home will be in 2010.
Fortunately, I have the answer. Or so I hope. It's the Minnesota Vikings, and what an answer it is.
First off, let me just say this plain and simple statement. LaDainian Tomlinson and Adrian Peterson in the same backfield. Drooling yet? I sure hope so. Aside from that small but huge factor, the signing of LaDainian Tomlinson to the Minnesota Vikings would not only benefit L.T immensely, but it would also secure the running game for the Vikings, which has been shaky as of late.
It doesn't come as a surprise to me that the Vikings are in the speculative group of the teams willing to sign LaDainian Tomlinson. It feels like almost a year ago that Adrian Peterson was fumbling his way to another choked playoff campaign, but in reality it was only little over a month ago.
Fortunately for the Vikings, their savior has come, and it is at the more convenient time possible. LaDainian Tomlinson has landed firmly in the free agency pile and is just waiting to be snapped up by a willing bidder.
The price won't come cheap for the Vikings, L.T is seeking out a hefty sum of money well over $3 million, and some folks may say he is not deserving enough to earn that type of salary. Opinions aside, the Vikings have cash stored, and if willing, L.T is there for the taking.
Game wise, LaDainian may not have too much of an impact in the early stages with the Vikings, but he is the type of guy who is willing to come in on the goal line and get the touchdown, something that Minnesota lacked last year. More importantly, L.T doesn't just pack speed, he packs strength.
Holes in the defense are normally taken advantage of, and unlike the unpredictable Adrian Peterson of this day and age, he rarely loses the handle.
But where does Tomlinson fit into a team that already has a solid running back and possibly a solid quarterback to guide their offense?

Well truth be told, he doesn't. But it's not like L.T fit into San Diego too well either during Darren Sproles' time, so sharing is something that Tomlinson has grown accompanied to.
The most important factor that Tomlinson could bring to the Minnesota Vikings' side, though, is reliability. Rarely injured and always willing to fill in no matter what the situation, Tomlinson may be the guy who prevents that last minute interception that ultimately costs the Minnesota Vikings their shot at the big time.
With the interest small at the moment, the Vikings and Raiders are the top two contenders in the hunt for the former San Diego Charger running back. Al Davis is likely to take his time, so don't be surprised to see LaDainian take an overnight deal a week or two before the Draft and head to Minnesota.
Hopefully, it will pay off for the Vikings, and more importantly, the weight of the Vikings offense may be taken off Adrian Peterson, even if it is only slightly.
This article is
What is the duplicate article?
Why is this article offensive?
Where is this article plagiarized from?
Why is this article poorly edited?

Minnesota Vikings: Like this team?