Rebuilding The New York Rangers, Part One: The Demise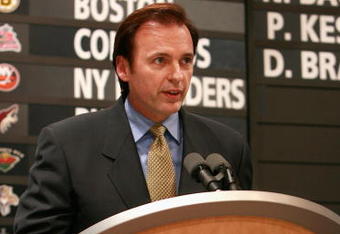 Jeff Vinnick/Getty Images
In 1994, then New York Rangers General Manger, Neil Smith, sold—or shall I say traded—his soul, along with the future of the Rangers to the hockey Devil in exchange for a 54-year curse to be lifted.
That curse was the Rangers inability to win the Stanley Cup, a feat that eluded the Blueshirts since 1940, when they defeated Toronto Maple Leafs.
The hockey Devil accepted Smith's deal, and a new curse has been since cast upon the Rangers.
When Smith assembled that miraculous '94 team, he did it at the expense of the Rangers' future, a problem that has plagued the Rangers since.
Traded during that run were several pieces to the Rangers future, that would ultimately alter the team for years to come.
Doug Weight was the first casualty. Weight was actually traded at the trade deadline the season before to the Edmonton Oilers for Esa Tikkanen. Tikkanen was a significant piece to the Cup run in '94, but left the team the following season.
Weight, on the other hand, would go on to be a premium playmaker in the league and is still playing—for the Islanders. Go figure.
The next victim was Tony Amonte. In another deadline deal, Smith shipped Amonte at the old age of 23, to the Chicago Blackhawks for Stephane Matteau and Brian Noonan. Again, Noonan and Matteau were large parts of the '94 Cup team, but like Tikkanen, both departed to St. Louis shortly after. Those two at least played another season with the Blueshirts before leaving, but neither provided anything of value after the Cup victory.
Amonte would go on to be a dynamite goal scorer for Chicago, averaging over 30 goals per season during his parts of eights years in the Windy City. He had three 40-plus goal seasons, and only failed to reach the 30 goals twice while there. One was during the shortened 1994-95 season, where he tallied 15, the other his final season in Chicago. He scored 27.
Those two deals alone took away a first-line playmaker and a first-line goal scorer that produced consistently for the next decade.
Other notable, but less significant, trades from that season were 20-year-old Todd Marchant and 25-year-old Darren Turcotte.
Marchant, who was traded to Edmonton early in the '94 season for Craig MacTavish, has had a very solid career, which is still in progress. Marchant, during his tenures with the Oilers, Blue Jackets, and for the previous five seasons, Anaheim Ducks, has been a hard-working checking-line forward. He has above-average speed and is excellent on the penalty kill. MacTavish bolted to the Philadelphia Flyers the following season.
The Turcotte deal brought the Rangers Steve Larmer and Nick Kypreos, so there isn't much complaining there, but at the time Smith was trading away another young player who was averaging 25-30 goals a season.
Another move made during the '94 trading deadline, although not a youth dump, was still one of the most insulting moves made in Rangers' history. Hall of Famer, and dynamic goal scorer, Mike Gartner, was sent packing to Toronto for another Edmonton buddy, Glenn Anderson.
The following season, Smith continued to part with youth. The Rangers traded away their first-round pick in the 1995 draft for Hartford Whalers' veteran goal scorer, Pat Verbeek. Verbeek did provide the Rangers with a good output scoring 41 goals and 82 points the following season for the Rangers, but in his 12th NHL season, he was clearly on the back-nine of his career, and left for Dallas in 1996.
Hartford selected some guy named Jean-Sebastian Giguere with that pick. I don't know if he's that good or anything. I don't think he backstopped the Ducks to a Stanley Cup victory in 2007...
Then, on August 31, 1995, a move was made that in my opinion, altered the Rangers until present day. The day Sergei Zubov was traded.
Zubov, 24 at the time, and Petr Nedved, 23, were sent to the Pittsburgh Penguins in exchange for veterans Luc Robitaille and Ulf Samuelsson.
Ever wonder who led the Rangers in scoring in 1994? Was it the captain, Mark Messier? No. Was it Adam Graves and his record-setting 52 goals? No. Was it Brian Leetch? No it wasn't. The man who let the New York Rangers in scoring en route to their first Cup in 54 years, was none other than Sergei Zubov.
Zubov, has since become one of the most solid two-way defensemen in the NHL. He was an outstanding power play quarterback with the Dallas Stars until his departure to the KHL this season.
Michael Del Zotto might be able to fill his shoes, the first person to do so since he's left.
Nedved, on the other hand, had two stellar seasons in Pittsburgh before being reacquired by the Rangers, this time at the expense of Alex Kovalev—another great young talent whose career I don't even have to talk about.
Robitaille scored under 25 goals both seasons he played on Broadway.
The Rangers continued to acquire veterans rather than develop youth in the late '90s. Players such as Kevin Stevens, Shane Churla, Pat LaFontaine, Bruce Driver, Mike Keane, Brian Skrudland, Marty McSorley, Jarri Kurri, John MacLean, a second tour of Esa Tikkanen, Valeri Kamensky, Richie Pilon, Sylvan Lefebvre, Kevin Hatcher, and even the Great One himself, Wayne Gretzky, made stops on Broadway.
Combine that with atrocious drafting and player development, while giving up on youngsters such as Marc Savard and Mike Knuble, and you could see why the Rangers are in the situation they currently are in, almost 15 years later.
Maybe this will help put it more in perspective: other than Petr Prucha in 2005, the Rangers haven't had a home-grown player score more than 30 goals in a season. The last player to do so was Tony Amonte with 33, in 1993.
Let that sink in.
"If I had [the Rangers] payroll, my team would never lose a game," said a man from the Oilers front office.
Enter the Glen Sather years...
Look forward to Part Two later on this week.
This article is
What is the duplicate article?
Why is this article offensive?
Where is this article plagiarized from?
Why is this article poorly edited?

New York Rangers: Like this team?