Roger Clemens: ESPN & NY Daily News' Mike Lupica 'Busted Being Biased'
June 11, 2008
June 11, 2008
Washington DC
This is a video of Mike Lupica  getting caught at the Clemens Hearing while showing his bias, which is on constant display at the Daily News and ESPN, where Lupica is employed. 
I wasn't going to release this video, but given the recent rash of irresponsible reporting (McCready, Blair, Kelley, and Bagwell), all which cite un-named sources, and each  giving readers erroneous information, it has become necessary to show that the Daily News is biased against Roger Clemens. 
McCready has now "refuted" that any sexual relationship existed between she and Clemens....ever.  But don't hold your breath to see a retraction from the NY Daily News because, as shown above, they are only out to smear others, and don't care about there own credibility.  That doesn't sell papers, does it?
While covering the Clemens Hearing, on Feb. 13, 2008, everyone in the Press Room were handed Official Statements by any active party present, and willing to submit one.  While in the Press Room I took note of Mike Lupica's constant display of bias against Clemens, and his public support for Brian McNamee.
He would shake his head, and scoff as Clemens made various points, like "Why didn't anyone ever talk to me about these drugs," and "McNamee told me he saved that girl's life (St. Petersburg Rape Charge)," and "I yelled at McNamee for bringing drugs into my house."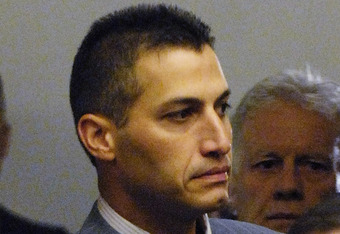 Jonathan Ernst/Getty Images
Lupica was seemingly disgusted that Clemens would provide any explanation at all. He must have known all the answers himself, but has not shared his proof with anyone else.  Lupica had yet to even review any of the evidence offered on the Oversight Committee's Website before making his judgment, thereby proving his prejudice against Clemens, because the evidence was not made available until well after the hearing.
He was seemingly leading the charge against Clemens in the Press Room as the subject of B-12 arose, and Lupica again showed his lack of objectivity. Anticipating his reaction, which raised eyebrows to say the least, I started videotaping.
At this point in the video, Clemens had just gotten done answering questions from Rep. Davis about his use of B-12. Turn the volume on the video up, and you will clearly hear it. Davis turned to verify Clemens use of B-12 to McNamee, and McNamee answered, "The first time I heard about Roger using B-12 was on 60 Minutes."  
As flashy a catch phrase as this was, it was an outright lie. Dr. Taylor testified to injecting Clemens with B-12 and injuring him in the process. McNamee was Clemens's trainer, and placed himself there in his deposition while Tommy Craig (Head Trainer of the Jays) was treating Clemens for the B-12 injury. McNamee said to Craig, "What's up with Roger?"  Craig testified to only knowing of one injury to Clemens, and said, "it was from the B-12 shot." Yankees' Sports Psychologist Dr. Frank Pirozzolo, even said he used B-12, and Lidocaine along with Roger Clemens. 
Chip Somodevilla/Getty Images
As we all know, the hearing became political in nature with the Democrats supporting McNamee, and the Republicans supporting Roger Clemens. Most in the media thought it shallow that the Republicans show this type partisanship during the hearing, even while their beloved Democrats defended the likes of a GHB-wielding rapist, like McNamee. Maybe they are comfortable with defending rapist though.
Rep. Cummings asked Clemens, "how could (he) have been telling Andy in 2005 about his wife's use in 1999, when she didn't use until 2003?" Just after this statement by Cummings, Lupica let out a room-filling gasp, pointed, and laughed; thus proving to all in the Press Room that Lupica had lost any, and all objectivity.
Hey Mike, tell us about how funny this is, according to the taped interview with the Hardin PIs, McNamee said that, "Winstrol is white, not clear; and there is no way around it." He was alluding to Barry Bonds unknowingly using the "clear." 
Take a look at these pictures, and show me the vile with the white liquid. This is what Winstrol looks like, and as you can see, it is a white liquid, like milk. Some of McNamee's vials have dust on them, but inside the container is a clear liquid. 
Guess what else is a clear liquid that has been mentioned in conjunction with Clemens? If you guessed Lidocaine, then you would be right. The other vials McNamee admitted are brownish red and resemble B-12. This is a picture of a Yao You Pharmacy supply of Chinese-market only, B-12.  Does it look familiar, taking into account that they may have spent seven years in the basement of McNamee's old house? 
How has this discrepancy over evidence not been reported yet?   Where is the "Daily Screws" or ESPN on this one?
It seems to me that a clean Clemens, when asked about HGH, would have recalled his last exposure to it, which would have been in 2003 regarding his wife's use. Clemens may not have known what Pettitte was talking about, and assumed he meant Debbie's use.  That is reasonable.  Why would he recall a remark that was made 10 years ago, if he were clean? 
Political maneuvers like Congressman Cumming's happen all the time. Most recently, Nancy Pelosi took what the NSA Director said out of context as she stalled a much needed security bill (FISA-Foreign Intell Survellance Act), and subsequently the GOP literally walked out on the vote. This happened the very next day after the Clemens hearing. Being from Washington, these maneuvers do not take me by surprise, but apparently, it touched the funny bone of the NY Daily News. 
Lupica loves his Democrats, and despises Republicans. Apparently Lupica loves his "Bam", who is equally guilty of "bumper-sticker politics." McNamee uses catchy phrases too. The problem with bumper-sticker politics is that they always end up in a wreck, like McNamee, and his bus.
 McNamee went as far as to lie to Congressman William Lacey Clay when asked if he ever had any deals with the Prosecutor's Office. "No Deals," replied McNamee.  Yet his lawyer, Richard Emery, subsequently filed a motion to dismiss the defamation suit based on the fact that McNamee was operating under a deal offered him by the Federal Prosecutors Office of "absolute immunity."  Fellow Democrat, and Chair of the Committee, Waxman, did not submit McNamee for perjury, after all, McNamee was being protected by the Democrats.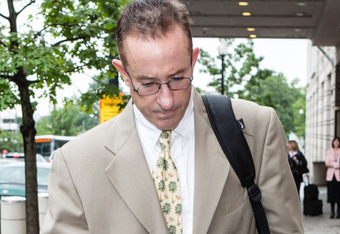 Brendan Hoffman/Getty Images
Lupica stopped laughing when Rep. Burton told McNamee "all we have here is lie, after lie, after lie, after lie; and there is one thing I don't believe, and that's you." Cummings replied later, saying, "The person I believe is Andy Pettitte," who was not even at the hearing.
Pettitte ducked out of the hearing after Jeff Novitzky visited him the Sunday before the hearing. Realize this. Andy Pettitte was forced to speculate in his deposition, saying (page 21), "I am only speculating, and I hate to do that. It was a remark made in passing 10 years ago. Not a detailed discussion at all." Congressional investigators forced Pettitte to speculate further, instead of stopping him, giving their bosses the chance to take his testimony out of context, allowing for quite a show.  
After taping the video, Lupica called me up to the chair, like a Judge calling for a side bar, and he threatened to have me "tossed." We bickered back and forth, and I advised him that this was a public event, and that I was covering the story.
Lupica was upset that I had taped one of his reactions in his support of McNamee, and he then became part of the story.
Attendee David Quadrini of Northern Maryland was also in the Press Room. He said of Lupica, "I was disgusted by him. He was up there dancing in his seat all day, pointing fingers, laughing under his breath, scoffing, and making off-colored remarks. I knew then," Quadrini said, "that Roger Clemens was not going to get a fair shake in the media."
Mr. Quadrini was right. I recalled McNamee saying he turned down seven figures in return for Media Interviews. It occurred to me that he may have been offered this money from the NY Daily News, who also paid for a photo from a kid at one of Canseco's parties. The NY Daily News reported that they had a photo of Clemens at Canseco's party, and it spread like wild fire. They probably should have called Canseco, but it is consistent that they didn't check their facts. Again. 
Only those that have something to hide remain anonymous, as the Boston Herald recently found out. Their use of an "unnamed' source regarding Matt Walsh, and the Rams' Super Bowl walkthrough tape, proved not to be true. The writer from Boston issued an apology saying, "(he) will never use an unnamed source for information again."  Apparently the NY Daily News was not paying attention.
Mike Lupica said that Roger Clemens turned the hearing into a joke. By my clear vantage point, Lupica is only projecting. Lupica himself was the only one joking around at the hearing. Lupica said Clemens talks too much, though I don't know how else one is expected to fight defamation other than to give a detailed account of what transpired. How does one prove a negative? By law if one didn't do something, then there would be no proof. Which, there isn't. 
What is more interesting is the governments role in this topic.  The government is conducting official investigations, using tax payer dollars, on the use of "legal drugs."  Will they be writing the MLB Rules Book next?