August 23, 2009
Found this interesting read on Gritty and Clutch, and I thought I would share it with you guys. He wanted to see if the Yankees were getting their money's worth as a whole, and player to player. The graph brings up a interesting question though. Why are Alex Rodriguez and Mariano Rivera so deep in the red?
Mariano Rivera has 36 saves (only 1 BS) and a 1.90 ERA so far this season. He is making $15 million this season. He is by far the best closer in the game. Mitre has more value than Rivera? Isn't this analysis flawed?
And Alex Rodriguez? This chart doesn't speak to A-Rod's actual value to this team. Anyone who watches the Yankees play knows that they are far better with A-Rod on the team. He changes the whole game, because his presence in the lineup changes the way the opposing pitcher pitches to the batters around him.
You can't measure Alex purely on statistics. It's even harder to judge Alex because he has missed so much time this season due to injury. There is no way he would be able to live up to his true value when he has only played in 88 of 121 games so far.
This chart says that the market value of their production is lower than what they are being paid.
Reading the comments on this article brought up another interesting point. The idea that value cannot be measured solely by stats is so true. You can't measure the impact A-Rod has on other players in the lineup, or the fear he strikes in pitchers.
It's hard for any player to "live" up to their contracts, because so many players are getting overpaid these days. The market competition to land certain players drives up the prices in these contracts. Owners are willing to overpay for starting pitchers because there is such a big need to a team's success.
Take it for what it's worth..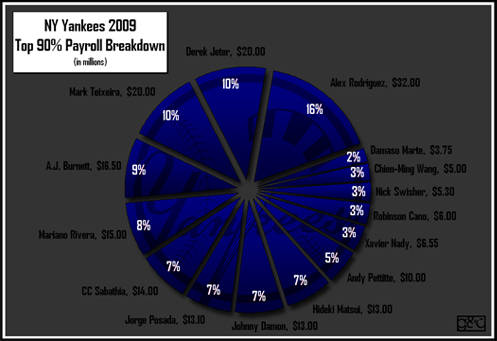 ———————————————————————————————————
Yanks, Pads complete Gaudin trade / Making the most out of a trip to Boston
8/20 Minor League Report / Yankees Back in Boston, Looking to Add to Lead
Yanks Bushers Busted / Murphy makes his debut as Horne dominates
Burnett Bueno As Bronx Bomber / Yanks are cool and calm in Boston
Coke Flat? / No relaxing as Yanks head into Fenway / Teixeira no let down
Versatile bench has benefited aging Yankees as series against Red Sox arrives
Like the new article format? Send us feedback!