Due to a wrist injury reported back in late July, Rafael Nadal has withdrawn from the 2014 U.S. Open. With the defending champion out of the running, the men's draw now appears to be wide open.
Nadal announced the decision via his Facebook page:
I am very sorry to announce I won't be able to play at this year's US Open a tournament on which I've played 3 consecutive finals in my last participations. I am sure you understand that it is a very tough moment for me since it is a tournament I love and where I have great memories from fans, the night matches, so many things.
The post sent shock waves throughout the tennis world and instantly drew reactions from analysts. One of those responses came from tennis commentator David Law, who was hoping for a Nadal-Roger Federer showdown:
New Yorkers are going to be gutted. They have never witnessed a #Nadal vs. #Federer match in their city. Probably never will now. Shame.

— DavidLaw (@DavidLawTennis) August 18, 2014
What this means for Federer is that he secures the No. 2 seed behind No. 1 Novak Djokovic. After losing to the Djoker in the Wimbledon final, the two superior players might be destined for another showdown at Flushing Meadows.

Federer recently clinched his sixth Cincinnati title and is playing great tennis heading into the hard-court tournament. Courtney Nguyen of Sports Illustrated notes the recent play for the 33-year-old:
Federer, who turned 33 two weeks ago, has made the finals in four consecutive tournaments, and has compiled a 9-1 record during the summer hard-court season. He has not won a Grand Slam since Wimbledon in 2012, but he reached the Wimbledon final last month before narrowly losing to Djokovic in five sets.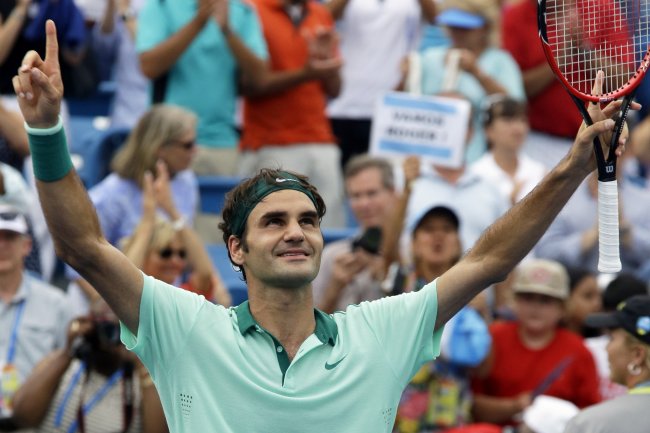 Al Behrman/Associated Press
The 17-time Grand Slam winner has been in search of the elusive No. 18 for years. With Nadal now officially out of the field, Sky Sports Tennis wonders if he might have a shot at claiming the title:
So what does Nadal's withdrawal mean for the Open? Could it provide Federer with the chance to claim another Grand Slam title? #ssnhq

— Sky Sports Tennis (@SkySportsTennis) August 18, 2014
Along with Federer receiving a more favorable draw to the final, Andy Murray also dodged a huge bullet.
Initially, the 2013 Wimbledon winner was slotted as a No. 9 seed and destined to face one of the top seeds in the round of 16. Stuart Fraser of the MailOnline Sport notes the change in seeding for Murray:
Defending champion Rafael Nadal pulls out of US Open. As a result, Andy Murray now the No 8 seed at Flushing Meadows.

— Stuart Fraser (@stu_fraser) August 18, 2014
Who will win the 2014 U.S. Open with Nadal out of the field?
After being dropped by Federer in Cincinnati during the quarterfinals, Murray needs a strong showing to close out the season. The British player has yet to reach a final in 2014 but won the 2012 U.S. Open with Nadal not in the field.
No. 17 Fabio Fognini and No. 18 Tommy Robredo will also earn a top-16 spot in the draw. With Robredo coming off a strong showing in Cincinnati, he has a chance to make some noise in New York with an improved seed.
Every player in the field will see a boost, but one emerging star now enters the top five seeds. Milos Raonic now secures a No. 5 seed for his Canadian fans, as Damien Cox of Sportsnet notes:
With Nadal out, Raonic now No. 5 seed for US Open. Which is an amazing feat for a Canadian.

— Damien Cox (@DamoSpin) August 18, 2014
On the heels of another disappointing loss to Federer in Cincinnati, Raonic has the potential for another run at a Grand Slam. Thanks to his high seed, he can avoid some of the top players until the late rounds.
While the tennis world will mourn the loss of Nadal on the big stage, several players now have an opportunity to steal away the crown. And with the veteran and young talent in the field, expect plenty of intrigue in New York throughout the U.S. Open.
Follow @RCorySmith on Twitter.