It's hard to imagine a more nightmarish scenario for a San Jose Sharks team still alive for the seventh game of a playoff series than the one that has unfolded against the remarkably resilient Los Angeles Kings.
With three wins after the first three games, the Sharks could have closed things out in Los Angeles, but the Kings earning a split at home wasn't a major obstacle, particularly with the series shifting to San Jose for Game 5. A loss at home, combined with a second consecutive poor performance from Antti Niemi, introduced the first real elements of doubt into a series that had looked all but decided much earlier.
Entering the critical sixth game, the Sharks made changes, including a debatable decision to replace Niemi as starter with backup Alex Stalock. Early on the situation seemed fine, with San Jose holding its own through two periods.
At that point the game was tied 1-1 and neither team held a clear edge in play:
LA -SJ EV shot attempts have been interesting. Overall: 31-31 1st period: 16-16 2nd Period: 15-15 So I guess it's been kind of even.

— Robert P. (@RobertJFTC) April 29, 2014
So matters stood until a little over halfway through the third period, when this happened:
There were two potential problems with the goal. First, there was a question of whether Stalock had frozen the puck long enough for the whistle to have gone. Second, the legality of Justin Williams pushing Stalock and the puck into the net together should have received significant scrutiny from the officials.
The first issue is arguable. The second shouldn't be, based on the NHL rulebook:
I would disallow Kings 2'nd goal re: 69.6. Once Stalock made initial save even though portion of puck became visible to ref from behind.

— Kerry Fraser (@kfraserthecall) April 29, 2014
Rule 69.6 states in part: "In the event that a goaltender has been pushed into the net together with the puck by an attacking player after making a stop, the goal will be disallowed."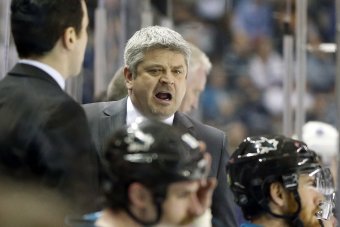 USA TODAY Sports
In his postgame press conference streamed on CBC.ca, San Jose coach Todd McLellan was emphatic with his disapproval, saying "We got cheated, simple as that," in reference to that game-winning goal. He further identified it as "obviously the turning point the game."
Kings captain Dustin Brown's comment to CBC's Scott Oake after the game was interesting too.
"Looking at the replay the ref was behind the goalie, and for whatever reason he didn't blow the whistle," Brown said. "But those are the breaks you sometimes get."
"We kind of came unraveled, which we shouldn't have," San Jose forward Logan Couture later said in reference to the aftermath of the Justin Williams goal. Aggressively pushing for a tying goal, San Jose surrendered a three-on-two just moments later, which allowed Anze Kopitar to make the score 3-1. The Kings would add another on the power play for a 4-1 final.
It all sets the stage for what should be an incredible seventh game.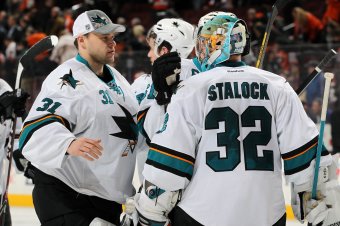 Len Redkoles/Getty Images
The Sharks, already reeling, have to find a way to put the disappointment of this loss behind them. The core group, which has seen far too many playoff collapses, needs to find a killer instinct that has eluded it to date in this series. Meanwhile, McLellan has to anoint a starter for the pivotal contest: Does he go back to the struggling Niemi or place his trust again in a rookie with a lackluster minor league career and precious little NHL track record?
All of those problems don't even touch on the fact that Marc-Edouard Vlasic, the club's best rearguard, is questionable to play.
In a winner-take-all contest, even one in San Jose, it's hard not to favor the Kings. Los Angeles has climbed so far up the mountain that scaling the summit almost seems inevitable.
What that simple narrative loses sight of is that the seemingly inevitable doesn't always transpire; if it did than San Jose could have advanced after its Game 3 win.
The Kings proved themselves capable of coming back from the brink and forcing a seventh game. Surely it is conceivable that the Sharks can win one game against a team that they have a 3-3 record against in these playoffs. Momentum has swung back and forth, and at times made one club look dominant and the other second-rate, but the simple truth is that these are both very good teams and evenly matched ones.
Entering the deciding game of this series, it would be an awful mistake to bank heavily on one over the other.