Early Storylines Emerging at the 2014 Australian Open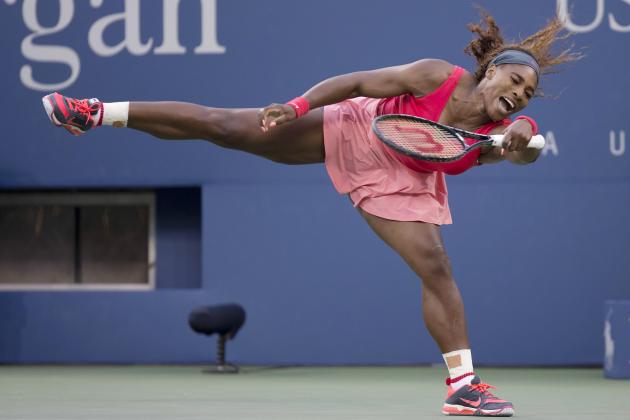 Susan Mullane-USA TODAY sports
Serena Williams is involved in several storylines for the Australian Open
Storylines are already taking shape for the Australian Open, which gets under way on Jan. 13 in Melbourne.
We selected eight issues that seem to be gaining traction as the first Grand Slam event of 2014 approaches. More are likely to arise as the Australian Open nears.
Issues involving the stars of the game, including Serena Williams, Novak Djokovic, Maria Sharapova, Roger Federer and Rafael Nadal, typically garner the most attention. But others are getting notice too.
Begin Slideshow

»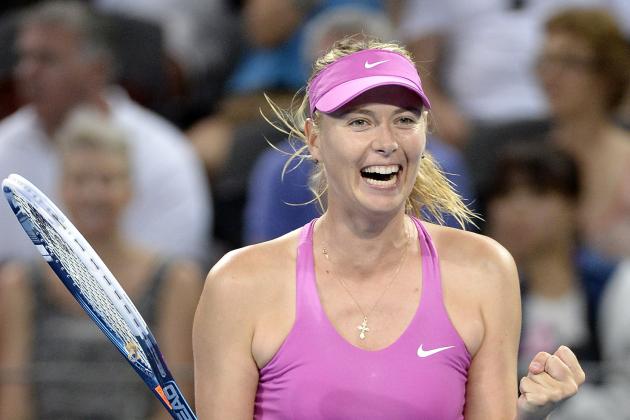 Bradley Kanaris/Getty Images
Maria Sharapova
Andy Murray and Maria Sharapova both saw their rankings slip to No. 4 after injuries contributed to disappointing performances over the second half of 2013.
Murray failed to reach the semifinals in any of his three tournaments following his breakthrough victory at Wimbledon. He then had a surgical procedure performed in October to repair his ailing back and did not play in a tournament for more than three months.
In his first significant competition since a September Davis Cup match, Murray beat Mousa Zayed 6-0, 6-0 at the Qatar Open on Tuesday. However, he lost his next match on Jan. 1 to Florian Mayer 3-6, 6-4, 6-2, despite being up a set and 3-0 in the second. That is not a good sign for Murray, who must push through best-of-five-sets matches at the Australian Open.
Sharapova was riding high after reaching the 2013 French Open finals. But after beating Kristina Mladenovic in the first round of her next tournament at Wimbledon, she failed to win another match until this week. She lost to qualifier Michelle Larcher de Brito in the second round at Wimbledon and to Sloane Stephens in the first round at Cincinnati in August.
She withdrew from the U.S. Open because of a shoulder injury, and did not play another tournament for more than four months because of that problem. She won two matches in Brisbane, Australia, this week in her first tournament since August. Her semifinal opponent on Jan. 3 is Serena Williams, who has beaten Sharapova 13 times in a row.
That match may indicate whether Sharapova will be sharp enough to contend at the Australian Open.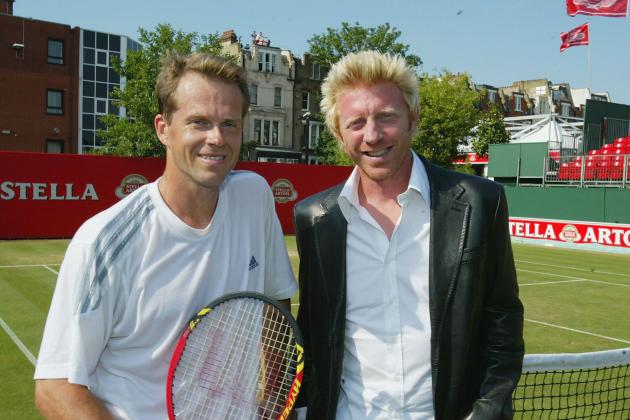 Phil Cole/Getty Images
Stefan Edberg (left) and Boris Becker
Stefan Edberg and Boris Becker met in three consecutive Wimbledon finals between 1988 and 1990, and each won two Australian Open titles. However, for this year's Australian Open they will be part of the coaching teams of contenders.
Roger Federer announced on December 27 that Edberg will be part of his team starting with the Australian Open. Federer hopes the 47-year-old Edberg can help breathe some life into his declining career before it is too late. Federer failed to reach the quarterfinals of either Wimbledon or the U.S. Open in 2013, and his ranking has slipped to No. 6.
"Stefan was my childhood hero, and I am really looking forward to spending time with, and learning from, him," Federer said, according to a BBC report.
If Federer gets as far as the semifinals in Melbourne, Edberg no doubt will get some of the credit.
"I hope together we can bring out his best tennis," Edberg said in the BBC report.
Federer also made an equipment change and will use a racket with a bigger head in the first Grand Slam event of the year. According to CNN, Federer is now using a racket with a 98-inch head instead of the one with a 90-inch head he used to win his 17 major titles.
Novak Djokovic does not need as much help as Federer at this point, but the world's No. 2 player also made a coaching move. About a week before Federer announced that he has added Edberg, Djokovic announced that Becker will be his head coach as he prepares for the Australian Open.
Marian Vajda, Djokovic's longtime coach, will continue to be part of the Djokovic team.
"Boris brings a fresh approach and together with Vajda he will make a winning combination," said Djokovic, according to the BBC.
Djokovic won last year's Australian Open, and he played well at the end of 2013, beating Rafael Nadal twice since the U.S. Open. But Djokovic has extremely high standards for himself, and failing to win any of the final three Grand Slam events of 2013 did not sit well with him.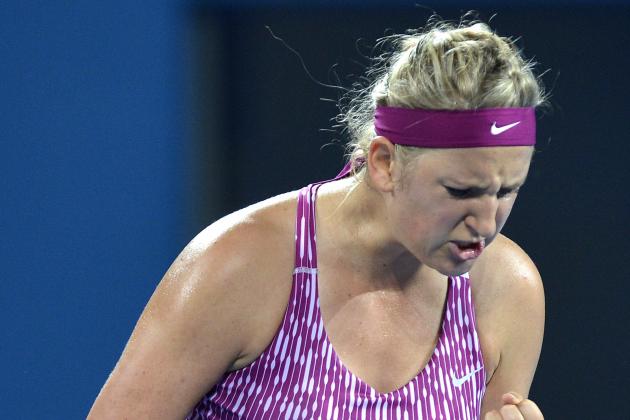 Bradley Kanaris/Getty Images

Victoria Azarenka will be the No. 2 seed for the Australian Open, but she is not playing like the second-best player in the world at the moment.
The fact that she has reached the semifinals of this week's warmup tournament in Brisbane, Australia, cannot disguise the fact that she is in a slump. She had to go three sets to get past No. 50-ranked Stephanie Voegele on Jan. 2 in the quarterfinals of that event.
Azarenka beat Serena Williams twice in 2013, and she added an exhibition victory over Williams in Thailand on Dec. 28. However, exhibition matches mean little to elite players. More significant is the fact that Azarenka went 1-5 in her final six tournament matches of 2013. It started with her loss to Williams in the U.S. Open finals and ended with her disappointing showing at the WTA Championships in Turkey.
Even Azarenka's one win during her slump was in doubt until Sara Errani injured her calf in a first-set tiebreaker at the WTA Championships.
Until this week's tournament in Brisbane, Azarenka had not played a tournament match since losing to Li Na 6-2, 6-1 in October in Turkey. She lost to No. 43 Andrea Petkovic and Venus Williams in the first round of her two tournaments before that.
She complained of exhaustion and a back injury at the end of her 2013 season, and she recently hired a fitness trainer and two physiotherapists to improve her conditioning and health, according to Tennis.com.
Azarenka has won the Australian Open the past two years, and if she is to make a run at Williams' No. 1 ranking in 2014, she must perform well in Melbourne. Azarenka is just 24 years old—young enough to pull herself out of a slump.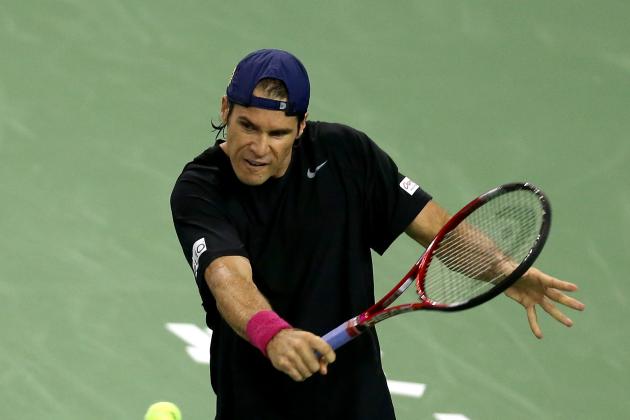 Matthew Stockman/Getty Images
Tommy Haas is 35 years old and ranked No. 12
Last year, 19-year-old Sloane Stephens became a major story at the Australian Open, as she upset Serena Williams to reach the semifinals. Don't expect teenagers to get much attention at this year's Australian Open, though, as older players continue to dominate the sport.
It's more likely that an aging veteran like 33-year-old Venus Williams or 35-year-old Tommy Haas will be the story in Melbourne later this month.
Limited by ailments and injuries, Williams is the No. 47-ranked player at the moment. But she has shown signs lately that she can still compete with the best. She beat No. 14-ranked Kirsten Flipkens at the U.S. Open and knocked off No. 2 Victoria Azarenka in Japan in September. Williams has reached the semifinals of this week's tuneup event in Auckland, New Zealand.
Haas twice missed more than a year of action because of injuries, but is back up to No. 12 in the rankings. He has reached the Australian Open semifinals three times, though not since 2007.
Jelena Jankovic, who turns 29 next month, is another veteran who could pull off a surprise. Ranked No. 1 at the end of 2008, Jankovic has found her touch again and is up to No. 8 in the rankings after dropping out of the top 30 in 2012. She is into the semifinals in this week's event in Brisbane.
Older players are dominating both the men's and women's tour in general. Serena Williams, 32, has a shot at becoming oldest player to complete a single-year Grand Slam, and the No. 3 players on the men's and women's side (Li Na and David Ferrer) are both 31.
The 20-year-old Stephens is the only woman in the top 30 under age 22. Five members of the women's top 20 will be 30 by end of 2014, and the highest ranking teenager (No. 32 Eugenie Bouchard) turns 20 next month.
Juan Martin del Porto is the youngest member of the men's top 10 at age 25, and no one in the top 50 is younger than 22. Three of the top 12 male players and 10 of the top 30 are 30 years old or older.
Ashleigh Barty and Nick Kyrgios, two Australian teenagers who figured to draw attention at the Australian Open, are battling injuries.
Maturity, not youth, is the storyline at the Australian Open.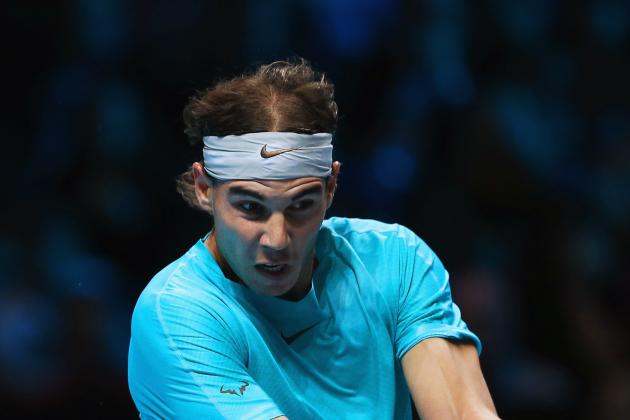 Clive Brunskill/Getty Images

Rafael Nadal dominated men's tennis through the summer of 2013, and his victories in the French Open and U.S. Open put him on the cusp of history.
By winning two of the three Grand Slam events he entered in 2013, Nadal now has 13 major titles. A victory in the Australian Open would tie him with Pete Sampras for the second-most major titles in men's tennis history. It would also leave him just three shy of Roger Federer's record of 17 Grand Slam titles.
At age 27 and coming off his best year as a pro, Nadal would seem to have a shot at Federer's mark.
There are a few possible barriers, however.
Nadal holds the No. 1 ranking, but his aura of invincibility disappeared over the final three months of 2013. He failed to win any of his four tournaments since the U.S. Open. He lost to Novak Djokovic twice and David Ferrer and Juan Martin del Potro once each in that stretch, all on hard courts—the same surface featured at the Australian Open.
Both of Djokovic's recent victories over Nadal were rather decisive, indicating Djokovic will be a major obstacle to Nadal's run at the record.
Nadal's knees continue to be an issue as well. Nadal admitted in an Agence France-Presse article that he is employing a new treatment on his knees, hoping to keep them strong and healthy through the year.
In this week's Qatar Open, Nadal won his opening match against Lukas Rosol, the player who knocked Nadal out of Wimbledon in 2012. Nadal had to go three sets to beat No. 74-ranked Tobias Kamke in his next match and then beat Ernests Gulbis to reach the semifinals.
Nadal does not seem to be quite as sharp as he was five months ago. Can he win the Australian Open? Can he catch Federer?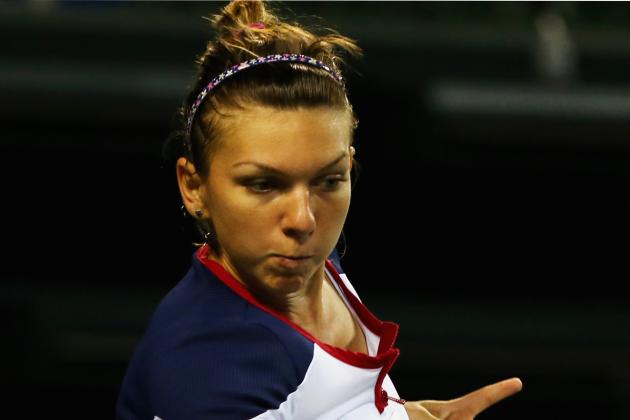 Koji Watanabe/Getty Images

Simona Halep has been operating under the radar and still resides outside the top 10. But she is playing about as well as anyone other than Serena Williams at the moment.
Ranked No. 64 last May, the 22-year-old Halep is ranked No. 11 this week. She won six tournaments in 2013 and was voted the tour's most improved player, according to Tennis.com.
Halep won her final two tournaments in 2013, and she beat veteran top-20 players Samantha Stosur and Ana Ivanovic in her most recent event. She will carry a 10-match winning streak into the Apia International in Sydney beginning Jan. 6.
Halep has never advanced past the fourth round at a Grand Slam event and lost in the first round of the Australian Open the past two years. Her recent hot streak suggests she could make a breakthrough this time, however.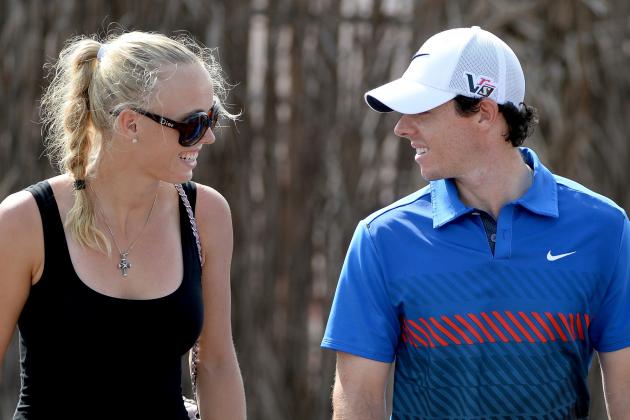 Ross Kinnaird/Getty Images

Caroline Wozniacki's engagement to golf star Rory McIlroy falls into the gossip-column category, but it certainly will be discussed before and during the Australian Open.
Their engagement was announced Dec. 31, ending rumors the pair had split up.
The pairing of two pro athletes who were once ranked No. 1 in their respective sports but have since fallen from the top spot will gain attention. The media and public are likely to measure their next athletic performances in the context of their relationship and its influence.
Wozniacki finished 2011 as the No. 1-ranked player, but she is currently clinging to a top-10 ranking at No. 10.
She is playing pretty well at the moment. Wozniacki won her final tournament of 2013, capturing the Luxembourg event in October. The week before that, she beat Sloane Stephens 6-3, 6-1 before losing to Serena Williams in the quarterfinals in Beijing.
Her first tournament of 2014 will be the Apia International in Sydney, Australia, starting on Jan. 6. Observers' judgments on whether the engagement has been good for her game will begin then.
Although she was ranked No. 1 at the end of 2010 and 2011, Wozniacki has never won a Grand Slam event, and she reached the finals of only one, the 2009 U.S. Open.
She is still just 23 years old, however, making her the youngest player in the top 10.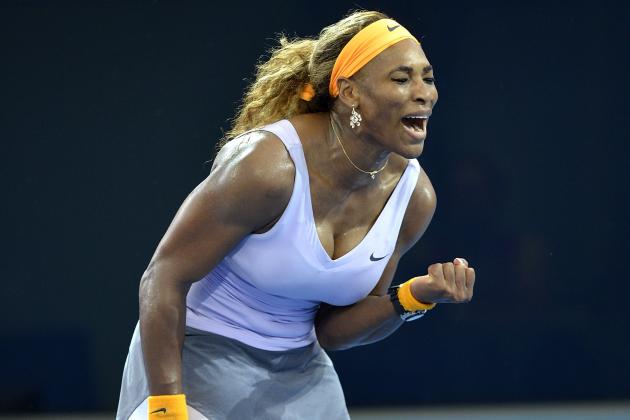 Bradley Kanaris/Getty Images
Srenea Williams
Serena Williams dominated women's tennis in 2013, and one of the chief storylines of 2014 is whether she can keep it up at age 32.
Her victories in the French Open and U.S. Open last year give her 17 Grand Slam titles. If she were to win the Australian Open she would tie Chris Evert and Martina Navratilova for the second-most major titles in the Open Era. Only Steffi Graf, with 22, would have more Open Era major titles, and Williams has a shot at Graf's mark if she maintains her current level of play. Even Margaret Court's record of 24 Grand Slam titles, which includes 13 before the advent of Open tennis, would enter the discussion.
The possibility of completing a single-year Grand Slam is also a reasonable goal for Williams. If she were to win all four major events in 2014, Williams would become the oldest person in history to achieve a Grand Slam.
Five players have won all four majors in the same year. Don Budge was 23 when he did it in 1938, Maureen Connolly was 18 in 1953, Court was 28 in 1970, and Graf was 19 in 1988. Rod Laver, the only player to complete two Grand Slams, was 24 when he accomplished it in 1962, and became the oldest player to win all four majors in the same year when he did again in 1969 at age 31.
Williams will turn 33 a few weeks after the 2014 U.S. Open finals, and her recent play suggests she has a chance to win all four majors in the coming year. She nearly did it in 2002, when she withdrew from the Australian Open because of an ankle injury, then won the next three majors that year.
She is on another hot streak. Including Thursday's victory over Dominika Cibulkova in Brisbane, Australia, Williams has won 20 straight matches. Her only defeat in 30 matches since her shocking loss to Sabine Lisicki at Wimbledon came against Victoria Azarenka in a third-set tiebreaker in Cincinnati.
With Azarenka slumping and Maria Sharapova coming off a layoff because of a shoulder injury, Williams' quest for an 18th major title is within reach.