Red Sox ace Jon Lester pitched a gem against the St. Louis Cardinals in Game 1 of the World Series, scattering five hits while striking out eight over 7.2 scoreless innings en route to an 8-1 Boston drubbing for an early 1-0 series lead.
But did he have some extra help in shutting down the St. Louis attack?
According to Cardinals minor league pitcher Tyler Melling, the answer to that question was a resounding yes (UPDATE by Stephen Meyer at 1:05 PM EST: Melling has since deleted the tweet in question, but here is a clear photo from The Big Lead on Twitter):
Jon Lester's Glove Contained a Green Substance, Was He Cheating? http://t.co/45qaEXHNjo

— The Big Lead (@thebiglead) October 24, 2013
We can clearly see something on the inside of Lester's glove, though what that may be is nothing but pure speculation.
What can't be disputed, however, is that Lester did rub his fingers on that spot throughout the game, as caught in a vine that has quickly begun to circulate around the web:
Yes, it's come to this: Red Sox pitcher Jon Lester going to a blob of something (Vaseline?) in his glove https://t.co/7SmWyulcrl

— Jen Myers (@Y98Jen) October 24, 2013
Is it Vaseline? Rosin? Some sort of gel that the Red Sox have been putting in their beards to keep them looking as freaky and insane as possible? Here's a look from a different angle, courtesy of Jason Barrett, program director for 95.7 FM The Game in San Francisco:
What's in Jon Lester's glove? Gummy Bear? Hair Gel? Ghostbusters slime? The Hulk's saliva? https://t.co/NREYv1n9BX pic.twitter.com/LaJPdMwatD

— Jason Barrett (@sportsradiopd) October 24, 2013
Lester himself addressed the controversy and drama by saying it was simply rosin—with no other foreign substances, such as Vaseline, in play (h/t to Buster Olney of ESPN.com and Brian MacPherson of the Providence Journal):
Lester: 'it was just rosin. All I ever used, all I will use..." About the green; "I don't know what that is. It looks like a giant booger."

— Buster Olney (@Buster_ESPN) October 24, 2013
Jon Lester: "Last night's really not a night you want to use Vaseline. You want a grip on the ball, not throwing it off the backstop."

— Brian MacPherson (@brianmacp) October 24, 2013
Red Sox manager John Farrell weighed in on the topic, echoing his ace's claims that he only used rosin (which is apparently now available in neon green):
Farrell on Lester issue: "The only thing he used was rosin. If you know Jon, he sweats like a pig. He needs rosin." Called it "closed case"

— Scott Lauber (@ScottLauber) October 24, 2013
MLB has already issued a statement on the incident (h/t to Tim Brown of Yahoo! Sports):
Here's what MLB spokesperson says re: Lester: "We cannot draw any conclusions from this video. There were no complaints from the Cardinals..

— Tim Brown (@TBrownYahoo) October 24, 2013
Cont'd: "...and the umpires never detected anything indicating a foreign substance throughout the game."

— Tim Brown (@TBrownYahoo) October 24, 2013
Cardinals manager Mike Matheny doesn't seem to buy Lester's statement, but is done talking about it:
Matheny on Lester using rosin: "If that's what he claims, that's what it is. It's pretty much a dead issue."

— Tom (@Haudricourt) October 24, 2013
For what it's worth, even the Cardinals' own GM John Mozeliak says it's a non-issue in his mind (h/t to the St. Louis Post-Dispatch):
"As far as I'm concerned it's a non-issue," Mozeliak said. "It's something that arose in social media and not from our players or manager or our coaching staff. To me it does not represent a concern."
C.J. Nitkowski, who played for eight different teams over a 10-year major league career, doesn't dispute the fact that there is something going on in Lester's glove—but says that it's not Vaseline:
Legit accusation here, but it's not Vaseline. RT @HardballTalk: StL minor leaguer: Jon Lester doctoring the ball? http://t.co/xCKvXun1XA"

— CJ Nitkowski (@CJNitkowski) October 24, 2013
He goes on to make a valid point, one that shouldn't be lost as people rush to judgement over this mysterious substance:
Cold weather, you're not trying to make the ball more slippery, it's the opposite.

— CJ Nitkowski (@CJNitkowski) October 24, 2013
Lester certainly has some explaining to do, and you can be sure that if the World Series advances to a Game 5, when Lester would be scheduled to take the mound again, that Cardinals manager Mike Matheny will make it a point to have the umpires examine Lester's glove to ensure there's no foul play afoot.
Did Jon Lester Cheat in Game 1?
Chances are that we'll never know exactly what the substance was. Lester will give an explanation, one that Boston fans will accept and St. Louis fans will refute.
This isn't the first time that a stud Red Sox starter has been accused of cheating this season, as Clay Buchholz—currently scheduled to start Game 4 for Boston—was accused of doctoring the ball by Sportsnet analyst and former big league pitcher Dirk Hayhurst back in May.
This also isn't the first time an opposing starting pitcher has been accused of using a foreign substance to doctor the ball against the Cardinals. Back in 2006, Detroit Tigers starting pitcher Kenny Rogers was accused, but never proven to have used pine tar to alter his breaking pitches during a dominant Game 2 performance.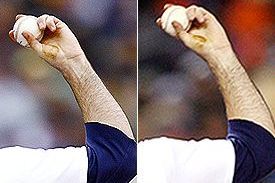 The powers that be in Major League Baseball may ask their own questions, but what's done is done—and with no way to prove that Lester was gaining an unfair advantage from whatever the substance was, don't expect any disciplinary action from the commissioner's office.