Jeremy Hill is still very good at playing tackle football.
Hill is averaging 8.3 yards per carry and has six touchdowns in only three games played this season for the LSU Tigers. His 183 yards and three touchdowns against Auburn cements him as the starter going forward.
Some felt LSU would have been fine if Les Miles had kicked Hill off the team for his offseason actions. Dennis Dodd of CBS Sports says Hill should be not be playing, as do other national college football writers and personalities.
The piece by Dodd was well-written, and it all comes down to a person's moral standards as to whether or not Hill should be on the field. The penalty probably should have been more severe.
But there was only one part where Dodd was off base. He believes the gap between Hill and his backups is not that wide, which is why he thinks Miles should have had no problem in kicking off his leading rusher from last season. This is not the case. Miles knows he needs Hill to win games this year.
Miles has been aided by running backs who can break tackles in his tenure, such as Stevan Ridley, Joseph Addai and Jacob Hester, just to name a few. Hill fits the mold of a Miles back. Yet this season could be Miles' weakest group of backup runners.
LSU would not have been fine without Hill, especially in the SEC. On numbers alone, the Tigers would only have three running backs on the entire roster. Depth would have been an issue.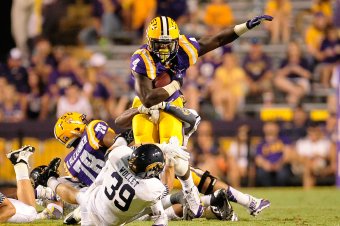 Stacy Revere/Getty Images
The Tigers have average backups in Kenny Hilliard, Alfred Blue and Terrence Magee. They come nowhere close to the level of Hill. Hilliard and Blue have looked bad this season. Magee has shown some promise but lacks a complete skill set at the position.
Hill did not play against TCU. Hilliard, Blue and Magee rushed for 117 yards on 23 carries, which comes out to a respectable 5.1 yards per carry. But a closer look at the tape showed they lacked the extra spark Hill provides to the offense.
Most of LSU's runs were a byproduct of Zach Mettenberger's amazing performance through the air. The Tigers had to run the ball out of shotgun and on draws, which is not LSU's brand of football. But a chunk of the yardage came by way of a Magee 52-yard touchdown scamper, which involved plenty of luck. If that run is taken out, they rushed for 65 yards on 22 carries.
The trio also failed to break tackles. On 32 rushes, they combined for one tackle broken. They pushed some piles and fell forward a few times but could not explode through or shake defenders.
On the first drive of the game against the Horned Frogs, LSU moved the ball into the TCU red zone after an Odell Beckham Jr. reverse for 17 yards. LSU executes a simple run play to the right for Magee, which is well blocked by the LSU offensive line.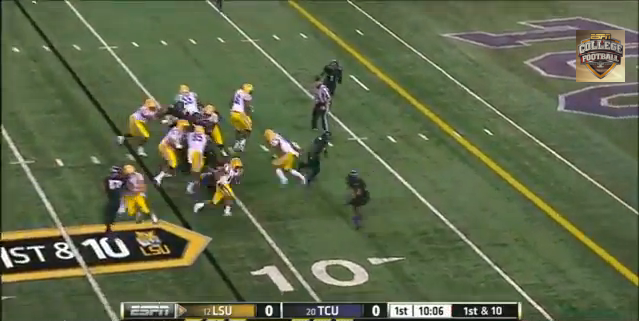 Magee hits the open hole hard. All he needs to do now is run around the TCU safety to score a touchdown.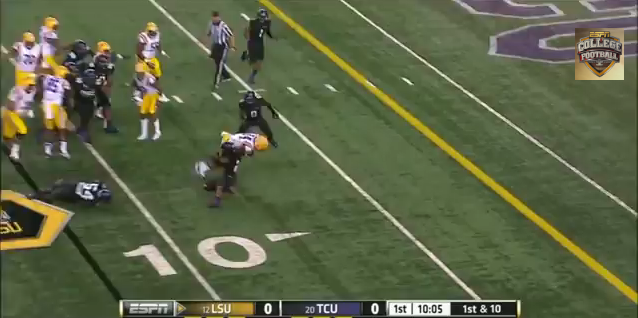 Magee fails to do so and goes down quite easily. If he skirts around the tackle to the right, he scores a touchdown. Instead, LSU eventually has to settle for a field goal. This is not an easy run to accomplish, but one that is attainable.
Hill would have, at the very least, not gone down as easily as Magee. Knowing Hill's capability of making defenders miss, he probably would have broken this tackle to the outside and walked into the end zone.
Hill is sublime at gaining yards after contact, as he currently ranks third in the country in that category.
Most Yards After Contact per Rush AQ Players WISC Melvin Gordon 7.4 ORE De'Anthony Thomas 5.9 LSU Jeremy Hill 5.3 >min. 40 carries

— ESPNU (@ESPNU) September 26, 2013
LSU can win the SEC if it continues the success it had against Auburn. The Tigers are at their best when on basic, between-the-tackle running plays. These plays are usually designed for the last line of defense to go unblocked. It is up to the running back to make safeties miss in the open field in order to turn a good gain into a great one.
Hill's two best runs against Auburn showed his unique ability to shake tacklers and his high football IQ during the process of a run. His first explosive run was a 49-yard touchdown scamper to give LSU an early lead.
His next big run was a 54-yard scamper deep into the Auburn red zone. It was 2nd-and-6 after a tough four-yard run to the right by Hill the play before. To counter, Auburn defensive coordinator Ellis Johnson packs the box. LSU runs the same play to the left.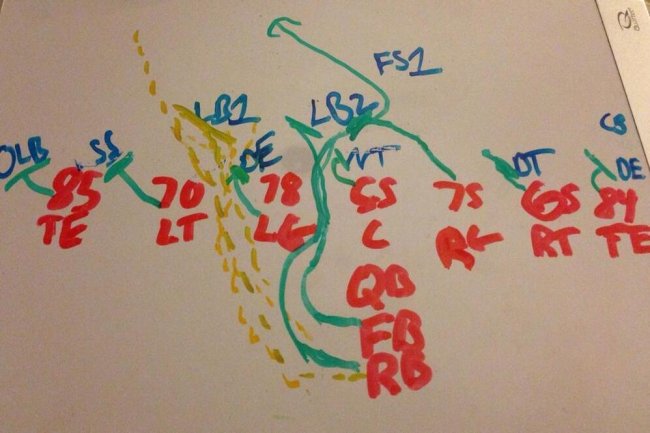 The above diagram shows the design of Hill's 54-yard run. The green lines represent where the offensive players actually go on the play. The yellow dotted lines show where Hill and fullback J.C. Copeland were intended to go on the original play design. It is clear Copeland and Hill adjust wonderfully on the play for it to still work for a big gain.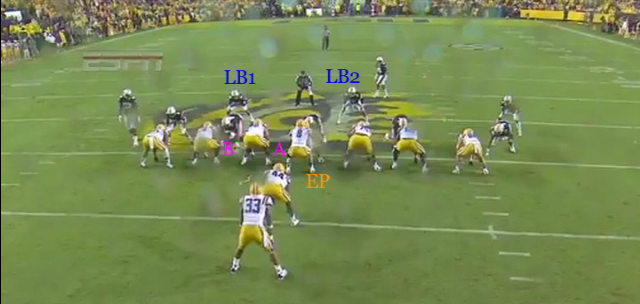 LSU is lined up in "22 personnel," which is two tight ends and two backs in the backfield. This is an easy run key for the Auburn defense, so it counters by putting nine players in the box.
This play looks as if it is designed for LSU to run through the left-side B-gap, which is the space located between the guard and the tackle. Before the snap, Auburn free safety Joshua Holsey trots backward into a single high-safety look.
Auburn defensive coordinator Ellis Johnson takes a severe gamble when loading the box. Johnson should have known not do this because Hill is phenomenal at breaking through packed boxes.
Defenses such as these break down if the defenders do not maintain gap discipline. Auburn doesn't and eventually pays a heavy price.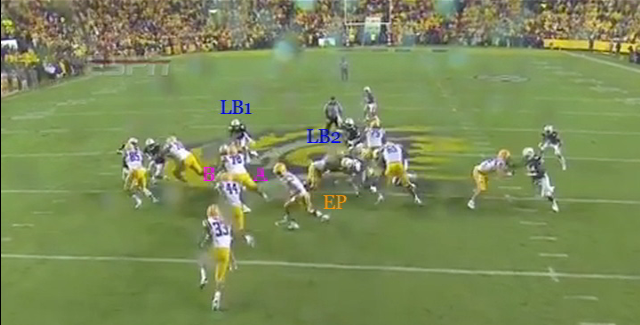 Off the snap, the defensive tackle for Auburn does a great job of occupying the B-gap. The man blocking him, left guard Vadal Alexander, does a great job to counter. Alexander trusts Hill and lead blocker J.C. Copeland's (No. 44) ability to cut the run to the A-gap, so he allows his man to keep drifting to his left.
The play looks as if Copeland's man to block was the middle linebacker (LB1), who begins to see the ball is intended to be run through the B-gap. The outside linebacker (LB2) was supposed to be blocked by Evan Washington (No. 75), but Washington whiffs.
The key block on this play was made by center Elliot Porter (EP). Porter turns the nose guard in front of him away from the play with perfect form. His block is much like what Barrett Jones did at Alabama. Porter has "sealed" his man to the inside, thus widening the A-gap for Copeland and Hill.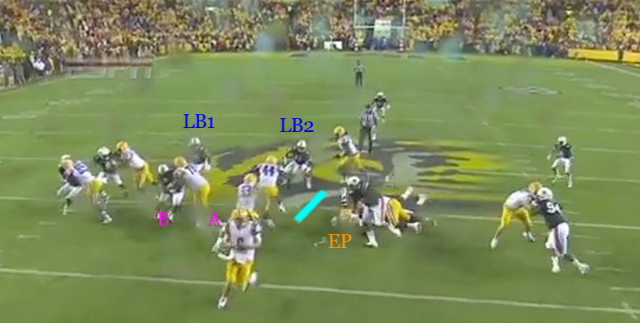 The instincts of Copeland and Hill are shown to perfection here. LB1 overcommits to the play-side B-gap, essentially taking himself out of the run. Copeland makes a great adjustment by switching his focus to LB2, who was originally supposed to be blocked by Washington. Because Porter (EP) completely flushed his defensive tackle upfield, it widens a massive cutback lane for Hill to the right.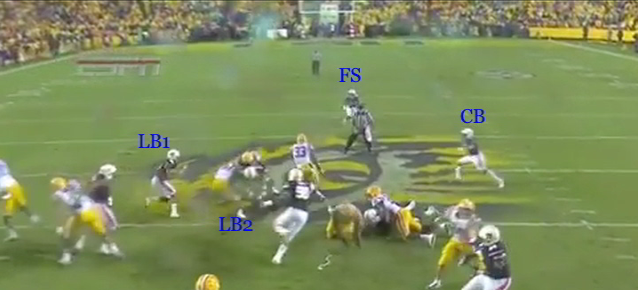 Hill's balance and vision is spectacular. He adjusts from running into LB1 by reading and cutting around the block of Copeland.
Hill has now successfully blown through the second level of the defense thanks to great blocking and poor gap discipline from LB1. Hill now has a safety (FS) to beat in the open field and a corner (CB) attacking from his right side.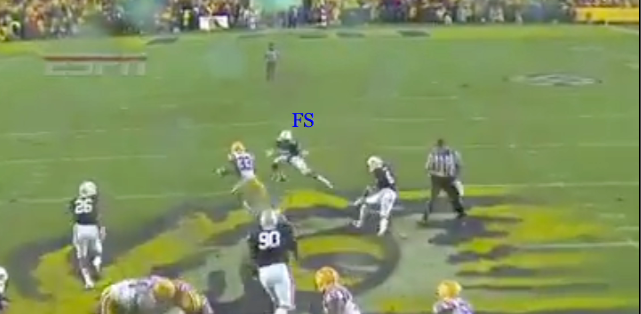 The corner is late to attack Hill thanks to his elusiveness. Earlier in the game, Hill shook the same corner for a 49-yard touchdown run in the first quarter. Early explosive runs and jukes usually intimidate tacklers to play on their heels for the rest of the game in fear of allowing another huge gain.
The free safety shows great form in sizing up Hill for a critical open-field tackle. It is Hill's job to get past him for positive yardage.
The safety makes a valiant attempt at a tackle, timing his effort pretty well. But Hill, at 235 pounds, leaps around his attempt at making the tackle.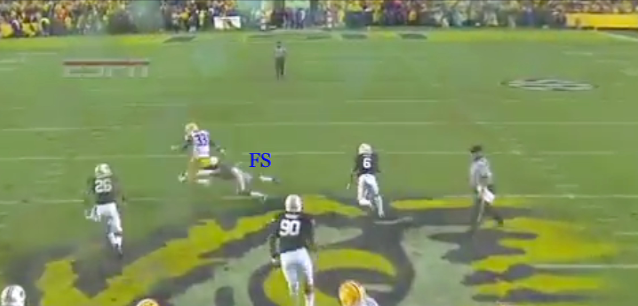 It is now a foot race for Hill to score his fifth touchdown of over 50 yards in an LSU uniform. He is chased down inside the 5-yard line, but Copeland would eventually score to give the Bayou Bengals a three-possession lead.
Hill showed a wide range of skills during the run. The initial cutback seems easy when slowed down, but at full speed it is not quite so simple. Blue, Hilliard and Magee probably could not pull off this complex run nor make the safety miss in the open field.
The offensive line also feels more comfortable with Hill in the backfield. The above play was not perfectly blocked by LSU but was well adjusted. The Tigers offensive line knew Hill could cut back and turn this into a big gain. They also give Hill enough space to get to the second and third level, knowing he can break a long run if given a clean run through the line of scrimmage.
Auburn shows the danger of loading the box against Hill. If the defense does not remain gap-disciplined, long runs will commence.
Auburn would have kept the game much closer if it didn't allow Hill to break free twice early. They allowed Hill five runs of 10 yards or more, four of which came in the first half. Johnson made the proper adjustments at halftime to slow down the sophomore in the second half.
Georgia cannot allow Hill to have the same success early.
The Bulldogs must tighten the gaps and not allow craters to open up in the running game. They also need to tackle better than they have this season. The Bulldogs have struggled doing both at times this year.
LSU's rushing attack is much like Alabama's. In last year's SEC Championship Game, the Bulldogs made mistakes much like Auburn did against Hill.
The above T.J. Yeldon run
shows how Georgia needs to tighten up its running defense. Barrett Jones (BJ)
treated the Georgia nose tackle
similarly to how Porter did Auburn. This opened up massive craters in the A-gap, thus resulting in huge gains in the running game for powerful running backs who can also make quick cuts during the run. Georgia's defensive line must shrink the gaps against LSU's powerful running game.
The craters in the middle of the defensive line are inexcusable. Yeldon's above run went into Georgia territory and set the tone for Alabama's dominance for the rest of the game up front. Hill will shred the Bulldogs if defensive coordinator Todd Grantham does not fix the same mistakes.
There are some concerns going forward for Hill. As hyped up as this weekend's Georgia game will be, LSU can lose the game and still win the SEC West. It is important for Miles to think about the long term with his star running back.
Last season, Hill wore down during the back end of the SEC slate.
The first four games consisted of Florida, South Carolina, Texas A&M and Alabama. After a physically draining game against the Crimson Tide, Hill was not nearly explosive. He got nicked up against Mississippi State and was substituted more often. He was able to crush Clemson to close the season with 124 yards on 12 carries and two touchdowns after having some time to rest for the bowl game.
LSU will need its backups during the SEC gauntlet ahead. Magee looks the most capable based on his performance in 2013, but he fumbled last week against Auburn. Blue and Hilliard will both eventually need to make some plays.
LSU has had an unassuming rusher emerge midseason for the last three years, maybe one of these three can be that guy.
Hill will face off against Georgia's Todd Gurley, the SEC's leading rusher. Unlike Hill, Gurley has the luxury of backup Keith Marshall. LSU's chances of winning exponentially increases if it can slow down the run. Bleacher Report's Michael Felder has an excellent video breakdown of how the Tigers should defend Gurley.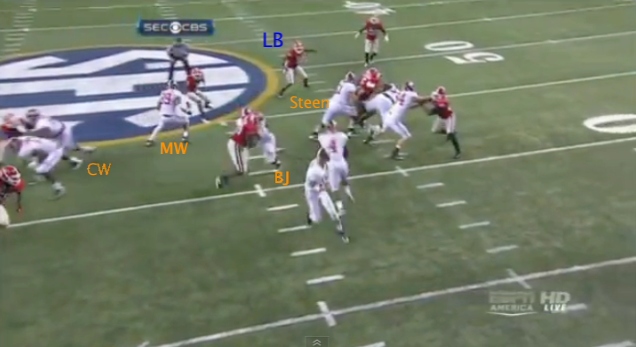 Gurley is considered the best running back in the SEC, but Hill and Alabama's T.J. Yeldon are not that far behind. South Carolina's Mike Davis had a spectacular game against the Bulldogs earlier in the season. Hill can do the same on Saturday and enter his name into Heisman contention by having Uncle Verne calling his name numerous times on CBS.
Jeremy Hill Against SEC Defenses in 2012

| | | | | |
| --- | --- | --- | --- | --- |
| | Attempts | Yards | Average | Touchdowns |
| First Four Games | 66 | 366 | 5.5 | 4 |
| Last Three Games | 53 | 202 | 3.8 | 4 |
| Total | 119 | 568 | 4.7 | 8 |
LSU Athletics
The LSU offense has been fantastic, yet not complete. Mettenberger and wide receivers Jarvis Landry and Odell Beckham Jr. continue to make plays through the air. But the Tigers need more consistency from their other receivers and tight ends.
The offensive line is beginning to jell. They have shown their depth as they battle through injuries like they have done in years past. The fullback tandem of Copeland and Connor Neighbors continues to dominate up the middle.
With Hill in midseason form, now all of the the aspects of the offense will begin to open up.
The running game has no limitations with Hill in the backfield. There is no run or block he cannot make. The passing game for Mettenberger will become even easier if Hill continues his tear. Explosive plays on offense usually lead to victories. Hill is as good as anybody in the SEC at breaking free for long runs.
The tape never lies. His sublime skill set exponentially increases his chances of winning. Miles knew he needed Hill to play smash-mouth football effectively against the SEC's best. So Miles did whatever was necessary for his star running back to play in 2013.