The NHL owners envisioned their league becoming more competitive when the salary cap was finally created after a season-killing lockout in 2004-05.
They were right.
Eight years into the salary cap era, seven different champions have been crowned and all 30 teams have made a postseason berth.
But is this era of extraordinary parity in the NHL coming to an end?
Definitions of parity vary, but consider this: The 2013 playoffs resulted in a final four of the Los Angeles Kings, Chicago Blackhawks, Boston Bruins and Pittsburgh Penguins. These four clubs represented the last four Stanley Cup champions, the first time this scenario happened at the semifinal stage of the postseason since 1945.
The salary cap system has been in place for a while now, and because of that, general managers have begun to figure out how to establish cores of talented, franchise-cornerstone players under the new financial structure and remain competitive for a long time.
The four conference finalists from last season are the best examples.
Outlook for 2013 Conference Finalists

| | | | |
| --- | --- | --- | --- |
| Team | Stars Signed for 2+ Years | Coaching Stability | Financial Power |
| Bruins | Zdeno Chara, Patrice Bergeron, Brad Marchand, Milan Lucic, Loui Eriksson, Tuukka Rask | Claude Julien (2007-present) | Cap Team |
| Blackhawks | Jonathan Toews, Patrick Kane, Brent Seabrook, Duncan Keith, Corey Crawford, Patrick Sharp, Marian Hossa, Niklas Hjalmarsson | Joel Quenneville (2008-present) | Cap Team |
| Kings | Drew Doughty, Anze Kopitar, Slava Voynov, Dustin Brown, Jeff Carter, Mike Richards | Darryl Sutter (2011-present) | Cap Team |
| Penguins | Sidney Crosby, Kris Letang, James Neal, Evgeni Malkin, Rob Scuderi | Dan Bylsma (2009-present) | Cap Team |
CapGeek
Put simply, several clubs, specifically the ones listed above, have finally learned the proper blueprint to win in the cap system.
Instead of spending huge amounts of cash to sign the best free agents available on July 1, these four contenders draft well, develop talent with patience and surround their young cores (which are eventually re-signed to long-term extensions) with veterans who bring a lot of different skills and intangibles (leadership, experience, etc.) to the ice.
This is what the Blackhawks are doing and because of this model, the Original Six franchise could be forming the first cap-era dynasty.
One Bruins player from last year's team thinks that another 2013 Cup Final matchup is possible.
"This probably won't be the last time these two teams, these organizations, meet in the Final," Bruins winger Jay Pandolfo told [Jesse Spector of the] Sporting News. "The depth each team has, and how young they are—both teams have pretty young goaltenders, both core groups are really young. It'll be interesting to see how many Stanley Cups they win. They might get better every year. Some of these guys that are young will keep getting better, and they should be together for a while. It'll be fun."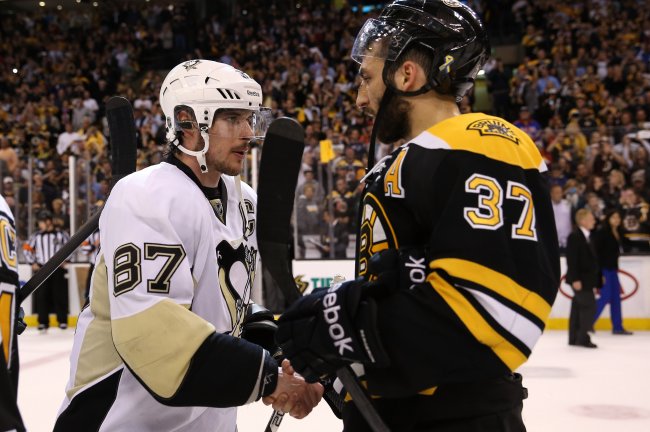 Bruce Bennett/Getty Images
The salary cap was supposed to prevent teams from keeping a large number of homegrown players who develop into stars long term, and for a while, this was the case. But in 2013, a franchise that's willing to spend close to the cap ceiling is now able to lock up a championship core and still have room under the cap to acquire enough depth.
Of course, small-market teams that draft well could rise up, win championships and erase all concerns that the NHL's amazing parity is coming to an end. But if the major-market teams are allowed to spend more money because of an increased cap over the duration of the new collective bargaining agreement (CBA), parity in the NHL should gradually decline.
Per a report from The Score, "The NHL's salary cap could go up to $80 million within the next four years, according to Elliotte Friedman of CBC Sports."
Is parity in the NHL starting to decline?
A yearly cap increase helps prevent teams with higher payrolls from having to dismantle championship rosters like the Blackhawks were forced to do after the 2009-10 season. This allows the big-spending clubs to surround their young players on entry-level and second contracts with high-priced veterans, and depending on where the cap is in four or five years, an era in which the amount of legitimate contenders each season compares to the NBA (three to five teams) could be established.
We can't predict the future. It's certainly possible that trades, free-agent signings and injuries will catapult certain teams from below the upper echelon of contenders to the summit of the sport.
But as the salary cap increases and the four conference finalists from 2013 with championship cores continue to improve, the incredible level of NHL parity seen over the last eight years could quickly dwindle in the near future.
Would anyone be genuinely surprised if the Blackhawks, Bruins, Penguins and Kings are the only teams to hoist the Stanley Cup in the next three or four years?
Nicholas Goss is an NHL columnist at Bleacher Report. He was a credentialed writer at the 2011 and 2013 Stanley Cup Final, the 2012 NHL playoffs and the 2013 NHL draft.