The Most Disappointing Player on Every NHL Team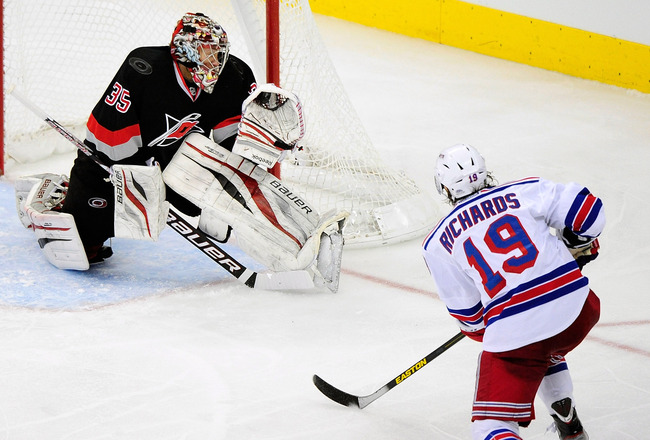 Grant Halverson/Getty Images
Every NHL team has at least one, if not a handful of disappointing players each year.
Oftentimes, players are disappointing because they don't perform to expectations. There are many reasons for this, with injuries often being an important factor.
Other years, players take actions off the ice that are not received well by their clubs and their loyal fanbases. If its not actions, it can be words that lead to players being alienated from the organization. Coaches can also influence player performance by withholding ice time or placing them with lesser linemates.
Factoring in these different scenarios, here are the most disappointing players for each NHL team, why they are disappointing and who the other players were that were disappointing in 2013.
Every attempt was made to name players from the organization that they remain with; however, some of the players named are no longer with that particular team, often because they didn't meet expectations for one of the above reasons.
The regular player statistics can be found at nhl.com.
Advanced player statistics are from Behind the Net.
All salary information is from capgeek.com.
Anaheim Ducks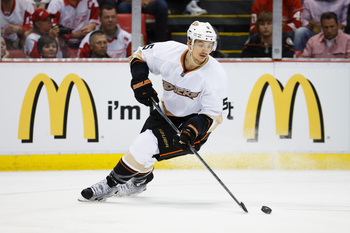 Rick Osentoski-USA TODAY Sports
Most Disappointing Player: Luca Sbisa
Why He's Disappointing: Poor production with a big contract
The Anaheim Ducks had a very good 2013 regular season but a relatively disappointing playoff season. While Sbisa's regular season was pedestrian, at best, his playoff performance was not good.
He did not dress regularly in the playoffs and failed to register a point. He mustered 15 regular-season points and while his Relative Corsi (-5.9) wasn't horrible in the regular season, his playoff Relative Corsi (-20.2) was.
The Ducks will want a lot more from this young defenseman in 2013-14.
Other Disappointment(s): Devante Smith-Pelley
Boston Bruins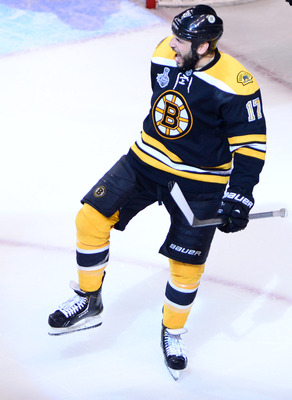 Michael Ivins-USA TODAY Sports
Most Disappointing Player: Milan Lucic
Why He's Disappointing: Less than 10 goals and a healthy scratch in the regular season
Milan Lucic can be a dominant forward. He's often used as a benchmark by pundits as one of the best power forwards in the game. There are times when Lucic does not use his dominating physical presence to the degree that he should.
Toward the end of the shortened 2013 season, he was a healthy scratch for coach Claude Julien. While Lucic should not be expected to be a leading scorer for the Bruins, seven goals in 46 games has to be considered a disappointment. Lucic was very good in the playoffs, though, and matched his regular-season goal total.
If he begins the upcoming season by playing like he did in the playoffs, the disappointment of the 2013 regular season will be quickly forgotten.
Other Disappointment(s): Tyler Seguin
Buffalo Sabres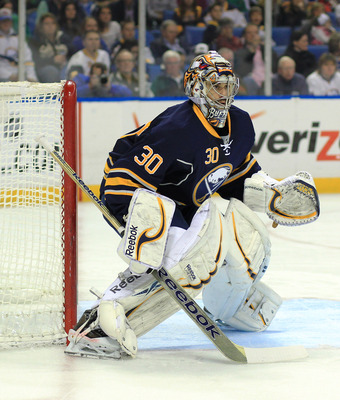 Kevin Hoffman-USA TODAY Sports
Most Disappointing Player: Ryan Miller
Why He's Disappointing: Big contract and relatively poor play
Ryan Miller remains as one of the best players that the Sabres have despite having some promising prospects and Thomas Vanek in the fold. The 33-year-old native of East Lansing and former Vezina Trophy winner has been a dominant netminder in the past.
While goaltending stats are often a reflection of team defensive play, an even win-loss record in 2013 along with a .915 save percentage has to be considered a disappointing season. Miller's GAA also approached 3.00 last season.
With a cap hit of $6.25 million in 2013-14, Miller needs to put up much better numbers to meet the Sabres' expectations that he can still be one of the better goalies in the league.
Other Disappointment(s): Tyler Myers
Calgary Flames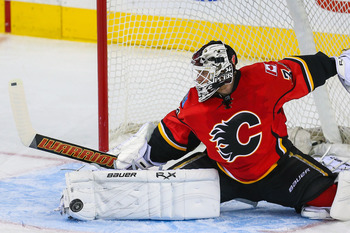 Sergei Belski-USA TODAY Sports
Most Disappointing Player: Miikka Kiprusoff
Why He's Disappointing: Poor numbers and lack of communication
Miikka Kiprusoff has always been enigmatic, particularly in how he relates to the media. While he was one of the few bright spots for many years in Calgary, and played elite-level hockey for nearly all of his seasons there, Kiprusoff had a very disappointing 2013 campaign.
He finished the year with a 3.44 GAA and .882 save percentage. The Flames struggled defensively, but these were the worst numbers in Kiprusoff's NHL career. Finally, he has not been clear on the matter of his potential retirement, as he issued a brief statement from Finland indicating that he may have retired, per NHL.com
This was not an appropriate way to make this announcement if it sticks.
Other Disappointment(s): Matt Stajan and Leland Irving
Carolina Hurricanes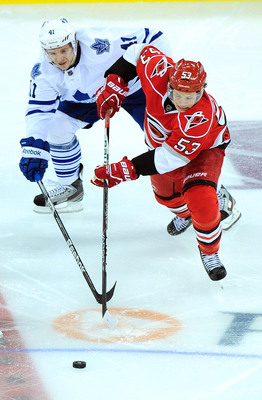 Grant Halverson/Getty Images
Most Disappointing Player: Jeff Skinner
Why He's Disappointing: Poor point production and plus/minus
Jeff Skinner is a talented player who rarely takes a shift off, let alone an entire game. His numbers in 2013 have to be considered a disappointment as he produced just 13 goals and 24 points over the shortened season.
He also had an awful plus/minus rating of minus-21 last year. Skinner's Relative Corsi was 3.5 in 2013, and considering how the team performed, that actually could have been much worse.
Skinner has set the bar quite high based on his quality play in previous seasons. Expect his point totals to improve this year.
Other Disappointment(s): Justin Peters
Chicago Blackhawks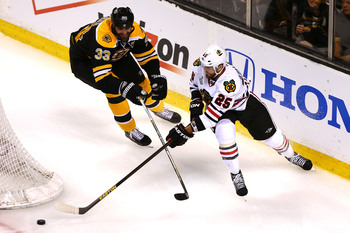 Elsa/Getty Images
Most Disappointing Player: Viktor Stalberg
Why He's Disappointing: Couldn't crack the top six in Chicago
The Chicago Blackhawks had an outstanding season, and any individual disappointments must be put in the context of how well almost everyone performed. Viktor Stalberg continues to be somewhat of an enigma in his NHL point production.
Stalberg had 23 points in 46 games, which was respectable considering his ice time. He averaged under 20 minutes of TOI, with many in the stacked Blackhawk forward group ahead of him getting more ice time. Regardless, those numbers should have been higher with Stalberg's skill set.
Stalberg has breathtaking speed and the kind of size at 6'3" and over 200 pounds that should see him be more of an impact player on a nightly basis. He may realize more of his tantalizing potential with the Nashville Predators this year.
Other Disappointment(s): Brent Seabrook
Colorado Avalanche
Dustin Bradford/Getty Images
Most Disappointing Player: Ryan O'Reilly
Why He's Disappointing: Lack of offensive production
The Colorado Avalanche were one of the worst teams in the NHL last year. There were a number of players who had disappointing seasons.
Ryan O'Reilly tops the list for 2012-13, as his 20 points—granted, earned in just 29 games—were nowhere near what the Avalanche needed from him.
Despite being just 22, O'Reilly has developed into a core offensive player for the Avalanche, and if they are to be successful under new coach Patrick Roy, O'Reilly needs to have a much better season.
Seventy points or more are needed from the young forward following a year marked by an ugly contract impasse.
Other Disappointment(s): Erik Johnson and Paul Stastny
Columbus Blue Jackets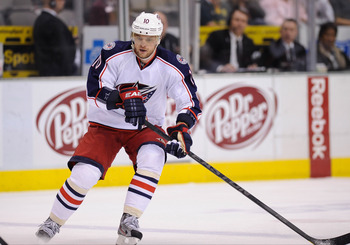 USA TODAY Sports
Most Disappointing Player: Marian Gaborik
Why He's Disappointing: He rarely plays to his exceptional talent
The Columbus Blue Jackets made a number of changes toward the end of the season, and the team's record improved over the last part of the regular season. The Jackets failed to make the postseason and will be challenged to do so in the upcoming season with their move to the Eastern Conference.
Gaborik's status as disappointing is based on the entirety of the year rather than his play exclusive to Columbus. Gaborik earned 27 points, and that is nowhere near where he should be based on his excellent offensive talents. He is one of the best skaters in the league and can shoot the puck as well as anyone.
The Blue Jackets will need a great year from him, particularly due to newly acquired Nathan Horton's early-season absence, if they hope to make the Stanley Cup playoffs.
Other Disappointment(s): R.J. Umberger
Dallas Stars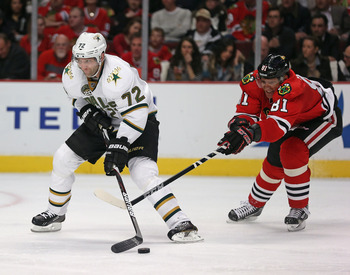 Jonathan Daniel/Getty Images
Most Disappointing Player: Erik Cole
Why He's Disappointing: Little offensive output despite minutes played
The Erik Cole deal, which saw him move to Dallas from Montreal, remains one of the more curious moves made by former GM Joe Nieuwendyk. Cole was given some prime minutes on the wing but produced little once he arrived in Big D.
The 34-year-old winger had three goals in Montreal and added just six more in Dallas. Over the entire 2013 season, which saw him play 47 games, he produced just nine goals and four assists.
While Cole can play a defensive style if required, his calling card has always been his speed, grit and ability to score. If he can't regain at least some of his scoring touch, he may not remain a Star for long.
Other Disappointment(s): Jordie Benn
Detroit Red Wings
Rick Osentoski-USA TODAY Sports
Most Disappointing Player: Ian White
Why He's Disappointing: Inconsistent play and low production
Defenseman Ian White is the kind of player that needs to be producing offensively if he is going to have a permanent spot on an NHL roster. He is small and not a great defensive defenseman.
While he had good numbers in 2011-12, this was not the case in 2012-13. White won't be returning to the Red Wings in 2013-14, as he produced just two goals and two assists in the shortened season.
White was in coach Mike Babcock's doghouse for parts of the season and was a healthy scratch on more than one night. The former sixth-round pick has now played for five NHL teams over the course of his career.
With the lowered salary cap, it may be difficult for him to find employment before the 2013-14 season begins.
Other Disappointment(s): Todd Bertuzzi and Carlo Colaiacovo
Edmonton Oilers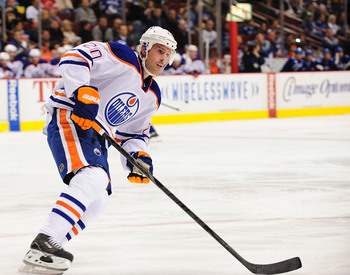 USA TODAY Sports
Most Disappointing Player: Eric Belanger
Why He's Disappointing: No offense and played suspect defensive hockey
The Edmonton Oilers underachieved by some measures last season, although in many ways, the final results shouldn't have been too surprising given some of their personnel that was overmatched in many situations.
Eric Belanger was such a disappointment that he was bought out and will be playing in the KHL next year. Belanger never fit in with the Oilers and his point production, defensive play and faceoff percentages were very poor.
Belanger could never be counted on to play against top competition, and he easily qualifies as the most disappointing Oiler in 2012-13.
Other Disappointment(s): Ryan Jones and Ryan Smyth
Florida Panthers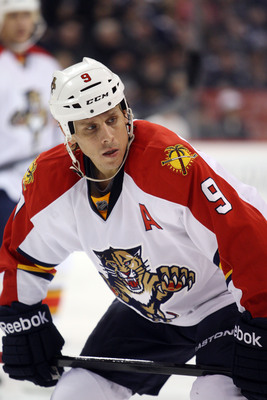 USA TODAY Sports
Most Disappointing Player: Stephen Weiss
Why He's Disappointing: Talented player who had a very off year
Stephen Weiss has moved from the outhouse to the penthouse in terms of NHL organizations and their relative levels of success. The Florida Panthers continue to rebuild under GM Dale Tallon while Weiss will now become a key member of the top-six forward group in the Motor City.
While Weiss had some strong years in Florida, last year was not one of them. Weiss played only 17 games due to the fact he was injured for the majority of the season. He was not an effective player when he did play, as he earned only four points and was a minus player.
The change of scenery will help Weiss a lot. Look for him to have a career year in Detroit.
Other Disappointment(s): Scottie Upshall and Kris Versteeg
Los Angeles Kings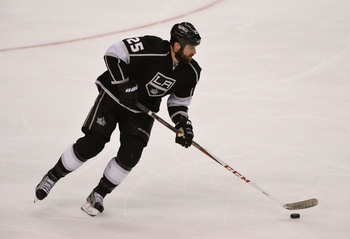 Robert Hanashiro-USA TODAY Sport
Most Disappointing Player: Dustin Penner
Why He's Disappointing: A physical presence with huge inconsistencies
The Los Angeles Kings had a good season and playoff run, but they were unable to defend their Stanley Cup championship from 2011-12. While most players met expectations, not all did.
Dustin Penner led the way in this department, and it is not the first time he has failed to meet the expectations that many have come to expect.
While Penner had moments when he was the power forward that the Kings had hoped they were getting when he was acquired from Edmonton, there was little consistency in his game. Penner managed just two regular-season goals and three more in the playoffs.
The Anaheim Ducks will hope that Penner regains his scoring touch with his return to the O.C. for the 2013-14 season.
Other Disappointment(s): Drew Doughty
Minnesota Wild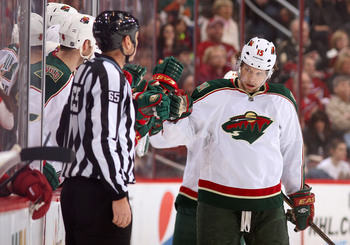 Christian Petersen/Getty Images
Most Disappointing Player: Dany Heatley
Why He's Disappointing: Former elite goal scorer not producing
Dany Heatley is in the unenviable position of seeing players chomping at the bit to replace him as a great scoring winger, and he appears to be equipped only with fading skills. Heatley was once one of the most feared snipers in the NHL, but that is no longer the case.
Heatley missed part of last season due to injury and had offseason shoulder surgery in April. He scored just 11 goals in 2012-13 and was a minus player for just the second time in eight years.
His Relative Corsi was -2.3, as he was unable to create the volume of scoring chances that he was once noted for earlier in his career.
The Wild need a lot more from Heatley in 2013-14
Other Disappointment(s): Tom Gilbert
Montreal Canadiens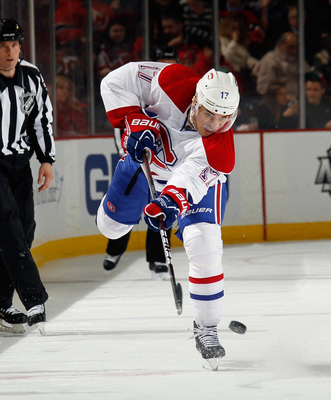 Bruce Bennett/Getty Images
Most Disappointing Player: Rene Bourque
Why He's Disappointing: Great tools but doesn't perform well in long stretches
The Lac La Biche-born Rene Bourque can be a dominant player on some nights. Bourque is a powerful skater with size. He can also play with a large chip on his shoulder. That makes it very difficult to defend him when it is channeled and focused on the opposition.
On other nights, Bourque can look selfish and disinterested for the bulk of the play. Bourque had only 13 points in the regular season and his Relative Corsi (-12.4) was not good. The Canadiens need Bourque's size and speed in the lineup.
A more consistent effort from him will only help the Habs in their quest to be a consistent playoff team.
Other Disappointment(s): Tomas Kaberle and Scott Gomez
Nashville Predators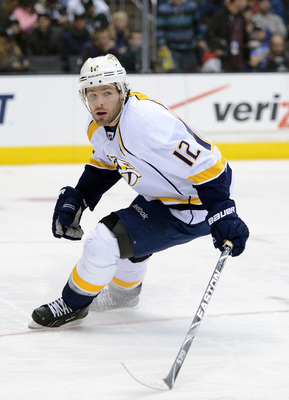 Harry How/Getty Images
Most Disappointing Player: Mike Fisher
Why He's Disappointing: Low goal total despite quality minutes
The Nashville Predators have a lot of honest, hard-working forwards. Mike Fisher is one such player, and the former Ottawa Senator also has some scoring ability.
While there may have been a time when he was on the radar for the Canadian Olympic team in Sochi, this seems highly doubtful now. Fisher suffered a couple of injuries last season and scored just 10 goals in 38 games.
The Predators always struggle to produce offense, and if players like Fisher aren't doing it, there are not a lot of other options on this squad. A perennial fan favorite, Predator fans will hope that he can produce the 20-30 goals that he should be able to provide if he is healthy.
Other Disappointment(s): Brandon Yip and Paul Gaustad
New Jersey Devils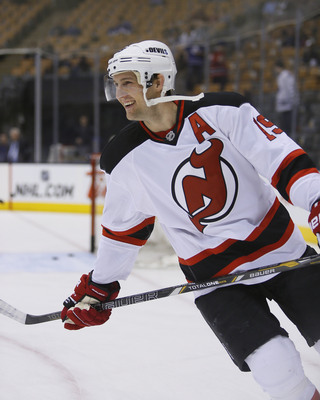 USA TODAY Sports
Most Disappointing Player: Travis Zajac
Why He's Disappointing: Poor offensive numbers
The New Jersey Devils had a disappointing season, and this was mirrored by Winnipeg native Travis Zajac. Zajac is closing in on 100 goals in his NHL career, but he had just seven tallies in 2013 in 48 games.
Some of Zajac's advanced statistics were OK, with his Relative Corsi at 3.4 in the 2012-13 regular season. But if the Devils are going to return to the NHL playoffs in 2013-14, they will need much better offensive production from Zajac.
This won't be done easily, as the Devils continue to lack scoring depth on their roster to support him. If Zajac can produce as the team's top centre, the Devils should be in most games with their strong defense and solid goaltending tandem.
Other Disappointment(s): Steve Bernier
New York Islanders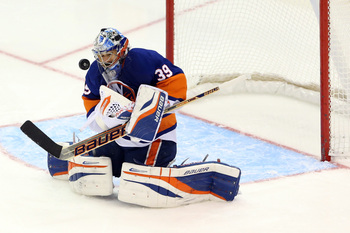 Anthony Gruppuso-USA TODAY Sports
Most Disappointing Player: Rick DiPietro
Why He's Disappointing: Another abysmal season and no longer an Islander
The New York Islanders have one of the better young teams in the NHL.
Despite the prediction by many that Rick DiPietro was going to be the Isles' franchise goalie for many years, this never materialized. DiPietro is now an unrestricted free agent and has likely played his final game in an Islander uniform.
DiPietro had an abysmal 4.09 GAA and a save percentage of .855. He battled injuries and issues with confidence over his career as an Islander. The Islanders have a bright future, but Rick DiPietro will not be a part of the success that they are likely to achieve.
Other Disappointment(s): Michael Grabner
New York Rangers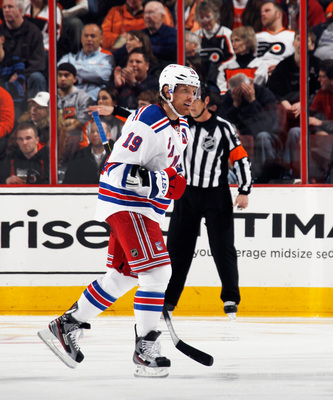 Bruce Bennett/Getty Images
Most Disappointing Player: Brad Richards
Why He's Disappointing: Little impact despite a massive contract
Brad Richards had a nightmarish season in more ways than one under former ally John Tortorella. The consensus seemed to be that Richards would be one of the Rangers' buyouts during the offseason.
That has not happened, and with new coach Alain Vigneault leading the Rangers, there is reason to believe that Richards may be able to resurrect his career.
Richards did put up 34 points during the regular season, but he was demoted to the fourth line in the playoffs. He was a healthy scratch for two games as well. He remains a talented player, and with Vigneault's focus on offense, the disappointment of last year may be forgotten in 2013-14.
Other Disappointment(s): Chris Kreider
Ottawa Senators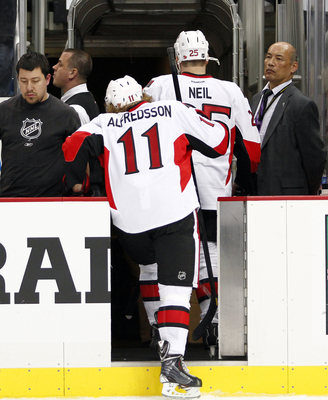 Justin K. Aller/Getty Images
Most Disappointing Player: Daniel Alfredsson
Why He's Disappointing: He left the organization for Detroit
The Ottawa Senators were one of the better teams in the Eastern Conference last season despite a rash of injuries to key players. Paul MacLean had the Senators playing an exciting brand of up-tempo hockey.
Despite all of this success, the most disappointing player has to be former captain Daniel Alfredsson for his choice to move to the Detroit Red Wings.
While there are conflicting accounts of what happened in the contract negotiations, it would appear that Alfredsson was not fully committed to finishing his exceptional career in Ottawa.
A new era begins in the nation's capital.
Other Disappointment(s): Peter Regin and Jared Cowen
Philadelphia Flyers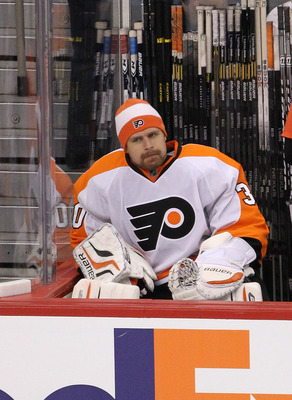 Marianne Helm/Getty Images
Most Disappointing Player: Ilya Bryzgalov
Why He's Disappointing: An awful season and subsequent buyout
The Philadelphia Flyers' entire 2012-13 season was a disappointment, and there was no shortage of individual disappointments. The most disappointing player had to be Ilya Bryzgalov.
The Russian goaltender has been bought out from his $51 million contract just two years after being one of the hottest goaltending commodities in the NHL. At 33 years old, he may get another opportunity in the league, but it may not be in a starting role.
His .900 save percentage and 2.79 GAA were simply not good enough for an NHL starter. One of the better quotes in the league is silenced for now.
Other Disappointment(s): Danny Briere and Sean Couturier
Phoenix Coyotes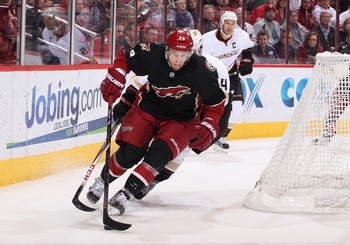 Christian Petersen/Getty Images
Most Disappointing Player: Lauri Korpikoski
Why He's Disappointing: Limited offensive contributions
The Phoenix Coyotes took a step backward last season. Lauri Korpikoski is at the top of the list as the most disappointing Coyote. The former first-round pick scored just six goals and had a Relative Corsi of -6.3 over the shortened 2013 season.
The talented winger should be contributing more offense as he enters the prime of his career. The Coyotes have never been a high-scoring team. Scoring by committee seems to be the route to increasing their offensive production.
The native of Turku, Finland needs to better in the offensive zone in 2013-14 season if the Coyotes are to accomplish this.
Other Disappointment(s): Derek Morris
Pittsburgh Penguins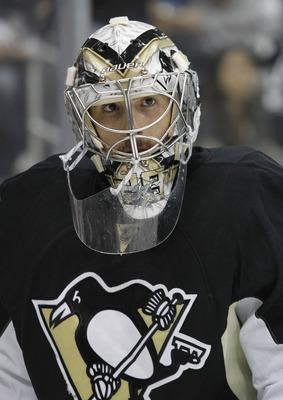 Charles LeClaire-USA TODAY Sport
Most Disappointing Player: Marc-Andre Fleury
Why He's Disappointing: He lost his starting role by the end of the playoffs
By the end of the Penguins' 2013 playoff run, Marc-Andre Fleury was no longer the team's starting goaltender. Tomas Vokoun became the first choice for coach Dan Bylsma and Fleury became the forgotten man.
Fleury has had significant confidence issues in the past, and despite a modestly successful regular season that saw him achieve a .916 save percentage, and a good winning percentage, he blew up in the playoffs.
His goals against ballooned to 3.52 and his save percentage was a woeful .883. Fleury's playoff performance has left a lot to be desired since 2008-09, as he has been unable to crack the .900 barrier in save percentage during the postseason since that year.
Fleury was easily the most disappointing Penguin player in 2013. His future is certainly cloudy in the Steel City.
Other Disappointment(s): Jarome Iginla
San Jose Sharks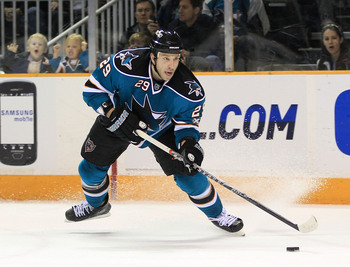 Ezra Shaw/Getty Images
Most Disappointing Player: Ryane Clowe
Why He's Disappointing: No goals scored and is no longer a Shark
Ryane Clowe is no longer a San Jose Shark, and that alone should be disappointing for Shark fans. Clowe is a former sixth-round pick who developed into an effective power forward in the NHL.
He was the most disappointing Shark for the 28 games he was there, as he failed to register a single goal and was a minus player. While Clowe will never be confused with a 50-goal scorer, now that he is in his prime, he should be in the 20-goal range, and certainly a plus player.
Clowe should get some good opportunities in New Jersey who are desperate for more scoring if he can regain his scoring touch.
Other Disappointment(s): Martin Havlat
St. Louis Blues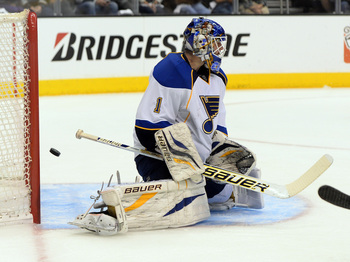 Jayne Kamin-Oncea-USA TODAY Spor
Most Disappointing Player: Brian Elliott
Why He's Disappointing: Sub-par numbers on a very good team
The St. Louis Blues are one of the best defensive teams in the NHL. Because they limit prime scoring chances against, their goaltenders are not under the same pressures that other goaltenders face.
The Blues' goaltending situation was unsettled for much of the year, with Jaroslav Halak and rookie Jake Allen also getting significant minutes.
Brian Elliott did not have a strong year. His play was wildly inconsistent. His final numbers were mixed in that he earned a 2.28 GAA, but the more important stat of save percentage (.907) was not good by any measure.
A three-goalie rotation is not likely to work for the Blues over an entire season, so look for one of these goalies to be moved next year.
Other Disappointment(s): Kris Russell and Vladimir Tarasenko
Tampa Bay Lightning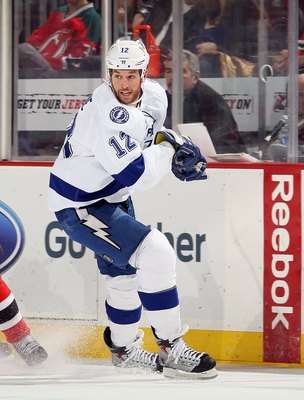 Jim McIsaac/Getty Images
Most Disappointing Player: Ryan Malone
Why He's Disappointing: Poor offensive numbers and diminished ice time
Ryan Malone had a tough 2013 season and was easily the most disappointing player in Tampa Bay.
While there were other disappointments, Malone managed just six goals and two assists in an injury-plagued season that saw him miss half the season. Toward the end of the season, Malone was playing just over 12 minutes per game and was having very little impact in games.
Malone is a big body who has to play a power game to be effective. He is capable of being a great leader at the NHL level, and the Lightning need him in this role moving forward.
Other Disappointment(s): Dana Tyrell and Brian Lee
Toronto Maple Leafs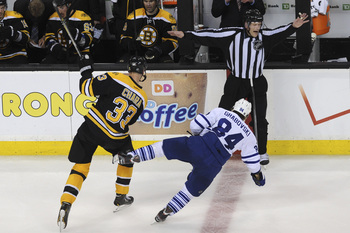 USA TODAY Sports
Most Disappointing Player: Mikhail Grabovski
Why He's Disappointing: Paltry offensive numbers and public sniping
Mikhail Grabovski was an offseason buyout this summer following an unproductive season.
Grabovski suited up for 48 games, but the effort was not there on a consistent basis. He scored just nine goals and added only seven assists despite getting some prime minutes under head coach Randy Carlyle.
Despite these poor numbers, Grabovski's Relative Corsi (19.3) in the playoffs was excellent and should have teams considering him as a second-line centre.
The larger issue could be the perception that he may put personal interests ahead of the team, coupled with unreasonable salary demands.
Other Disappointment(s): Mike Komisarek
Vancouver Canucks
Derek Leung/Getty Images
Most Disappointing Player: Zack Kassian
Why He's Disappointing: Great tools with limited results
Zack Kassian has the potential to be a very good NHL winger. He has great size, soft hands and the physical tools to dominate when he's engaged in the play.
The former Peterborough Pete is an above-average skater who can also drop the gloves if the game turns that way. Kassian produced just seven goals and 11 points in 39 games in 2012-13. With his skills, Kassian should be at least a consistent 20-goal scorer at the NHL level.
Having already been traded once by the Buffalo Sabres, Kassian needs to establish himself in Vancouver or risk becoming one of those players that moves from team to team with the tag unrealized promise.
Other Disappointment(s): Derek Roy and Maxim Lapierre
Washington Capitals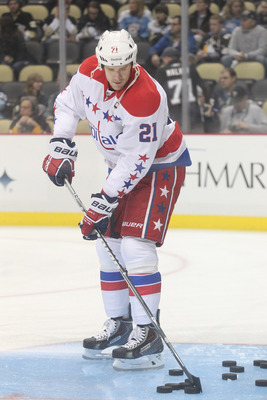 USA TODAY Sports
Most Disappointing Player: Brooks Laich
Why He's Disappointing: Injuries limited his play all year
The Washington Capitals faced a number of challenges last year. They were hit by the injury bug early and had to implement a new system under new coach Adam Oates.
The Capitals struggled, but by the midway point of the shortened season, they were much improved.
Brooks Laich has to be considered a disappointment, although the reasons for this were not of his own doing. Laich played only nine games because of his lingering groin injury and produced just four points.
Laich is potentially one of the better second-line centres in the league. If he can recover fully from injury, and last year's disappointing season, the Capitals should be a threat to return to the 2014 Stanley Cup playoffs.
Other Disappointment(s): Jay Beagle and Wojtek Wolski
Winnipeg Jets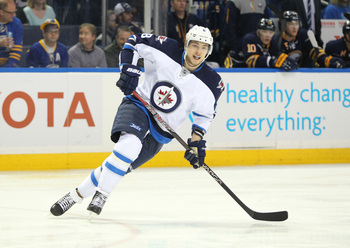 USA TODAY Sports
Most Disappointing Player: Alexander Burmistrov
Why He's Disappointing: Great talent but very inconsistent
Alexander Burmistrov has the kind of talent and skill that should make him a very good forward for years in the NHL. That is now on hold, as he has left the Winnipeg Jets to ply his trade in the KHL.
Burmistrov was one of the Jets' most promising young players, but he was a major disappointment in 2012-13. He was a healthy scratch on more than one occasion under coach Claude Noel. He scored just four goals with six helpers despite getting some quality minutes under Noel when he was dressed.
Burmistrov is capable of creating a number of quality scoring chances with his attacking skills, and his Relative Corsi (6.5) was strong, all things considered.
The Jets almost made the 2013 playoffs, but it was without any significant contributions from the inconsistent Burmistrov. It remains to be seen how much they will miss him in 2013-14.
Other Disappointment(s): Olli Jokinen and Ron Hainsey
Keep Reading