NHL Free Agency 2013: The 10 Players with the Biggest Red Flags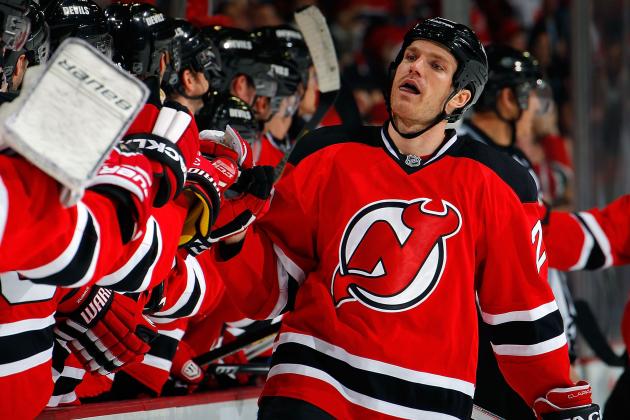 Paul Bereswill/Getty Images

The Boston Bruins and Chicago Blackhawks are currently doing battle for the Stanley Cup, which means that fans of the 28 other NHL franchises are left with nothing to do but watch the final (curses!) and wonder what their favorite team will do to improve over the summer.
While the draft will be full of interesting storylines, 2013's free-agency crop isn't short on intrigue either.
After almost a decade of squads locking up their youngest and best players to long-term, lucrative deals, it seems that the days of the massive addition via free agency are behind us. Still, there are plenty of rock-solid players available to teams that are willing to open the checkbook and sign—for the right price.
Striking out on free agents can happen in more ways than one. Sometimes, general managers end up getting their man, only to find out down the road that there were some red flags between the lines that they, perhaps, failed to consider.
Begin Slideshow

»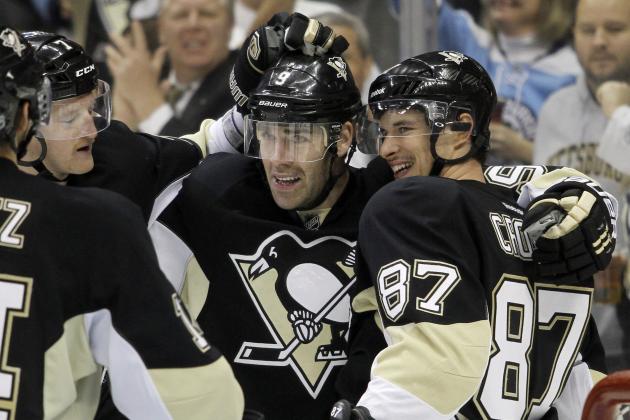 Justin K. Aller/Getty Images

2013 Stats: 48 GP, 20 G, 18 A, plus-32
Terms of Expiring Deal: two years, $3 million
What He Brings to the Table: Pascal Dupuis has evolved from a solid depth contributor into a legitimate scoring threat since joining the Pittsburgh Penguins during the 2008-09 season as a "throw in" in the Marian Hossa deal.
He's cracked the 20-goal barrier in back-to-back years and would have been on a 40-goal pace had 2013 not been cut short by the lockout. Dupuis is a smart player and has unquestionable chemistry with Sidney Crosby—the two always seem to know where to find each other on the ice.
The Red Flag: The same thing that makes Dupuis so valuable to the Pittsburgh Penguins is what should negatively impact his value as a free agent heading to another team.
Crosby is arguably the best offensive player in the world, and the Pens could plug just about anyone on that line and get 20 goals out of them. Crosby and Dupuis worked hard for their chemistry over the summer, but there is no other No. 87 out there.
Unless Dupuis is going to a team that has an outstanding setup man as well, he shouldn't be paid like a 40-goal guy. That doesn't mean he won't see that kind of dough though.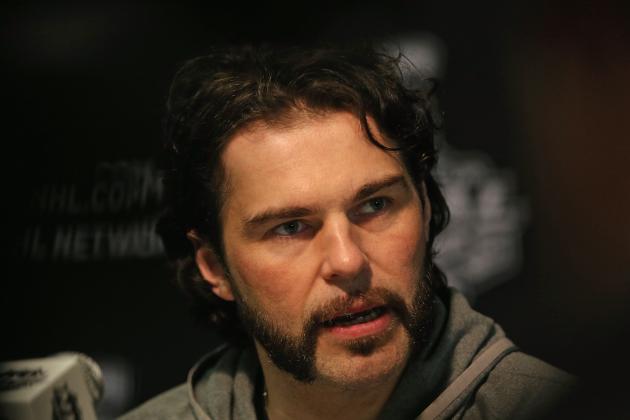 Jonathan Daniel/Getty Images

2013 Stats: 45 GP, 16 G, 19 A, minus-2
Terms of Expiring Deal: one year, $4.5 million
What He Brings to the Table: Few active NHL players can even begin to touch Jaromir Jagr's resume. He's one of the most electrifying and entertaining goal-scorers in the history of the league, and even at 41, he still managed to push the 20-goal and 40-point marks
General managers will always be drawn to talented players, and as long as Jagr can still produce, there will continue to be a home for him in the NHL.
The Red Flag: Turning 42. Next year Jags will turn 42-years old. While he hasn't shown signs of slowing down quite yet, his failure to produce for the Boston Bruins on their current Stanley Cup run may be a sign of things to come for the future Hall of Famer.
There has to be a wall somewhere for guys who play through their 40's, and a team is going to get caught paying Jagr a lot of money a year or so after he finally hits it.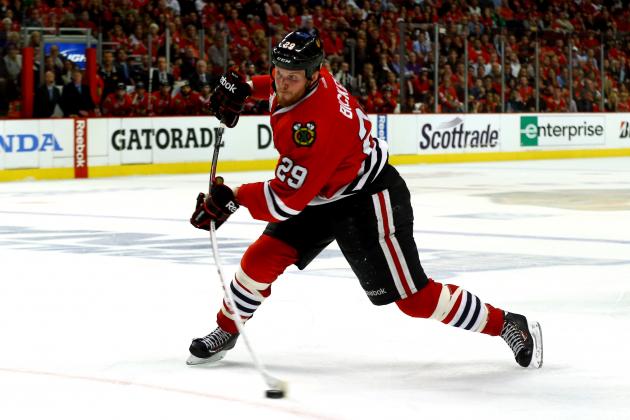 Bruce Bennett/Getty Images

2013 Stats: 48 GP, 9 G, 14 A, plus-12
Terms of Expiring Deal: three years, $1.625 million
What He Brings to the Table: It's tough to tell exactly what suitors for Bryan Bickell will be looking for. He's been two totally different players in 2013—there's the regular-season version, who posted a healthy (but not overwhelming) nine goals through 48 games played.
Then there's the postseason version of Bickell, who now finds himself clicking along on a top line with Patrick Kane and Jonathan Toews. That Bickell has posted eight goals in just 18 games and is only a single marker away from tying David Krejci for the playoff goal-scoring lead.
The Red Flag: There is no red flag if a team is looking for a rock-solid addition to the bottom six who can move up and play on one of the top two lines from time to time.
The issue will be there only if a team signs Bickell and decides to pay him like a 30-goal scorer. He is playing some outstanding hockey right now to be sure. Yet, at 27-years old, it's unlikely he's suddenly found a goal-scoring touch that would place him among the top 25 producers in the NHL.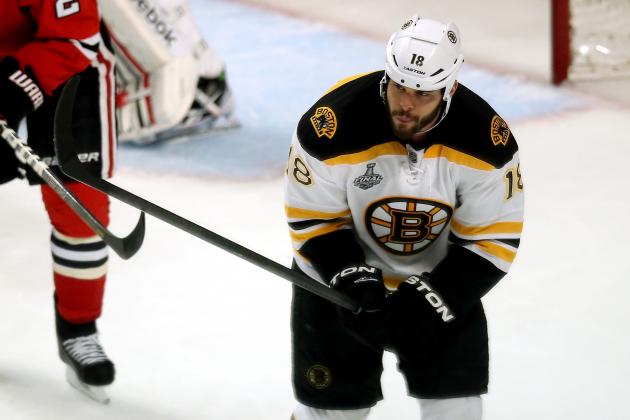 Jonathan Daniel/Getty Images

2013 Stats: 43 GP, 13 G, 9 A, plus-one
Terms of Expiring Deal: six years, $24 million
What He Brings to the Table: After what many considered to be a bit of a down year during the regular season, Nathan Horton exploded in the playoffs. During the first round against the Toronto Maple Leafs, something clicked for the Boston Bruins' top line, and since then, Horton (along with David Krejci and Milan Lucic) have appeared unstoppable.
Horton is second in playoff points behind only his Krejci and appears to have returned to his power forward ways.
The Red Flag: Of course, all of this positivity was, once again, put on hold because of an injury. Horton has been plagued by health issues over the last few seasons, and at this point, he has to be considered a "Band-Aid boy".
Any kind of long-term deal that he signs will be incredibly risky, especially if the team that Horton is going to is in desperate need of scoring help and are deeply depending on his output.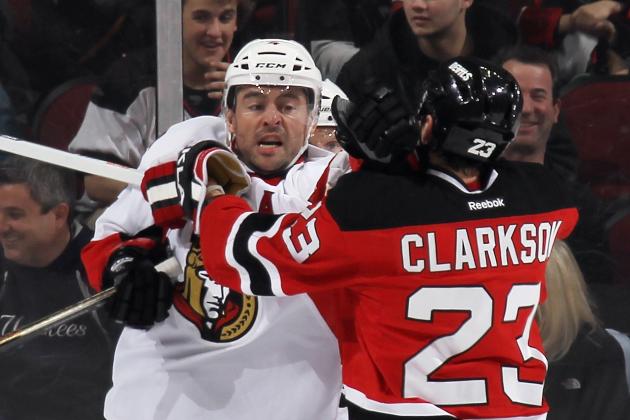 Bruce Bennett/Getty Images

2013 Stats: 48 GP, 15 G, 9 A, minus-6
Terms of Expiring Deal: three years, $8 million
What He Brings to the Table: Power forwards are in high demand in the NHL these days. Almost every successful team seems to ice at least a few guys that can do some heavy lifting while posting timely goals.
Enter David Clarkson, who likely has several general managers chomping at the bit with his impending free agency.
This is a guy who can bang bodies with the best of them, isn't afraid to drop the gloves and has been an outstanding goal scorer over the last two years.
The Red Flag: You either believe that Clarkson is capable of posting several more 30-goal seasons or you don't. With the lack of finish available in this particular class of free agents, it's likely that most general managers are more bullish on Clarkson than they would be in another year.
Prior to his breakout season in 2012, he was known mostly as a fighter. While Clarkson has obviously improved various facets of his game, it's tough to believe that he will be a perennial 30-goal guy. Twenty is much more likely for the feisty forward, but that 10-goal discrepancy could cause a team to overpay quite a bit this offseason.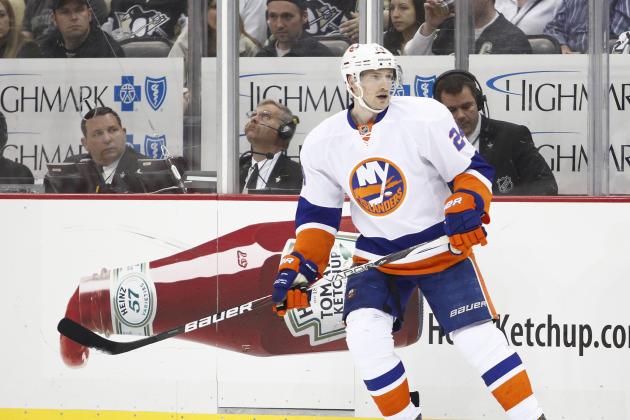 Justin K. Aller/Getty Images

2013 Stats: 48 GP, 10 G, 25 A, minus-six
Terms of Expiring Deal: one year, $1 million
What He Brings to the Table: Brad Boyes is a speedy forward with a goal-scoring touch and will be a hot commodity this summer. Since his 72-point season with the St. Louis Blues in 2008-09, he's been looking for health and consistency.
Boyes took a large pay cut and a one-year deal from the New York Islanders after back-to-back disaster seasons with the Buffalo Sabres. He repaid the Isles for their faith with what amounts to his best season in four years.
The Red Flag: There's the health issue, and then there's the John Tavares effect to consider. Pick your poison with Boyes.
He played a full season (albeit a shortened one) for the first time in three years in 2013, and it's a safe bet that he would have missed at least a few games to the injury bug had the season been the full 82-game schedule.
Like Pascal Dupuis, Boyes also happened to have his best season in quite some time, while playing alongside one of the top centers in the game. Tavares is the kind of guy who can make anyone around him that much better, and Boyes was obviously the beneficiary of his playmaking abilities.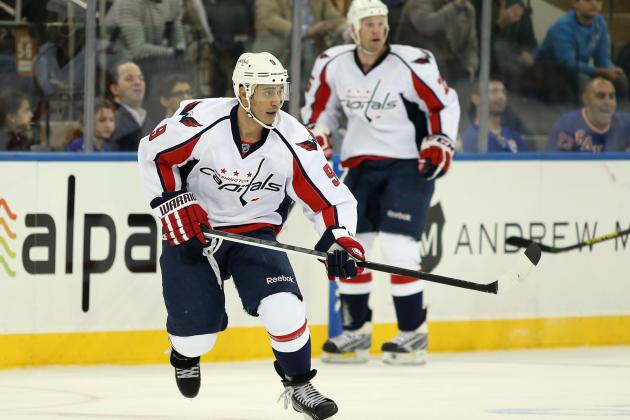 Bruce Bennett/Getty Images

2013 Stats: 48 GP, 13 G, 36 A, minus-four
Terms of Expiring Deal: five years, $25 million
What He Brings to the Table: Mike Ribeiro is the top unrestricted free agent who could be available this summer. When the Washington Capitals were struggling to score early on in 2013, it was Ribeiro who was the central cog that eventually got things going.
He's a quick and smart player who has a penchant for scoring big goals as well. Even when the rest of the Caps had seemingly cashed it in on the season, Ribeiro continued to skate and play hard.
The Red Flag: Ribeiro has made no bones about what he expects out of free agency. He's looking for a four-or-five year deal that would keep him in one place until his kids head off to college. Signing a 33-year old player to a five-year deal is a risk for several reasons.
The two biggest issues are a skill set that will have dropped off considerably by the end of a five-year deal and the increased likelihood of injury as he ages.
The 2013 free-agent crop is one of the weakest ever, and as such, Ribeiro will more or less get to name his price and term (within reason). That doesn't mean that the team that ends up with him will be glad about it three years from now when they are paying a 35-point player $4.5 million a year.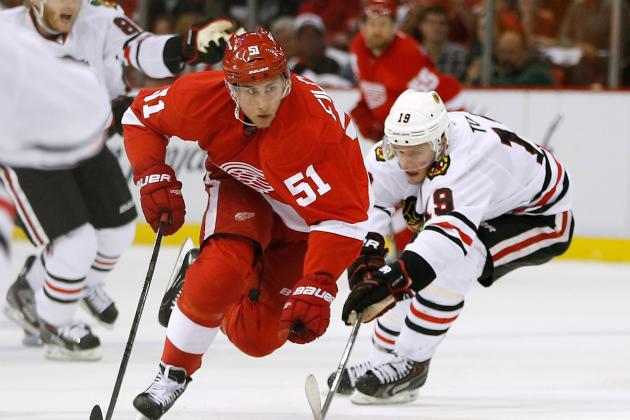 Gregory Shamus/Getty Images

2013 Stats: 41 GP, 9 G, 8 A, minus-four
Terms of Expiring Deal: five years, $15 million
What He Brings to the Table: Valtteri Filppula will be the leading consolation prize for a team that whiffs on Mike Ribeiro, or if the Washington Capitals agree to sign the pivot before July. He's a creative forward who plays a sound puck-possession style of hockey.
In a free-agent field that doesn't boast many forwards with game-breaking talent, Fil truly stands out as an excellent option for a team that is looking for a boost on offense.
The Red Flag: Filppula doesn't appear to be negotiating from the standpoint of a player who only produced 17 points in 41 games. Instead, Fil and his agent are demanding that he be paid like a player that scored 66 points—his production a year ago in 2012.
2012 was also the first and only time that Filppula cracked the 50-point barrier. Outside of that, he's been a whole lot of promise without a lot of fireworks. He's now 29-years old and has battled inconsistency throughout his career.
According to Chuck Pleiness of the Macomb Daily Newspaper, he's reportedly asking for $5 million per year, despite only scoring more than 50 points a single time in his seven-year NHL career, nevermind 60.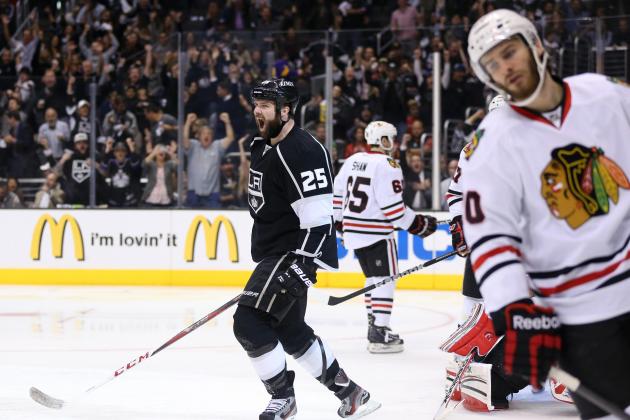 Jeff Gross/Getty Images

2013 Stats: 33 GP, 2 G, 12 A, minus-two
Terms of Expiring Deal: one year, $3.25 million
What He Brings to the Table: Dustin Penner is a big body and has been involved in several Stanley Cup runs throughout his career. There was a point in time when Penner would have been the premier free agent of this class.
Since a 63-point season in 2009-10 with the Edmonton Oilers, Penner's numbers have been in a constant backslide. He recorded the third-lowest point total of his NHL career in 2013, and his years as an effective power forward appear to be well behind him.
The Red Flag: There will always be a general manager who is willing to take the chance on a once-was player like Penner. He's only 30-years old, so his skill set hasn't deteriorated due to age—whether or not that's a positive or negative depends on how you look at it.
If Penner commands anything close to the $3.25 million he made in 2013, it'll be highway robbery for the forward. There's a sucker born every minute, though, so Penner will find work, and he'll likely be overpaid for his services.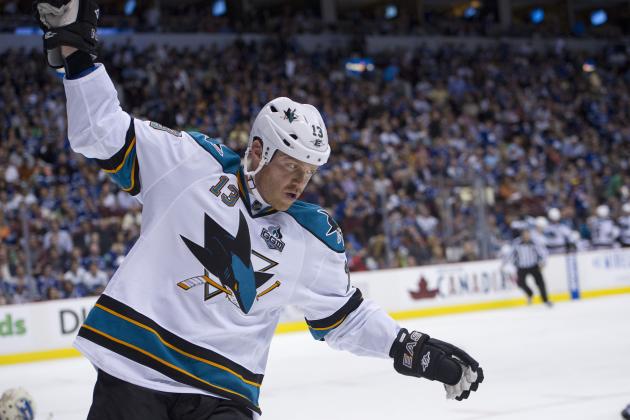 Rich Lam/Getty Images

2013 Stats: 39 GP, 7 G, 11 A, even plus/minus
Terms of Expiring Deal: three years, 3.5 million
What He Brings to the Table: A lot of sandpaper and a solid veteran presence, Raffi Torres was the guy whom the San Jose Sharks decided to bring in when they needed an agitator.
With the Sharks, Torres seemed to turn it around. He was getting a regular shift, playing some important minutes as a penalty killer and appeared to be going to route of the reformed Matt Cooke.
Then he once again reminded us why he's been public enemy No. 1 for a few years now.
The Red Flag: Torres is a careless hockey player who plays with outright abandon. He doesn't care about the health or heads of his opponents whatsoever, and has never shown remorse cold-clocking people in the head.
It's a shame that he'll likely receive a contract, despite having been suspended a whopping four times for altering the brain cells of his opponents.