NHL Combine 2013 Results: Winners and Losers from Toronto Workouts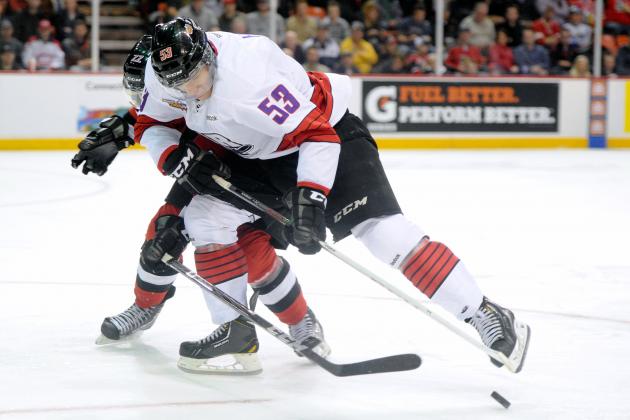 Richard Wolowicz/Getty Images
Nathan MacKinnon is expected to be one of the top 3 picks
The NHL's annual scouting combine was held this week in Toronto. The league invited 101 of the top players eligible for this year's draft to be poked, prodded, tested and questioned by scouts and general managers throughout the league.
The NHL draft is scheduled for June 30th in Newark, New Jersey, and the results of interviews and tests conducted at the combine will affect where some of the top players are selected.
Here is a look at some of the winners and losers from the 2013 NHL combine.
Begin Slideshow

»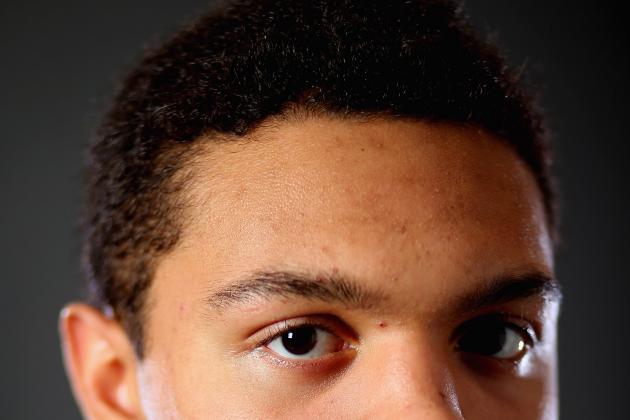 Mike Stobe/Getty Images
Seth Jones is the top-ranked prospect in this year's NHL Draft
The biggest news that came out of the combine this year was who didn't agree to undergo physical testing.
The top three ranked prospects in this year's draft are: defenseman Seth Jones from Portland of the WHL, and forwards Jonathan Drouin and Nathan MacKinnon from Halifax of the QMJHL.
All three of them attended the 2013 NHL combine in Toronto, but all three of them declined to undergo physical testing—citing that they just completed a long season last week and were not able to prepare for the physical tests.
The reason they are listed as winners on this list?
Their decision to abstain will not have any effect on their draft status at all. They were the top three prospects before their decision and remained the top three afterwards.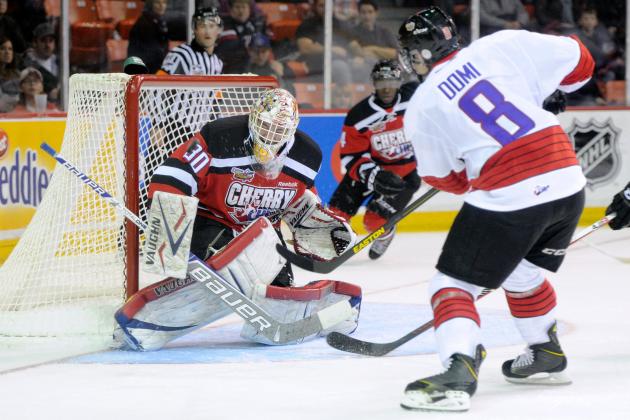 Richard Wolowicz/Getty Images

Max Domi has gone from studying YouTube videos to starring in one; top-10 potential at draft? bit.ly/1aMNma9 (vid)
— Mark Masters (@markhmasters) June 1, 2013


Max Domi was considered a promising prospect before the combine. He was ranked 15th by The Hockey News in their annual draft preview issue.
Domi certainly has the blood lines to play in the NHL. His father, Tie, was an enforcer who played more than 1,000 games for the Rangers, Jets and Maple Leafs from 1990-2006.
Max will not play the same role that his dad did. He has more offensive ability, having potted 39 goals in 64 games for the London Knights last season.
One issue surrounding Domi is health-related: He has diabetes. Interviews and medical exams at the combine should help put to rest many of the concerns that teams may have.
There have been other players who were successful in the NHL and played with diabetes, the best known being Flyers' Hall of Fame center Bobby Clarke.
Domi has also received a lot of positive publicity at the combine, like the tweet above by Mark Masters of TSN.
As a result, Domi emerges from this year's combine as a winner.
Lots of buzz surrounding Nichushkin at combine. Said scout: "He could easily go No. 1." Plus: Trade talks start es.pn/11vNGEI ($)

— Craig Custance (@CraigCustance) June 1, 2013
While physical testing is an important component of the NHL's annual combine, interviews with prospects conducted by individual teams are also a key factor.
One player who gained from the interview process is Russian winger Valeri Nichushkin.
All Russian prospects seemingly have one strike against them at the NHL draft: The NHL and Russia do not have a transfer agreement. This has created issues for clubs who often find Russian-born prospects return to their homeland if they are sent down to the AHL or struggle to adjust to the North American game and culture.
This has become known as "The Russian Factor."
By appearing at the combine and conducting interviews with NHL general managers and scouts, Nichushkin had a chance to repeat what he has said to the media several times: He wants to play in the NHL.
This could only help his draft status.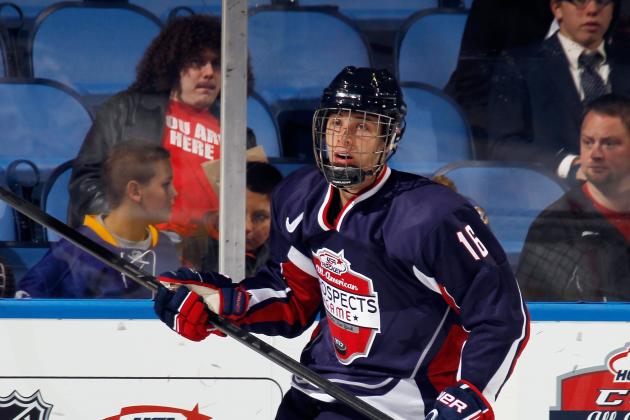 Bruce Bennett/Getty Images
Steve Santini is one of the prospects who helped himself
Mirco Mueller & Chris Bigras lasted the longest in the dreaded VO2 Max bike drill (14:30)

— Mark Masters (@markhmasters) June 1, 2013
Santini tops in hand-eye co-ordination drill followed by Saros, Comrie, Mueller, De La Rose

— Mark Masters (@markhmasters) June 1, 2013


While the top three prospects did not participate in the physical tests conducted at the combine, most of the 101 players who were invited did.
Those who excelled at the various drills like Mirco Mueller who had the best score on the bike drill and Steve Santini who had the highest score at the hand-eye coordination drills in Toronto, clearly helped improve their value in the eyes of NHL GMs.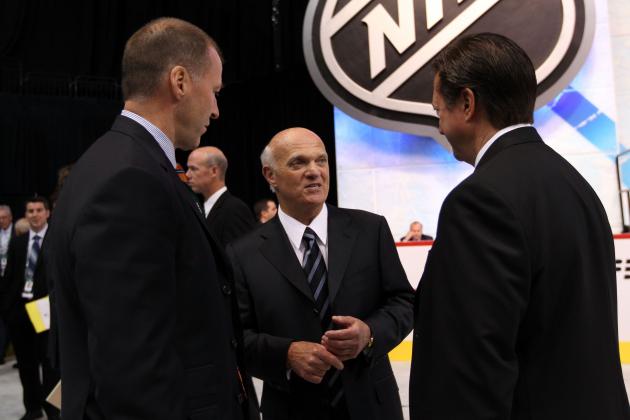 Bruce Bennett/Getty Images
NHL GM play a large role in combine
The NHL holds this scouting combine each year and asks prospects to go through these grueling physical drills is not unusual.
But when all three of the top-ranked prospects refuse to participate and it does not hurt their draft status, it's a bit of an embarrassment to the league.
The NHL needs to change the timing of this event or at least the physical testing part of it if they want to encourage all players to participate in it.
It's not a big deal, but the entire event looks rather unimportant when there are no consequences for the top prospects if they choose not to participate fully.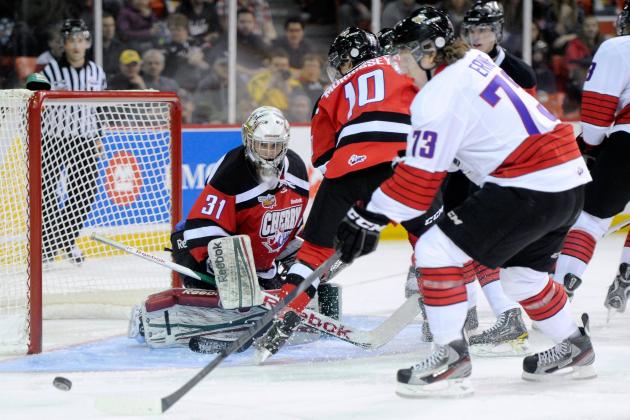 Richard Wolowicz/Getty Images
Zachary Fucale is the best goalie available by most scouts
Fucale, Comrie, Jarry, Petersen, Martin, McAdam, Desrosiers, Saros are goalies invited to NHL Draft combine. Just 8 of 101 total players.

— The Goalie Guild (@TheGoalieGuild) May 20, 2013


Goalies just aren't getting a lot of respect this year from scouts.
The top-rated goalie in The Hockey News' annual Draft Preview issue was Zachary Fucale of Halifax of the QMJHL and he was only 25th. Of the magazine's top 100 prospects, only four were goalies.
Only eight goalies were invited to the combine out of 101 invitees.
Scouts generally view this year's goalie crop as weak and figure there are no blue-chip prospects among them.
This year, at least, goalies are just not getting any respect.