The NHL's Top 10 Rookie of the Year Candidates in 2014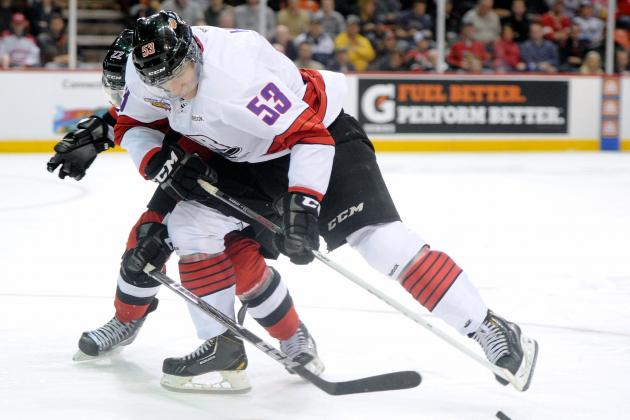 Richard Wolowicz/Getty Images
Top Prospect Nathan MacKinnon
With the 2013 NHL draft just a month away, projecting the NHL's top rookie of the year candidates in 2014 seems appropriate.
This year's draft is deep, with several top picks capable of making the jump to the NHL for the 2013-14 season.
Oftentimes, players that were drafted two or three years before have a greater impact in their rookie seasons versus first-year players from the most recent draft.
Forwards have won the Calder Memorial Trophy award much more than any other position, with defensemen in particular winning the award just five times since the 1980-81 season. Goaltenders have won the award six times in that same period (per hockeydb.com).
The following list includes some of the top picks from the past few years as well as some of the projected top picks for the 2013 NHL draft this June. These players have excelled at all previous levels of play and should be important contributors to their respective teams next year.
Given that forwards have won the award much more often than defensemen and goalies, the list features more forwards than the other positions.
Begin Slideshow

»
Bruce Bennett/Getty Images
Sweden's Filip Forsberg
Filip Forsberg played a handful of games with the team that traded for him, the Nashville Predators, to end the NHL regular season.
Forsberg is a talented winger and will add some scoring to a Nashville lineup in desperate need of more offense.
While Forsberg needs to add some strength, he is already a solid two-way player with tremendous offensive upside. He is a playmaker and possesses a good shot.
It will be no surprise if Forsberg makes a big impact next season and challenges for the rookie scoring title.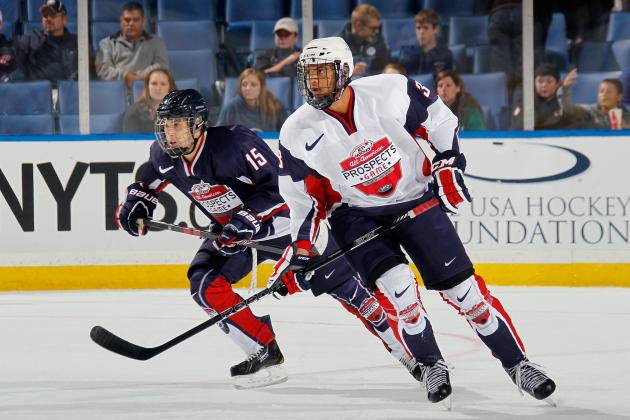 Bruce Bennett/Getty Images
Defenseman Seth Jones
The Portland Winterhawks' Seth Jones is one of the more highly touted defensemen in recent years.
Jones boasts an abundance of skill, poise with the puck and his talents are housed in a 6'4" frame that will be ready for NHL play in 2013-14.
While Jones did not have his best series of games at the Memorial Cup, he remains likely to become a member of the Colorado Avalanche.
Jones has no obvious weaknesses, but the jump to the NHL is always a challenging one for defensemen.
If anyone can handle this jump, it is Jones, who already possesses a complete game well beyond his years. Expect great things from him not only next season but for many seasons into the future.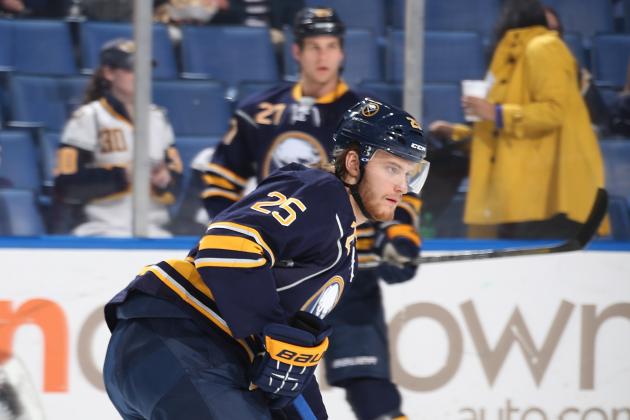 Sean Rudyk/Getty Images
Mikhail Grigorenko
The Buffalo Sabres have an excellent prospect in Mikhail Grigorenko. The big Russian had some difficulties adjusting to the NHL this past season, but the experience should serve him well in 2013-14.
Because Grigorenko is 6'3" and such a smooth skater, it appears, at times, that he is not moving at full speed.
The talented centre should not be underestimated, though, and with the very good talent that the Sabres have gathered, Grigorenko will have a number of young players with which to grow and develop next season.
Grigorenko has excellent vision and a good shot. Expect him to be among rookie scoring leaders in 2014.
Valeri Nichushkin should have an immediate impact on the NHL team that drafts him. While he can put some more weight on his growing 6'4" frame, he seems ready to compete at the NHL level in 2013-14.
Nichushkin made huge strides over the season and truly arrived on the international scene at the World Junior Championships this past winter in Russia.
He scored the bronze medal-winning goal in overtime against Canada and electrified the home crowd with several end-to-end rushes that featured his soft hands and blazing speed throughout the tournament.
Nichushkin could be drafted in one of the top three spots in June and will join a team that will need him to play some significant minutes next season. His physical gifts combined with his experience in the KHL will serve him well at the NHL level.
Jonathan Drouin had an outstanding season with the Halifax Mooseheads and played a large part in their run to the Memorial Cup in 2013.
Drouin was excellent at this year's World Junior Championships and played a lot of minutes on Canada's top line. He was recently named the Canadian Hockey League's player of the year.
Drouin is an agile skater and passes the puck extremely well. His on-ice vision separates him from other top prospects and he should be great at the NHL level on the power play.
It will be very surprising if the gifted Drouin is not near the top of rookie scoring leaders next season if he continues on the same trajectory he's been on over the past year.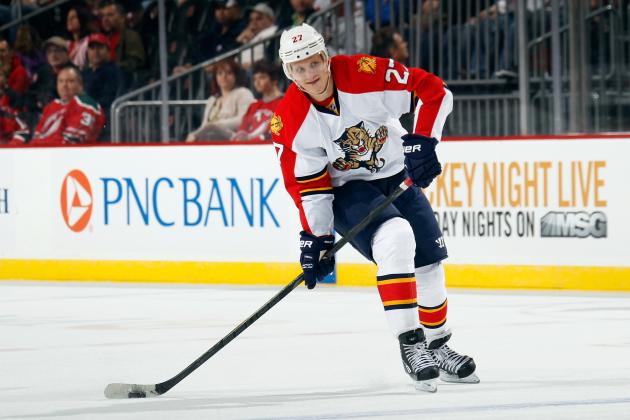 Bruce Bennett/Getty Images
Nick Bjugstad
Nick Bjugstad has the mix of raw talent and size that all NHL teams covet.
The Minnesota native stands 6'6" and is well over 200 pounds. He is likely to continue to grow and he will be a handful to defend in the years ahead.
He played 11 games for the Florida Panthers in 2013 and this experience will help him in his transition to the NHL.
Bjugstad is likely to be a second-line center next season, but there is every reason to believe that he will develop into a first-line center in short order.
Expect Bjugstad to dominate his opponents physically, and the points should follow with the talented young forwards that the Panthers can now boast.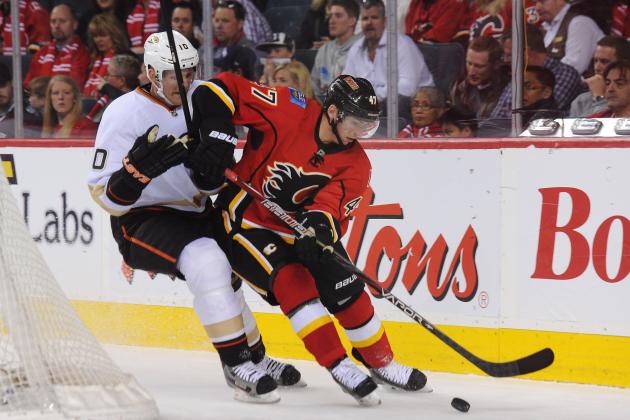 Derek Leung/Getty Images
Calgary's Sven Baertschi
While the Calgary Flames may not want to admit it, they are in a full rebuild. With other young players such as T.J. Brodie playing very well, Sven Baertschi may have the most talent of all of their young prospects.
The Flames winger has displayed glimpses of his world-class talent at certain times over the past two seasons and 2013-14 should be a breakout year for him.
Baertschi has tremendous vision and hockey sense. He is a playmaker on the wing and he will play in Calgary's top-six forward group.
He is likely to score in bunches next season and will be given a lot of offensive opportunities as the Flames enter into the post-Jarome Iginla era.
Mississauga native Ryan Strome is a gifted center who makes the players around him much better.
While Strome can score goals, he is more of a playmaking center who looks to pass first and shoot second. He thinks the game very well and should flourish with other heady teammates.
Few teams have as much young talent in their system as the New York Islanders, so Strome should excel with all the offensive talent that will surround him.
Strome is an unselfish player who plays a 200-foot game. He will be a challenger for the Calder Trophy in 2013-14.
Nathan MacKinnon stole the show at the 2013 Mastercard Memorial Cup in Saskatoon, earning 13 points against the CHL's best teams.
MacKinnon outplayed Seth Jones in both head-to-head matchups, scored a hat trick in each of those two games and came away with Most Valuable Player honors at the Memorial Cup.
In leading the Halifax Mooseheads all season, MacKinnon displayed excellent skill and leadership qualities.
MacKinnon is also an excellent skater, passer and shooter. He will not be intimidated physically in the NHL.
There is every indication that he will make the transition to the pro game, as difficult as it is, as smoothly as any recent top-ranked prospect.
Mark Scheifele has dominated at the junior level since his draft year. He has not been deemed ready to make the jump to the Winnipeg Jets for the past two seasons, but 2013-14 should be different.
Scheifele should be considered the front-runner for the 2014 Calder Memorial Trophy as he will have talented wingers with the Jets and he will be given the opportunity to contribute offensively.
The 6'3" Scheifele is the total package and will provide the Jets with very good two-play at center for several seasons.
He has tremendous offensive talent and should continue to produce at the NHL level given his skating and scoring abilities.