NHL Playoffs 2013: Detroit Red Wings' Players to Watch in Game 3 vs. Blackhawks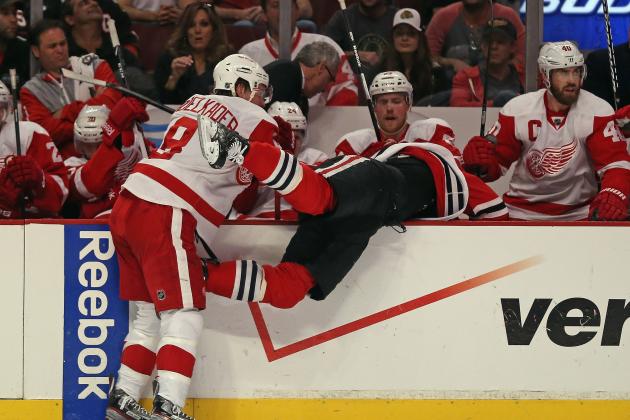 Jonathan Daniel/Getty Images

The Detroit Red Wings snuck by the Anaheim Ducks in Round 1 of the NHL playoffs, despite trailing by a game three times in the series. After falling behind to the Chicago Blackhawks in Round 2, they responded again in a big way.
Detroit won Game 2, 4-1, and outshot the Blackhawks, 30-20. Although it may have been their best game of the playoffs, there is still plenty of room for improvement for the Red Wings.
Game 3 is set for Monday May 20, at 7:30 p.m. ET at Joe Louis Arena in Detroit. With that in mind, here are four players to keep an eye on throughout the course of the game.
Stats courtesy of NHL.com.
Begin Slideshow

»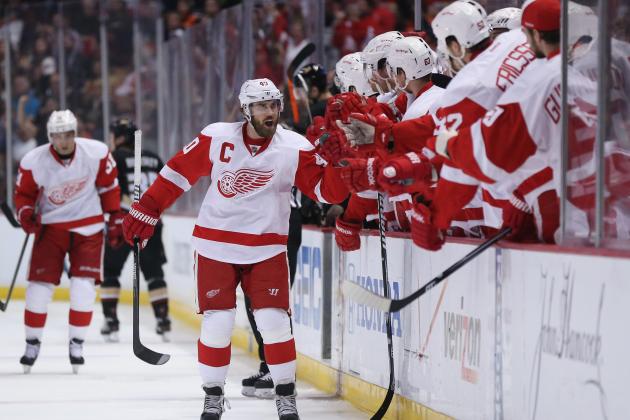 Jeff Gross/Getty Images

Red Wings' captain Henrik Zetterberg continues to impress as he adds to his postseason resume.
The 32-year-old Swede was arguably Detroit's best player in Game 2, finishing with two assists and racking up nearly 20 minutes of ice time. Most importantly, he played a crucial role in shutting down Blackhawks' captain Jonathan Toews, who has yet to score in the playoffs.
Zetterberg continues to be an effective two-way player, consistently generating offense without sacrificing his ability to backcheck and force turnovers.
He must stay sharp throughout Game 3 for the Red Wings to have an opportunity to win.
Damien Brunner has made a few mistakes during the playoffs, but that's to be expected from a player who is unfamiliar with the postseason stage.
The 27-year-old native of Switzerland is already showing signs of improvement in the second round. He's done a better job of handling the puck and has scored in each of the first two games. He is tied for the team lead in goals for the series and is tied with Pavel Datsyuk for second in points.
Joakim Andersson and Gustav Nyquist join Brunner on a line that will likely play a huge role in determining the outcome of this series. The key will be in limiting the number of mistakes made in transition and making good on their offensive chances.
Brendan Smith has received both criticism and applause over the last few days for his performance in Games 1 and 2.
The 24-year-old defenseman has been caught out of position and been unable to clear the puck at pivotal times, but he has also pushed the offense and scored the winning goal in Game 2.
According to Brendan Savage of MLive.com, Zetterberg said the following in regard to Smith's play:
He creates a lot of stuff, sometimes for both teams. It's nice to see he can put it away when he gets the chance there. He's young, he's still learning. He learns every game.
Smith is the only Detroit defensemen to score so far in the playoffs and he's done so twice. However, he needs to continue to focus on improving his play in the defensive zone and only pinch at the appropriate times.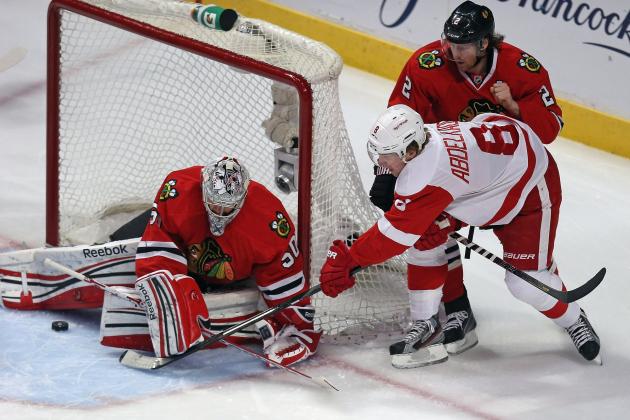 Jonathan Daniel/Getty Images

Abdelkader was the Red Wings' primary physical force against the Ducks and as expected, he's been at it again against the Blackhawks.
Abdelkader has 13 hits in the series and leads all Red Wings with 31 in the playoffs, despite missing two games due to a suspension. In addition to his checking, Abdelkader is also tied for the lead in blocked shots among Detroit forwards with eight.
If he can set the tone early with a big hit, play smart two-way hockey and avoid taking penalties, Abdelkader should have a big impact. Look for the 27-year-old Michigan native to get on the scoresheet as well, as he had yet to register a point in this series.