Stanley Cup Playoffs 2013: Who's Hot and Who's Not in 2nd Round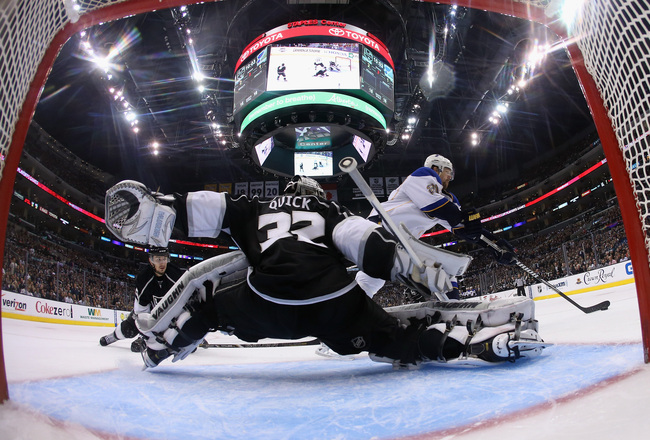 The L.A. Kings' Jonathan Quick has been the hottest goalie thus far in the NHL playoffs.
Jeff Gross/Getty Images
One of the best things about the NHL playoffs every season is watching some unexpected players step forward to become stars.

On the flip side are guys who starred during the regular season, but for whatever reason, have struggled during the postseason.

That's exactly the case again as we've advanced to the conference semifinals in the NHL Stanley Cup playoffs.

After the Pittsburgh Penguins 4-3 win over the Ottawa Senators on Friday—giving the Pens a 2-0 series lead over the Sens—let's take a look at the 10 hottest players thus far in the playoffs, as well as 10 others who have been anything but hot.
HOT: David Krejci, Bruins
David Krejci
Jared Wickerham/Getty Images
Bruins center David Krejci spent much of the regular season doling out passes for his teammates to score on, getting 23 assists against just 10 goals (on 93 total shots).

But during the first eight games of the playoffs, Krejci has been the hottest player in the league, with five goals and nine assists for 14 points on just 21 shots—a nearly 25 percent scoring average.

One word best describes Krejci thus far: Outstanding.
HOT: Evgeni Malkin, Penguins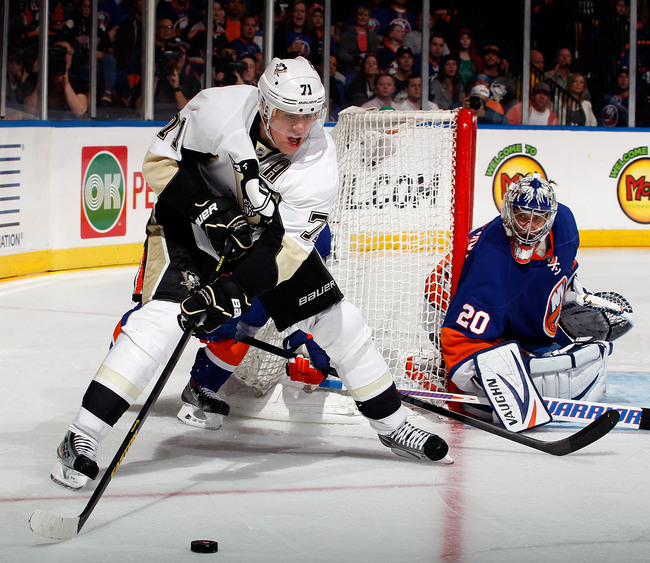 Evgani Malkin
Paul Bereswill/Getty Images
Penguins center Evgeni Malkin has been Mr. Everything practically everywhere on the ice for the Penguins thus far in the postseason.

In just seven games, Malkin has three goals and a whopping 11 assists (No. 1 in the league) for 14 points (tied for No. 1 in the NHL) along with 28 shots on goal.

To further illustrate how good of a postseason Malkin is having, he already has one-third of the nine goals he had in 31 regular-season games, and nearly half the assists (24) in the regular season, as well.
HOT: Zdeno Chara, Bruins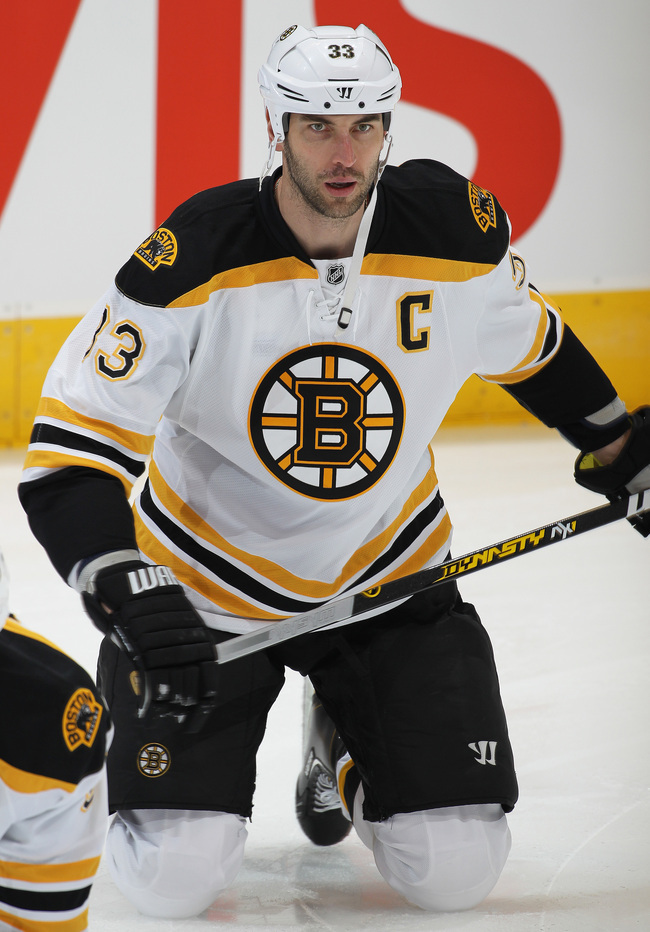 Zdeno Chara
Claus Andersen/Getty Images
It's pretty clear that Bruins defenseman Zdeno Chara has been given the green light to shoot.

How else would you explain that he's already taken 34 shots in Boston's first eight playoff games, which is the most by any player in the league, centers and forwards included?

Chara has two goals, eight assists and 10 points (No. 3 in the league in each of the latter two categories) in the postseason.

That's quite an accomplishment considering his numbers in 48 regular season games this year: seven goals, 12 assists and 19 total points on 119 total shots.
HOT: Derick Brassard, Rangers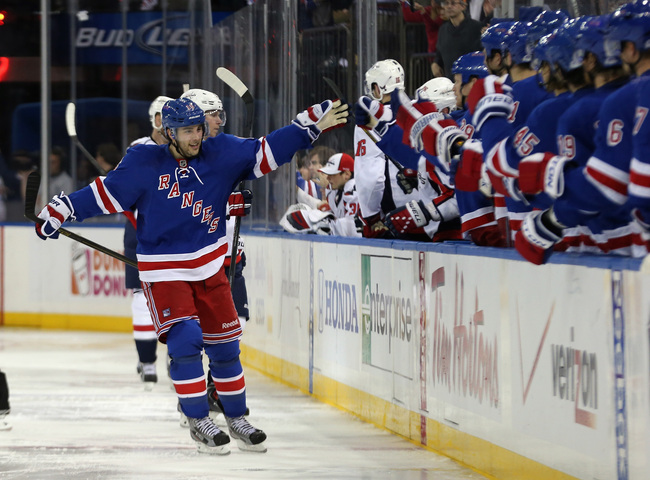 Derick Brassard
Bruce Bennett/Getty Images
Rangers center Derick Brassard has a lot of people to thank for his change of fortune in the last couple of months.

First, he has to thank the Blue Jackets for dealing him to the Rangers late in the season, giving him the opportunity to finally reach the playoffs after three full seasons and three other part-time seasons of non-playoff frustration in Columbus.

Second, Brassard has the Rangers to thank for not only wanting to acquire him, but also giving him a shot at not only making the playoffs but potentially reaching the Stanley Cup Final if everything continues on the path it has thus far.

Brassard has two goals and eight assists for 10 points in the first eight games (on just 13 shots) and has injected life into what had become somewhat of a boring and predictable Rangers offense before he was acquired.

For that, not only should Brassard be thankful—the Rangers should be grateful they were able to free him from the Blue Jackets.
HOT – Jarome Iginla, Penguins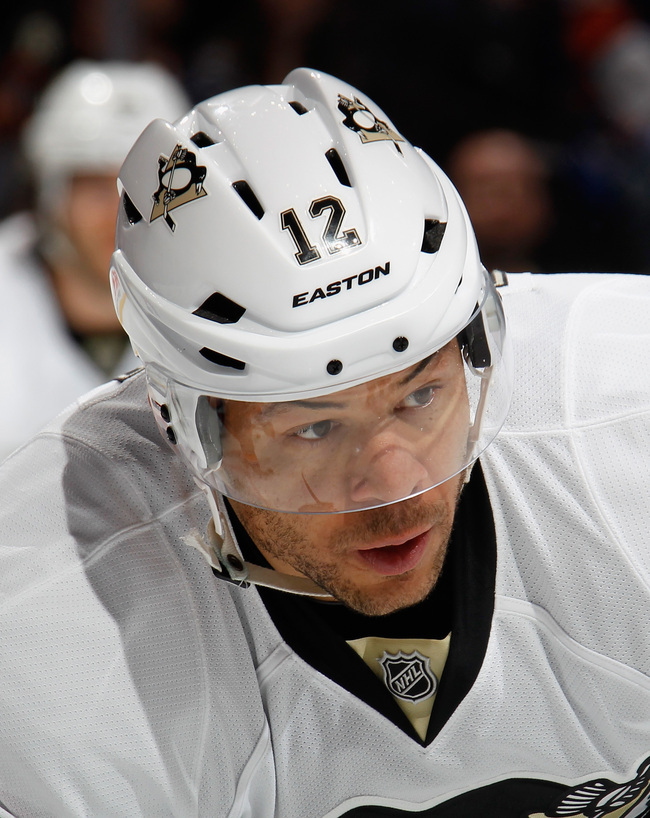 Jarome Iginla
Bruce Bennett/Getty Images
Much like the Rangers' Brassard, Penguins right wing Jarome Iginla owes a debt of gratitude to his former team, the Calgary Flames, for dealing him late in the season to the Penguins.

Even though the veteran Iginla will soon turn 36 years old, he's playing with the vim and vigor of a youngster since moving to Pittsburgh.

In just seven playoff games, he already has two goals and eight assists for 10 points on 21 shots on goal.

He's proven to be a strong complement to teammates like Sidney Crosby and could ultimately be the difference between the Penguins being eliminated early or reaching the Stanley Cup Final.
HOT: Patrick Sharp, Blackhawks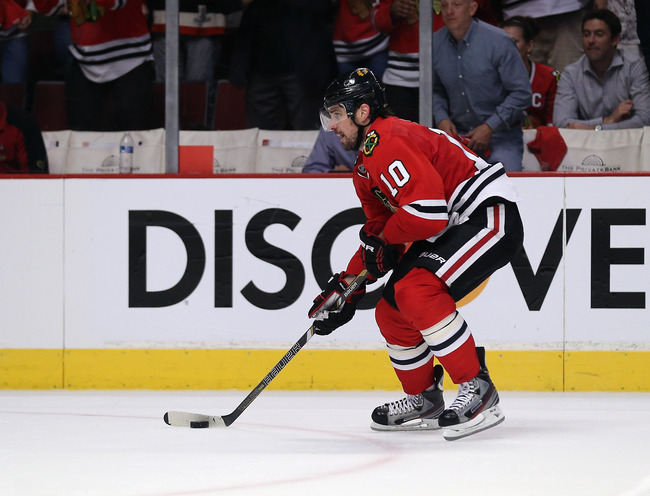 Patrick Sharp
Jonathan Daniel/Getty Images
Where did Patrick Sharp come from? Granted, he missed several games late in the season with a shoulder injury—winding up with just six goals and 14 assists in 28 regular-season games.

But since the playoffs began, Sharp has become the Blackhawks' top scorer with six goals (equaling his regular-season production), as well as three assists on 29 shots on goal.

Because teammates Jonathan Toews and Patrick Kane have both failed to score even one goal in the postseason—after tying for the team scoring lead during the regular season with 23 goals apiece—Sharp has definitely picked up the scoring slack.

If he stays healthy, Sharp has the potential to lead the Hawks all the way to their second Stanley Cup championship in the last four seasons.
HOT: Sidney Crosby, Penguins
Sidney Crosby
Justin K. Aller/Getty Images
Penguins center and team captain Sidney Crosby was waiting for a huge game and he got it in Friday's 4-3 win over Ottawa—scoring three of the Penguins' four goals.

In scoring the hat trick, Crosby vaulted upward in the individual playoff stats—improving to six goals and six assists for 12 points, third-best among all players.

Given all the medical issues he's had over the last couple of years, particularly with his concussion problems, if anyone deserves to win the Cup this year, it's Crosby. He's had a long road back and now he's really starting to enjoy the spoils.
HOT: Logan Couture, Sharks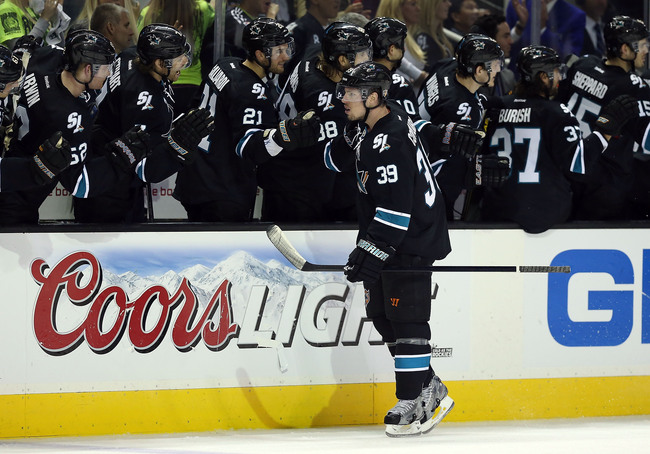 Logan Couture
Christian Petersen/Getty Images
Sharks center Logan Couture has proven to have the hot hand (3 goals) and hot dish (6 assists) thus far in the playoffs to lead the Sharks.

That's not surprising, given that he scored a combined 63 goals and 58 assists in the last two seasons, and still managed to tally 21 goals and 16 assists this year in the lockout-shortened 48-game regular season.

San Jose certainly has its hands full with the L.A. Kings, as the Sharks are now down 2-0 in the best-of-seven series. But if the Sharks are to rally back, Couture will likely be leading the rush.
HOT: Jonathan Quick, Kings
Jonathan Quick
Dilip Vishwanat/Getty Images
Los Angeles Kings goalie Jonathan Quick is once again living up to his surname, being ranked as the No. 1 goalie in the second round of the playoffs.

Quick has a 6-2 mark thus far in this year's postseason, with a phenomenal 1.56 GAA—allowing 13 goals. He also has two shutouts.

Much like last year's playoffs, the longer they go, the better Quick gets.

That's why we won't be surprised if he takes the defending Stanley Cup champs back to the title round once again.
HOT: Corey Crawford, Blackhawks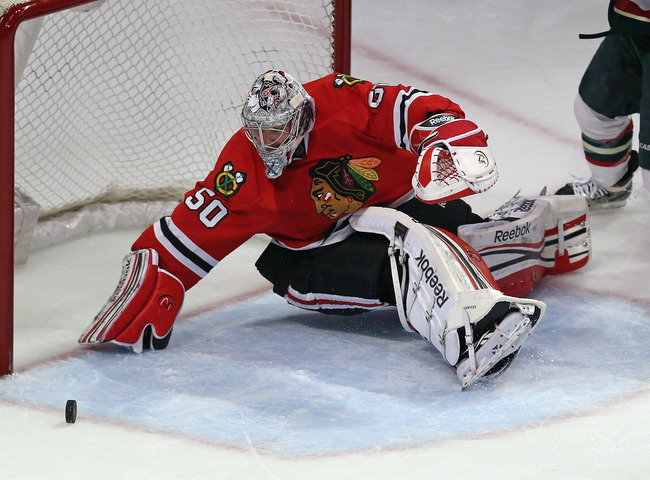 Corey Crawford
Jonathan Daniel/Getty Images
With Ray Emery sidelined prior to the start of the playoffs with a lower-body injury, Corey Crawford has stepped up to play some of the best hockey of his career.

Crawford is 5-1 in the Hawks' first six playoff games and was one of the key factors in Chicago's relatively easy five-game win over Minnesota in the opening round of the playoffs.

In the first game of the Western Conference semifinals match against archrival Detroit, Crawford again shined as his teammates beat the Red Wings 4-1.

Success this season is not a surprise for Crawford. In 30 regular-season games, he compiled a 19-5-5 record with a 1.94 GAA.

But in the playoffs, he's ratcheted things up even more. His 1.27 GAA average is tops among all playoff goalies thus far.

With the way Crawford has been playing, Emery, who is back to being healthy, may be hard pressed to see much playing time except in perhaps a mop-up role from here on out for the remainder of the playoffs.
NOT: Jonathan Toews and Patrick Kane, Blackhawks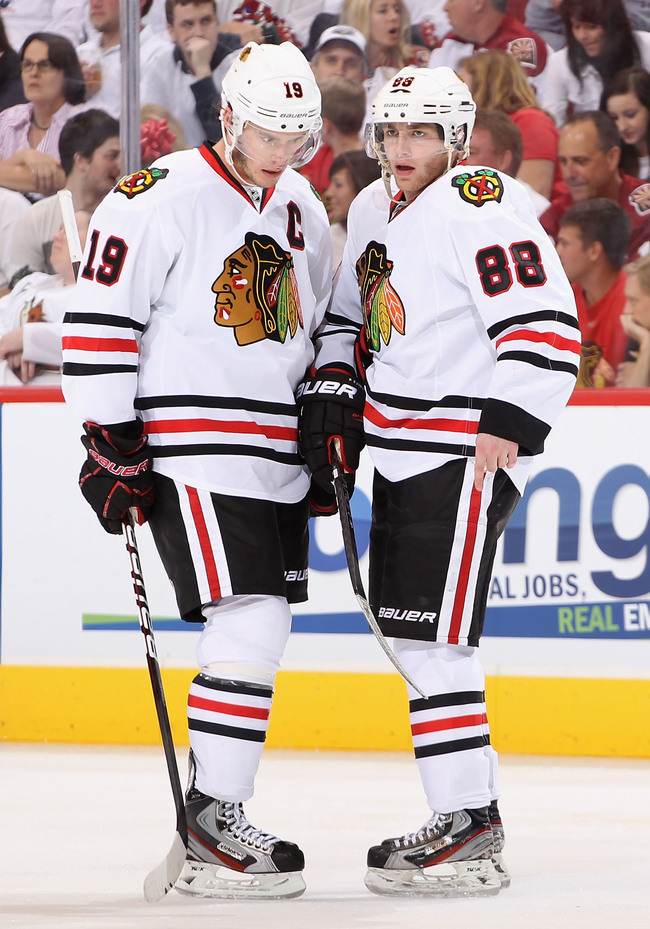 Jonathan Toews (left) and Patrick Kane.
Christian Petersen/Getty Images
This one is a bit unusual. Chicago Blackhawks center and team captain Jonathan Toews and forward Patrick Kane are both not really having a bad postseason, per se.

And because they're both having a "bad" playoffs, so to speak, we decided to put them together rather than pick one over the other.

But what puts both on the "Not" list is the fact that neither has scored a goal yet in the postseason, which is a far cry from what they did during the regular season, when each player tied for the team lead with 23 goals apiece.

Sure, they're doing well in the assists category—Kane with 6, Toews with 3—but Chicago needs both players' goal-scoring prowess, especially against the archrival Detroit Red Wings.
NOT: Viktor Stalberg, Blackhawks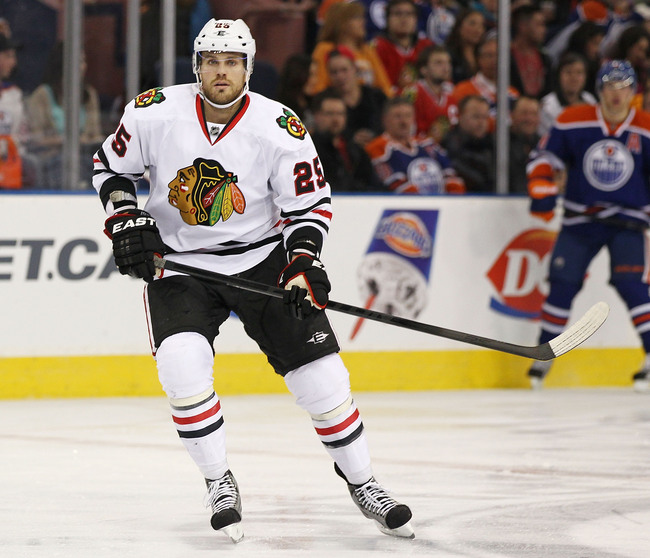 Viktor Stalberg
Perry Nelson/Getty Images
According to the Chicago Tribune, Viktor Stalberg has been in head coach Joel Quenneville's doghouse of late because he complained about playing time during the opening playoff round vs. Minnesota, as reported by

As a result, Stalberg has seen action in just five games with no goals, one assist and just eight shots on goal.

That's a far cry from what he did in the regular season—47 games, 9 goals, 14 assists, 23 points and 113 shots.

Let's see if Stalberg is back in Quenneville's good graces for Game 2 vs. Detroit on Saturday afternoon.
NOT: Jimmy Howard, Red Wings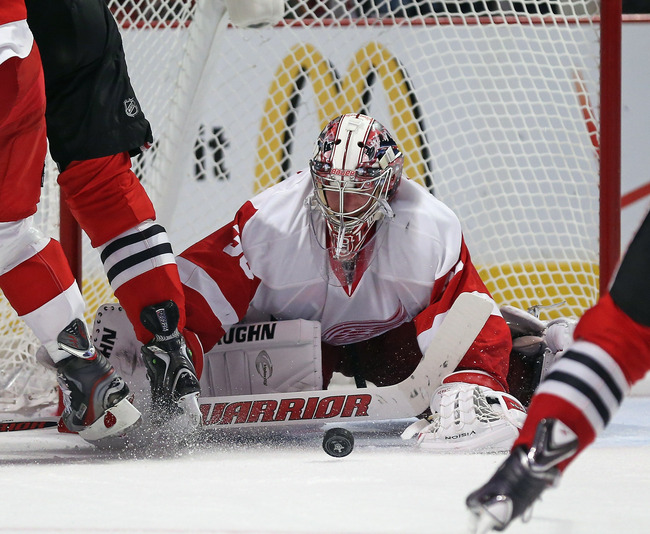 Jimmy Howard
Jonathan Daniel/Getty Images
This selection is another contradiction of sorts.

Howard has helped the Red Wings get to where they're at now—including stopping Anaheim in the final two games of the opening series to allow Detroit to advance to the second round.

On the flip side, Howard has the most losses (four) of any starting goalie thus far in the first two rounds of the playoffs. He has also allowed 23 goals in eight games—nearly three goals a game.
You don't win championships giving up that kind of average per game.

If it wasn't for his teammates' offense, Howard and the Red Wings would likely be on the golf course right now instead of Round 2.
NOT: Niklas Kronwall, Red Wings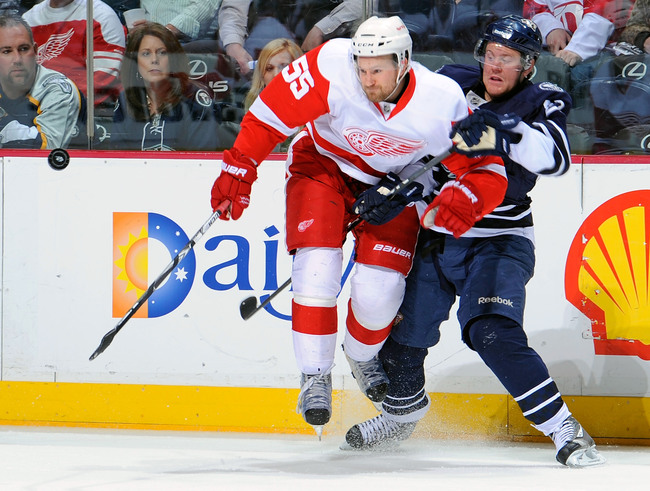 Niklas Kronwell
Frederick Breedon/Getty Images
Red Wings defenseman Niklas Kronwall had an outstanding regular season.

In 48 games, he scored five goals and had an outstanding 24 assists for 29 points—definitely some good numbers from a very talented defenseman.

But in the Wings' first eight playoff games, Kronwall has been all but invisible—with just one assist.
NOT: Marc-Andre Fleury, Penguins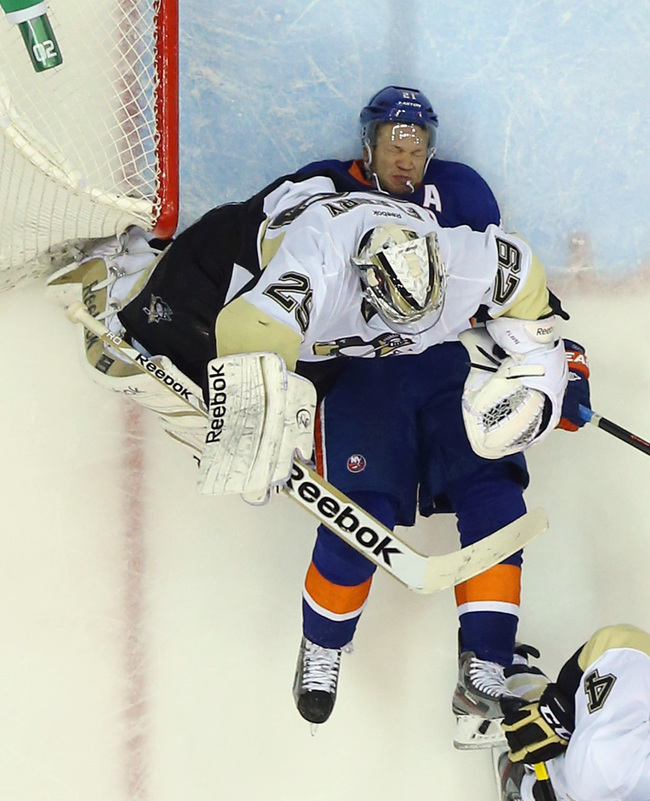 Marc-Andre Fleury
Bruce Bennett/Getty Images
Penguins goalie Marc-Andre Fleury has fallen out of favor rather abruptly in the playoffs. If several speculative news reports like this one from Yahoo! Sports are to be believed, he may soon be out of Pittsburgh entirely.

During the regular season, he compiled a 23-8 record in 33 games, and gave up 74 goals for a 2.39 GAA.

But in the playoffs, Fleury is 2-2 in four games and has given up 14 goals for a 3.40 GAA—which is ranked 15th among all teams that began the playoffs this season. In other words, his numbers are worse than several goalies whose teams are no longer in the playoffs.

Tomas Vokoun has stepped up admirably to replace Fleury in the Penguins' net, with a 4-0 record and a great 1.70 GAA (having given up just seven goals), the fourth-best in the playoffs to date.

Fleury can probably forget about seeing any further action in the playoffs unless Vokoun gets hurt—and potentially may have played his last game in a Penguins uniform.
NOT: James Neal, Penguins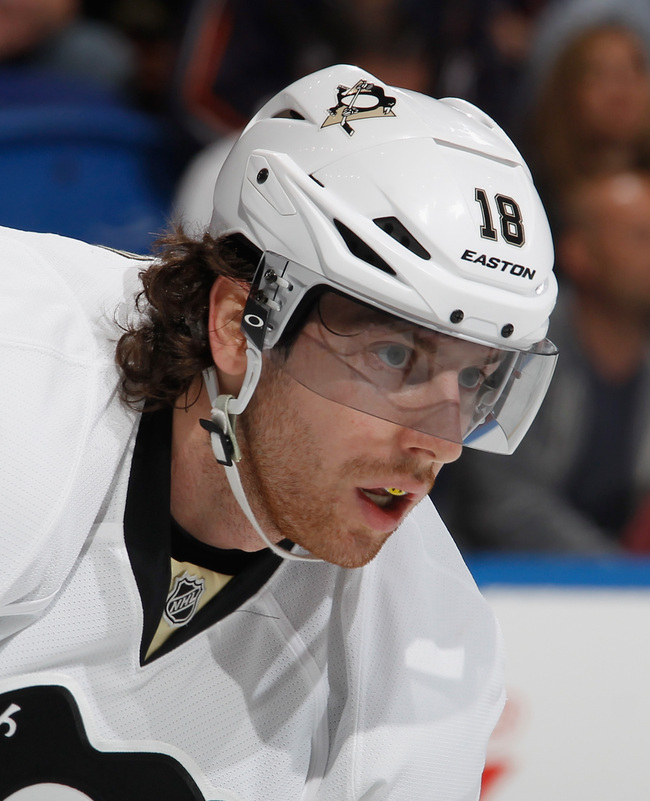 James Neal
Bruce Bennett/Getty Images
In the big picture, Penguins left wing James Neal hasn't had that bad of a playoff series—with one goal and two assists on 12 shots in six games.

But when you consider that Neal scored 21 goals, 15 assists and 36 points on 136 shots in 40 regular-season games, you could make an argument that his performance to date in the playoffs has not been up to par.

He is the kind of player who has the potential to explode at any time, so don't be surprised if he does just that in the next game.
NOT: Colin Greening, Senators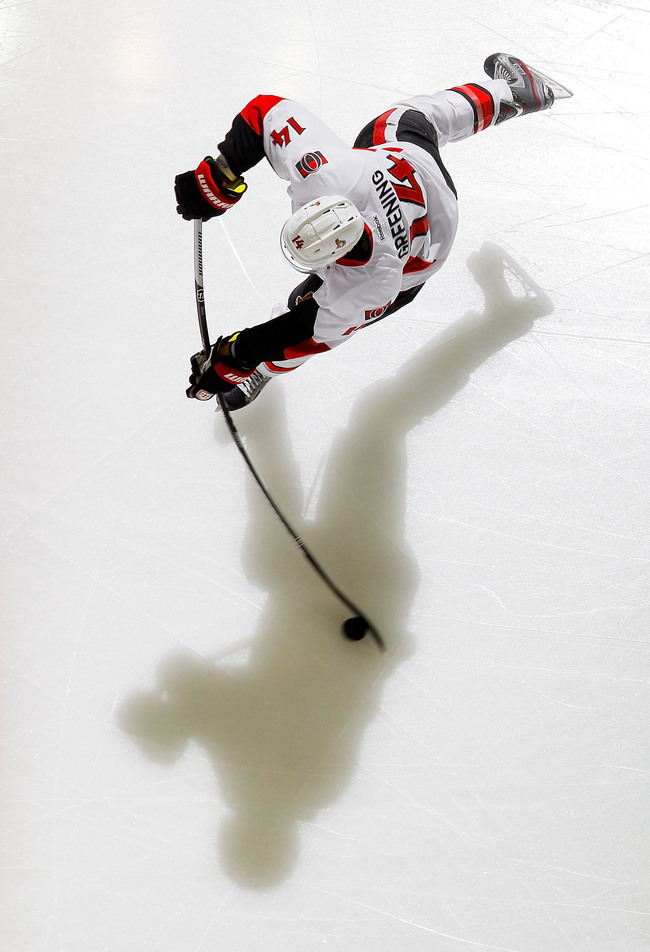 Colin Greening
Jim McIsaac/Getty Images
Senators left wing Colin Greening isn't quite ready to have his face decorate a milk carton, but his lack of performance thus far in the postseason has a lot of people wondering if his game has gone missing.

Greening had eight goals, 11 assists and 19 points on 80 shots in 47 games during the regular season.

Greening's scoring and passing has gone relatively MIA during the playoffs. He has just two goals and no assists in seven games.

But what magnifies that is he's managed just 12 shots on goal—an average of just over 1.5 per game.

If someone sees Greening's missing scoring game somewhere, can you please give him a call to let him know where he can find it?
NOT: Jaromir Jagr, Bruins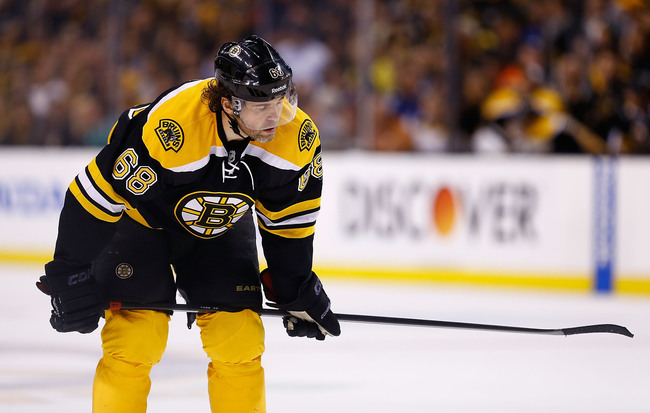 Jaromir Jagr
Jared Wickerham/Getty Images
Some people may disagree with this selection, but hear us out.

The Bruins acquired veteran right wing Jaromir Jagr late in the season from Dallas so he could inject a scoring punch—particularly in the postseason.

Even though he's an aging veteran who has been through the NHL wars for nearly 20 seasons, he still has some game remaining—tallying a combined 16 goals, 19 assists and 35 points on 135 shots during his tenure between Dallas and Boston.

While Jagr has provided some key passes on other Bruins goals—having four assists thus far in the playoffs—he remains scoreless on 27 total shots on opposing goalies.
NOT: Brad Richards, Rangers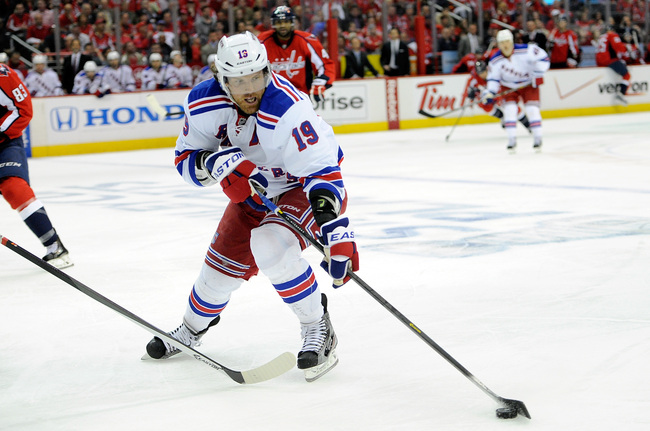 Brad Richards
Greg Fiume/Getty Images
Can someone tell us who is the imposter wearing the uniform of Rangers center Brad Richards?

Richards had a good regular season—scoring 11 goals, 23 assists and a total of 34 points on 110 shots in 48 regular-season games.

But it's like a switch has been turned off on Richards during the postseason, as he has taken 15 shots in eight games and managed just one goal and no assists.
NOT: Rick Nash, Rangers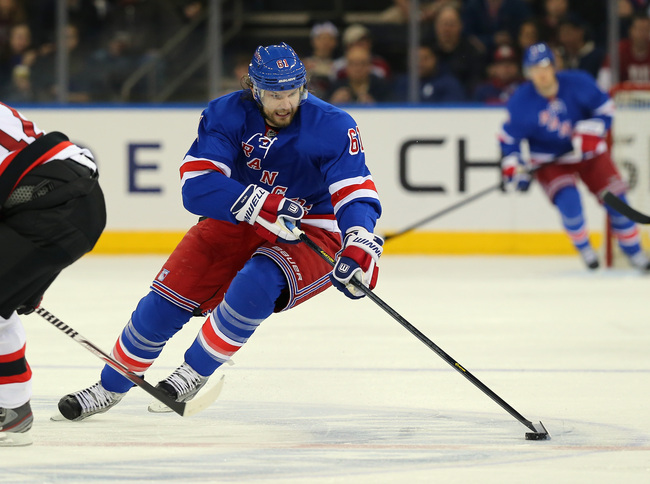 Rick Nash
Bruce Bennett/Getty Images
Maybe he doesn't mean it, but Rangers' left wing Rick Nash's play during the postseason is like he's missing something—like he would rather be on a beach or a golf course right now instead of the playoffs.

Whatever the case, Nash's scoring game has disappeared much like teammate Brad Richards'. Nash scored 21 goals and 21 assists for 42 points on a whopping 176 shots during the regular season—good for second on the team in scoring.

But in eight playoff games, he's failed to score a goal on 28 shots, has three assists and has dropped to eighth on the team in tallying.

If Nash has assumed more of a set-up role rather than a goal scorer, then three assists isn't all that bad. But if the Rangers are to get past the Bruins in the second round, Nash needs to step up big time, lest he wind up on that beach or golf course sooner rather than later.


Follow me on Twitter @JerryBonkowski
Keep Reading